Filipinos are a hardworking people. They love to work, work, and work. But that doesn't mean they don't take time to play and have fun with friends and family. While Pinoys work hard, they also play hard. In short, they love action! Speaking of action, one of the things you really need to master when studying Filipino grammar is action words or verbs. 
The verb in Tagalog is referred to as pandiwa. This part of speech plays an important role in communication as it's used to describe motion. Without the verb, or pandiwa, a sentence can't exist or stand on its own. In the same manner, life isn't complete without action. So, without further ado, let's get down to business and learn 100 of the most common Filipino verbs.
Table of Contents
1. The Two Kinds of Pandiwa
Before we proceed to our list of the 100 most common Filipino verbs, let's do a quick study of pandiwa first. There are two kinds of pandiwa: palipat and katawanin.
1 – Palipat
This type of pandiwa needs a direct object to receive the action done in a sentence. The direct object usually comes after the verb and is preceded by the following prepositions:
Examples:
Gumuhit ng larawan ang kanyang anak na lalaki.
"His son drew a picture."
Si Butch ay magaling sumayaw ng tinikling.
"Butch dances tinikling really well."
Sumunod kay Maria ang kanyang alagang aso.
"Maria's pet dog followed her around."
2 – Katawanin
Unlike palipat, katawanin doesn't need a direct object to receive the action done in a sentence; it already has a complete idea and can stand on its own.
Examples:
"Happy jumped!"
Sina Max at Hazel ay umalis.
"Max and Hazel left."
Nagkukuwentuhan sa loob sina Carlo at Connie.
"Carlo and Connie are chatting inside."
2. The Five Aspects of Pandiwa
The first three aspects of pandiwa show the tenses of the verb or the time the action took place. Not all verb tenses in Filipino have an equivalent in English grammar, just as not all Filipino words have a direct English translation. Nevertheless, we can't study verbs in Filipino without touching on tenses.
1 – Naganap/Perpektibo
The first of these Filipino verb tenses shows that the action has already been done, or is in the past tense. Verbs in this category are usually affixed with nag-, um-, -um-, -in-, and -an.
Examples:
"She cooked dinner."
Umalis kaagad ang binata.
"The young man left immediately."
Si Diana ay inalis sa group.
"Diana was removed from the team."
Nagpalakpakan ang mga manonood.
"The audience roared in applause." 
Note that in the last sentence, nag- is added before the verb palakpak, or "clap," and –an after it.
2 – Pangkasalukuyan/Imperpektibo
This describes an action verb in Tagalog that is always, or is currently, being done. The verb is affixed with -na, -nag, or -um at the beginning, and the root word is usually repeated.
Examples:
Naglalaro si Jose sa ulan.
"Jose is playing in the rain."
Kumakain ang mga aso sa labas.
"The dogs are eating outside."
Nanonood ako ng pelikula sa Netflix nang dumating si Marie.
"I was watching a movie on Netflix when Marie arrived."
3- Kontemplatibo
This aspect of the verb in Tagalog implies that an action has not yet been performed, or is in the future tense. To change a verb into this tense, simply affix ma- or mag- before the word and repeat the first syllable of its root word. For some words, ma- and mag- are no longer necessary.
Examples:
Uunlad din ang bansa natin balang araw.
"Our country is going to progress someday."
Magtitinda ako ng mga damit sa Facebook.
"I will sell some clothes on Facebook."
Magsisimula na ang programa.
"The show is about to start."
Meanwhile, the two other aspects of pandiwa express the voice of the verb, with tahasan being the active voice, and balintiyak being the passive voice.
4 – Tahasan
In this aspect of pandiwa, the action word serves as the subject. In English grammar, it's referred to as the active voice of the verb, wherein the subject is the one performing the action stated by the verb.
Examples:
Nagdilig si Joey ng kanilang mga halaman.
"Joey watered the plants."
Pumunta kami sa Mall of Asia nung nakaraang araw.
"We went to the Mall of Asia the other day."
Si Harry ay kumakain ng hipon.
"Harry is eating shrimp."
5 – Balintiyak
This is the opposite of tahasan, where the one performing the action is not the subject, and the performer of the action is positioned right after the pandiwa. In English grammar, it's the passive voice of the verb.
Examples:
Ang clean-up drive ay pinangunahan ng Mayor.
"The clean-up drive was led by the Mayor."
Ang giyera ay sinimulan ng mga terrorista.
"The war was started by the terrorists." 
Ang Warriors ay tinalo ng Raptors.
"The Warriors were beaten by the Raptors."
3. The Linking Verb in Filipino: Keeping Things Simple
Commonly used linking verbs in English include "am," "is," "are," "was," and "were." There's also "been," "being," "had," and "has." In Filipino, we only have the linking verb ay regardless of the tense.
And since there's only one linking verb in Tagalog, using it in a sentence is very simple and easy. Simply place the word ay after the subject and right before the predicate. We told you Filipino is an easy language to learn!
Examples:
Ako ay nag-aaral ng Filipino.
"I am studying the Filipino language."
Ako ay ipinanganak sa Mindanao.
"I was born in Mindanao."
Si Daniel ay palaging naglalaro ng Mobile Legends.
"Daniel is always playing Mobile Legends."
4. Verb Usage
How do you conjugate verbs in Filipino? What about Filipino subject-verb agreement?
The case system of Tagalog verbs is quite complex, but we can still learn proper usage of the action verb in Tagalog by following a few simple rules on how to conjugate them. The fastest way to learn about proper verb placement in a sentence is to learn common affixes used in Filipino action words. These Tagalog verb affixes are mag-, ma-, um-, in-, and i-, all of which are used to indicate verb tense. 
We'll have a separate article for Filipino verb conjugation, though, so right now, let's move on to our Filipino verbs list of the 100 most practical verbs you should know.
1- At Home
Filipino homes are the foundation of the Philippine culture. Because of that, we want to start this list with commonly used verbs inside the home.
1
kumain
"to eat"
Oras na para kumain.
"It's time to eat."
2
matulog
"to sleep"
Matulog ka na.
"Go to sleep now."
3
gumising
"to wake up," "to be awake"
Bakit gumising ka na?
"Why did you wake up already?"
4
magluto
"to cook"
Magluluto ako ngayon para bukas.
"I'll cook food now for tomorrow."
5
magsaing
"to cook rice"
Magsaing ka na para makakain na tayo.
"You better cook rice now so we can eat already."
6
manood
"to watch," "to observe"
Manonood na lang ako sa YouTube.
"I'll just watch it on YouTube."
7
uminom
"to drink"
Mahilig uminom ng gatas si Stephan.
"Stephan loves to drink milk."
8
maghugas
"to wash"
Sino ang maghuhugas ng mga kinainan?
"Who's going to wash the dishes?"
9
maglaba
"to do the laundry"
Day off ko; maglalaba ako.
"It's my day off; I'm going to do the laundry."
10
maglinis
"to clean"
Bakit walang gustong maglinis nito?
"Why isn't there anyone who wants to clean this?"
11
magwalis
"to sweep the floor"
Magwalis ka ng sahig.
"Go sweep the floor."
12
magpunas
"to wipe"
Magpunas ka ng mesa pagkatapos kumain.
"Wipe the table after eating."
13
magdilig
"to water"
Joe, magdilig ka ng halaman mamaya ha?
"Joe, water the plants later, okay?"
14
humiga
"to lie down"
Gusto ko humiga buong araw.
"I want to lie down all day."
15
umubos
"to finish off"
Hindi ko maubos ang pagkain ko.
"I can't finish off my food."
16
magbihis
"to change clothes"
Doon ka magbihis sa loob.
"Go change inside."
17
magsuot
"to wear"
Magsuot ka nito mamaya.
"Wear this later."
18
magbukas
"to open"
Magbukas ka ng de lata na sardinas.
"Go and open a can of sardines."
19
magsara
"to close"
Magsara naman kayo ng pinto.
"Please close the door, guys."
2- School and Work
20
mag-isip
"to think"
Hindi ako makapag-isip nang mabuti.
"I can't think properly."
21
mag-aral
"to study"
Kailangan niyong mag-aral nang mabuti.
"You all need to study hard."
22
magturo
"to teach"
Magaling magturo si Amy.
"Am can teach really well."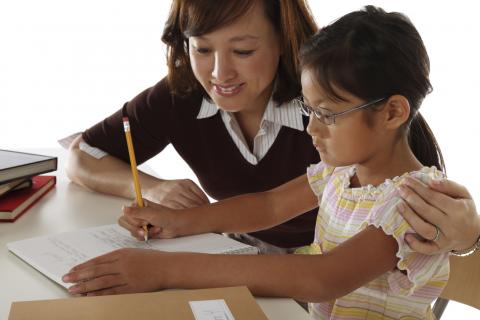 23
magsaulo
"to memorize"
Hindi ganun kahirap magsaulo.
"It's not that difficult to memorize."
24
magtrabaho
"to work," "to go to work"
Ayaw niya nang magtrabaho.
"She doesn't want to work anymore."
25
magsulat
"to write"
Hindi marunong magsulat ang matanda.
"The old woman doesn't know how to write."
26
magbasa 
"to read"
Mabilis siyang matutong magbasa.
"He quickly learned how to read."
27
magtanong
"to ask," "to inquire"
Magtatanong lang po sana ako.
"I would like to ask something."
28
sumagot
"to answer," "to reply"
Sumagot si Sheldon sa tanong ni Penny.
"Sheldon answered Penny's question."
29
umintindi
"to understand"
Mahirap bang umintindi ng Tagalog?
"Is it that difficult to understand Tagalog?"
30
mag-analisa
"to analyze"
Matuto kang mag-analisa.
"You need to learn how to analyze."
31
magsalita
"to speak," "to talk"
Huwag kang magsalita ng masama.
"Don't speak evil."
32
magpadala
"to send"
Napadala mo ba ang mensahe?
"Were you able to send the message?"
33
gumuhit
"to draw" (as in a picture)
Mahusay gumuhit si Jose.
"Jose draws well."
34
tumayo
"to stand," "to get up"
Huwag kang tumayo.
"Do not stand up."
35
umupo
"to sit down"
Umupo ka diyan sa sahig.
"Go sit on the floor."
36
magpahinga
"to rest," "to take a break"
Magpahinga ka muna.
"Take a break for a while."
37
bumati
"to greet"
Bumati ka sa bagong manager.
"Go and greet the new manager."
38
mag-presenta
"to volunteer"
Dapat sana nag-presenta ka.
"You should have volunteered."
3- The Outdoors
39
maglaro
"to play"
Naglalaro ang mga bata sa labas.
"The kids are playing outside."
40
maglakad
"to walk"
Maglalakad lang daw sila pauwi.
"They said they'll just walk home."
41
tumakbo
"to run"
Araw-araw si Benjie tumatakbo.
"Benjie runs every single day."
42
tumalon
"to jump"
Huwag kang tatalon pagkatapos kumain.
"Don't go on jumping after eating."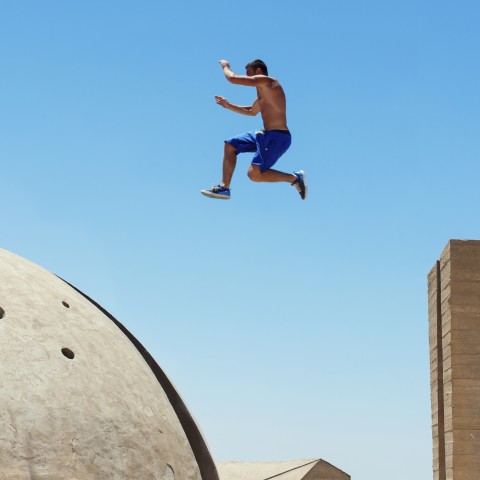 43
umalis
"to leave"
Umalis na ang bisita nila.
"Their guests left already."
44
maghintay
"to wait"
Dito tayo maghintay.
"Let's wait here."
45
kumuha
"to take," "to get"
Bakit hindi ka kumuha ng lisensya?
"Why don't you get a license?"
46
pumunta 
"to go," "to head to," "to come"
Pwede ka bang pumunta dito?
"Can you come here to my place?"
47
dumating
"to arrive"
Anong oras sila dumating kagabi?
"What time did they arrive last night?"
48
gumamit
"to use"
Umuulan. Gumamit ka ng payong.
"It's raining. Use an umbrella."
49
bumitbit
"to carry"
Paki bitbit ng mga dala ko.
"Please carry my things for me."
50
magdala
"to bring"
Pwede bang magdala ng kasama?
"Is it okay to bring someone?"
4- Traveling
The Philippines is composed of over 7,000 islands, making it an excellent place to visit if you love traveling. If you want to tour the country, though, you need to add these twenty useful Filipino travel phrases to your arsenal.
51
bumiyahe
"to travel"
Madalas bumiyahe si Drew.
"Drew travels a lot."
52
magmaneho
"to drive"
Si Roxanne daw ang magmamaneho.
"Roxanne said she'll drive."
53
sumakay
"to ride," "to take a ride"
Araw-araw siyang sumasakay ng tren.
"She takes/rides the train everyday."
54
huminto
"to stop"
Ihinto mo ang sasakyan.
"Stop the car."
55
umabante
"to move forward"
Umaabante na sila.
"They're moving forward now."
56
umatras
"to step back," "to move backward"
Umatras ka muna para makadaan siya.
"Move backward first so she can pass."
57
mag-empake
"to pack up"
Mag-empake ka habang maaga pa.
"Pack your things up while it's early."
58
bumaba
"to get off," "to go down"
Dito na lang ako bababa.
"I'll just get off here."
59
lumipad
"to fly," "to take off"
Lumipad na ang eroplano.
"The plane already took off."
60
sumundo
"to pick up"
Sino ang sumundo sa inyo sa airport?
"Who picked you up from the airport?"
61
maghatid
"to deliver," "to take someone someplace," "to see someone off"
Ihahatid daw kami ni kuya.
"Big brother is going to take us to the airport and see us off."
62
mamasyal
"to look around," "to explore"
Gusto kong mamasyal doon.
"I would love to explore those areas."
63
pumara
"to hail" (as in a taxi)
Pumara ka ng taxi
"Call a taxi."
How do you catch a taxi in the Philippines? Here's how.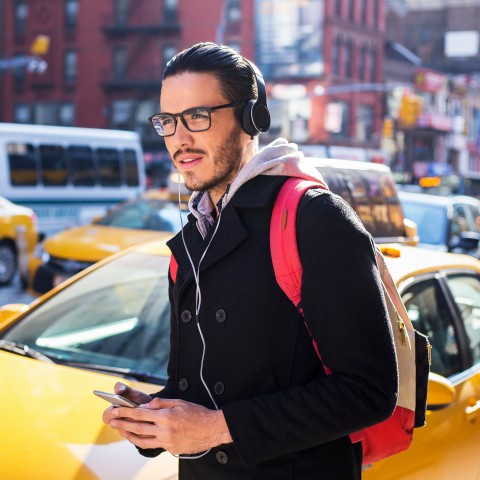 64
magmadali
"to hurry up"
Magmadali ka dahil mahuhuli na tayo.
"Hurry up because we're getting late."
65
pumila
"to fall in line," "to queue up"
Pumila ka palagi sa tamang pilahan.
"Always get into the right queue."
5- Expressing Emotions
Filipinos are very emotional people. Don't forget to check out this lesson on how to describe feelings and emotions in Filipino as well.
66
magmahal
"to love"
Kaysarap magmahal.
"It's so good to love."
67
magalit
"to get mad or angry"
Huwag sana siyang magalit.
"I hope she doesn't get mad."
68
magtampo
"to feel bad," "to sulk"
Walang dahilan para magtampo ka.
"There's no reason for you to feel bad."
69
tumawa
"to laugh"
Ang lakas mong tumawa.
"You laugh really loud."
70
umiyak
"to cry"
Umiiyak ka na naman.
"You're crying again."
71
masaktan
"to get hurt"
Ayoko nang masaktan.
"I don't want to get hurt anymore."
mag-alala
"to worry"
Huwag kang mag-alala.
"Don't you worry."
73
maawa
"to have or to show compassion"
Hindi siya marunong maawa.
"He doesn't know how to show compassion."
74
kumalma
"to calm down"
Kumalma ka muna nang kaunti.
"Why don't you calm down a bit."
75
magkulitan
"to goof around with someone"
Itigil niyo na nga ang pagkukulitan niyo.
"Stop goofing around, guys."
76
sumimangot
"to frown"
Huwag ka ngang sumimangot diyan!
"Stop frowning!"
77
sumigaw
"to shout"
Gusto kong sumigaw!
"I want to shout!"
78
mang-insulto
"to insult"
Ang galing mo mang-insulto!
"You really know how to insult somebody!"
6- Verbs for Actions Done When Angry
Are you looking for stronger emotional words to add to your Filipino vocabulary? Verbs that describe angry actions are always useful.
Speaking of fighting, why don't you check out our video on how to fight language-learning failure? Here, you'll discover why many people fail at learning a new language and find out how you can beat the said problem. 
79
sumuntok
"to punch"
Malakas sumuntok si Manny.
"Manny punches really hard."
80
sumipa
"to kick"
Sinubukan niyang sumipa subalit mintis.
"He kicked but missed."
81
humampas
"to hit," "to clobber"
Gusto ko siyang hampasin ng unan.
"I want to hit him with the pillow."
82
bumugbog
"to beat"
Binubugbog ni Manny si Keith.
"Manny is beating Keith."
83
tumulak
"to push"
Tinutulak mo ako!
"You're pushing me!"
84
maghagis
"to throw"
Hinagis niya ang kalaban niya sa sahig.
"He threw his opponent on the floor."
85
umatake
"to attack"
Umaatake na siya.
"He is attacking now."
7- Miscellaneous Everyday Verbs
Before anything else, if you haven't checked out our feature on the top 25 everyday Filipino verbs, make sure you do so! And now, on to the final leg of our Filipino verbs list. 
86
pumasok
"to enter"
Nakita ko siyang pumasok sa kwarto.
"I saw him enter the room."
87
lumabas
"to go outside"
Lumabas siya nang walang paalam.
"He went outside with no permission."
88
tumanggap
"to receive," "to accept"
Tumanggap ng gantimpala ang babae.
"The lady received a reward."
89
sumunod
"to follow"
Sumunod lamang daw sila sa utos.
"They said they simply followed orders."
90
bumili
"to buy"
Palagi siyang bumibili kina Edna.
"He always buys at Edna's store."
91
tumawag
"to call"
Bilis! Tumawag ka ng ambulansya!
"Quick! Call an ambulance!"
92
maghanap
"to look for something"
Oras na para maghanap ka ng nobya.
"It's time for you to look for a girlfriend."
93
magbigay
"to give"
Magbigay ka ng paliwanag.
"Give an explanation."
94
makiramay
"to condole," "to sympathize"
Nakikiramay kami sa inyo.
"We sympathize with you."
95
kumagat
"to bite"
Ayaw kumagat ng preno.
"The brakes won't bite."
96
tumapak
"to step on something"
Tapakan mo ang ipis!
"Step on the cockroach!"
97
magpa-andar
"to turn on"
Paandarin mo ang bentilador.
"Turn on the electric fan."
98
umistambay
"to hang around"
Mahilig umistambay sa labas si Andre.
"Andre loves hanging around outdoors."
99
umiwas
"to avoid"
Bakit ka umiiwas sa akin?
"Why are you avoiding me?"
100
sumang-ayon
"to agree"
Hindi ako sumasang-ayon sa'yo.
"I don't agree with you."
5. Learn More About Verbs in Tagalog with FilipinoPod101!
Today, you've learned the basics of pandiwa, or the verb in Filipino, as well as 100 of the most practical basic Filipino verbs. (You should also see our collection of 100 adjectives and 100 nouns!)
Adding these words to your Filipino language arsenal is already an advantage, but do you know that you can further refine your vocabulary by taking advantage of FilipinoPod101's advanced features? That's right. 
Aside from fundamental lessons like how to learn Filipino verbs, there are more advanced lessons that can help fast-track your learning. The MyTeacher service, for instance, is a premium service that lets you do one-on-one lessons with a FilipinoPod101 teacher, as well as receive a personalized learning program tailored just for you. And with the InnovativeLanguage101 App, you can do all of your lessons anytime, anywhere!
Before you go, let us know in the comments if there are any Filipino verbs you still want to know. We look forward to hearing from you!
August 24, 2020
There are many types of words we use in our everyday lives when communicating with each other, and pronouns are among them. You may not realize it, but you frequently refer to other people or things using pronouns in your everyday conversations. Pronouns are used primarily to replace nouns in order to avoid redundancy. 
The pronoun in Tagalog is referred to as panghalip. Just like in English grammar, there are several categories of the panghalip as a part of speech. Keep in mind, though, that not all English pronouns have direct equivalents in Filipino. Moreover, some Filipino pronouns may be used in more ways than English pronouns, and there are also categories under panghalip that aren't found in English grammar.
The first type of panghalip is called panghalip panao.
Table of Contents
1. Panghalip Panao (Personal Pronouns)
The personal pronoun in Tagalog is panghalip panao. The term panao is derived from the word tao, which is Filipino for "man" or "human." And as the term suggests, the role of panghalip panao is to take the place of nouns that name people.
Before we move forward, you need to understand that Filipino pronouns are categorized by case. They can either be Direct (ANG pronouns), Indirect (NG pronouns), or Oblique (SA pronouns). The following are Filipino personal pronouns under each of these three categories:
A- Filipino ANG Pronouns
Personal pronouns in this category are the ones a sentence focuses on. 
| In English | In Filipino |
| --- | --- |
| "I" | ako |
| "you" | ikaw |
| "he" / "she" | siya |
| "we" | tayo (inclusive) / kami (exclusive) |
| "you all" | kayo |
| "they" | sila |
1 – ako or "I" (singular first person)
Examples:
Ako ang may-ari ng bahay na ito. 
"I am the owner of this house."
Ako ay pupunta sa kasal ni Ellen. 
"I am going to Ellen's wedding."
2 – ikaw or "you" (singular second person)
Examples:
Ikaw ang dahilan kung bakit ako pumunta dito.
"You are the reason that I came here."
Ikaw na lang ang kumain ng keyk.
"You eat the cake."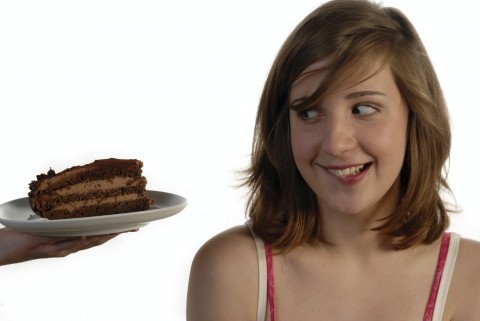 3 – siya or "he" / "she"
In this day and age, due to gender issues, people are more careful when it comes to using pronouns. However, in Filipino grammar, pronouns show no distinction between "he" and "she." Instead, the word used for Filipino gender pronouns in the singular second person is simply siya. That's definitely one trick to learn when studying Filipino.
Examples:
Siya ang nakita mo sa mall kahapon.
"She's the one you saw at the mall yesterday."
Siya yung pogi na sinasabi ko sa'yo!
"He's the cute guy I was telling you about!"
4 – tayo (inclusive) / kami (exclusive) or "we" (plural first person)
Examples:
Tayo ang dapat lumapit sa kanya.
"We are the ones who are supposed to approach him."
Kakain kami sa Mang Inasal.
"We are going to eat at Mang Inasal."
5 – kayo or "you" / "you all" (plural second person)
Examples:
Kayo ang may pakana ng lahat ng ito.
"You are the mastermind behind all of this."
Kumain na kayo dito.
"You all should eat here."
6 – sila or "they" (plural third person)
Examples:
Sila ang mga napili na lumahok sa paligsahan.
"They were the ones chosen to participate in the contest."
Umuwi sila kaagad pagkatapos ng programa.
"They all went home right after the program."
B- Filipino NG Pronouns
Ng (pronounced nang) personal pronouns are used to replace unfocused nouns in a sentence. In Filipino grammar, possessive pronouns can also take this form, and these words can also serve as a replacement for an unfocused actor.
| In English | In Filipino |
| --- | --- |
| "my" / "of me" | ko |
| "your" / "of you" | mo |
| "his" / "her" / "of him" / "of her" | niya |
| "our" / "of us" | namin (exclusive) / natin (inclusive) |
| "your" / "of you" | ninyo |
| "their" / "of them" | nila |
1 – ko or "my" / "of me" (singular first person)
Examples:
Expressing possession
Desisyon ko ang masusunod.
"It's my decision that should be taken."
As a substitute for an unfocused actor
Binili ko ang ang mga pagkain.
"The food was bought by me."
2 – mo or "your" / "of you" (singular second person)
Examples:
Expressing possession
Sapatos mo yung nasa labas ng pinto.
"It seems that your shoes are on the doorstep."
Cell phone mo ba yung ginagamit niya?
"Is that your cell phone that he's using?"
3 – niya or "his" / "her" / "of him" / "of her" (singular third person)
Examples:
As a substitute for an unfocused actor
Kinuha niya ang lahat sa akin.
"He took everything from me."
Binigyan niya ng pera ang kanyang nakababatang kapatid.
"She gave her younger brother some money."
4 – namin (exclusive) / natin (inclusive) or "our" / "of us" (plural first person)
Examples: 
As a substitute for an unfocused actor
Kinuha namin ang padala niya kahapon.
"The package was picked up by us yesterday."
Nakayanan natin ang mga pagsubok.
"The challenges were overcome by us."
5 – ninyo or "your" / "of you" (plural second person)
Example: 
Mali ang ginawa ninyo.
"Your actions were wrong."
6 – nila or "their" / "of them" (plural third person)
Example: 
Mali ang ginawa nila.
"Their actions were wrong."
C- Filipino SA Pronouns
Sa personal pronouns are used to indicate an unfocused direction and location in a sentence. They also indicate possession. In this case, they act as Filipino possessive pronouns or panghalip paari.
| In English | In Filipino |
| --- | --- |
| "me" / "my" | akin |
| "you" / "your" | iyo |
| "him" / "his" / "her" | kanya |
| "us" / "our" | amin (exclusive) / atin (inclusive) |
| "you" / "your" | inyo |
| "them" / "their" | kanila |
1 – akin or "me" / "my" (singular first person)
Examples: 
Expressing location
Nasa akin ang bag mo.
"Your bag is with me."
Expressing possession
Siya ay aking katrabaho.
"She is my colleague."
2 – iyo or "you" / "your" (singular second person)
Examples: 
Expressing direction
Tatawag ako sa iyo bukas. 
"I am going to call you tomorrow."
Naiinis daw siya sa iyo.
"She said she's mad at you."
3 – kanya or "him" / "his" / "her"
Examples:
Expressing location
Nasa kanya na ang susi ng kotse.
"The car key is with her already."
Expressing possession
Yan ay kanyang mga damit.
"Those are her clothes."
4- Formal Usage
Just as in many other languages, second- or third-person pronouns are used in formal or polite settings. For instance, when speaking with an elderly person, instead of simply saying Saan ka galing? we say, Saan kayo galing? meaning "Where have you been?" Notice that without the iteration po, the statement is still considered polite.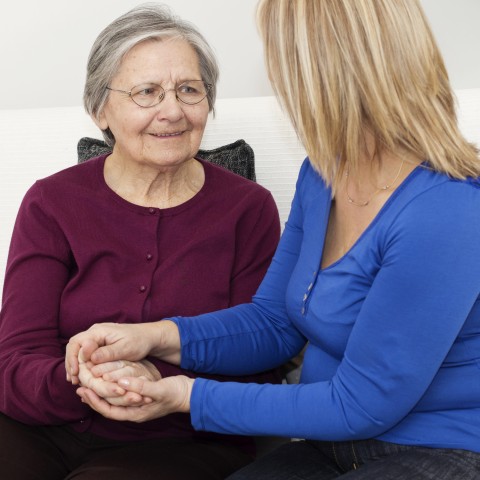 D- Reflexive Pronouns
Reflexive pronouns, such as "myself," "himself," and "themselves," always appear with the word sarili, meaning "self" in Filipino.
For instance, the equivalent of "himself" is either sarili niya or ang kaniyang sarili, depending on how you want to say it.
This quote from the film Heneral Luna is a great example:
Mayroon tayong mas malaking kaaway kaysa mga Amerikano—ang ating sarili.
"We have an enemy far greater than the Westerners—ourselves." 
Pinahirapan nila ang kanilang sarili sa hindi pag-aaral nang mas maaga.
"They tortured themselves by not studying ahead of time."
2. Panghalip Pamatlig (Demonstrative Pronouns)
Demonstrative pronouns are referred to as panghalip pamatlig in Filipino. They're used to point to a specific noun in a sentence. In English grammar, there are only four demonstrative pronouns: "this," "that," "these," and "those." The case is different for panghalip pamatlig.
For instance, there are four types of panghalip pamatlig:
Pronominal
Panawag pansin
Patulad
Panlunan
Examples of Pronominal:
ito ("this")
dito ("here")
iyan ("that")
niyan ("that")
diyan ("there")
iyon ("that")
doon ("there")
Ito ang gusto ko.
"This is what I want."
Regarding iyan and niyan, both words are translated into "that" in English, and both represent something that's away from the speaker. The main difference between the two is that iyan is an ANG marker, while niyan is a NG marker. More importantly, iyan is usually placed at the beginning of a sentence, while niyan is placed at the end of a sentence.
Iyan ang gusto kong makita.
"That is what I want to see."
Ayaw ko niyan.
"I don't like that."
Gusto kong pumunta diyan.
"I want to go there."
Examples of Panawag Pansin:
eto / heto ("here" / "this")
ayan / hayan ("that")
ayun / hayun ("there")
Heto ako.
"Here I am."
Ayan sila.
"That's them."
Ayun ang pera sa ibabaw ng kama.
"There's the money on the bed."
Examples of Patulad:
anito / ganito ("like this")
ganiyan / ganyan ("like that")
ganoon / gayon ("like that" / "like those")
Ganito ang ginawa niya.
"He did it like this."
Ganoon ang pagkatumba niya sa motor.
"She fell on the motorbike just like that."
Examples of Panlunan:
doon / naroon / nandoon ("there")
diyan / riyan ("there")
narito / nandito ("here")
Nandoon ang mga taong hinahanap niyo.
"The people you're looking for are there."
Narito na ang pinakahihintay ng lahat.
"What you have been waiting for is finally here."
3. Panghalip Pananong (Interrogative Pronouns)
Interrogative pronouns in Filipino, or panghalip pananong, are pronouns used to make asking questions a lot less complicated.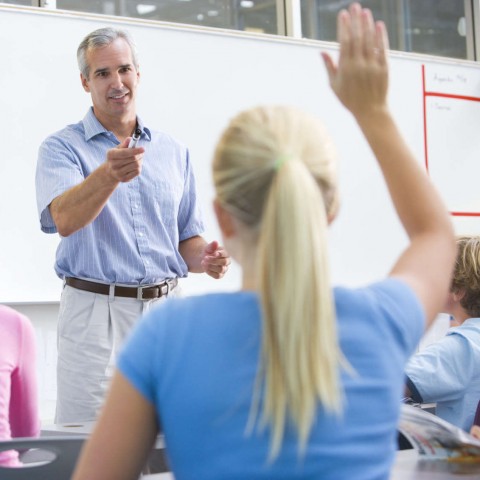 There are only five panghalip na pananong, which are the equivalents of the five in English grammar. However, unlike in English, panghalip pananong has a plural form.
Singular: 
Ano ("What")
Alin ("Which")
Sino ("Who" / "Whom")
Kanino ("Whose")
Ano ang sabi mo?
"What did you say?"
Alin dito ang pinaka nagugustuhan mo?
"Which one do you like the most?"
Sino ang kumuha ng salamin dito?
"Who removed the mirror here?"
Sino ang pinagkakatiwalaan mo?
"Whom do you trust?"
Kanino ang aso na iyan?
"Whose dog is that?"
Plural:
Anu-ano ("What/Which ones")
Alin-alin ("Which ones")
Sinu-sino ("Who")
Kani-Kanino ("Whom" / "Whose")
In the plural form of panghalip pananong, the meaning may not change in English, but it's emphasized in Filipino. 
For example:
Anu-ano ba ang mga sinabi niya?
"What specific things did he say?"
Even if you use the singular form in Filipino, the meaning in English remains the same as long as the particle mga, which pluralizes countable nouns, is used.
So, Ano ba ang mga sinabi niya? could have the same translation in English as Anu-ano ba ang mga sinabi niya?
Alin-alin dito ang mga binigay mo sa kaibigan mo?
"Which ones among these did you give to your friend?"
Sinu-sino ang mga dumalo sa miting?
"Who among the guys attended the meeting?"
Kani-kanino itong mga nakakalat na laruan sa sahig?
"Whose toys are these left lying on the floor?"
4. Panghalip Panaklaw (Indefinite Pronouns)
As the term suggests, indefinite pronouns don't refer to any specific person or object. They are referred to in Filipino as panghalip panaklaw. Panaklaw comes from the root saklaw, which implies range or scope.
Commonly used panghalip panaklaw words are as follows:
1 – lahat ("everyone" / "everybody" / "everything" / "all")
Gusto sumama ng lahat sa field trip.
"Everybody wants to join the field trip."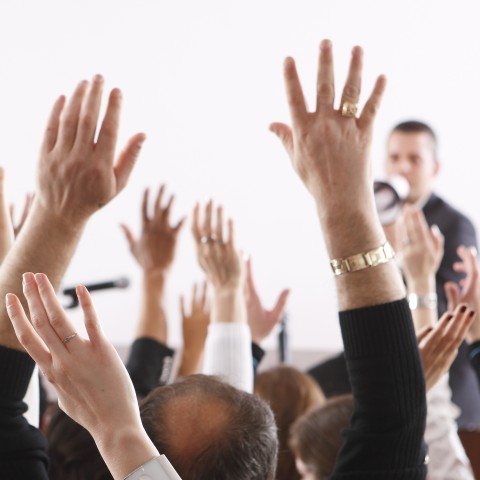 Ang lahat ay ibinoto siya na maging gobernador.
"All voted for him to be governor."
2 – sa lahat ng dako ("everywhere")
Naghanap kami sa lahat ng dako pero hindi pa rin namin siya natagpuan.
"We searched everywhere and still didn't find her."
3 – sinuman ("anyone")
Ang sinuman na hindi pupunta ay bibigyan ng parusa.
"Anyone who does not attend will be given a penalty."
4 – anuman / alinman ("anything")
Itapon na lang ang anuman na wala nang silbi.
"Just throw anything that doesn't serve any purpose."
5 – kaunti ("few" / "a few")
Kaunti na lang ang natirang tickets.
"There's just a few tickets left."
6 – madami / marami ("many" / "a lot")
Marami sa kanila ang ayaw sa huling resolusyon na ipinasa ng mga miyembro ng board of directors.
"A lot of them are not in favor of the recent resolution passed by members of the board of directors."
7 – saanman ("anywhere" / "wherever")
Saanmang dako ng mundo, ikaw ay susundan ko.
"Anywhere you go, I am sure to follow."
In some cases, a Tagalog pronoun is placed after saanman in the first and third persons, and the words saan ("where") and man ("any") are written separately.
Susundan ko sya saan man siya (third person) pumunta.
"I will follow her wherever she may go."
Sinusundan niya ako saan man ako (first person) pumunta.
"He follows me wherever I go."
And in the second person, a pronoun is placed between saan and man.
Susundan kita saan ka (second person) man pumunta.
"I will follow you wherever you go."
Hahanapin kita saan ka (second person) man magtago.
"I will look for you wherever you may hide."
8 – wala / wala ni isa ("none")
Wala ni isa sa kanila ang nagtangkang magsalita.
"None of them had the courage to speak."
9 – isang tao / isa ("someone" / "somebody")
May isa na dapat tanggalin sa group.
"Someone has to be removed from the group."
10 – bawat isa ("each")
Ang bawat isa sa atin ay may papel na ginagampanan sa team na 'to.
"Each of us has a role to play in this team."
5. Panghalip Pamanggit (Relative Pronouns)
Relative pronouns in Filipino are called panghalip pamanggit. Their main function is that of introducing a relevant clause and connecting it to an independent clause.
The most common examples of panghalip pamanggit are na and ng.
Examples:
Ang drayber na nakabundol sa mag-asawa ay nahuli.
"The driver who hit the couple was caught."
Huwag mong hawakan ang mga bagay na hindi mo pagmamay-ari.
"Don't touch things that don't belong to you."
Mayroon akong kaibigan na ang kuya ay napaka kulit.
"I have a friend whose brother is so annoying." 
Huwag na huwag magtitiwala sa tao na ang ulo ay napapanot.
"Never trust a man whose hair is balding."
Ang mga binti ng kalabaw ay malaki.
"The legs of the water buffalo are large." 
Although the direct equivalent of the word ng is "of" in English, it functions in this sentence as a panghalip pamanggit.
Again, the reason is that some Filipino words may have a direct equivalent in English, and yet they are used in a different manner.
That said, the relative pronouns "which," "that," "who," "whom," and "whose," can all be translated to na.
6. Panghalip Patulad
Panghalip patulad is a Filipino pronoun category that isn't found in English. Patulad comes from the root word tulad, which denotes similarity.
Words under this category are used to replace words that denote manner, or how things are performed or acted. 
For instance, "This is how we do it," can be translated to Ganito namin ginagawa 'yan. In this sentence, the word ganito is considered a panghalip patulad.
That said, the three major words used as panghalip patulad are ganito, ganyan, and ganoon.
1 – Ganito
The word ganito can be directly translated to "like this" or "in this manner." It's used when the object being spoken of is near the speaker.
In the following examples, observe how the use of the word ganito changes in the English translation depending on how it's being used in the Filipino sentences.
Ganito kami sa Pilipinas.
"This is how we are in the Philippines."
Ganito ang dapat nating gawin.
"This is what we should do."
In some instances, the word alone (along with a demonstration from the speaker) is enough to answer a question about how something is done.
Paano mo ginagawa yan?
Ganito.
"How do you do it?"
"This way."
2 – Ganyan
Ganyan can be translated to "like that" or "in that manner." It's used when the object being described is near the person being spoken to.
Ganyan ka mag-shoot ng bola!
"That's how you shoot a ball!"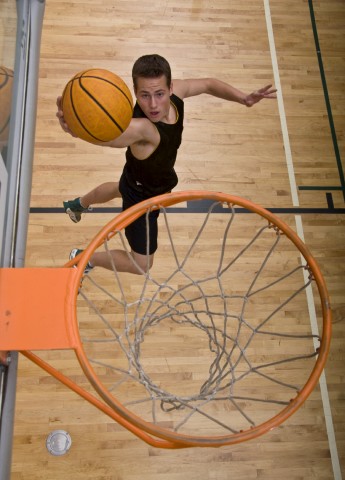 Ganyan pala maghiwa ng sibuyas.
"So that's how you're supposed to slice an onion."
Pigain mo siya nang ganyan.
"Squeeze it in that manner."
3 – Ganoon / Ganun
Just like ganyan, ganoon can also be translated to "like that" or "in that manner." However, it's used when the object being described is far from both the speaker and the person being spoken to.
Ganun din ang kotse na gusto kong bilhin.
"That's the same car model I want to buy."
Nakita mo kung paano niya sinagot ang tanong? Ganoon ka din dapat sumagot.
"Did you see how he answered the question? You should answer in that same manner."
7. Conclusion
Filipino is a bit of an inflected language, which may make it a bit confusing for those who are studying it. Even Pinoys themselves confuse the two terms Filipino and Tagalog. This is where the importance of studying the language further comes in.
If you want to learn more about Filipino and Tagalog pronouns, a good place to start is FilipinoPod101, a language-learning portal that provides students with a structured yet fun and enjoyable way of learning Filipino grammar. One of the many perks it provides is the ability to learn Filipino anywhere and anytime you want. FilipinoPod101 can also provide you with a personal tutor if you want to speed up your learning process.
Whether it's 100 nouns or 100 adjectives you want to learn, or whether you want to learn how to say "Hello" or "I love you" in Filipino, you can rest assured that FilipinoPod101 will be able to guide you all the way through.
And before you leave, please don't hesitate to let us know in the comments section below what you think about this article and whether there are questions about pronouns in Tagalog you want to ask! We'll do our best to help you out.
Happy Filipino learning!
August 18, 2020
Do you remember the moment you fell in love with languages?
Do you desire to learn or advance in Filipino quickly and effectively?
Then you need a Filipino tutor.
A common question that first-time language-learners ask is "Where do I begin?" The answer? Guidance.
For native English-speakers who want to learn Asian languages, for example, timelines provided by the U.S. Foreign Service Institute can appear discouraging. However, defeating these odds is not unheard of. If you want to beat the odds yourself, one of the best learning options is a subscription to Premium PLUS from Innovative Language.
As an active Premium PLUS member of JapanesePod101.com and KoreanClass101.com myself, I have an enjoyable experience learning at an accelerated pace with at least thirty minutes of study daily. The following Premium PLUS features contribute to my success:
Access to thousands of lessons

A voice recorder 

Spaced-repetition system (SRS) flashcards

Weekly homework assignments

A personal language instructor
As someone who decided to make Japanese her second language one year ago, I am extremely grateful for Premium PLUS.
Allow me to emphasize on how these Premium PLUS features strengthen my language studies.
Gain Unlimited Access to Audio and Video Lessons!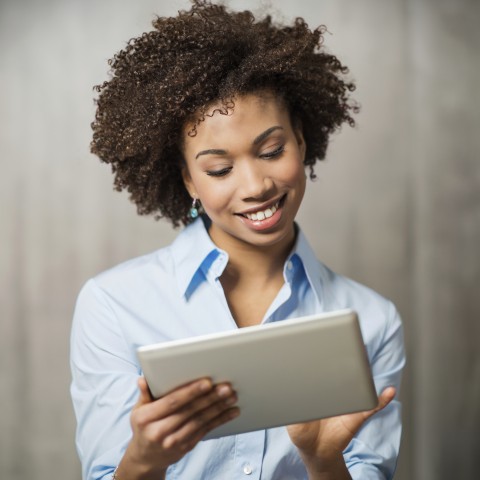 As a Premium PLUS member, I have full access to the lesson library and other Premium features. Best of all, I'm not limited to one level; I can learn to my heart's content with upper-level courses.
There are lessons on various topics that tackle crucial language-learning elements, such as:
Reading

Writing

Listening

Speaking

Conversation
Specifically, there are pathways. Pathways are collections of lessons that center on a specific topic. Some Innovative Language sites, like JapanesePod101.com, even have pathways geared toward proficiency tests. For example, the JLPT N3 Master Course pathway.
Because of the abundance of lessons, I've found pathways in the lesson library to help me prepare for certain events. Thanks to the "Speaking Perfect Japanese at a Restaurant" pathway, I spoke fully in Japanese while dining in Japan. Additionally, I participated in conversations at language exchange meetups in South Korea after completing the "Top 25 Korean Questions You Need to Know" pathway.
Each lesson has lesson notes, which I read while simultaneously listening to the audio lesson. This strategy enables me to follow along on key points. Lesson notes generally contain the following:
Dialogue

Vocabulary

Grammar points

Cultural insights
As someone who's constantly on-the-go, I heavily benefit from mobile access to lessons. Podcasts and lesson notes are available on the Innovative Language app and/or Podcasts app for iOS.
All lessons and their contents are downloadable. Prior to my flights to Japan and South Korea, I downloaded lessons on my iPhone. The apps make learning more convenient for me during my commutes.
Practice Speaking with the Voice Recording Tool!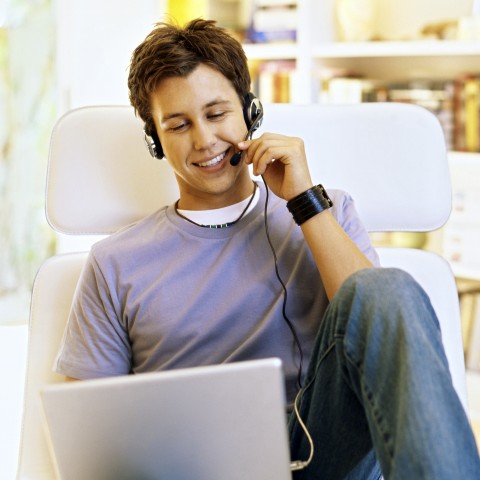 Pronunciation is an essential ingredient in language-learning. Proper pronunciation prompts clear understanding during conversations with native speakers.
Prior to learning full Korean sentences, my online Korean language tutor assigned the "Hana Hana Hangul" pathway to me. It demonstrated the writing and pronunciation of Hangul, the Korean alphabet. Throughout this pathway, I submitted recordings of my Hangul character pronunciations to my language teacher for review.
I was given a similar task on JapanesePod101.com with the "Ultimate Japanese Pronunciation Guide" pathway. My Japanese language teacher tested my pronunciation of the Japanese characters kana. My completion of the two pathways boosted my confidence in speaking.
Speaking is one of the more challenging components of learning a language. The voice recording tool in particular was a great way for me to improve my speaking skills. Further, because the lesson dialogues are spoken by native speakers, I'm able to practice speaking naturally.
This feature is also available for vocabulary words and sample sentences. Being able to hear these recordings improves my pronunciation skills for languages like Japanese, where intonation can change the meaning of a word entirely. The voice recorder examines my speed and tone. I also follow up by sending a recording to my online language tutor for feedback.
A great way to boost one's speaking confidence is to shadow native speakers. During the vocabulary reviews, it's helpful for me to hear the breakdown of each word; doing so makes a word that was originally difficult to even read a breeze to say!
Some lessons create opportunities to speak your own sentences. For example, the "Top 25 Korean Questions You Need to Know" pathway presents opportunities to answer questions personally. This helps you gain the ability to give answers as the unique individual you are.
Example Scenario:
The host asks the following question:
어디에 살고 있습니까?
eodieseo salgo isseumnikka
"Where do you live?"
If you live in Tokyo, you would readily say the following:
도쿄에 살고 있습니다.
Tokyo-e salgo isseumnida.
"I live in Tokyo."
Increase Your Vocab with Spaced-Repetition Flashcards and More!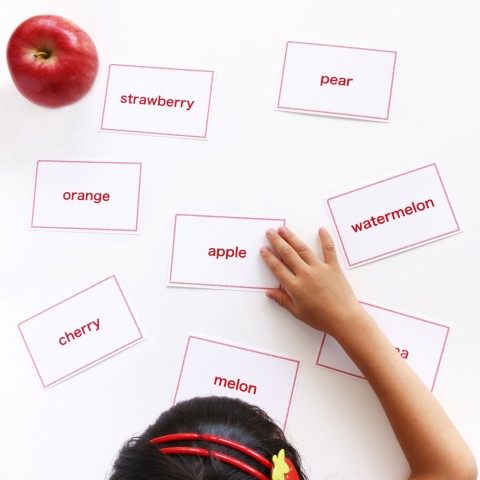 Imagine having a conversation with a native speaker and hesitating because you lack a solid vocabulary base.
Premium PLUS offers various features to expand learners' vocabulary, including Free Gifts of the Month. FilipinoPod101's free gifts for April 2020 included an e-book with "400 Everyday Phrases for Beginners," and the content is updated every month. When I download free resources like this, I find opportunities to use them with co-teachers, friends, or my language tutors.
An effective way to learn vocabulary is with SRS flashcards. SRS is a system designed for learning a new word and reviewing it in varying time intervals.
You can create and study flashcard decks, whether it's your Word Bank or a certain vocabulary list. For example, if you need to visit a post office, the "Post Office" vocabulary list for your target language would be beneficial to study prior to your visit.
In addition to the SRS flashcards, each lesson has a vocabulary slideshow and quiz to review the lesson's vocabulary.
There's also the 2000 Core Word List, which includes the most commonly used words in your target language. Starting from the 100 Core Word List, you'll gradually build up your knowledge of useful vocabulary. These lists can be studied with SRS flashcards, too.
With the SRS flashcards, you can change the settings to your liking. The settings range from different card types to number of new cards per deck. Personally, I give myself vocabulary tests by changing the settings.
After studying a number of flashcards, I change the card types to listening comprehension and/or production. Then I test myself by writing the translation of the word or the spoken word or phrase.
The change in settings allow me to remember vocabulary and learn how to identify the words. This is especially helpful with Japanese kanji!
Complete Homework Assignments!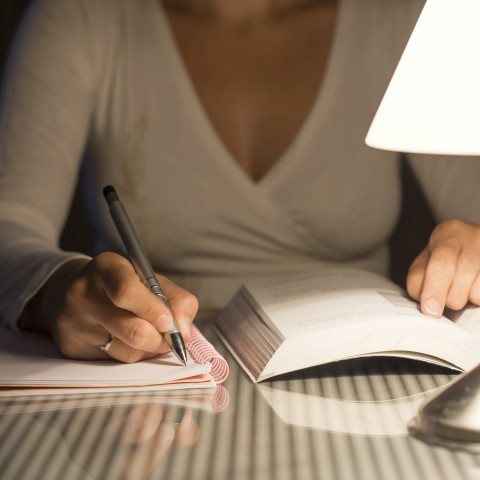 Homework assignments are advantageous to my language studies. There are homework assignments auto-generated weekly. They range from multiple-choice quizzes to writing assignments.
Language tutors are readily available for homework help. Some writing assignments, for instance, require use of unfamiliar vocabulary. In such cases, my language teachers assist me by forwarding related lessons or vocabulary lists.
In addition to these auto-generated homework tasks, language tutors customize daily assignments. My daily homework assignments include submitting three written sentences that apply the target grammar point of that lesson, and then blindly audio-recording those sentences. My personal language tutor follows up with feedback and corrections, if needed.
Your language tutors also provide assignments upon requests. When I wanted to review grammar, my Korean teacher sent related quizzes and assignments. Thus, you are not only limited to the auto-generated assignments.
Every weekend, I review by re-reading those written sentences. It helps me remember sentence structures, grammar points, and vocabulary to apply in real-world contexts.
Furthermore, I can track my progress with language portfolios every trimester. It's like a midterm exam that tests my listening, speaking, reading, and writing skills.
Get Your Own Personal Language Teacher!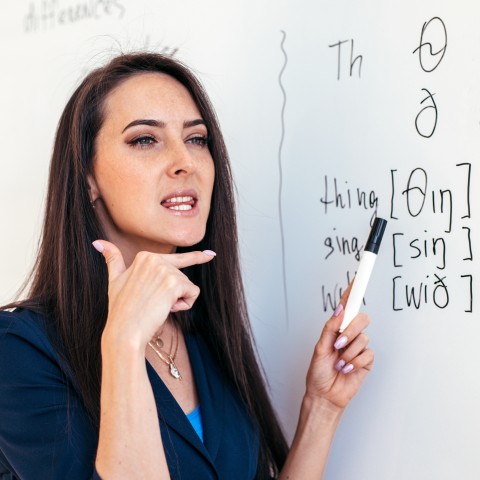 My language teachers cater to my goals with personalized and achievable learning programs. The tangible support of my online language teachers makes it evident that we share common goals.
Once I share a short-term or long-term goal with my teacher, we establish a plan or pathway that will ultimately result in success. I coordinate with my teachers regularly to ensure the personalized learning programs are prosperous. For example, during my JLPT studies, my Japanese language tutor assigned me practice tests.
Your language tutor is available for outside help as well. When I bought drama CDs in Japan, I had difficulty transliterating the dialogue. My Japanese teacher forwarded me the script to read along as I listened.
Additionally, I often practice Korean and Japanese with music. I memorize one line of the lyrics daily. Every time, I learn a new grammar point and new vocabulary. I add the vocabulary to my SRS flashcards, locate the grammar in the Grammar Bank, and study the associated lessons online.
I send my teachers the name of the songs, making them aware of my new goal. One time, my song for Korean was "If You Do" by GOT7. My Korean teacher revealed that she was a huge fan of GOT7 like me! For Japanese, it was "CHA-LA HEAD-CHA-LA," also known as the Dragonball Z theme song. My Japanese teacher excitedly told me that she sang the song a lot as a kid!
A remarkable thing happened to me in South Korea. I was stressed about opening a bank account with limited Korean. I sought help from my Korean teacher. She forwarded me a script of a bank conversation.
After two days, I visited the local bank. It all started with my opening sentence:
은행 계좌를 만들고 싶어요
eunhaeng gyejwaleul mandeulgo sip-eoyo.
I want to open a bank account.
Everything went smoothly, and I exited the bank with a new account!
The MyTeacher Messenger allows me to share visuals with my teachers for regular interaction, including videos to critique my pronunciation mechanisms. I improve my listening and speaking skills by exchanging audio with my teachers. In addition to my written homework assignments, I exchange messages with my language teachers in my target language. This connection with my teachers enables me to experience the culture as well as the language.
Why You Should Subscribe to Premium PLUS
It's impossible for me to imagine my continuous progress with Japanese and Korean without Premium PLUS. Everything—from the SRS flashcards to my language teachers—makes learning languages enjoyable and clear-cut.
You're assured to undergo the same experience with Premium PLUS. You'll gain access to the aforementioned features as well as all of the Premium features.
Complete lessons and assignments to advance in your target language. Increase your vocabulary with the "2000 Core Word List" for that language and SRS flashcards. Learn on-the-go with the Innovative Language app and/or Podcasts app for iOS users.
Learning a new language takes dedication and commitment. The Premium PLUS features make learning irresistibly exciting. You'll look forward to learning daily with your language tutor.
As of right now, your challenge is to subscribe to Premium PLUS! Complete your assessment, and meet your new Filipino teacher.
Have fun learning your target language in the fastest and easiest way!
Subscribe to Posted by FilipinoPod101.com in Feature Spotlight, Filipino Language, Filipino Online, Learn Filipino, Site Features, Team FilipinoPod101 | Comment
August 7, 2020
Any Filipino who grew up in the 80s would be familiar with Barok, one of the most popular Pinoy comic book characters at that time. His character was similar to those in America's The Flintstones, but instead of speaking like Fred or Barney, he spoke like Tarzan. And you know what that's like—words jumbled and all.
In the Philippines, a person who can't speak straight Tagalog or English is labeled as someone who is Barok magsalita (one who speaks like Barok).
That is why it's crucial to learn the proper Tagalog sentence structure. For one, it helps your readers or listeners understand the simplest sentences you're trying to convey (not to mention it will keep you from being nicknamed Barok).
But don't you worry, because if there's one thing about Filipino grammar that's not too difficult to learn, it's Tagalog word order. What most learners of the Filipino language love is its flexibility when it comes to word order. You'll find out what I mean later on when we get to the lesson proper.
For now, let's get to the basics of Filipino sentence structure first.
Table of Contents
1. An Overview of Tagalog Word Order
The most common sentence structure used in the English language is S-V-O (Subject-Verb-Object). It's acceptable to use the same word order in Filipino, which is what many beginners do. However, when it comes to spoken Filipino, using S-V-O will result in the speaker sounding awkward. Let's take this sentence for example: 
 S       V     O
"I am studying Filipino."
If you translate this into Tagalog, you will get: Ako ay nag-aaral ng Filipino. 
Now, this one is grammatically correct, but when spoken, it should be structured as:
V                S            O
"Studying     I     Filipino."  →  Direct Translation
Nag-aaral ako ng Filipino.
That said, word order in Tagalog is primarily V-S-O, and S-V-O is considered an inverted form (Kabalikang Anyo in Tagalog). But then, it also follows the V-O-S structure. 
One very important thing you need to understand about Tagalog, though, is that it doesn't always follow the subject-predicate structure. In the English language, the object within a sentence is always different from the subject. In Filipino, however, a word that follows a direct marker, like si or ang, is the subject. This means that the object can also function as the subject. Here's an example:
 S          V         O
"Julia is studying Filipino."
Si Julia ay nag-aaral ng Filipino.
Let's translate this into Filipino using the V-S-O pattern.
V                      S            O
"Studying        Julia      Filipino."  →  Direct Translation
Nag-aaral si Julia ng Filipino.
Now, let's try using the V-O-S pattern instead.
V                      O            S
"Studying        Filipino     Julia."
Nag-aaral ng Filipino si Julia.
Notice that in the S-V-O example, the sentence uses the word ay between the subject (Julia) and the verb (nag-aaral). It's long been thought (and taught) that ay is the copula "to be." More recent sources, however, say that ay is more of a replacement for a comma or a slight pause. The same sources say that it can't be a verb since it can appear in a sentence along with other verbs, although in most cases, it seems that it's the direct translation of the verb "is." 
Keep in mind, too, that ay only appears in the S-V-O form of the sentence (which, by the way, is viewed as formal or literary). Here are a few examples:
Ang bata AY naglalaro.
Si Butch AY umiinom.
Si Kobe AY natutulog.
Ang ale AY nananahi.
→ Need a dictionary for this lesson? The FilipinoPod101 Dictionary is one of the most complete free Filipino-English dictionaries online!
2. Basic Word Order with Subject, Verb, and Object
Compared to the English language, word order in Filipino is more flexible. In fact, you can construct certain sentences in up to six different ways. Don't believe me? Let's take a look at the following sentence:
"The man gave the woman some money."
There are six different ways you can write or say this sentence in Filipino. Each of these sentences conveys the same meaning, and they all include the same grammatical components. And yet, as you can see, the words are ordered differently.
Nagbigay ng pera sa babae ang lalaki. 
Nagbigay ng pera ang lalaki sa babae.
Nagbigay sa babae ng pera ang lalaki.
Nagbigay sa babae ang lalaki ng pera.
Nagbigay ang lalaki sa babae ng pera.
Nagbigay ang lalaki ng pera sa babae.
Here, you can see that the verb (nagbigay) is always in the initial position, but the order of the rest of the words is adjustable. This shows how flexible Tagalog can be!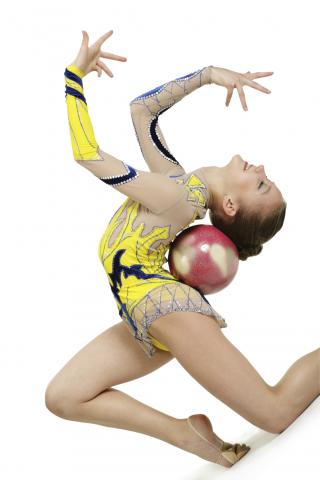 Did you say flexible?
Let's try a simpler sentence this time. 
"I study Filipino." 
This can be translated in a couple of ways:
S                V O
Ako ay nag-aaral ng Filipino.
V                 S         O
Nag-aaral ako ng Filipino.
Both of these translations are correct, but in normal conversations, you would usually use the second example: Nag-aaral ako ng Filipino.
Example: Nag-aaral ako ng Filipino ngayon sa FilipinoPod101. ("I am currently studying Filipino via FilipinoPod101.")
3. Filipino Word Order with Prepositional Phrases
When it comes to sentences with prepositional phrases, the order of the words is similar to that in English. Let's take the sentence below for example:
Place Preposition. "He studies at home." (Nag-aaral siya ng Filipino sa bahay.)
Time Preposition. "He studies in the evening." (Nag-aaral siya ng Filipino sa gabi.)
Preposition of Manner. "He studies with his friend." (Nag-aaral siya ng Filipino kasama ang kaibigan niya.)
Based on the examples, you can see that the preposition is placed AFTER the object. This is how the words are ordered in conversations. But in writing, the preposition can be placed BEFORE the object as shown in the following examples:
Place Preposition. "He studies Filipino at home." (Nag-aaral siya sa bahay ng Filipino.)
Time Preposition. "He studies Filipino in the evening." (Nag-aaral siya sa gabi ng Filipino.)
Preposition of Manner. "He studies Filipino with his friend." (Nag-aaral siya kasama ang kaibigan niya ng Filipino.)
Question: Can the preposition/prepositional phrase be placed at the BEGINNING of the sentence? Let's see.
Place Preposition. "He studies Filipino at home." (Sa bahay siya nag-aaral ng Filipino.)
Time Preposition. "He studies Filipino in the evening." (Sa gabi siya nag-aaral ng Filipino.)
Preposition of Manner. "He studies Filipino with his friend." (Kasama niya ang kaibigan niyang nag-aaral ng Filipino.)
Answer: ABSOLUTELY! In fact, the most natural way to say the given example sentences in Tagalog is by placing the preposition/prepositional phrase at the beginning of the sentence. 
4. Word Order with Modifiers
Modifiers have many functions, including clarifying, qualifying, or limiting a particular word in a sentence to add emphasis or detail. These grammatical elements are often in the form of adjectives and adverbs. 
In Tagalog grammar, a modifier can either be an adjective or an adverb depending on the word it's modifying. For instance, if the word being modified in a sentence is a noun, then the modifier used is an adjective. If, on the other hand, the word being modified is a verb, the modifier is an adverb.
Take the word mabuti, for instance, which means "good."
It can be used to describe a noun, like estudyante ("student"): estudyanteng mabuti ("good student"). 
In this sentence, mabuti functioned as an adjective.
It can be used to describe verbs, too. You can say: nag-aral nang mabuti ("studied well"). 
Here, mabuti now functions as an adverb.
In Tagalog, modifiers can appear either before or after the subject, but what plays a huge part here are the linkers na and –ng. Whenever you see these enclitics in a sentence, it means modification has taken place.
In these examples, the modifier appears before the subject:
mabait na estudyante ("kind/good student")
matalinong estudyante ("bright student")
masunuring estudyante ("obedient student")
We can also place the modifier after the subject:
estudyanteng mabait ("kind/good student")
estudyanteng matalino ("bright student")
estudyanteng masunurin ("obedient student")
As you've noticed, the meaning of the phrases didn't change even if the position of the modifiers did.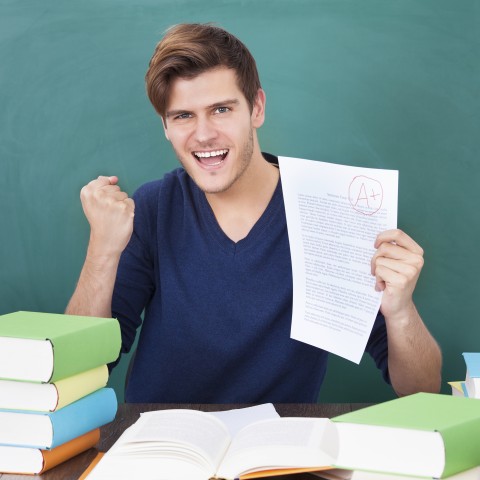 Matalinong estudyante. ("Bright student.")
Oh, and before anything else, let's talk about the markers na and –ng for a second. Actually, -ng is simply a modified form of na. It's used to replace na if the word that comes before it ends in a vowel. But what if na follows a word ending in the letter n? If that's the case, we drop the n from ng so that it now becomes g. We use na if the word it follows ends in a consonant. 
We can see some of these rules applied in the recent examples, but let's check out some more:
| Noun + Linker + Modifier | Modifier + Linker + Noun | Translation |
| --- | --- | --- |
| lupang hinirang | hinirang na lupa | "chosen land" |
| asong maliit | maliit na aso | "small dog" |
| bangkang papel | papel na bangka | "paper boat" |
| balong malalim | malalim na balon | "deep well" |
| payong na bago | bagong payong | "new umbrella" |
Now, let's try it with some verbs:
| Verb + Linker + Modifier | Modifier + Linker + Verb | Translation |
| --- | --- | --- |
| umiiyak na bata | batang umiiyak | "crying child" |
| lumilipad na ibon | ibong lumilipad | "flying bird" |
| kumakantang babae | kumakantang babae | "singing lady" |
| tumutuklaw na ahas | ahas na tumutuklaw | "striking snake" |
| tumatakbong sundalo | sundalong tumatakbo | "running soldier" |
Clear? Good. Now, let's see how a regular sentence can be transformed into a question.
5. Transforming a Regular Sentence into a Question
In the Tagalog language, there is one go-to word for forming interrogative sentences. That word is ba. This marker is actually one of the several untranslatable Tagalog words. If you want to change a sentence from the simple or imperative forms to the interrogative form, you simply add the word ba. Let's try it with some sentences.
Simple Form: Nag-aaral si Arlene ng Filipino. ("Arlene is studying Filipino.")
Interrogative Form: Nag-aaral ba si Arlene ng Filipino? ("Is Arlene studying Filipino?")
Imperative Form: Mag-aral ka ng Filipino. ("Go and study Filipino.")
Interrogative Form: Mag-aaral ka ba ng Filipino? ("Are you going to study Filipino?")
Ba is added either at the end of the sentence, or after the verb or the noun.
In the following examples, ba is positioned at the end of the sentence.
Simple Form: Nag-aaral ka. ("You are studying.")
Interrogative Form: Nag-aaral ka ba? ("Are you studying?")
Imperative Form: Mag-aral ka. ("Go and study.")
Interrogative Form: Mag-aaral ka ba? ("Are you going to study?")
What's unique about the way Filipinos communicate is that they can do so even with just a single word (sometimes even with no words at all!). Let's take this scenario, for example. 
A man just got home and asked his wife if their dog (who wasn't feeling well) finally decided to eat.
Husband: Kumain ba? ("Did she eat?") 
Wife: Oo. ("Yes.")
If the husband only said Kumain? It would still be a valid sentence and would be understood as Kumain ba?
It gets crazier with this typical exchange by the elevator.
Man 1: Bababa ba? ("Is it going down?")
Man 2: Bababa. ("It is going down.")
Golly! That's seven successive instances of a single syllable!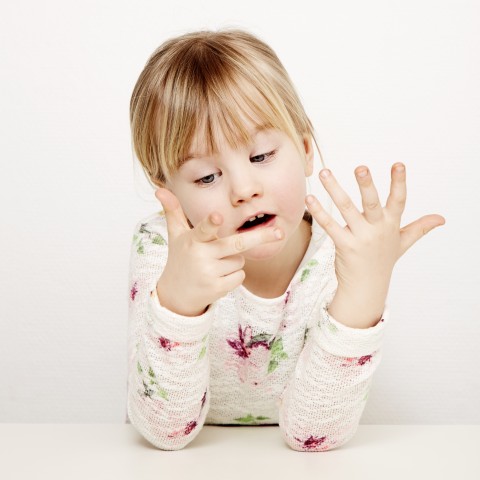 Seven syllables. Did I count that right?
It's not all the time, though, that ba is necessary. Just like in most languages, you can just add a question mark at the end of a declarative sentence to turn it into a question, particularly if the question has a tone of surprise to it.
Simple Form: Nag-aaral si Arlene ng Filipino. ("Arlene is studying Filipino.")
Interrogative Form: Nag-aaral si Arlene ng Filipino? ("Arlene is studying Filipino?")
Imperative Form: Mag-aral ka ng Filipino. ("Go and study Filipino.")
Interrogative Form: Mag-aaral ka ng Filipino? ("You're going to study Filipino?")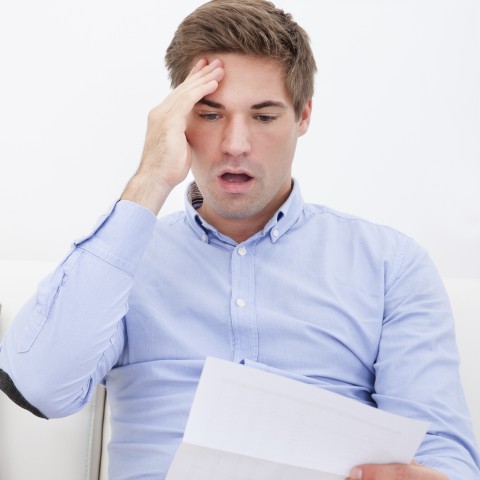 Pumasa ako sa Filipino? ("I passed Filipino?")
6. Translation Exercises
In this section, we're going to apply what we've learned about Tagalog sentence structure so far. Again, there are several ways to arrange words in a Filipino sentence, but let's just use the one that's often used in casual conversations.
1. I study. ____________________
2. I study Tagalog. ____________________
3. I study Tagalog every day .____________________
4. I study Tagalog every day using FilipinoPod101. ____________________
5. I study Tagalog every day at home using FilipinoPod101. ____________________
6. I study Tagalog with my friend every day at home using FilipinoPod101. ____________________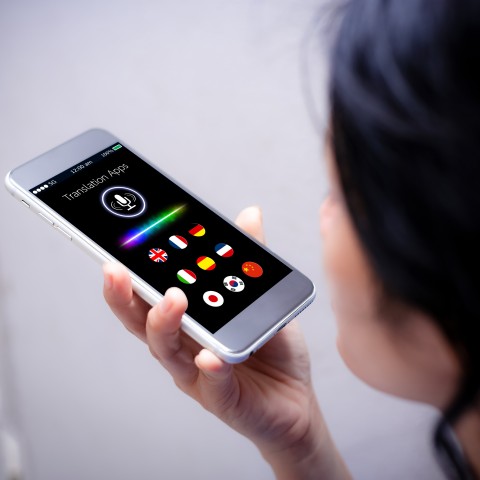 Okay, Siri, please translate…Oh, wait, you're not Siri.
ANSWER:
1. I study. Nag-aaral ako.
2. I study Tagalog. Nag-aaral ako ng Tagalog.
3. I study Tagalog every day. Araw-araw akong nag-aaral ng Tagalog. (Remember how prepositional phrases should go at the beginning of the sentence?)
4. I study Tagalog every day with FilipinoPod101. Araw-araw akong nag-aaral ng Tagalog gamit ang FilipinoPod101.
5. I study Tagalog every day at home with FilipinoPod101. Araw-araw akong nag-aaral sa bahay ng Tagalog gamit ang FilipinoPod101.
6.  I study Tagalog with my friend every day at home with FilipinoPod101. Araw-araw akong nag-aaral sa bahay ng Tagalog gamit ang FilipinoPod101 kasama ang kaibigan ko.
7. FilipinoPod101 Will Help Ease the Confusion
We did our best to make this guide as simple and easy as possible for you. However, we also believe that one short post about Tagalog sentence structure can only do so much. But that's why FilipinoPod101 is here, isn't it? 
With FilipinoPod101, you can learn more than just how to arrange words in sentences. If you sign up today, you'll gain exclusive access to a number of learning resources you won't find elsewhere. This includes an introduction to the Filipino language, a few key Filipino phrases, and unique articles designed to help you learn Tagalog in a fun and interesting way.
And then there's the Premium PLUS program that's designed especially for students who want to develop their Filipino writing and speaking skills in just a short period of  time. What are you waiting for? If you want to learn more about Filipino sentence structure or polish your Tagalog conversation skills, don't think twice about signing up at FilipinoPod101 today!
What are your first impressions about Tagalog word order and sentence structure? Let us know in the comments!
July 31, 2020
Filipinos are known for following "Filipino Time" (also referred to as "late" in other countries). Despite that, there are still many people in the Philippines who are very much time-conscious. 
As a matter of fact, the Department of Science and Technology initiated a campaign called "Juan Time" several years ago with the aim of promoting the nationwide use of Philippine Standard Time.
That's good news for anyone who values time. But what does this have to do with this post? Well, in this post, we're going to learn how to tell the Philippines' time, using the Filipino language, of course. 
Knowing how to read and tell time is a basic universal skill. And yes, learning how to tell time in Filipino or Tagalog is as easy as 1-2-3. You can always read and tell time in English when you're in the Philippines, since most Pinoys can understand English anyway. But it's no question that knowing how to tell time in Tagalog has many benefits and advantages.
Table of Contents
1. How to Ask for the Time
Knowing how to ask for the time is just as important as knowing how to read and tell time. Before anything else, let's first learn how to ask for the time in Filipino. 
There are different ways you can ask this. Here are some of them:
1 –  What time is it? 
Anong oras na?
This is the most straightforward way of asking "What time is it?" in Filipino. It's rather informal and less polite. You can use this approach when asking someone you're familiar with, like a friend or colleague. Never ask this way when talking to someone in authority, though.
2 – Do you know what time it is? 
Alam mo ba kung anong oras na?
This is a more polite approach, although it's not that formal. You can use this question when asking someone you're not too familiar with, such as a stranger. 
If you want a more polite approach, then use this one:
3 – May I know what time it is already? 
Maaari/Pwede ko bang malaman kung anong oras na? 
If you're asking an older person or a person in authority, simply add the word po right after ko.
4- Asking What Time Something Will Start or What Time Something Happened
Now, if you want to ask what time something will start, you can simply say: Anong oras magsisimula ang palabas? ("What time will the show start?")
More examples:
"What time is the plane arriving?" 
Anong oras dadating ang eroplano?
"What time is the meeting scheduled?" 
Anong oras ang schedule ng meeting? 
"What time did the game end last night?" 
Anong oras natapos ang laro kagabi?
2. How Pinoys Tell Time
Marunong ka bang magbasa ng oras? Do you know how to tell time? 
This is a question often asked of young Filipino kids. Just as in other countries, Pinoy kids are taught how to read time and dates at an early age.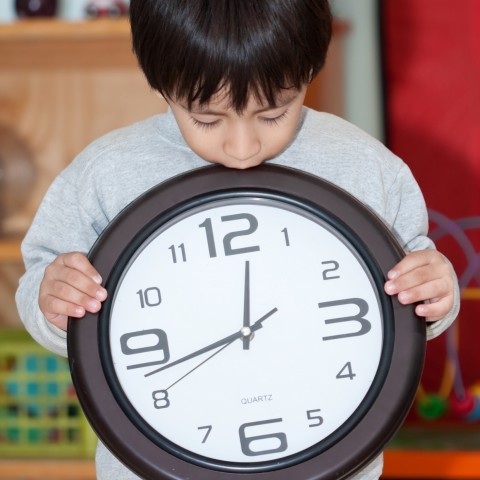 In the Philippines, most people use the twelve-hour format. The Filipino word for "hour" is the same word used for "time," which is oras. This is derived from 'horas,' the Spanish word for "time."
Meanwhile, "o'clock" in Tagalog is either la or las, both of which are Spanish for "the."
There are two general ways of how to read time in Filipino. But before we go there, let's talk about time markers first. 
1- Time Markers
The basic time markers or references are as follows:
| | |
| --- | --- |
| Umaga | Morning |
| Tanghali | Noon |
| Hapon | Afternoon |
| Gabi | Evening |
| Hating-Gabi | Midnight |
| Madaling-Araw | Middle of the night |
A – Umaga
Umaga in the Philippines usually begins at 5:00 a.m., depending on what time the sun rises. The time between the rising of the sun and 11:59 a.m. is considered umaga or "morning." When asked what time it is, and your watch says it's 10:30 a.m., you respond by saying: Alas diyes y medya ng umaga.
In English, that translates to "10:30 in the morning." In written form, that would be Alas-10 y medya n.u. N.u. is the abbreviation for ng umaga, or "in the morning."
The same rule applies when telling time in Filipino at different times of the day.
B – Tanghali
Tanghali, on the other hand, is high noon, and is the time between 12:00 p.m. and 12:59 p.m. When reading time during tanghali, let's say fifteen minutes past 12:00, you simply say:
Alas dose kinse ng tanghali. 
(Written form: Alas-12 kinse n.t.), kinse being "fifteen" in Spanish.
If you're not too familiar with Philippine history, the reason there are a lot of Spanish words and expressions in the Filipino language is that the country has been under Spanish rule for more than 300 years. So, don't be surprised if you come across a number of loanwords in your studies.
Now, back to the lesson.
C – Hapon
Hapon is the Filipino word for "afternoon." It's the time between 1:00 p.m. and 5:59 p.m. In written form, it's abbreviated as n.h., or ng hapon ("in the afternoon"). In Filipino, 3:00 p.m. is spoken as Alas tres ng hapon. and written as Alas-3 n.h.
D – Gabi 
Gabi is the Filipino word for "evening." You'll know when it's gabi in the Philippines once the clock strikes 6:00 p.m. Around this time, most Filipino families are already preparing for the evening meal. In the barrios, mothers are often heard yelling at their children to come home as it's already dark. 
Mga anak, pasok na at alas sais na! Maghahapunan na tayo! 
"Come home now kids! It's 6 o'clock, and it's already time for dinner!" 
Gabi lasts from 6:00 p.m. until 12 a.m.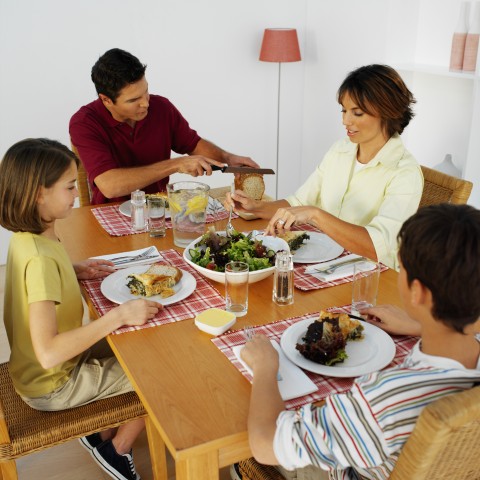 E – Hating-gabi
It's already hating-gabi, or midnight, once the clock strikes 12 a.m. Unless you're working night shift, there's very little chance someone is going to ask you what time it is at this hour.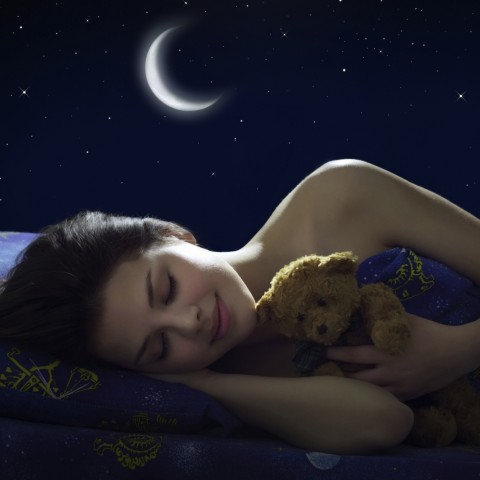 F – Madaling Araw
Madaling araw literally means "the day is breaking soon," madali being "fast" and araw being "day." As a time marker, however, this phrase translates to "in the middle of the night." In Filipino, 4:00 a.m. is read as Alas kwatro ng madaling araw.
As mentioned, there are two general ways we tell time in the Philippines: the Filipino way and the Spanish way.
2- The Filipino Way
The Filipino way is a more formal approach to reading and telling time in the Filipino language. Let's say it's 10:00 a.m. and you're asked what time it is. You reply with: Ika-sampu na ng umaga. 
Here's a table of how to say the time in Filipino for your reference:
| Time | In Filipino we say… |
| --- | --- |
| 1:00 | ika-isa |
| 2:00 | ikalawa |
| 3:00 | ikatlo |
| 4:00 | ikaapat |
| 5:00 | ikalima |
| 5:00 | ika-anim |
| 7:00 | ika-pito |
| 8:00 | ika-walo |
| 9:00 | ika-siyam |
| 10:00 | ika-sampu |
| 11:00 | ika-labing-isa |
| 12:00 | ika-labing-dalawa |
This is how we read exact hours in Filipino:
For 1:00 a.m., we say:
Ang oras ay ika-isa ng umaga. 
"The time is one o'clock in the morning."
For 2:00 p.m., we say: 
Ang oras ay ikalawa ng hapon. 
"The time is two o'clock in the afternoon."
Minuto
What if the clock says it's 4:15? That's when we read in hours and minutes. "Minute" in Filipino is minuto. When reading the time in hours and minutes, we simply read the equivalent of the minutes in words.
Example: 
"It's five fifteen in the afternoon." 
Ang oras ay labinlimang minuto makalipas ang ikalima ng hapon.

Labinlima is Filipino for "fifteen," while makalipas is Filipino for "past." So that would be the same as saying, "The time is fifteen minutes past five in the afternoon." 
Speaking of which, learning simple numbers in Filipino is another crucial step in this study, so make sure you find ways to do so.
3- The Spanish Way
Alternatively, you can use the Spanish way of reading time. In the Philippines, this is the more practical and common way people read and tell time. You don't normally hear people saying, Ang oras ay dalawampu't-limang minuto makalipas ang ika-siyam ng umaga ("The time is twenty-five minutes past nine in the morning") unless it's the disc jockey announcing the time over your favorite A.M. or F.M. station.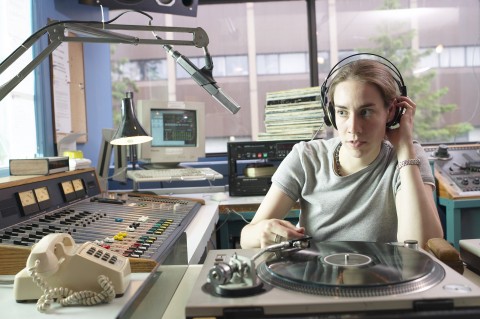 So, when you ask a Filipino on the streets what time it is and it's 5:15 p.m., you'll most likely hear them respond with: Alas-singko kinse. The time marker, which in this case is ng hapon, is omitted unless the person asking has just awoken from a very long sleep over the weekend and has no idea what period of the day it is.
Menos
And then there's the word menos, which is Spanish for "less." In reading the time, we can use the term this way:
Ang oras ay menos kinse bago mag alas-kwatro. 
That's fifteen minutes "minus" or "less" four o'clock, and indicates that the time is a quarter to four or fifteen minutes before four.
Meanwhile, here's another table for your reference. This time, it's for the Spanish way of reading time:
| Time | Another way we read time in Filipino is… |
| --- | --- |
| 1:00 | ala-una |
| 2:00 | alas-dos |
| 3:00 | alas-tres |
| 4:00 | alas-kwatro |
| 5:00 | alas-singko |
| 6:00 | alas-sais |
| 7:00 | alas-siete |
| 8:00 | alas-otso |
| 9:00 | alas-nueve |
| 10:00 | alas-dies |
| 11:00 | alas-onse |
| 12:00 | alas-dose |
In order for you to be able to tell time in Filipino, you need to be familiar with Spanish numbers. This post might be able to help you with that.
3. Hours Divided into Minutes
Reading and telling time in Filipino when hours are divided into minutes is also straightforward, although most Pinoys never read time in this manner.
1- Quarter
The direct equivalent for the word "quarter" in Tagalog is kwarter, but it's not a commonly used word. That said, "It's a quarter past seven in the evening," is read as Alas-siete kinse ng gabi. 
To be more formal, you can say: Ang oras ay labinlimang minuto makalipas ang alas-siete ng gabi. 
2- Half
The Filipino word for "half" is kalahati. When reading 8:30 p.m., you say: Alas-otso y medya ng gabi. Or, in the more formal manner: Ang oras ay kalahating oras/tatlumpong minuto makalipas ang ika-walo ng umaga.
4. Time Adverbs
Using an adverb of time in Filipino when giving the time is very useful. There are a lot of time adverbs available, but we'll give you a list of only the most commonly used time adverbs in Filipino, with examples of how to use them.
1 – Now/Right Now (Ngayon)
"What time is it now?"
2 – Currently (Kasalukuyan)
Ang oras sa kasalukuyan ay sampung minuto makalipas ang ika-siyam ng umaga. 
"The current time is ten minutes past nine in the morning."
 3 – Today (Ngayon/Ngayong araw)
Anong oras ka pupunta doon ngayong araw? 
"What time are you going there today?"
4 – Yesterday (Kahapon)
Pasado alas dose ng tanghali sila umalis kahapon. 
"They left past twelve noon yesterday."
5 – Tomorrow (Bukas)
May deyt sila bukas ng gabi. 
"They'll have a date tomorrow evening."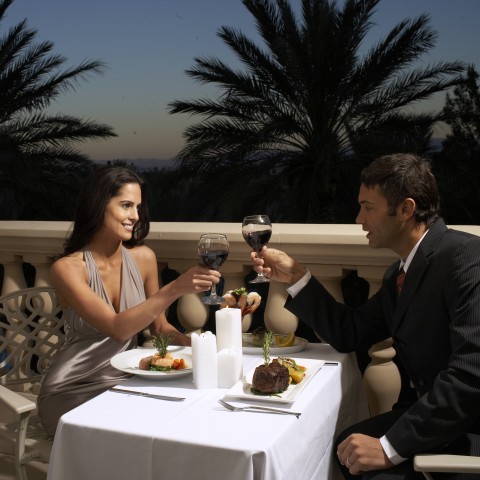 6 – Before (Bago)
Pinalampas ko ang alas otso ng umaga bago magluto ng agahan. 
"I waited until past eight in the morning before deciding to cook breakfast."
Limang minuto na lang bago mag alas-dose ng hating-gabi. 
"There's only five minutes left before twelve midnight."
7 – After (Pagkatapos)
Sinundo siya ng drayber pagkatapos niyang tawagan ito ng pasado alas tres ng hapon. 
"The driver fetched her after she phoned him at past three in the afternoon."
8. Soon/As soon as possible (Sa lalong madaling panahon)
Kailangan nilang tapusin ang proyekto sa lalong madaling panahon. 
"They need to finish the project as soon as possible."
9. Later (Mamaya)
Manonood kami ng sine mamaya. 
"We're going to watch a movie later."
10. In a while/Shortly (Maya-maya/Sa ilang sandali)
Nandiyan na ako maya-maya. 
"I'll be there in a while."
Lalapag na ang eroplano sa ilang sandali. 
"The plane will be landing shortly."
5. Common Filipino Proverbs about Time
There aren't a lot of time proverbs in the Philippines, but the few that are there truly echo how Filipinos are supposed to value time. Here are some of them:
1 – "The early comer is better than the hard worker."
Daig ng maagap ang masipag.
This is a critique against the habit of many Filipinos of being late to meetings and appointments. It suggests that a person who's always on time will always beat a person who's more talented but never comes on time.
2 – "Time is gold."
Ang oras ay ginto.
This doesn't need much explanation. Time is valuable and must not be wasted.
3 – "Do today what you can do tomorrow."
Gawin ngayon ang kaya mong gawin bukas.
Filipinos are known to be procrastinators, and are thus said to possess the mañana habit attitude. Mañana is a Spanish word that describes an indefinite time in the future. This proverb is targeted at those who have a habit of saying mamaya na or "later" when asked to work on an important task.
These next two sayings are related to the first three. They're designed to encourage Filipinos not to put off doing something important—or they may regret their actions in the end.
4 – "Opportunity knocks but once. Grasp it before it disappears."
Isang beses lang kumatok ang pagkakataon. Hawakan nang mahigpit bago pa ito maglaho.
5 – "What good is grass if the horse is dead?"
Aanhin pa ang damo kung patay na ang kabayo?
6. Conclusion
As promised, learning how to tell time in Filipino is trouble-free. Sure, you'll need to learn a few basic Spanish terms (or English if it's not your first language), but overall, it's not very complicated. However, to accurately tell time—or both the date and time in the Philippines—you'll need to take your ability to read and speak the Filipino or Tagalog language up a notch.
One way you can do this is through FilipinoPod101, an online portal that provides students who wish to learn Filipino with a way to learn the language and culture of the Philippines in a systematic yet fun and convenient manner. FilipinoPod101 can provide you with countless video lessons if you're a visual learner, as well as audio tools if you're the type who loves learning through listening. Most importantly, it gives you the opportunity to learn the Filipino language on your own. We hope you'll continue to let us join you on your language-learning journey!
Before you go, let us know in the comments what time it is where you are, in Filipino! We look forward to hearing from you.
July 27, 2020
In many ways, language is both a culmination and an expression of culture. It allows for not only effective communication, but also communication that's relevant in a given place, time, and context. 
In this article, you'll learn how people in the Philippines celebrate Buwan ng Wika (Filipino Language Month) and gain some insight into the importance of the Filipino language.
Let's get started.
1. What is Filipino Language Month?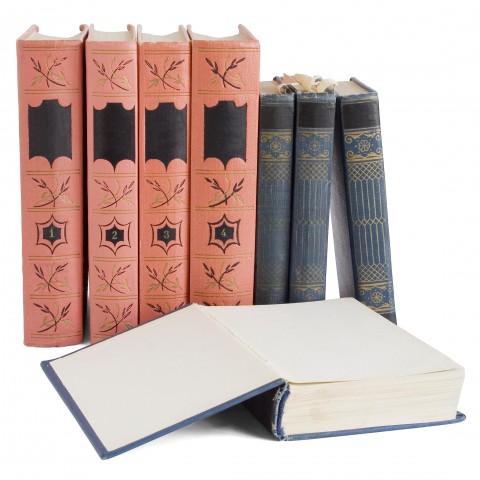 For the entire month of August in the Philippines, people celebrate Buwan ng Wika, or Filipino Language Month. This holiday seeks to shed light on the importance of the Filipino language and the pagkakaisa ("unity") it brought to the country. While the status of the Filipino language in the Philippines is debated, it serves as a marker of pagkakakilanlan ("identity") for many!
Before we cover how Filipinos celebrate Filipino Language Month, let's see a few facts about Buwan ng Wika and the Filipino language.
1 – Filipino or Tagalog?
First, let's clear the air. Are we talking about Filipino or Tagalog here (or any of the other 120+ languages spoken in the Philippines)?
Many people are unsure of the difference between Tagalog and Filipino, and for good reasons. The thing you need to remember is that Filipino is basically a standardized version of Tagalog, making the two languages extremely similar, with nuanced differences.
Buwan ng Wika celebrates the Filipino language specifically, though you should also note that most Filipino people speak Tagalog as their second language (and nearly a quarter speak it as their first).
One of the Philippines' official languages, Filipino has had a major role in unifying the bansa ("country") through a more standard language.
2 – History and Meaning of Buwan ng Wika
Buwan ng Wika was first celebrated in 1946 as a week-long holiday that coincided with the birthday of a famous Tagalog literary artist, Francisco Baltazar. This holiday lasted from late March to early April, though the dates were changed four times!
In 1997, then-President Fidel V. Ramos signed a Proclamation that the holiday would now be a month-long celebration in August. This new timeframe allowed the holiday to coincide with the birthday and death anniversary of former President Manuel L. Quezon, who's often labeled "The Father of the Filipino Language."
2. Celebrations and Events for Filipino Language Month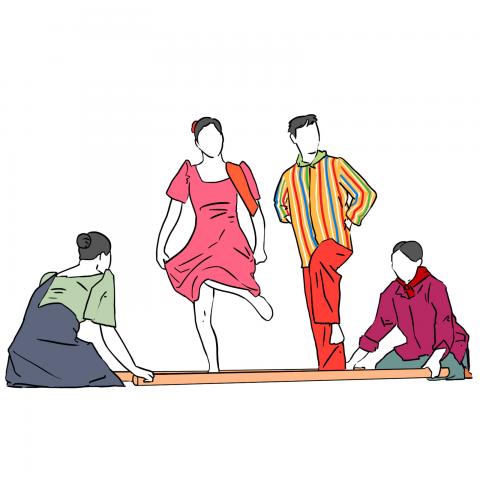 On August 1, there's often a flag-raising ceremony and a speech about the relevance and significance of the Filipino language in modern times. The rest of the month is filled with tons of educational activities and events, usually geared toward children and younger generations. Each year, there's a new Buwan ng Wika theme, focusing on a specific aspect of the language or kultura ("culture").
If you decide to visit the Philippines in August, definitely plan on attending one or more of the special events that take place throughout the country.
1 – Buwan ng Wika Dance Competitions & Events
In different parts of the country, you'll likely find a variety of dance competitions and events throughout August. During these events, many Filipinos and Filipinas enjoy doing a fun katutubong sayaw ("folk dance"), though there are also recent trends toward more modern dance styles.
2 – Balagtasan ("Poetic Debate")
During Buwan ng Wika, spoken poetry showings and poetic debates are common throughout the Philippines. How better than through a well-crafted tula ("poem") in one's language to show appreciation for it?
In addition to these poetry readings and debates, many students are encouraged to participate in essay competitions. The topic of the essay usually correlates to the year's theme.
3 – Exhibits & Parades
There are many art and culture exhibits promoting the Filipino language, culture, and panitikan ("literature") throughout the country. In addition, there are many parades during August that showcase different aspects of Filipino culture.
4 – School Programs
Many schools like to get involved with the Buwan ng Wika celebrations, using games and fun lessons to teach students about the Filipino language and culture.
3. Kuwentong-bayan ("Folk tale")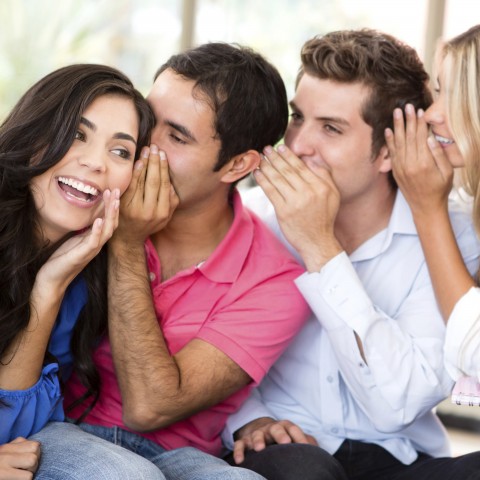 Oral storytelling has played a huge part in many cultures, and this is certainly true of the Philippines. There are numerous folk tales of Philippine origin, and during Buwan ng Wika, it's not uncommon for people to tell these stories among themselves or for an audience.
You may be familiar with the adage, "Haste makes waste." Well, there's a Filipino story with the same general message about the importance of taking your time.
In this story, a man needs to travel a long distance on horseback with several coconuts in tow. Along the way, he meets a boy and asks him how much longer he'll need to travel until he reaches the house. The boy tells him that if he travels slowly, he'll get there early; if he travels quickly, he'll get there late. Not understanding, the man sped up his horse only to have the coconuts fall off; he gathered them up again, and sped up the horse to the same effect. Because he didn't take his time, he didn't reach the house until after dark.
→ Oral communication is great, but who doesn't like a good book? Check out our list of the essential vocabulary for Talking About Books!
4. Essential Vocabulary for Filipino Language Month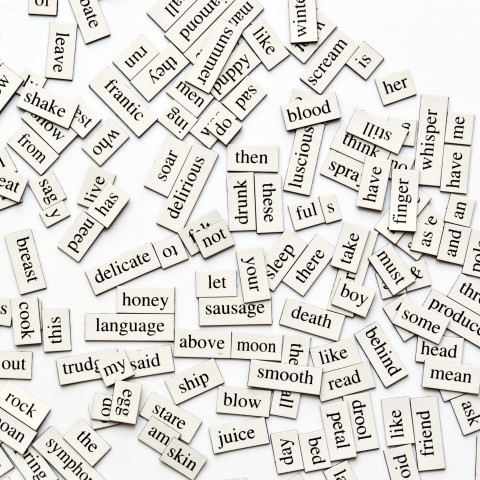 What better way to celebrate Filipino Language Month than by memorizing a few words? Here's a list of some of the words from this article!
"Language" — Wika [n]
"Word" — Salita [n]
"Culture" — Kultura [n]
"Literature" — Panitikan [n]
"Poem" — Tula [n]
"Legend" — Alamat [n]
"Folk tale" — Kuwentong-bayan [n]
"Folk dance" — Katutubong sayaw [n]
"Essay" — Sanaysay [n]
"Poetic debate" — Balagtasan [n]
"Unity" — Pagkakaisa [n]
"Country" — Bansa [n]
"Identity" — Pagkakakilanlan [n]
Remember that you can find each of these words with audio pronunciations on our Filipino Language Month vocabulary list!
Final Thoughts
The development and adoption of the Filipino language was certainly a positive turning point for communication in the Philippines, making Buwan ng Wika a meaningful month for the country.
What are your thoughts on this holiday, and the Filipino language in general? Does your country have a special holiday to celebrate its official language? Let us know in the comments!
To continue learning about the Filipino language and culture, check out these free resources from the FilipinoPod101.com blog:
Whatever your reasons for wanting to learn Filipino or explore life in the Philippines, know that FilipinoPod101 has your back! Create your free lifetime account today and take advantage of our numerous learning tools: themed vocabulary lists, spaced-repetition flashcards, video and audio lessons, and so much more.
Stay safe out there, and happy Filipino learning!
July 22, 2020
Community, charity, and great food. What could be better in a holiday? 
The Eidul Adha holiday has all these things and more! In this article, you'll learn about the Eidul Adha meaning in the Philippines, how Filipino Muslims celebrate, and why this day is so important.
Let's get started!
1. What is the Eidul Adha Holiday?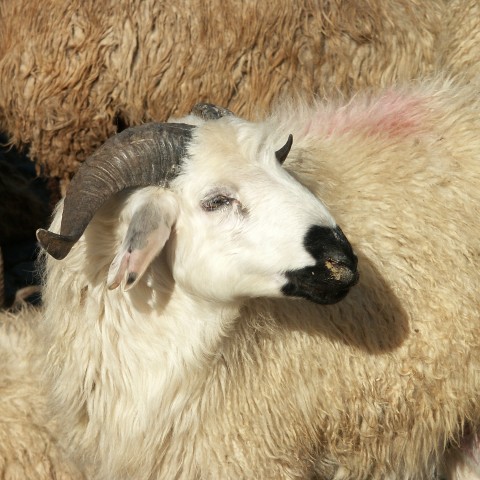 Eidul Adha, often called "The Feast of the Sacrifice" in English, is one of the most important Muslim holidays worldwide.
It originates from the story of Ibrahim, who was willing to sacrifice his son Ismael. According to the Quran, Ibrahim had asked Allah to give him a son, and Allah did so. But as Ismael grew older, Ibrahim began having recurring dreams of slaughtering his son and realized it was an order from Allah to sacrifice his son. Upon Ibrahim telling his son this, Ismael told his father to do as Allah willed. Ibrahim prepared his son for the sacrifice and was about to slaughter him, but was stopped by a voice. This voice told him that the "vision" had already been completed. Ibrahim was given a lamb to sacrifice in Ismael's place, and Ismael was revealed to be a righteous prophet.
Today, the Muslim selebrasyon ("celebration") of this holiday focuses on selflessness and serves as a reminder that Allah blesses the faithful. Eidul Adha is also associated with the willingness to give up cherished possessions to glorify Allah.
See our vocabulary list on Religion to learn the names of different religions in Filipino!
2. When is Eidul Adha This Year?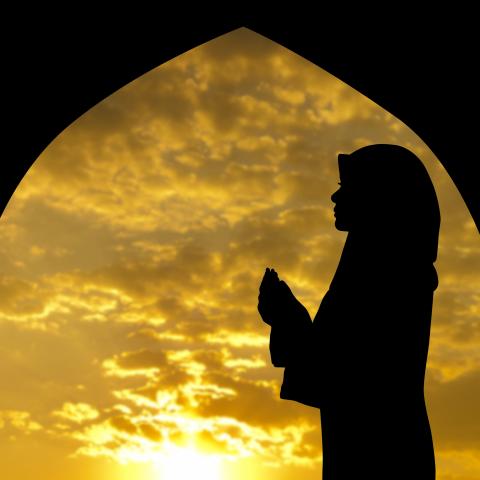 The date of Eidul Adha varies each year on the Gregorian calendar, as it takes place on the tenth day of Dhu al-Hijjah. The holiday then lasts for roughly three days.
Here's a list of this holiday's tentative start date for the next ten years.
| Year | Start Date |
| --- | --- |
| 2020 | July 31 |
| 2021 | July 20 |
| 2022 | July 10 |
| 2023 | June 29 |
| 2024 | June 17 |
| 2025 | June 7 |
| 2026 | May 27 |
| 2027 | May 17 |
| 2028 | May 6 |
| 2029 | April 24 |
Note that these dates may not be entirely accurate, and may vary. The date of Eidul Adha is officially determined each year by professional moon-sighters, and the dates above are only expected estimates.
3. How is Eidul Adha Celebrated?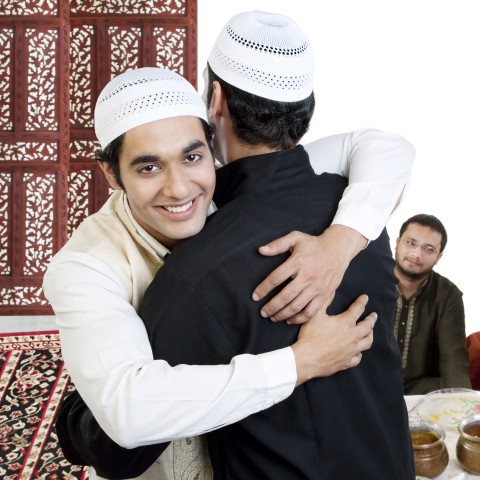 In the Philippines, the most popular way to celebrate Eidul Adha is to visit a moske ("mosque") and listen to an Eid khutba ("sermon"). Muslims gather together for prayers, and many people like to wear new clothing on this occasion. They often give each other Eidul Adha wishes and other kind words. These Eidul Adha greetings often involve a friendly yakap ("hug") in the spirit of community and friendship.
In light of Ibrahim's willingness to sacrifice his son—and Allah's last-minute provision of a lamb—some Muslims in the Philippines make an animal sakripisyo ("sacrifice") on this day. The animal's meat is then divided into three portions: one portion to give to the poor, one portion to bring home to one's family, and one portion to give to other relatives. Those who don't make a sacrifice may still purchase large pieces of meat to give away and prepare for themselves.
It's important to note that on Eidul Adha, the animal sacrifice is not made as an atonement for sin, and it's said that the blood and meat of the sacrifice don't even reach Allah. The sacrifice has more to do with generosity, which is why a third of it is given as zakat al-fitr (charity in the form of food). This willingness to give up some of one's possessions for those in need is said to please Allah and show one's devotion to Him.
4. Two Popular Mosques in the Philippines
While the Philippines has a large Catholic Christian population, the country still has quite a few mosques. There are two, in particular, that are worth noting:
You can read more about these and other Filipino mosques on Wikipedia. And don't forget to check out our list of the Top Tourist Attractions in the Philippines while you're at it!
5. Vocabulary for Eid in the Philippines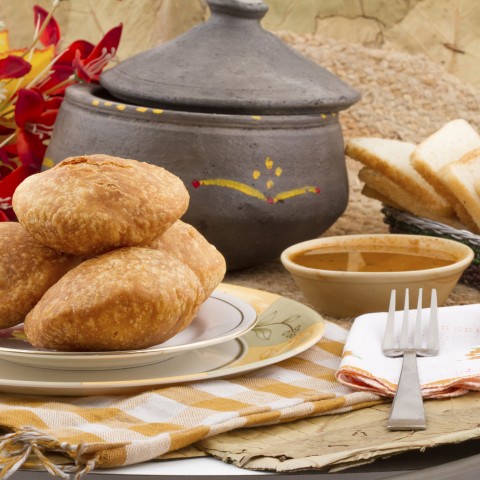 Let's review some of the Filipino vocabulary words and phrases from this article!
"Eidul Adha" — Eidul Adha [n]
"Hug" — Yakap [v]
"Fasting" — Pag-aayuno [v]
"Sermon" — Khutba [n]
Charity in the form of food — Zakat al-fitr [n]
"Break fast" — Pagtigil ng pag-aayuno
"Blessed Eid" — Eid Mubarak
"Mosque" — Moske [n]
"Prayer" — Panalangin [n]
"Sacrifice" — Sakripisyo [n]
"Celebration" — Selebrasyon [n]
"Blessed" — Pinagpala [adj]
"Greetings" — Pagbati [n]
Remember that you can find each of these words with audio pronunciations on our Filipino Eidul Adha vocabulary list for pronunciation practice!
Final Thoughts
The importance of Eidul Adha in the Philippines can't be overstated. It's a time of community, giving, and sacrifice, and the holiday embodies so many core values of the Muslim religion.
What are your thoughts on this holiday? Is there a similar celebration in your country or faith? Let us know in the comments!
To continue learning about Filipino culture and the language, study these free resources straight from FilipinoPod101.com's blog:
FilipinoPod101 has you covered for all of your language-learning needs and cultural interests! Create your free lifetime account today and take advantage of our numerous learning tools: themed vocabulary lists, spaced-repetition flashcards, audio and video lessons, and so much more.
Stay safe out there, and happy Filipino learning!
July 17, 2020
Do you know your left from your right in Filipino? Asking for directions can mean the difference between a heavenly day on the beach and a horrible day on your feet, hot and bothered and wondering how to even get back to the hotel. Believe me – I know! On my earlier travels, I didn't even know simple terms like 'go straight ahead' or 'go west,' and I was always too shy to ask locals for directions. It wasn't my ego, but rather the language barrier that held me back. I've ended up in some pretty dodgy situations for my lack of directional word skills.
This never needs to happen! When traveling in Philippines, you should step out in confidence, ready to work your Filipino magic and have a full day of exploring. It's about knowing a few basic phrases and then tailoring them with the right directional words for each situation. Do you need to be pointed south in Filipino? Just ask! Believe me, people are more willing to help than you might think. It's when you ask in English that locals might feel too uncertain to answer you. After all, they don't want to get you lost. For this reason, it also makes sense that you learn how to understand people's responses. 
Asking directions in Philippines is inevitable. So, learn to love it! Our job here at FilipinoPod101 is to give you the confidence you need to fully immerse and be the intrepid adventurer you are.
Table of Contents
1. Talking about position and direction in Filipino
Have you ever tried saying the compass directions of north, south, east and west in Filipino? These words are good to know, being the most natural and ancient method of finding direction. In the days before GPS – before the invention of the compass, even – knowing the cardinal directions was critical to finding the way. Certainly, if you were lost somewhere in the mountain regions now and using a map to navigate, you'd find them useful. Even more so if you and a Filipino friend were adrift at sea, following the stars!
In most situations, though, we rely on body relative directions – your basic up, down, left and right, forward and backwards. Most cultures use relative directions for reference and Filipino is no exception. Interestingly, in a few old languages there are no words for left and right and people still rely on cardinal directions every day. Can you imagine having such a compass brain?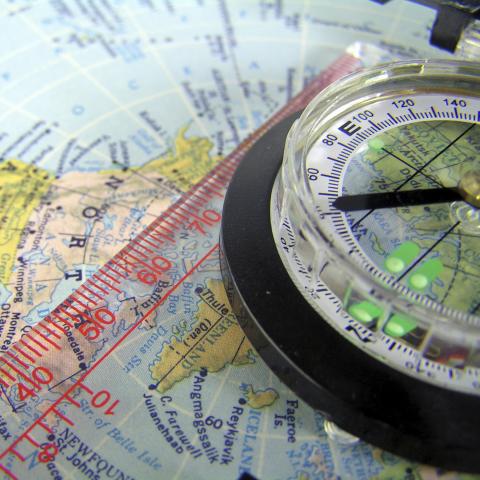 Well, scientists say that all mammals have an innate sense of direction, so getting good at finding your way is just a matter of practice. It's pretty cool to think that we were born already pre-wired to grasp directions; the descriptive words we invented are mere labels to communicate these directions to others! Thus, the need to learn some Filipino positional vocabulary. So, without further ado… let's dive in.
1- Top – tuktok
If planting a flag at the top of the highest mountain in Philippines is a goal you'd rather leave for  adrenaline junkies, how about making it to the top of the highest building? Your view of the city will be one you'll never forget, and you can take a selfie  for Twitter with your head in the clouds.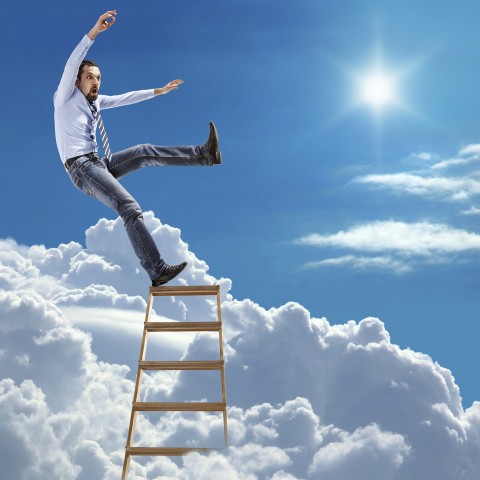 2- Bottom – ilalim
The 'bottom' can refer to the lower end of a road, the foot of a mountain, or the ground floor of a building. It's the place you head for after you've been to the top!
What are your favorite 'bottoms'? I love the first rung of a ladder, the base of a huge tree or the bottom of a jungle-covered hill. What can I say? I'm a climber. Divers like the bottom of the ocean and foxes like the bottom of a hole. Since you're learning Filipino, hopefully you'll travel from the top to the bottom of Philippines.
3- Up – taas
This is a very common and useful word to know when seeking directions. You can go up the street, up an elevator, up a cableway, up a mountain… even up into the sky in a hot air balloon. It all depends on how far up you like to be!
4- Down – pababa
What goes up, must surely come down. This is true of airplanes, flaming arrows and grasshoppers – either aeronautics or gravity will take care of that. In the case of traveling humans who don't wish to go down at terminal velocity, it's useful to know phrases such as, "Excuse me, where is the path leading back down this mountain?"
5- Middle – gitna
In Lord of the Rings, Tolkien's characters live in Middle-earth, which is just an ancient word for the inhabited world of men; it referred to the physical world, as opposed to the unseen worlds above and below it. The ancients also thought of the human world as vaguely in the middle of the encircling seas.
When we talk about the 'middle', we're referring to a point that's roughly between two horizontal lines – like the middle of the road or the middle of a river. While you're unlikely to ask for directions to the 'middle' of anything, you might hear it as a response. For example, "You're looking for the castle ruins? But they're in the middle of the forest!"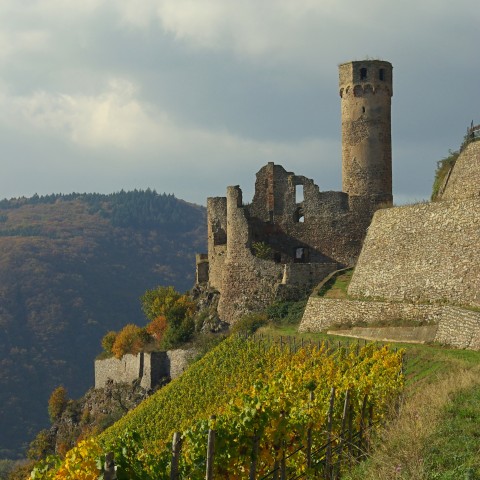 6- Center – sentro
Although similar in meaning to 'middle', this word is more specific. Technically, it means the exact central point of a circular area, equally distant from every point on the circumference.  When asking for directions to the center of town, though, we don't mean to find a mathematically-accurate pinpoint!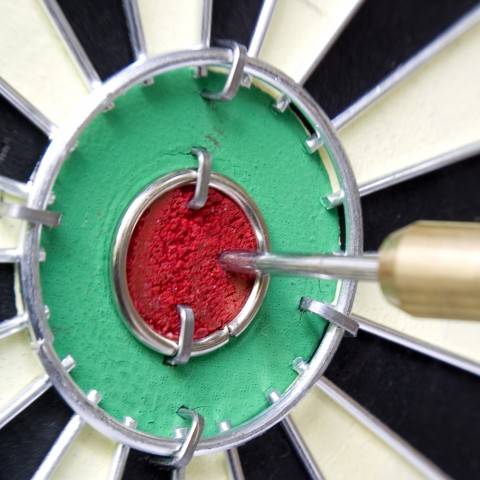 7- Front – harap
The front is the place or position that is seen first; it's the most forward part of something.  In the case of a hotel, the front is going to be easy to recognize, so if you call a taxi and are told to wait "in front of the hotel", you won't have a problem. It's pretty cool how just knowing the main Filipino directional words can help you locate something if there's a good landmark nearby.
8- Back – likod
I once rented a house in a charming little street that was tucked away at the back of a popular mall. It was so easy to find, but my boss took three hours to locate it from 300 meters away. Why? Well, because she spoke no English and I had no clue what the word for 'back' was. All she heard, no matter which way I said it, was "mall, mall, mall".  As a result, she hunted in front of and next to the mall until she was frazzled. 
Knowing how to describe the location of your own residence is probably the first Filipino 'directions' you should practice. This skill will certainly come in handy if you're lost and looking for your way home. 
9- Side – tabi
If the place you're looking for is at the 'side' of something, it will be located to the left or the right of that landmark. That could mean you're looking for an alleyway beside a building, or a second entrance (as opposed to the main entrance). 
As an example, you might be told that your tour bus will be waiting at the right side of the building, not in front. Of course, then you'll also need to understand "It's on the right" in Filipino.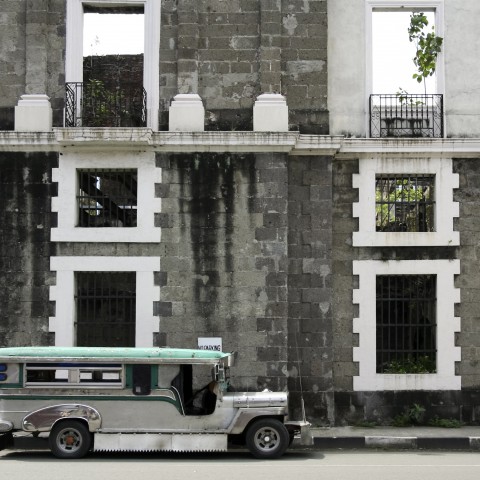 10- East – silangan
If you're facing north, then east is the direction of your right hand. It's the direction toward which the Earth rotates about its axis, and therefore the general direction from which the sun appears to rise. If you want to go east using a compass for navigation, you should set a bearing of 90°. 
We think of Asia as the 'East'. Geographically, this part of the world lies in the eastern hemisphere, but there's so much more that we've come to associate with this word. The East signifies ancient knowledge and is symbolic of enlightenment in many cultures.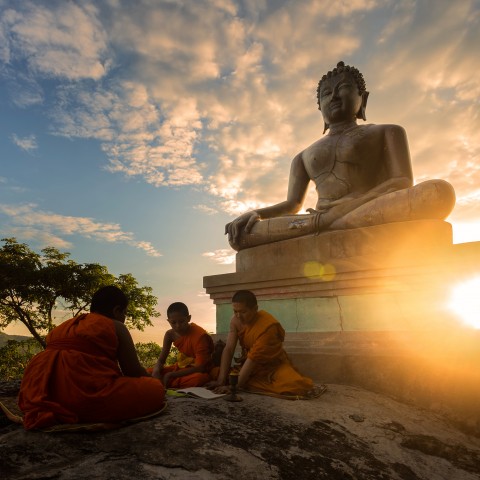 11- West – kanluran
West is the opposite to east and it's the direction in which the sun sets. To go west using a compass, you'll set a bearing of 270 degrees. 
If you were on the planet Venus, which rotates in the opposite direction from the Earth (retrograde rotation), the Sun would rise in the west and set in the east… not that you'd be able to see the sun through Venus's opaque clouds. 
Culturally, the West refers mainly to the Americas and Europe, but also to Australia and New Zealand, which are geographically in the East. The Western way of thinking is very different to that of the East. One of the most striking differences is individualism versus collectivism. In the West, we grew up with philosophies of freedom and independence, whereas in the East concepts of unity are more important. 
Food for thought: as a traveler who's invested in learning the languages and cultures of places you visit, you have an opportunity to become a wonderfully balanced thinker – something the world needs more of.
12- North – hilaga
North is the top point of a map and when navigating, you'd set a compass bearing of 360 degrees if you want to go that way. Globes of the earth have the north pole at the top, and we use north as the direction by which we define all other directions.
If you look into the night sky, the North Star (Polaris) marks the way due north. It's an amazing star, in that it holds nearly still in our sky while the entire northern sky moves around it. That's because it's located nearly at the north celestial pole – the point around which the entire northern sky turns. Definitely a boon for lost travelers!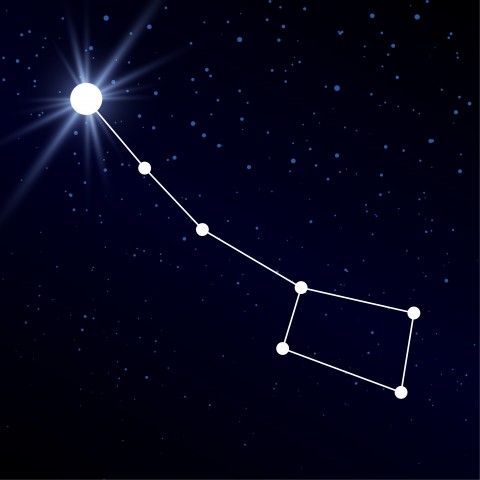 13- South – timog
South is the opposite of north, and it's perpendicular to the east and west. You can find it with a compass if you set your bearings to 180 degrees. 
The south celestial pole is the point around which the entire southern sky appears to turn. In the night sky of the southern hemisphere, the Southern Cross is a very easy to find constellation with four points in the shape of a diamond. If you come from the southern hemisphere, chances are your dad or mum pointed it out to you when you were a kid. You can use the Southern Cross to find south if traveling by night, so it's well worth figuring it out!
14- Outside – sa labas
This word refers to any place that is not under a roof. Perhaps you've heard talk about some amazing local bands that will be playing in a nearby town on the weekend. If it's all happening outside, you'll be looking for a venue in a park, a stadium or some other big open space. Come rain or shine, outside definitely works for me!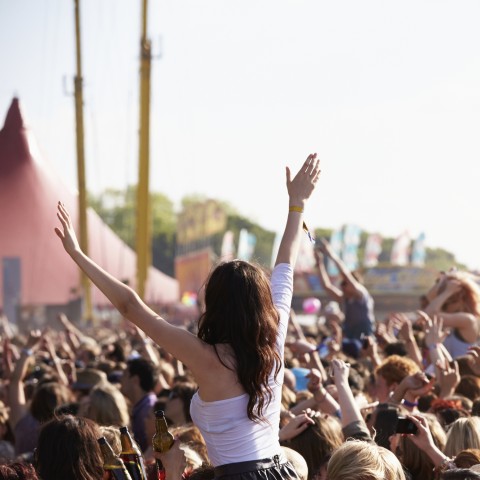 15- Inside – sa loob
I can tolerate being inside if all the windows are open, or if I'm watching the latest Homeland episode. How about you? I suppose going shopping for Filipino-style accessories would be pretty fun, too, and that will (mostly) be an inside affair. 
16- Opposite – kabaligtaran
This is a great word to use as a reference point for locating a place. It's right opposite that other place! In other words, if you stand with your back to the given landmark, your destination will be right in front of you. 
17- Adjacent – katabi
So, the adorable old man from next door, who looks about ninety-nine, explains in Filipino that the food market where he works is adjacent to the community hall on the main road. 'Adjacent' just means next to or adjoining something else, so… head for the hall! 
While you're marveling at the wondrous and colorful displays of Filipino food, think about how all of these delicious stalls lie adjacent to one another. Having a happy visual association with a new word is a proven way to remember it!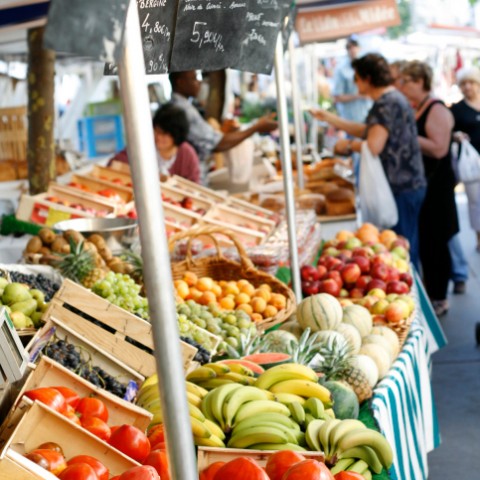 18- Toward – patungo sa
To go toward something is to go in its direction and get closer to it. This word can often appear in a sentence with 'straight ahead', as in:
"Go straight ahead, toward the park."
If you've come to Philippines to teach English, you might have to ask someone how to find your new school. Depending on what town you're in, you could simply head toward the residential area at lunch time. You'll see (and probably hear) the primary school soon enough – it will be the big fenced building with all the kids running around the yard!
19- Facing – nakaharap
If you look at yourself in a mirror, you'll be facing your reflection. In other words: you and your reflection look directly at each other.  Many plush hotels are ocean-facing or river-facing, meaning the main entrance is pointed directly at the water, and the beach out front faces the hotel. 
20- Beside – katabi
I know of a special little place where there's a gym right beside a river. You can watch the sun go down over the water while working out – it's amazing. What's more, you can park your scooter beside the building and it will still be there when you come out.
21- Corner – kanto
I love a corner when it comes to directions. A street corner is where two roads meet at an angle – often 90 degrees – making it easier to find than a location on a straight plane. 
"Which building is the piano teacher in, sir?"
"Oh, that's easy – it's the one on the corner."
The key to a corner is that it leads in two directions. It could form a crossroads, a huge intersection, or it could be the start of a tiny one-way cobblestone street with hidden treasures waiting in the shadow of the buildings.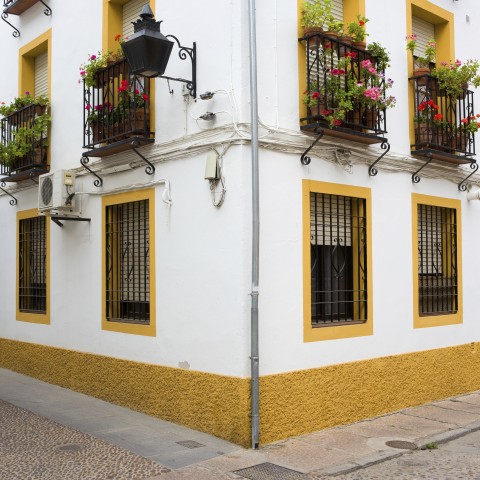 22- Distant – malayo
When a location is distant, it's in an outlying area. This Filipino word refers to the remoteness of the site, not to how long it takes to get there. For that reason, it's a very good idea to write the directions down, rather than try to memorize them in Filipino. Even better, get a Filipino person to write them down for you. This may seem obvious, but always include the location of your starting point! Any directions you're given will be relative to the exact place you're starting from.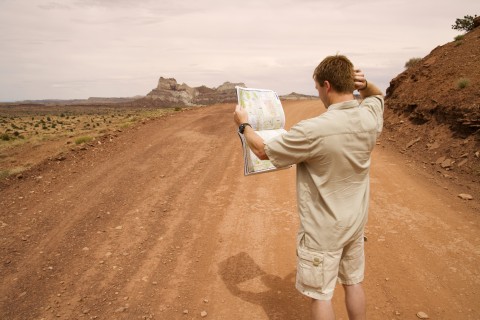 23- Far – malayo
This word has a similar meaning to the previous one, but it speaks more about the fact that it will take some time to get there. If you're told that your destination is "far",  you'll no doubt want to go by public transport if you don't have your own vehicle. Get your hands on a road map and have the directions explained to you using this map. Don't hesitate to bring out the highlighters. 
24- Close – malapit
This word is always a good one to hear when you have your heart set on a very relaxing day in the sun. It means there's only a short distance to travel, so you can get there in a heartbeat and let the tanning commence. Remember to grab your Nook Book – learning is enhanced when you're feeling happy and unencumbered. Being close to 'home' also means you can safely steal maximum lazy hours and leave the short return trip for sunset!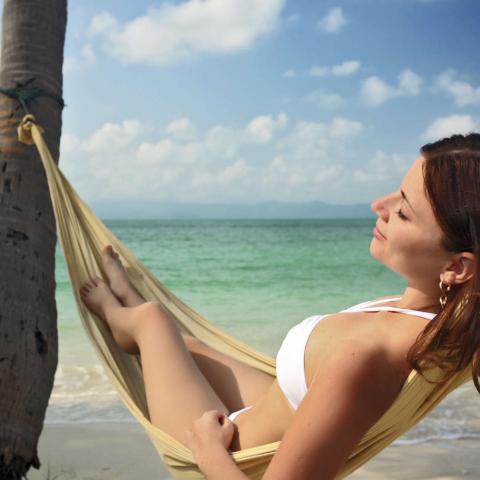 25- By – malapit sa
This word identifies the position of a physical object beside another object or a place. A Bed and Breakfast can be 'by the sea' if it's in close proximity to the sea. 
'By' can also be used to describe the best mode of transport for your route, as in:
"You can get there by bus."
26- Surrounding – paligid
If something is surrounding you, it is on every side and you are enclosed by it – kind of like being in a boat. Of course, we're not talking about deep water here, unless you're planning on going fishing. Directions that include this word are more likely to refer to the surrounding countryside, or any other features that are all around the place you're looking for.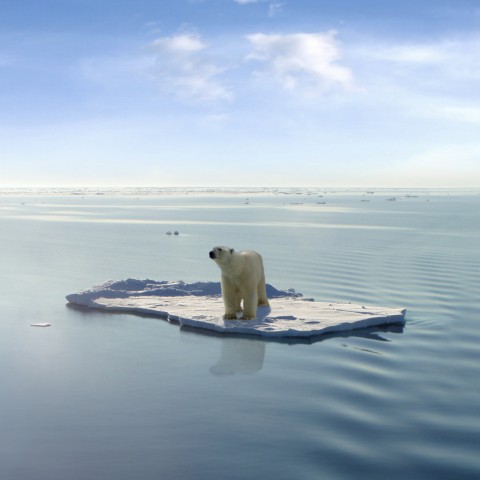 27- All sides – lahat ng dako
Another useful descriptive Filipino term to know is 'all sides'. It simply means that from a particular point, you will be able to see the same features to the front, back and sides of you. It doesn't necessarily imply you'll be completely surrounded, just more-or-less so. Say, for example, you're visiting the winelands for the day. When you get there, you'll see vineyards on all sides of you. How stunning! Don't neglect to sample the local wines – obviously. 
28- Next to – sa tabi
The person giving you directions is probably standing next to you. The place being described as 'next to' something is in a position immediately to one side of it. It could refer to adjoining buildings, neighbouring stores, or the one-legged beggar who sits next to the beautiful flower vendor on weekdays. 'Next to' is a great positional term, as everything is next to something! 
"Excuse me, Ma'am.  Where is the train station?"
"It's that way – next to the tourist market."
29- Above – ibabaw
This is the direction you'll be looking at if you turn your head upwards. Relative to where your body is, it's a point higher than your head. If you're looking for the location of a place that's 'above' something, it's likely to be on at least the first floor of a building; in other words, above another floor.
'Above' could also refer to something that will be visible overhead when you get to the right place. For example, the road you're looking for might have holiday decorations strung up from pole to pole above it. In the cities, this is very likely if there's any kind of festival going on.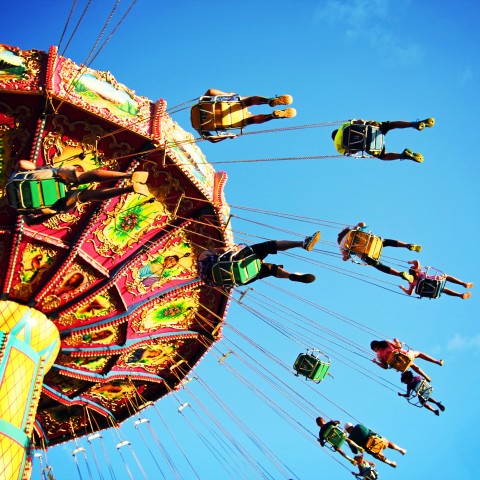 30- Under – ilalim
Under is the opposite of above, and refers to a place that lies beneath something else. In the case of directions in Filipino, it could refer to going under a bridge – always a great landmark – or perhaps through a subway. In some parts of the world, you can even travel through a tunnel that's under the sea!
Of course, you might just be missing your home brew and looking for an awesome coffee shop that happens to be under the very cool local gym you were also looking for. Nice find!
2. Getting directions in Filipino
The quickest and easiest way to find out how to get where you're going is simply to ask someone. Most people on the streets of Philippines won't mind being asked at all and will actually appreciate your attempt to ask directions in Filipino. After all, most tourists are more inclined to ask in their own language and hope for the best. How pedestrian is that, though?
I know, I know – you normally prefer to find your own way without asking. Well, think of it like this: you obviously need to practice asking questions in Filipino as much as you need to practice small talk, counting, or ordering a beer. Since you can't very well ask a complete stranger if they would please help you count to five hundred, you'll have to stick with asking directions!
We spoke earlier about body relative directions and these tend to be the ones we use most. For example:
"Turn left."
"Go straight."
"Turn right." 
Remember, too, that your approach is important. Many people are wary of strangers and you don't want to scare them off. It's best to be friendly, direct and get to the point quickly.  A simple 'Hi, can you help me?" or "Excuse me, I'm a bit lost," will suffice. If you have a map in your hand, even better, as your intentions will be clear. 
The bottom line is that if you want to find your way around Philippines with ease, it's a good idea to master these basic phrases. With a little practice, you can also learn how to say directions in Filipino. Before you know it, you'll be the one explaining the way!
3. Conclusion
Now that you have over thirty new directional phrases you can learn in Filipino, there's no need to fear losing your way when you hit the streets of Philippines. All you need is a polite approach and your own amazing smile, and the locals will be excited to help you. It's a chance for them to get better at explaining things to a foreigner, too. Most will enjoy that!
I advise keeping a few things handy in your day pack: a street map, a highlighter, a small notebook and pen, and your Filipino phrasebook. It would be useful to also have the Filipino WordPower app installed on your phone – available for both iPhone and Android. 
Here's a quick challenge to get you using the new terms right away. Can you translate these directions into Filipino?
"It's close. Go straight ahead to the top of the hill and turn left at the corner. The building is on the right, opposite a small bus stop."
You're doing amazingly well to have come this far! Well done on tackling the essential topic of 'directions' – it's a brave challenge that will be immensely rewarding. Trust me, when you're standing at a beautiful location that you found just by knowing what to ask in Filipino, you're going to feel pretty darn good.
If you're as excited as I am about taking Filipino to an even deeper level, we have so much more to offer you. Did you know that we've already had over 1 billion lesson downloads? I know – we're blown away by that, too. It's amazing to be bringing the world's languages to people who are so hungry for learning. Let me share some of our best options for you:
That's it for today! Join FilipinoPod101 to discover many more ways that we can offer you a truly fun and enriching language learning experience. Happy travels!