There's probably no country that sends its people to work overseas more than the Philippines. And although it's largely a country where people tend to leave and decide to settle abroad, it also attracts quite a good number of foreigners. In March 2019, some 714,000 foreign visitors were reported to have visited the Philippines. Headlines may say that living here isn't a good idea, but foreigners who've experienced life in the archipelago say otherwise.
Considering foreigners' appreciation of the Philippines and the Filipino language's international reach as a spoken language, it's not hard to see why more and more foreigners are looking for ways to learn Tagalog fast.
But how long does it take to learn Filipino, really? And what's the best way to start studying the language?
These are just a couple of the questions frequently asked by non-Filipino speakers who wish to learn the language, and we'll discuss them here today.
Learning a new language is not a destination, but a journey.
Table of Contents
1. How Long Does it Take to Achieve the Beginner Level?
Learning the Filipino language might be easy or difficult, depending on who you ask. Some say Tagalog is easy to learn compared to other languages, while others say it's a complicated language to study and become familiar with. The reason for this disparity is that there are so many factors involved in the process of learning and mastering a new language. Regardless of how slowly or quickly you can pick it up, one thing remains constant: you need to start at the bottom (a.k.a. the beginner level).  
At the beginner level, you can understand very basic Tagalog phrases and know how to use everyday expressions. You also know how to introduce yourself and others, as well as how to ask and give answers to questions about personal details. These details include information such as where you live, how old you are, and so on. You can also interact in a simple way as long as the person you're talking to speaks slowly and clearly.
What You Will Learn at the Beginner Level
The Filipino alphabet is based on the ISO basic Latin alphabet, with the addition of the Spanish ñ and the digraph ng. Unless your native language isn't based on the Latin script, you can virtually skip this part and proceed to learn some core Filipino words and expressions. This includes words used in greetings, numbers, days, months, body parts, animal names, and the like. You'll also learn how to introduce yourself at this level, as well as how to ask basic questions (such as asking for directions).
How to Get There
Wondering how to learn basic Tagalog effectively? If you're studying on your own, you'll want to develop goals and strategies that will help you reach the beginner level and eventually the intermediate and advanced levels. In this regard, you only need to remember three things: Plan, Track, and Evaluate. 
Plan your goals first, and then plan what strategies you'll use to achieve them. 
Track your progress every day to see how well you're doing. 
Evaluate yourself after a week or two to see whether you have achieved your goals. Take note of which strategies worked and which ones didn't. Repeat the entire process, adjusting your goals if necessary.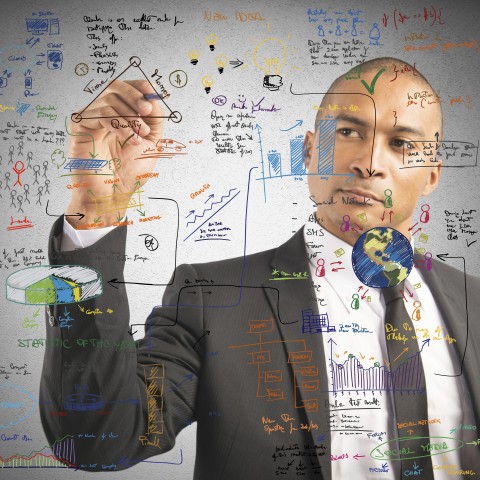 Learning a language like Filipino requires careful planning.
Since you're just starting to build your vocabulary, you'll want to focus on familiarizing yourself with everyday Tagalog words. This means you've got to have flashcards on hand at all times. Practice pronouncing the words correctly, making sure your voice is loud enough for your ears to hear. Speaking of hearing, you should also listen to audio lessons as part of your daily schedule. And most importantly, have some practice conversations with a native speaker as often as you can.
Beginner Level Tip: 

Practice with a native speaker as soon as possible. This is a crucial step to becoming fluent in Tagalog. 
How many hours do you need to spend studying Filipino to get to the beginner level? 
This depends on several factors. Let's assume that you're fluent in English. In this case, it will take you around 150-200 hours to learn basic Filipino (that is, if you study at least one hour per session on a daily basis). That includes memorizing basic Filipino words, learning how they're used in a sentence, and having a practice session with a native speaker.
Practice with a native speaker as soon as possible. 
This is a crucial step to becoming fluent in Tagalog.
2. How Long Does it Take to Achieve the Intermediate Level?
Let's say you've already spent 200 hours studying basic Filipino. By this time, you should be ready to proceed to the intermediate level. 
Once you reach the end of this level, it will be easier for you to understand important points about subjects related to work, school, and similar matters. You'll also find it easier to produce simple sentences about topics that are familiar to you. 
You will be more comfortable expressing yourself, particularly in terms of describing events and things you've experienced. You might also be more fluent around this time, able to interact more spontaneously with native speakers.
What You Will Learn at the Intermediate Level
At this level, you'll start learning more Filipino words and expressions, but this time, the words you'll learn are not limited to the names of things or places. You'll also learn words used to describe actions and experiences, as well as those used to describe a person or situation. In addition to taking your vocabulary to another level, you'll also learn grammatical tenses and verb conjugation. Add to that the Filipino parts of speech and sentence structure, and you have a good idea of what your studies should focus on at this point.
How to Get There
There are still a lot of core Filipino words for you to learn at this level, so don't do away with those flashcards yet. Aside from simply memorizing words and their meanings, practice pronouncing the words, too. It's also important to learn them in context, as new words are more meaningful (and more memorable) this way. When memorizing a particular word, try using it in a sentence or a story. It also helps to study vocabulary based on a specific topic or theme.
If you're wondering how to learn Filipino words outside of flashcards, keep in mind that you can learn more words and their pronunciation by listening to audio lessons. By now, you should be able to watch Tagalog films or TV programs with subtitles. This is also the best time to read Tagalog literature. You don't necessarily have to read Noli Me Tangere or Banaag at Sikat; you can instead find reading materials with content appropriate to your level and relevant to your learning goals.
For best results, do all these things in addition to having regular practice conversations with a native speaker.
Intermediate Level Tip: 

The key to becoming fluent in Tagalog is to practice your listening skills. Listen carefully to how a native speaker would pronounce words, break down sentences into parts, and try to understand each word. Repeat the process until you've familiarized yourself with Tagalog words, how they're pronounced, and how they're used in a sentence.
Bonus Tip: 

It's important to imitate the accent and intonation of a native speaker, as they both carry the emotions the speaker wishes to convey.
→ By now, you should be able to post social media comments the Filipino way. This lesson should be able to help you with that.
How long will it take for you to get from the beginner level to the intermediate level? To achieve this, you'll need to spend another 250-300 hours of studying.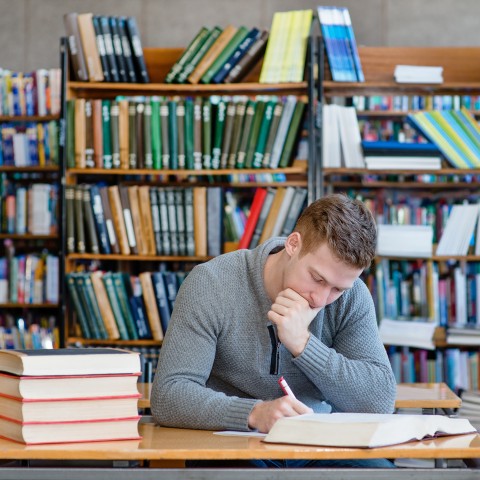 Find reading materials with content appropriate to your level and relevant to your learning goals.
3. How Long Does it Take to Achieve the Advanced Level?
Congratulations! You're now ready for the advanced level. 
Once you master this level, you'll be almost as fluent in Filipino as you are in your own language. You'll now be able to produce well-structured, detailed sentences on any subject, whether simple or complex. You'll also be able to understand demanding texts and their implicit meaning. In addition, you'll be comfortable expressing yourself spontaneously without having to grasp for words. You can also use Filipino now for professional and academic purposes and not just for casual conversations.
What You Will Learn at the Advanced Level
Expanding your vocabulary doesn't stop after you complete the intermediate level. Most native speakers know at least 15,000 word families, so it should be your goal to become familiar with at least 10,000 words in the language to reach the advanced level. This time, your approach will be more advanced, too. You won't simply memorize words, but also learn the grammar and gain a deeper understanding of the Filipino culture.
How to Get There
In addition to the habits you formed to get to the beginner and intermediate levels, you must now start speaking and writing with a Filipino tutor who can guide you and offer you feedback. You'll want to look for more Tagalog books, as well. Several authors write in contemporary Tagalog, such as Bob Ong and Edgar Calabia. If you're going to visit a bookstore in the Philippines, head straight to the Filipiniana section where you will find a collection of books that are strong in history, economics, literature, sociology, and political science.
Advanced Level Tip: 

Filipino grammar books are okay, but that's the only thing they can teach you—grammar. When studying a language, it's important to learn what a native speaker would actually say in real situations, and not just repeat sentences you read from books. 
→ At the advanced level, you should already know how to conduct business using the Filipino language. This lesson should help you prepare!
So how long does it take to learn Tagalog fluently? To go from the intermediate level to the advanced level, you'll need to study for another 550-600 hours.
Again, your learning speed will depend on several factors, and the numbers here are just estimates. They're particularly based on the numbers provided by the Foreign Service Institute, which is the center for foreign-language learning in the United States government. According to their research, Tagalog is a Category III language and takes a total of 1100 hours to learn. That means Tagalog is more difficult to learn than French, Italian, or Spanish!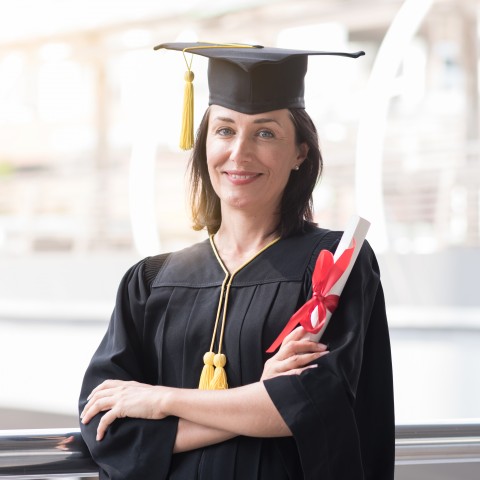 Tagalog is a Category III language and takes a total of 1100 hours to master.
Nothing is Too Hard with FilipinoPod101 on Your Side!
Learning Filipino is a journey that starts with a single step. And just like with any other journey, the best way to get to your destination is to travel with a map. In this case, your map is FilipinoPod101! Yes, it's possible to reach the advanced level and start speaking fluent Tagalog like a native speaker. You can do this largely on your own, but with an expert to guide you and give you feedback along the way, you'll be able to learn Tagalog fast.
Want to save time and money as you learn the Filipino language and discover the culture? Sign up with FilipinoPod101 today! Here, you'll get access to free learning resources you won't find elsewhere, as well as access to exclusive lessons from our Lesson Library. Our Innovative Language 101 app will also give you a way to view your lessons and track your progress anytime, anywhere.
Need a personal teacher to guide you through lessons tailored to your specific needs and goals? Our MyTeacher service will take care of you! With this Premium PLUS feature, you'll receive continuous feedback on your progress, so you'll know exactly where you are in your journey toward mastering Filipino.
So, what did you think of this post? Were we able to answer your question on how to learn Tagalog faster? Let us know in the comments section! 
Happy learning!
June 10, 2021
The Filipino culture is saturated with all kinds of traditions, beliefs, and superstitions, many of which are either illogical or impractical. Despite this, it's also rich in proverbs that contain ageless wisdom. Known as salawikain in Tagalog, Filipino proverbs are bits and pieces of knowledge passed down orally from one generation to another. Their main purpose is to relate perceptions and little truths that have been tested through time.
There are many things from my childhood I will never forget. Among them are the Filipino proverbs that were taught to me by my parents and elders, and the ones I read from the once-popular Tagalog children's magazine Pambata, which featured a comic strip entitled 'Mga Salawikain ni Lolo Brigido.'
In this article, allow me to share with you some of the most celebrated proverbs that Filipinos have grown to love over the years.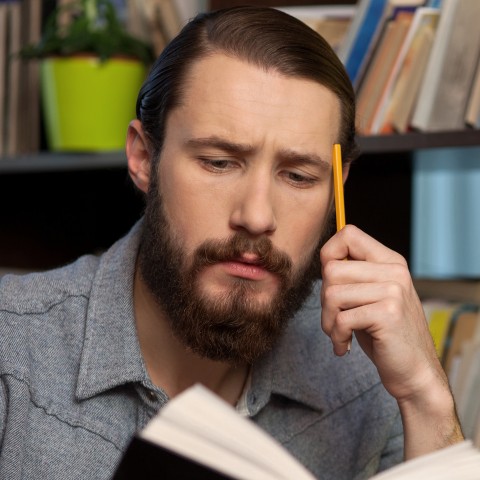 Ang kapaitan ng pag-aaral ay mas kanais-nais kaysa kapaitan ng kamangmangan.
"The bitterness of studying is preferable to the bitterness of ignorance."
Table of Contents
1. Proverbs About Character and Wisdom
Every culture has its own ideals concerning how one should act, and its own ideas of what it means to be wise. So what better way to begin our Filipino proverbs list than with some proverbs on character and wisdom? 
#1
Filipino

Anuman ang gagawin, pitong beses iisipin.

Translation

"Whatever you do, think about it seven times."
This old Filipino saying is a reminder that every action has a consequence. Filipinos are known for being procrastinators, but we can be impulsive in many ways as well. Filipino parents who have grown in wisdom often use this very proverb to tell their young and more daring offspring not to be hasty when making decisions.

Huwag kang mag padalos-dalos. Bago ka mag desisyon, mag-isip ka muna ng pitong beses.
"Don't rush. Think carefully before you make a decision."
#2
Filipino

Ang hindi lumingon sa pinanggalingan, hindi makakarating sa paroroonan.

Translation

"He who forgets where he came from will never reach his destination."
This proverb is usually attributed to Dr. Jose Rizal, although there's evidence it didn't originate from him. There's no question that this is one of the most popular Filipino proverbs, and one that's often on the lips of Filipino people. There are several ways it can be interpreted, but many people use it to refer to the importance of repaying a favor.

Matuto kang lumingon sa pinanggalingan mo. Kung hindi dahil sa akin, hindi ka aasenso ng ganito.
"Learn to look back where you came from. If it wasn't for me, you wouldn't be as successful as you are today."
#3
Filipino

Ang karanasan ay mabuting guro.

Translation

"Experience is the best teacher."
Probably every culture has a version of this proverb. It reminds us that life is a series of experiences, a series of learning opportunities.

Ayaw mo kasing makinig, kaya ngayon, ang pinagdaanan mo na ang nagturo sa iyo.
"You didn't want to listen, so now your experience became your teacher."
#4
Filipino

Ubos-ubos biyaya, pagkatapos nakatunganga. 

Translation

"Spend lavishly and you end up with nothing."
The word ubos is Filipino for "nothing is left." It's repeated here to emphasize a point. In this case, it's used to refer to spending all your blessings in one go. Nakatunganga, on the other hand, is "to be idle." It can also refer to the act of staring blankly into space, the exact expression someone has on their face after learning they have no money left.

Bakit mo inubos ang pera mo? Nakatunganga ka diyan ngayon.
"Why did you spend all your money? Now, you don't know what to do."
#5
Filipino

Walang nakasisira sa bakal kundi sariling kalawang.

Translation

"Nothing destroys iron except its own rust."
This proverb has two meanings, although the first one is similar to the second. It's a metaphor that could mean no one can hurt you as much as the people who know you well, such as a family member or close friend. In the same manner, no one can destroy your reputation as much as you can—that is, if you keep on doing what is wrong and dishonorable.

Sisirain ka ng sarili mong kalawang kapag hindi ka nagbago.
"Your own rust will destroy you if you don't mend your ways."
#6
Filipino

Laging nasa huli ang pagsisisi.

Translation

"Regret is always at the end."
No one regrets their action at first. Being sorry about something always comes after the damage has been done. If you think about it, this proverb complements our first proverb (the one about pondering deeply about a decision before acting on it). 

Pag-isipan mo 'yan ng pitong beses. Tandaan mo, laging nasa huli ang pagsisisi.
"Evaluate your next step very carefully—think about it seven times. Remember, regret is always at the end."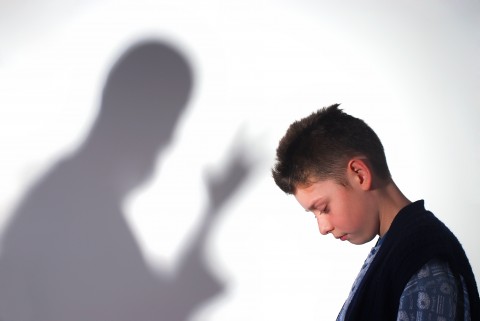 Laging nasa huli ang pagsisisi.
"Regret is always at the end."
2. Proverbs About Life and Living
We all strive to live the best life we can, but it's not always easy and our path is not always clear. Here are some Filipino proverbs about life and living to give you some cultural perspective on the topic. 
#7
Filipino

Ang buhay ay parang gulong, minsang nasa ibabaw, minsang nasa ilalim. 

Translation

"Life is like a wheel: Sometimes you're up, and sometimes you're down."
They say life is full of ups and downs, and we can't expect to be happy all the time. This proverb is a reminder of that truth. The earlier you come to terms with it, the fewer frustrations you'll have in life. A popular version of this proverb is: Ang buhay ay weather-weather lang. (Life is like the weather.)

Huwag kang makampante. Nasa ibabaw ka ngayon, pero hindi mo alam baka bukas nasa ilalim ka na.
"Don't be overconfident. You may be at the top now, but you never know if you're going to be at the bottom tomorrow."
#8
Filipino

Nasa Diyos ang awa, nasa tao ang gawa. 

Translation

"To be merciful is God's; to act is man's."
The bahala na mentality, or the concept that the future is up in the air, is deep within the psyche of the Filipino people. Many Filipinos fail to reach their true potential because of this.

"I did my best. I'll just pray that God will do the rest?"

This proverb is a direct rebuke to that mentality, and it's very similar to the famous motto, "God helps those who help themselves."

Kumayod ka kung gusto mong umasenso. Nasa Diyos nga ang awa, pero nasa tao ang gawa!
"Work hard if you want to succeed. God is gracious, but nothing will happen to you if you remain idle!"
#9
Filipino

Habang may buhay, may pag-asa.

Translation

"As long as there is life, there is hope."
Filipinos are among the most resilient of peoples, and this proverb speaks of this truth. Various threats loom so largely every day that we sometimes feel that our situations are hopeless. But if one thing is true, it's that we should never lose hope as long as there is breath in our lungs.

Alam ko nahihirapan ka na, pero huwag mong kalimutan na habang may buhay, may pag-asa.
"I know you're having a very difficult time, but never forget that as long as there is life, there is hope."
#10
Filipino

Pag may hirap, may ginhawa.

Translation

"When there is a difficulty, there is also a relief."
This is somewhat similar to the previous proverb about life being full of ups and downs. Most assuredly, life is full of paradoxes and dilemmas. But even if we're facing hardships right now, we should never forget that we've also experienced many good things in the past—and we'll experience more in the days to come! So don't lose hope. A wise man once said, "Should we accept from God only good and not adversity?"
#11
Filipino

Kalabaw lang ang tumatanda. 

Translation

"Only carabaos grow old."
There's a reason that the carabao, or the water buffalo, is the national animal of the Philippines. As a symbol of hard work, the carabao is a tough, powerful, and tireless beast. But even an animal as majestic as the carabao grows old and eventually dies. Our grandparents used to quote this proverb to remind everybody that growing old is all in the mind and that anyone can stay as young and strong as they want by maintaining a positive outlook on life. In other words, "Age is just a number."

Lola, tama na ang trabaho. Magpahinga ka na.
Hmp! Kalabaw lang ang tumatanda!

"Grandma, you need to get some rest from work."
"Hmph! Only carabaos grow old!"
#12
Filipino

Ang masamang damo ay matagal mamatay.

Translation

"Weeds don't die easily."
This proverb has long been used to describe evil people, particularly why they always seem to live longer. It's somewhat related to the question, "Why do bad things happen to good people?" and its opposite, "Why do good things happen to bad people?" 

Indeed, we often perceive the wicked to be prospering more than they deserve, but let us not forget that both good and bad are part of life. Perhaps one of the purposes of this proverb is to remind us that it's impossible to completely rid our lives of evil. All we can do is accept this fact, resist evil, and strive to be better individuals. 

Meanwhile, some people quote this proverb after narrowly escaping death. 

Huwag kayong mag-alala sa akin. Masamang damo ako.
"Don't be too worried about me. I don't die easily."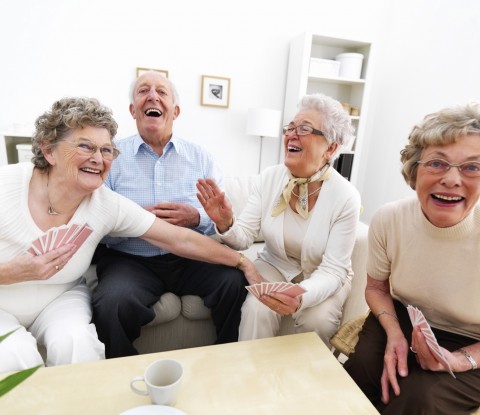 Kalabaw lang ang tumatanda.
"Only carabaos grow old."
3. Proverbs About Work and Success
Every culture has something to say about the value of hard work and what it takes to be successful. Below are some common Filipino proverbs on the topic to inspire and motivate you! 
#13
Filipino

Hangga't makitid ang kumot, matutong mamaluktot. 

Translation

"Learn how to curl up while the blanket is short."
Blankets are an important part of life in the Philippines. They protect not only against the cold, but also against mosquitoes and other bugs. In poor communities, a blanket can be a luxury. This proverb advises that if your blanket is too short, learn to bend your knees so that it can cover your entire body. In other words, learn to adjust to your circumstances. 

As we've already learned, life has its ups and downs. Be content with what you have at the moment. Work hard and save until you reach the point where you can indulge in a bit of luxury.

Matuto ka munang mamaluktot habang naghahanap ka pa lang ng trabaho.
"Learn to save first while you're still looking for a job."
#14
Filipino

Pag may tiyaga, may nilaga. 

Translation

"If you persevere, you will reap the fruits of your labor."
In rural Philippines, the nilaga or stew is considered a reward after a hard day's work. If a Filipino worker doesn't work hard enough, he won't have enough money to buy the ingredients for this nutritious dish. This proverb motivates us to work hard because if we persevere, success—and perhaps a delicious bowl of nilaga—will be waiting for us at the end. 
#15
Filipino

Daig ng maagap ang masipag. 

Translation

"Promptness wins over diligence."
To be maagap means to be proactive. You can be hardworking and persevering, but if you're not mindful of what's going on around you, you'll risk losing your work and its potential rewards. 

Be a hardworking individual. Be excellent in what you do and never quit until you've completed your task. But in the process, don't forget to stay alert and ready. In the end, a quick-witted person will win over someone who seems to work non-stop.
#16
Filipino

Ang kita sa bula, sa bula rin mawawala.

Translation

"What comes from bubbles will disappear in bubbles."
In a time when get-rich-quick schemes are becoming more and more rampant, nothing could be more valuable than this proverb. The word bula is Filipino for "bubble." And as you know, bubbles can be attractive and mesmerizing sometimes. But just as fast as they appear, so do they disappear in the blink of an eye. Don't fall for schemes that promise quick riches. As the saying goes, the way to get rich quickly is to do it slowly.
#17
Filipino

Ang umaayaw ay di nagwawagi, ang nagwawagi ay di umaayaw. 

Translation

"A quitter never wins; a winner never quits."
There's a time to quit and there's a time to persevere and endure. This is a very straightforward proverb, reminding us that it ain't over till the fat lady sings. After all, no one who quit prematurely became a champion in life.

Huwag kang aayaw kaagad dahil ikaw din ang matatalo sa huli.
"Don't quit easily because you'll only end up being the loser in the end if you do."
#18
Filipino

Pera na, naging bato pa.

Translation

"What you thought was money turned out to be stone."
This is an expression of regret, often said by people who thought they were able to make a profit out of something. In the end, what they thought was a genuine opportunity turned out to be a scam. An excellent reminder that true success cannot be obtained overnight.

Nagsisi ako na sumali ako sa negosyo na 'to. Pera na naging bato pa.
"I regret joining this business. The money I invested simply turned into stone."
Pag may tiyaga, may nilaga.
"If you persevere, you will reap the fruits of your labor."
4. Proverbs About Relationships
Lasting relationships are some of the most precious things in life, but they can also be the most trying. Here are a few Filipino proverbs about love, family, and friendship to give you some perspective. 
#19
Filipino

Ang matapat na kaibigan, tunay na maaasahan. 

Translation

"You will know a true friend in time of need."
Perhaps you're more familiar with, "A friend in need is a friend indeed." 

It's easy to attract people into our lives when we're experiencing success. But when everything seems to be falling apart, these so-called friends will be nowhere to be found. Those who are truly loyal to us are those who will stay by our side to support us, even when they know they'll get nothing in return.
#20
Filipino

Ang pag-aasawa ay hindi biro, 'di tulad ng kanin, iluluwa kung mapaso. 

Translation

"Marriage is not a joke. It is not like food that you can spit out when it is too hot to chew."
Marrying a person means marrying their entire family. This is especially true in a culture like that of the Philippines, where married couples tend to live together with either of the couple's side of the family. True enough, strife between husband and wife often involves family members from each side. But then, this old Filipino proverb helps us understand that marriage is a lifetime commitment and not something you can throw away once you get tired of its flavor.

-Isasauli ko na siya sa nanay niya.-Anong akala mo sa relasyon niyo?
Parang kanin na pag napaso ka iluluwa mo lang?

-"I'm going to return her to her parents."
-"What do you think of your relationship? Do you think it's like rice that you can simply spit out when you get burned?"
#21
Filipino

Anak na di paluluhain, ina ang patatangisin.  

Translation

"An undisciplined child will leave his mother in tears."
This is the Filipino equivalent of the Biblical proverb that says, "He who spares the rod hates his son." Spanking a child for bad behavior may be taboo in Western countries, but in the Philippines, it has been common practice to hit a child with a stick as a form of discipline. Many Filipinos forty years old and above would tell you they're thankful that they lived in a generation when it was okay to hit a child to keep them in check. That's not to say that it's still okay today. After all, there are many ways to discipline an unruly child. What this proverb is telling us is that children should never be spoiled if they are to grow up bringing honor to their parents and themselves.
#22
Filipino

Hindi magbubunga ng santol ang mabolo. 

Translation

"The mabolo tree will not bear a santol fruit."
Speaking of honor, in Asian countries like the Philippines, society places much importance on honoring one's parents. This proverb is used in both a positive and a negative sense. 

When society sees a child growing up to become as successful and noble as his parents, they conclude that the fruit doesn't fall far from the tree. If that same child ended up going the opposite direction, he would be labeled a "black sheep," a "rotten fruit" that is just as rotten as the tree he had fallen from.
#23
Filipino

Pagkahaba-haba man daw ng prusisyon, sa simbahan din ang tuloy.  

Translation

"The procession may be long, but it will surely still end up in the church."
As a primarily Catholic country, the Philippines has several religious festivals, most of which are celebrated with long processions. No matter how long and slow the procession may be, one can be sure that its final destination is the church. 

Filipinos liken long engagements to a religious procession. For some couples, it takes years before the decision to finally settle down is made. The journey toward marriage may be full of ups and downs, but like religious processions, they end up in front of the church altar where they say their "I do's."
#24
Filipino

Kapag binato ka ng bato, batuhin mo ng tinapay.

Translation

"When someone throws a stone at you, throw back a piece of bread."
This reminds us of one of the sayings in Scripture: "If anyone slaps you on the right cheek, turn to him the other also." 

In life, you'll encounter people who will oppress you and do their best to bring you down. It's tempting to take vengeance against such people, but no proverb is more full of wisdom than this one, telling us not to retaliate. What will we gain if we fight fire with fire? The best way to deal with conflict is to neutralize the situation. As a famous man once wrote, "If your enemy is hungry, feed him; if he is thirsty, give him something to drink. In doing this, you will heap burning coals on his head."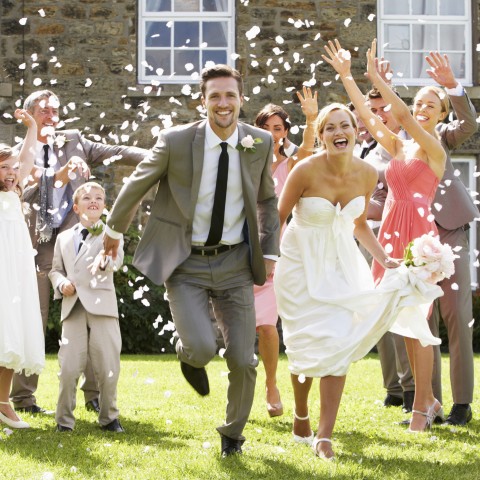 Pagkahaba-haba man daw ng prusisyon, sa simbahan din ang tuloy.  
"The procession may be long, but it will surely still end up in the church."
5. Miscellaneous Filipino Proverbs
To wrap up, here are a few more Tagalog proverbs for the road. 
#25
Filipino

Madaling sabihin, mahirap gawin.  

Translation

"Easier said than done."
This particular proverb is often directed toward proud people who always fall short of accomplishing the very thing they proudly boasted of being able to do with ease. Such people often miscalculate the difficulty of a task, put off doing it, and then end up realizing they shouldn't have been overconfident.
#26
Filipino

Ang taong nagigipit, sa patalim kumakapit. 

Translation

"A desperate person will cling to a knife."
There's a moral dilemma to this proverb. Would you sentence a man who had committed a crime, or would you pardon him because he only did what he did because he had to feed his family? Let us know in the comments section how you would interpret this proverb.
#27
Filipino

Ang taong walang kibo, nasa loob ang kulo. 

Translation

"A quiet person hides his anger."
Have you ever noticed that the calmer a person looks on the outside, the more capacity that person has for mischief? A colleague may seem peaceful because he doesn't talk a lot. But be careful when dealing with that person, because one reason he may be reserved is that he doesn't know how to express himself. And more often than not, it's those kinds of people whose emotions are raging inside. They're like a volcano that has remained dormant for a long time, only to erupt violently without warning.

Mag-ingat ka kay Dante. Nasa loob ang kulo niyan.
"Be careful with Dante. He may seem calm, but he can be very violent."
#28
Filipino

Ang naglalakad nang matulin, pag natinik ay malalim. 

Translation

"A person who walks fast will have a deeper wound when he is pricked."
We live in a generation where we're bombarded with lies telling us that bigger and faster are better. As a result, we often prefer fast food over home-cooked meals; we sign up with get-rich-quick programs instead of working hard from the bottom up. 

This proverb encourages us not to be hasty, but to take things slowly, thinking carefully about our actions. He who hurries often gets wounded the deepest, so don't get distracted by false promises of shortcuts and quick success.
#29
Filipino

Magbiro ka sa lasing, huwag sa bagong gising.  

Translation

"Throw a prank on a drunk man, but never on someone who has just woken up."
It's not uncommon to see prank videos on the internet these days, and the two groups of people we often see falling victim are those who are drunk and those who are deep asleep. If you've ever been startled awake, you know for sure that it's not a pleasant feeling. You've probably even wished you were drunk because it would have made the situation easier to forget. 

Before the age of the internet and before online pranks became popular, this proverb reminded Filipinos never to prank someone who's sleeping or had just woken up. Our ancestors had been there, and they realized the results weren't pretty.
#30
Filipino

Ang taong naniniwala sa sabi-sabi ay walang tiwala sa sarili.  

Translation

"The person who believes in rumors has no self-confidence."
A more popular version of this proverb goes, Ang maniwala sa sabi-sabi, walang bait sa sarili. In English, "The person who believes in rumors has no common sense." 

Indeed, a person who easily believes what they hear or read about has no self-respect. And there's no better generation to begin applying this proverb than the one we're in, where fake news and internet hoaxes run amuck.
→ Boost your confidence with this lesson on improving your Filipino speaking skills.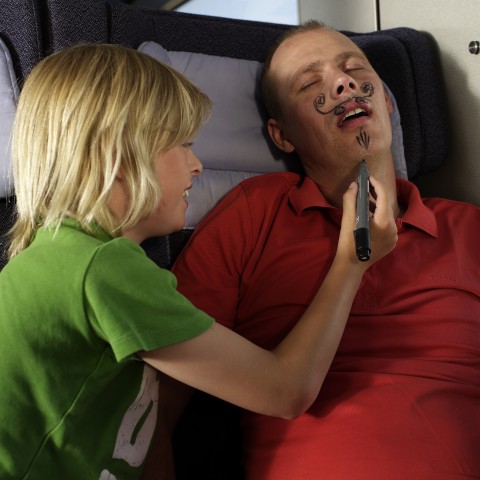 Magbiro ka sa lasing, huwag sa bagong gising.
"Throw a prank on a drunk man, but never on someone who has just woken up."
6. Learn Filipino Proverbs Plus Much More With FilipinoPod101!
We've talked about some of the most famous Filipino proverbs here, but did you know that you can learn even more with FilipinoPod101? Add more Tagalog words to your arsenal, improve your pronunciation, and fall even deeper in love with Filipino culture by signing up with FilipinoPod101. Here, you'll find unlimited resources that will help you in your Filipino language studies.
And if you want to speed up your learning, you can always avail yourself of MyTeacher, a FilipinoPod101 Premium PLUS feature that pairs you up with your own personal teacher. He or she will give you one-on-one lessons and continual feedback, so you'll know how much you're improving.
Before you go: Did we forget any Filipino proverb that you believe should be on this list? Feel free to let us know in the comments, or discuss your favorite ones with your fellow Filipino learners!
May 14, 2021
Manila may not be the same since the lockdown started, but what remains is the fact that it's one of the best and most important places to visit in the Philippines. This is especially true if you have a desire to study the language and culture of the Filipinos. 
In this Manila travel guide, we'll take a look at the top ten places to visit in Manila. Whether or not you've been to Manila before, you'll find this guide invaluable. Here, you'll learn the best times to visit the region, which landmarks and tourist spots to see, and which words and phrases to use when conversing with the locals.
So, fasten your seatbelts, and let's take a ride to the capital of the Philippines—Manila!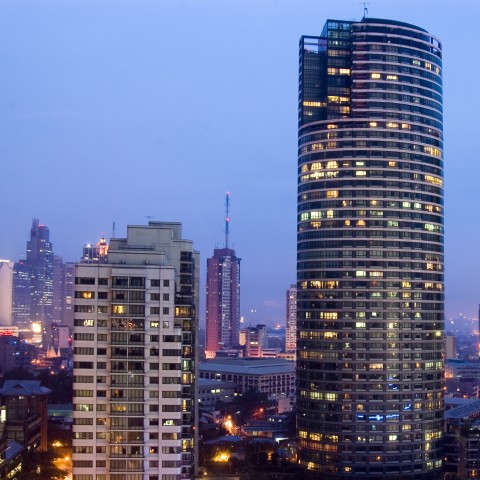 Metro Manila at night.
Table of Contents
1. Before You Go
Before Manila became the great city it is today, it was a walled settlement for Muslims during the late sixteenth century. When the Spanish arrived in 1571, the settlement was destroyed; in its place was built another walled settlement, this time a city called Intramuros. Since then, Manila has been the capital of the Philippines.
Today, Metro Manila has a land area of 42.88 km² (or 16.56 mi.²) and is home to 1.78 million residents. It's a highly urbanized area and is considered the most densely populated city proper in the world. Every year, the city welcomes over a million tourists, with major destinations including Rizal Park, the Cultural Center of the Philippines Complex, and the historic Intramuros.
Planning to visit Manila soon?
There's really no "best time" to visit Manila. There are only two seasons in the Philippines—dry and rainy—and it's up to you to decide which season you think is best for traveling. Some people love taking tours during the summer months, while others don't really care about getting wet. As for me, I prefer to tour the place during the Christmas season (December-January) when it's cooler and there are more attractions to see. 
You're lucky if you have friends or relatives in Manila who would be kind enough to let you stay at their place free of charge, although there are many affordable hotels and Airbnbs in Manila. I lived in Manila for a season, and I have visited the place with my family every year for the past ten years. You could say that I'm an expert when it comes to touring the country's capital. 
That said, allow me to give you some practical tips I've learned over years of back-and-forth trips to Manila:
1. Travel light.
I can't stress this enough. Whether you're staying in Manila for a couple of days or a full two months, remember to carry with you only what can be considered truly essential. 
I take my family with me to Manila every year and spend two to three weeks there. In the past, we would carry two large suitcases, fearing we would lack clothes to wear. Over the years, we've learned that it's possible to travel with only a few essentials. 
I suggest you carry two to three sets of dri-fit shirts and a pair of pants. Manila can be hot and humid, and dri-fit shirts will keep you cool. These things also dry quickly, so you can be sure you won't run out of fresh clothes to wear. Most importantly, these clothes are a lot lighter than most fabrics.
2. Check the weather.
The Philippines has a tropical climate, which means it rains all year round—yes, even on some days during the summer. There's always a chance that it's going to rain. Before heading out, make sure you've checked your favorite weather-prediction app to see what the weather will be. I recommend wearing comfortable clothing if there's no chance of rain, although it's always good to have your umbrella on hand just in case.
3. Check Google Maps in advance.
Get the most out of Google Maps or any other map application you may have installed on your phone. Manila is a big city, and you'll want to be familiar with the streets and landmarks before you start your trip. I can't count how many times using a map has helped me find the places I needed to visit with ease. It'll also come in handy when you need to find the nearest restaurant or cafe for a quick bite.
4. Wear comfortable footwear.
You're going to do a lot of walking, especially if you're planning to visit Intramuros and Rizal Park, so be sure to wear comfortable sneakers. Flip-flops are okay, too, but I wouldn't recommend them if you're planning to go someplace crowded like Divisoria or Quiapo. As for me, I usually wear a pair of boots or sneakers when going around Manila. Sneakers are perfect when you need to keep a light-footed pace. Boots, on the other hand, will make sure your toes are protected in busy and crowded places.
5. Consider using public transportation.
Unless you're traveling with a child or someone with a disability, I would recommend using public transportation when touring Manila. It will not only let you experience the entire trip like a local would, but it will also save you from a lot of headaches induced by looking for a spot to park.
6. Bring enough water (and snacks!).
You'll be losing a lot of bodily fluids from either the heat or humidity, so make sure you carry enough water with you. Don't forget to bring some snacks, too, in case you get hungry in the middle of your stroll.
7. Be aware of rush hour times.
This is arguably the best travel tip anyone could give you regarding your visit to Manila. You're probably aware that Manila has one of the worst traffic situations on the planet, and the city even ranks as one of the top ten worst places to drive in the world. It's good to schedule your arrival at the airport in the morning, because the roads usually get busy and crowded starting at around five in the afternoon.
8. Observe safety in crowded places.
We all need to observe safety when going out these days, but not considering any viral or bacterial infection you might acquire, you need to be alert when roaming the streets of Manila. I suggest that you leave all jewelry behind when going out. And like me, you might want to wear a small fanny pack around your waist (hidden under your shirt) to store your phone and some cash.
This does bring us to an important question: Is it safe to visit Manila? 
Yes, Manila is safe for tourists. But just as you would do in any country you were visiting, you'll want to be aware of your surroundings when touring Manila. 
2. Must-See Places for a 1-3 Day Trip
Manila may not have picturesque sceneries of mountains, or seas, or waterfalls, or sunsets, but that doesn't mean it's lacking in iconic tourist attractions! You'll be amazed that there are, hidden amid the traffic and the crowds, beautiful landmarks and attractions in Manila that are a must-see for first-time visitors. 
1 – Intramuros
When speaking of Manila tourist spots and attractions, the Walled City of Intramuros always seems to come up first. I got the chance to visit this historic place several months ago, and the experience was just breathtaking! 
The word Intramuros came from Intra, which means "within," and Muros, or "fortification." In short, Intramuros means "within walls." Did you know that the entire 64 hectares of Intramuros used to be the city of Manila? All the other regions outside the walls of the city were considered probinsya, or "province." The walls were first constructed in the sixteenth century under the initiative of a Jesuit Priest named Antonio Sedeno. The walls were built to protect the city from constant threats from foreign invaders.
One day is enough to enjoy most of the beautiful spots inside Intramuros, although you might want to spend up to three days here to fully experience the place. I suggest you start your tour at Fort Santiago. Here, you'll find the Jose Rizal Museum, where the hero was detained right before his execution. This spot alone will already take you an hour or two, so you'll want to start your tour very early in the morning. From there, you can head straight to the Manila Cathedral—but not until after you've caught a quick glimpse of Plaza Roma just in front of the church.
You should be hungry by this time, but thankfully, there are many restaurants and cafes to choose from. Once you've had your fill, go straight to Casa Manila, a small mansion made of stone and wood that depicts the colonial lifestyle during the Spanish era. If you still have time, don't miss the Bahay Tsinoy Museum, which is just a block away from Casa Manila. You can tour the entire place by foot, but in case you get tired, there are always e-trikes (electric tricycles) for your convenience.
2 – Luneta Park
Anyone who has only seen Luneta Park in pictures would think that it's simply a 58-hectare piece of land with a bronze statue of the national hero of the Philippines at the center. But your perspective will change once you see it in person, and you'll realize that it's full of beautiful scenery, shaded with trees and dotted with fragrant flowers.
Located in Ermita, Manila, this park stands in what used to be Bagumbayan; it's adjacent to Intramuros and faces the shores of Manila Bay. It's in this very place where Jose Rizal was executed on December 30, 1896, and so the park is also officially known as Rizal Park. 
If you're visiting this place, I suggest you head straight to the Rizal Execution Site. The entrance fee is only Php 20 (about 0.40 USD). Inside, you'll be welcomed by an oversized diorama that depicts notable events in the life of Rizal, including his execution. Take time to experience zen inside the Japanese garden and be transported to old Peking inside the Chinese garden. And don't forget to take a selfie with the famous Rizal Monument, albeit only from a distance.
3 – National Museum Complex
The National Museum Complex consists of the National Museum of Natural History, the National Museum of Anthropology, and the National Museum of Fine Arts. These three are all located within the vicinity of Rizal Park and are constructed with a Neoclassical architectural design. 
The National Museum of Fine Art is just six minutes away from the entrance of Intramuros, if you're traveling on foot. It's here where you'll find the famous Juan Luna painting, the Spoliarium. Other important works you'll get to see here are the Parisian Life (also by Luna) and the Assassination of Governor Bustamante and His Son by Félix Resurrección Hidalgo. 
Walk another three to five minutes and you'll reach the National Museum of Anthropology, which houses ethnological and archaeological artifacts, including costumes, tools, and carvings. Wondering what language and script the early Filipinos used? Head straight to the fourth floor of the museum, and there you'll find the Baybayin Gallery, where artifacts of ancient and traditional scripts of the Philippines are displayed.
If you're a nature-lover, you'll definitely fall in love with the National Museum of Natural History. This is the twin building of the National Museum of Anthropology and it's located at the southern side of the Agrifina Circle in Rizal Park. Here, you'll enjoy six floors of different species of plants and animals found in the Philippines, with each gallery representing a different ecosystem where those species are found.
Entrance to The National Museum Complex is free, but be aware that you'll be required to leave your backpack at the counter. Also, touring one building alone will take you a couple of hours or even more, so you'll want to set aside one day to visit all three museums.
3. Highly Recommended Places for a 4-7 Day Trip (or Longer)
Staying longer than a couple days? Here are other things to visit in Manila once you're done seeing Intramuros, Rizal Park, and The National Museum Complex.
4 – Bonifacio Global City
Bonifacio Global City, or BGC among the locals, is an emerging business district within the city of Taguig in Manila. The place is named after the Filipino hero Andres Bonifacio and used to be a part of the Philippine Army Camp. This 240-hectare city is popular among locals and tourists alike, considering that it's more modern-looking than its surrounding cities. It's a melting pot of pop culture and is one of the best places to visit in Manila at night for its vibrant nightlife. 
Aside from residential buildings, BPO companies, malls, and restaurants, other places to visit at BGC with the family are the Mind Museum, the MiracleArt Happy Museum, Lego Certified Store BGC, and KidZania Manila.
You won't run out of options when it comes to hotels since there are more than a dozen choices for lodging in BGC. Buses, jeepneys, and taxis are also available as modes of transportation.
5 – Resorts World Manila
If you want to experience some world-class entertainment, then the Resorts World Manila is for you. It's conveniently located across the Terminal 3 of the Ninoy Aquino International Airport and is home to a variety of prestigious, world-renowned hotel brands, including Marriott, Ritz-Carlton, Hilton, and Belmont. 
For many people, the first thing that comes to mind when they hear "Resorts World" is "casino." Indeed, this place offers world-class gaming, but what piques my interest about RW Manila is the Newport Performing Arts Theatre. Here, you can see live production shows, concerts, and musical plays.
If you plan to visit RW Manila, here's a complete guide on how to get there.
6 – Quiapo Church
Constructed in Baroque style, the Quiapo Church is one of the most historic religious landmarks in Manila and the Philippines in general. One reason is that it houses the Black Nazarene, an image of the suffering Christ that's considered to be miraculous. In fact, the church is properly called Minor Basilica of the Black Nazarene, although it's canonically known as the Parish of Saint John the Baptist.
Three times a year, a procession is held in honor of the Black Nazarene. The largest of these three is the January 9 Traslación ("transfer"), a solemn re-enactment of the image's transfer from its original shrine in Intramuros to the Quiapo Church, its current location.
Every Friday, a novena for the Black Nazarene is held in the church, and it's attended by thousands of Roman Catholic devotees. Getting to the church won't be difficult. You only need to find a way to the LRT 1 station either by bus or jeepney. Alternatively, you can take a cab since it's only nine minutes away if you're coming from Intramuros or nearby areas.
7 – Cultural Center of the Philippines
For those who are interested in learning more about the unique culture and art of the Philippines, the Cultural Center of the Philippines is the place to see. It's located at Roxas Boulevard, just fifteen minutes away from Terminal 2 of Ninoy Aquino International Airport. Founded in 1966, this performing-arts center was designed by the great Filipino architect Leandro Locsin.
The center provides information about theatre in the Philippines and has been a reliable venue for classical music and ballet for a long time now. It promotes local and indigenous artists, although it has also hosted several international artists, such as New York Philharmonic, Bolshoi Ballet, and the Cleveland Symphony Orchestra.
There are two main theatres in the complex, both able to accommodate theatre performances as well as show films. Libraries and galleries are located on the third floor of the building. If you wish to see pre-Spanish Philippine art exhibits, then head to the fourth floor.
Visit the CCP website to stay updated on shows and events.
8 – Ayala Museum
This state-of-the-art museum, located at the heart of Makati City in Manila, features four floors of wonderfully curated Filipino culture exhibits. Another must-see attraction if you're bringing the entire family with you, the Ayala Museum highlights sixty dioramas that present a stunning visual narrative of the Filipino people. For years, this exquisite presentation has been the nucleus of every Ayala Museum visit. There's also the super collection of indigenous textiles representing communities of indigenous Filipinos from the Cordilleras in the north and Mindanao in the south.
You'll also get to enjoy an exclusive art collection of the works of Fernando Zobel, the man behind the Ayala Foundation and the Ayala Museum itself. Within the collection, you'll find paintings, sketches, and photographs of the artist.
Perhaps the highlight of the museum is the exhibition of over 1,000 gold objects that date back to as early as the tenth century. A visit here is truly unique, as many of the artifacts here have never been revealed to the public. That said, taking pictures inside the "Gold of Ancestors" gallery is prohibited.
To learn more about the Ayala Museum, feel free to visit their website's About page.
9 – SM Mall of Asia
Filipino shopping malls are insane, and the SM Mall of Asia is proof of that. After a day's tour in some of the top Manila spots mentioned here, take some time to shop and dine at one of the largest shopping malls in the country. You can get all the essentials you'll need for your Manila stay here. It's not your average shopping mall, though. Inside, you can also enjoy some unique activities and experiences, such as the SM Skating Rink, an Olympic-sized skating rink where skating competitions are sometimes held. Or, how about visiting the SM MOA By the Bay Amusement Park? Yes, that's how big this mall is! 
The best thing about this place is that you won't have to look elsewhere for places to stay while in Manila, as there are condominium units for rent just within the premises. Oh, and by the way, SM MOA is an average of only thirty minutes away by car from most of the attractions mentioned in this article.
10 – Binondo, Quiapo, and Divisoria Markets
A tour of Manila wouldn't be complete without a trip to the three most popular markets in the area: The Binondo, Quiapo, and Divisoria Markets. 
Binondo is known as the Chinatown of Manila. Some even say it's the oldest Chinatown in the world, having been established in the sixteenth century. This place is famous for what is known as the "Binondo Food Crawl." In fact, you can't call yourself a true-blue foodie until you've gone to Binondo. Don't miss this place if you want to try some of the most mouthwatering authentic Chinese dishes in the world!
Go up north from the Binondo Market and a fifteen-minute walk away is Divisoria. Here, you'll get to experience a taste of "the real Manila." This place is one of the busiest in the area because this is where the locals go shopping for really cheap products, be it clothing, cell phone cases, bags, or food. It used to be noisy and chaotic, but thanks to the efforts of the government, it's much cleaner and more organized now.
From here, you can walk toward the Bambang LRT station and take the train headed south. Get off by the Carriedo Station, head east another six to seven minutes by foot, and you'll see the Quiapo Market. You'll realize that the Quiapo Market is just in front of the Quiapo Church, so coming here is hitting two birds with one stone. Just like Divisoria, Quiapo Market is home to some great finds in terms of clothes, accessories, electronic items, and of course, food!
4. Survival Filipino Phrases for Travelers 
Filipinos are hospitable people, and Manileños are no exception. You can approach a local anytime you need help and you can expect to be accommodated 100% of the time. As long as you know English, you don't need to worry about communication issues, since most Filipinos can speak and understand the language. But locals will still appreciate you learning a few basic Tagalog phrases, especially if your English isn't fluent. 
Here are some Filipino survival phrases you can use to make your Manila tour a lot more fun and convenient.
Kumusta po kayo?
"How are you?" / "Hello."
Maraming salamat po.
"Thank you very much."
Paalam!
"Goodbye!"
Paumanhin po.
"Excuse me."
Mabuti.
Ayos ito.
"Good."
"This is very good." / "This is okay."
Paumanhin, pero hindi ko po maintindihan.
"Pardon, but I can't understand."
Pwede po bang malaman kung saan may palikuran?
"May I know where the restroom is?"
Magkano po ito?
"How much is this?"
Bigyan po ninyo ako nito.
Gusto ko po nito.
"Please give me some of this."
"I want some of this."
Tulong!
"Help!"
Notice that the word po is present in almost all of these phrases. That's because it indicates politeness or respect, and should be used when speaking to a stranger (especially someone who's older).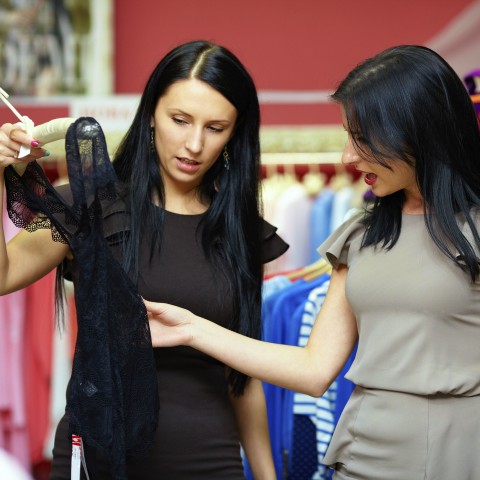 Magkano po ito? ("How much is this?")
Make Your Manila Tour More Meaningful by Learning Tagalog
Visiting Manila and touring all the beautiful attractions it offers will be worth your while, whether you can speak Filipino or not. However, wouldn't you agree that your Manila travels would be more meaningful after learning Tagalog first? 
With FilipinoPod101, you can learn the fundamentals of the Filipino language in just a short amount of time. We offer all the resources you'll need to study the basics, including pronunciation, grammar, and vocabulary.
Want to speed up your learning progress? No problem! FilipinoPod101 offers the MyTeacher guided learning system, which allows you to enjoy a learning process exactly tailored to your needs. FilipinoPod101 also has a YouTube channel that's regularly updated to provide fun and engaging audio and visual lessons for our aspiring learners.
To experience all of this and more, sign up now for a free account on FilipinoPod101.com! And if you liked this post, feel free to show your appreciation in the comments section below!
By the way: Which of these locations do you most want to visit, and why?
May 13, 2021
In your interactions with native Tagalog speakers, don't be surprised to hear a few English words thrown in. Some refer to this mixing of the two languages as Taglish, while others call it Philippine English or Filipinism. The practice of using English words or phrases in a uniquely Filipino way has been around for decades, and it usually leaves English-speaking foreigners scratching their heads. Yes, that's what this kind of Filipino-speak produces at times: confusion. 
If you're a foreigner studying the Filipino language and desire to truly master it, this is one aspect of the language you must not overlook, as 99% of Filipinos speak in this manner. To help you navigate this crazy world of English words used in the Filipino language, we've crafted this guide to Taglish and loanwords. 
Let's dive in!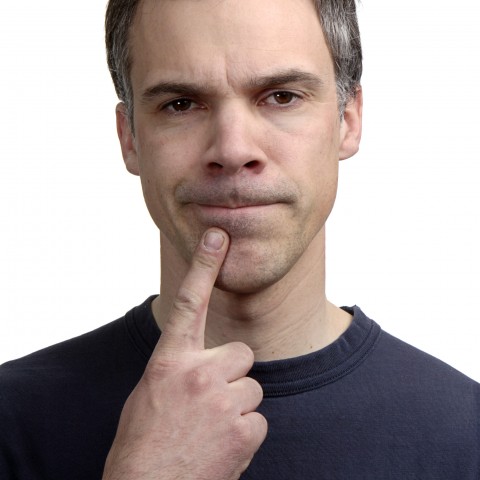 Is that Tagalog or English? Oh, it's Taglish.
Table of Contents
1. An Introduction to Taglish
Taglish is now a part of everyday life in the Philippines, but it wasn't always so widely accepted. Once upon a time, people would laugh at you and mock you for speaking Tagalog mixed with English. 
Its prominence today either indicates that Taglish is one difficult adversary to bring down or that Filipinos are simply that malleable. Or perhaps it's just inevitable that a mixed language such as Taglish would become a part of such a diverse, mixed-race nation.
It's difficult to find someone who speaks pure Filipino nowadays. But perhaps that's only because not all English words have direct equivalents in Filipino and vice-versa. And that's how Taglish works, by the way: you simply switch from Filipino to English whenever necessary to best deliver the message you're trying to convey. 
Let me give you an example:
If you wanted to say you're going to be late for your class, you'd say something like:
"Gosh, I'm going to be late for my class."
In pure Filipino, you can say that as:
Naku, mahuhuli na ako sa klase ko.
In Taglish, you say that as:
Naku, male-late na ako sa klase ko.
Notice how "late" was inserted into the sentence?
Here's another example:
"We need to study for our exams."
In pure Filipino, you can say that as:
Kailangan nating mag-aral para sa ating pagsusulit.
In Taglish, it would be something like:
Kailangan nating mag-study para sa exams natin.
Coño English takes this to another level. The word coño has Spanish origins, but in Filipino, it refers to the language that has originated from the younger generations of rich Filipinos from Manila. It's also used to refer to the people who speak this language, oftentimes carrying a negative connotation.
Here are some examples of Coño English:
| | | |
| --- | --- | --- |
| English | Tagalog | Coño  |
| You're so good in Filipino! | Ang galing mo naman sa Filipino! | You're so galing naman sa Filipino! |
| Don't poke the balloon. | Huwag mong tusukin ang lobo. | Don't make tusok the balloon. |
| Man, it's so hot in here! | Grabe, ang init dito! | Grabe, so hot naman here! |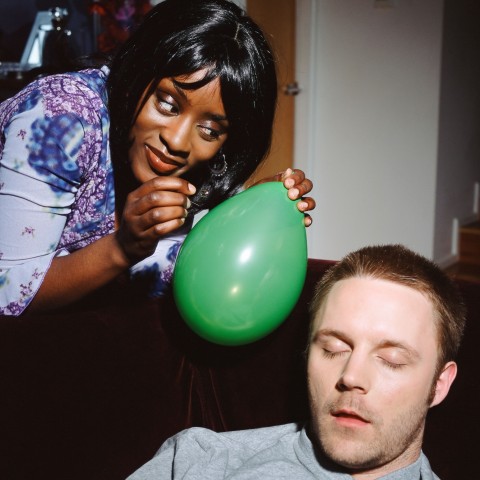 Don't make tusok the balloon! ("Don't pop the balloon!")
→ Speaking of confusion, here's a lesson on how to tell someone that you don't understand their Filipino.
2. Taglish Examples
You'll hear English spoken almost everywhere when you're in the Philippines. In addition to the code-switching we discussed in the previous section, Taglish can also refer to English words adapted to Filipino, but given different meanings than the original words. This isn't unique to the Philippines, and many other countries (particularly Asian ones), have this habit of giving alternative meanings to English words. Let's check out a few that are used in Filipino.
1. Adidas
We all know Adidas as a brand of sports clothing. Filipinos know that, too. But in the Philippines, the term 'Adidas' has another meaning: barbecued chicken feet sold as street food. The dish is called this because the three main toes on chicken feet resemble the three stripes that represent the famous brand.
Tara! Kumain tayo ng adidas sa may kanto. ("C'mon! Let's eat some adidas at the corner.")
2. Bad Trip
This term could refer to a trip that went bad or to an unpleasant experience triggered by psychoactive drugs. In Tagalog, however, it's used to describe the feeling of being disappointed or frustrated about something, like when you're late for work but the traffic is heavy.
Bad trip na traffic 'to! ("This heavy traffic is wearing on my nerves!")
3. Blooming
This is a British expression used to emphasize annoyance over something. It could also refer to flower production in plants. In the Philippines, it's used to describe a person who's looking unusually good as a result of a lifestyle change.
Wow! Blooming ka ngayon ah! ("Wow! You look blooming today!")
4. Chancing
In English, "chancing" is the present participle of the word "chance." In Filipino, it refers to the act of taking advantage of another person sexually, as in taking a "chance" to touch someone without being noticed. It's also spelled as tsansing.
Huwag mo nga akong tsansingan! ("Enough with your sexual advances!")
5. Double Deck
When something is "double-decked," it has two layers or levels, such as in a "double-decker bus." In the Philippines, however, it refers to a bunk bed.
Ayokong matulog sa double-deck. Baka mahulog ako. ("I don't want to sleep in a double-deck. I might fall.")
6. Feeler 
In the insect world, 'feelers' are the antennae that bugs use to "feel" the world around them. It could also refer to a question or suggestion one uses to find out another person's thoughts or opinions. But Filipinos use this term to describe an individual who comes across as narcissistic.
Sino nagsabi na cute ka? Feeler ka talaga! ("Who told you you're cute? You're such a feeler.")
7. High Blood
This is a medical term that refers to having high blood pressure. In the Philippines, it's used to describe a person who's always cranky or who seems to have an anger management issue.
Bakit high blood ka na lang palagi? ("Why are you high blood [cranky] all the time?")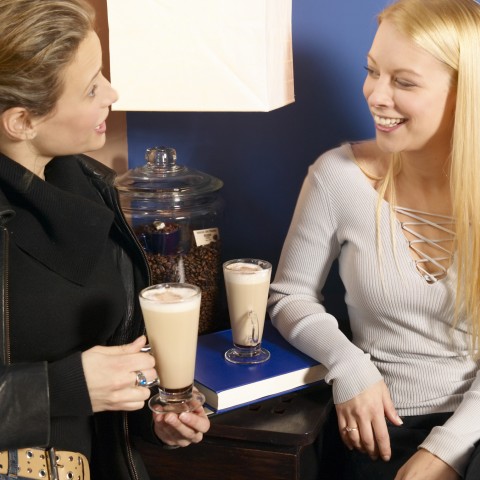 Mag-milk tea ka muna. High blood ka na naman eh. 
("You're cranky again. Why don't you have some milk tea first?")

8. Maniac
This term is used to describe a person who exhibits extreme symptoms of wild behavior, someone who has some sort of mental illness and becomes violent when having episodes. It is manyak (or manyakis) in Tagalog, and it's used to describe a pervert. 
Parang siyang manyak makatingin sa akin. ("He stares at me like a manyak [pervert].")
9. Napkin
A napkin is a small piece of cloth or paper that is used during a meal to clean one's lips and fingers. A napkin can also be worn to protect one's clothes when eating. Filipinos use the term to refer to sanitary pads, used by women for hygienic purposes during "that time of the month."
Ate, bilhan mo ako ng napkin na *whisper*. ("Ate, please buy me some *whisper* napkin [sanitary pads].")
10. Racket
A racket is a piece of sports equipment similar to a bat but with a round netted frame used for badminton or lawn tennis. In Tagalog, however, it's used to refer to a money-making scheme or a gig.
Balita ko may panibagong raket ka naman daw? ("I heard you have a new racket [gig].")
*Trivia: Many Filipinos mistakenly refer to a badminton shuttlecock as "racket."
11. Salvage
The meaning of the word "salvage" is reversed in Tagalog. While its original meaning is to save or protect someone or something, Filipinos use it to refer to the act of murdering someone and dumping the body. Interestingly, it's spelled similarly to the Spanish word salvaje, which means "wild" or "untamed," and which Filipinos now use to describe an evil person.
May bangkay na nakita sa labas. Salvage daw sabi ng mga pulis. ("There's a dead body outside. The policemen say it's salvage.")
12. Tomboy
The Tagalog word tomboy is used to describe female homosexuals. It's not too far off from its original definition in English, which refers to a girl who enjoys things or activities often associated with males.
Tomboy na talaga ako dati pa. ("I've been a tomboy since way back.")
13. Traffic
In English, the word "traffic" is a noun that refers to vehicles moving on a road. In the Philippines, it's a negative term used as an adjective referring to heavy traffic.
Grabe ang traffic kanina kaya na-late ako. ("The traffic was so heavy this morning, which is why I was late.")
Did you know that you can take advantage of the heavy traffic by learning Tagalog inside your car?
14. Cowboy 
A cowboy is an animal herder who tends cattle. In Filipino, you're a "cowboy" if you're not picky and don't easily complain over an inconvenience.
Okay lang sa akin kumain ng balut. Cowboy 'to no. ("I don't mind eating balut. I'm a cowboy, you know.")
3. Loanwords vs. Taglish
So far, we've looked at borrowed English words that have different meanings in Filipino. Now, we're going to examine a few English loanwords in Filipino that have been integrated into the language while retaining their original meanings (or a similar meaning).
1. Adik (Addict)
Adik means to be addicted to something. 
Na-adik ka na yata sa nilalaro mo ah? ("It seems you've been addicted to that game.")
2. Bakwit (Evacuate)
The word bakwit came from the English word "evacuate," which means to remove something from a place of danger to a place of safety. In the Philippines, bakwit is used in the same manner.
Nagbakwit sila dahil sa bagyo. ("They evacuated because of the typhoon.")
3. Babay (Buh-bye)
Babay is the direct translation of "Buh-bye" in Filipino. You can also check here to learn other ways Filipinos say "goodbye."
Mag-babay ka na sa kanila. ("Say your goodbyes to them now.")
4. Disko (Disco)
Disko is from the word "disco," a club where people dance to popular music. The term became popular in the 80s, but you will seldom hear it being used these days.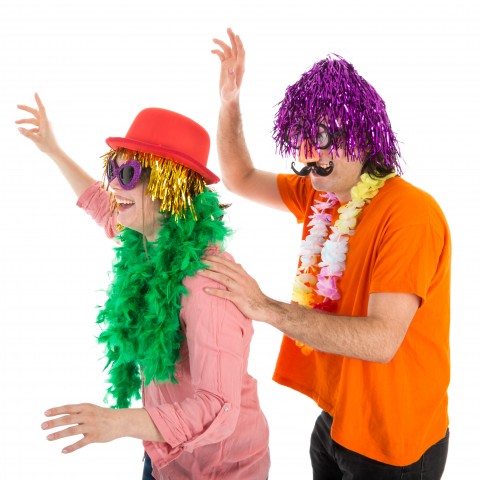 Mahilig mag disko si Lola nung dalaga pa siya. 
("Grandma used to frequent disco bars when she was younger.")
5. Keri (Carry)
Keri is from the English word "carry," which means to support the weight of an object or to lift an object from one place to another. In the Philippines, the term refers to the ability of a person to overcome a difficult task.
Kilala kita. Keri mo 'yan. ("I know you. You can do it.")
6. Kodak (Kodak, the brand)
Filipinos started using the term kodak to refer to photographs and the act of taking pictures back when film photography and the Kodak brand were at the height of their popularity.
Kodakan mo naman ako. ("Will you take my picture, please?")
7. Tambay (Stand by)
Tambay was derived from the phrase "stand by," which has several meanings in English. It could refer to the act of remaining loyal to someone in a time of need, or the readiness for immediate deployment. It could also refer to being present while something undesirable is happening and yet failing to do something to help. It's to this last definition that the Tagalog word tambay seems closest. In Filipino, a tambay is an adult who is capable of working and yet chooses to hang around and do nothing except eat and play.
Tama na ang tambay. Maghanap ka ng trabaho! ("Stop being a lollygagger. Go look for a job!")
8. Lobat (Low battery)
Filipinos love inventing words. One such word is lobat, which is Tagalog for "low battery." No one is more familiar with the term than the people who live in the "Texting and selfie capital of the world."
Naku, lobat na ang cellphone ko. Kailangan ko nang mag-charge. ("Gosh, my phone's battery is almost drained. I need to charge it now.")
9. Pulis (Police)
Pulis is the Filipino term for "police." Whichever region you go to in the Philippines, you'll hear people using this same word when referring to cops.
Gusto niyang maging pulis paglaki niya. ("He wants to be a policeman when he grows up.")
10. Traysikel (Tricycle)
The French may have been the ones who invented the first tricycle, but there is no place in the world where this three-wheeled vehicle is found more abundantly than the Philippines. In many places in the country, the traysikel is used as some sort of taxicab. And like taxis, they can be a vehicle-for-hire or used to travel over a fixed route.
Kaunti lang ang traysikel dito sa lugar namin. ("We don't have a lot of tricycles here in our place.")
11. Wais (Wise)
Pronounced as |wa-is|, this word is derived from the English "wise." Unlike the word of its origin, though, it doesn't necessarily mean showing knowledge, experience, and good judgement. It's more often used to describe a cunning or crafty person.
Naisahan mo na naman ako. Wais ka talaga! ("You got the better of me again. Such a crafty person you are!")
Aside from learning Taglish, learning Tagalog slang can help improve your Filipino.
4. English Words Derived from Filipino
Loanwords make up 80% of the English language. No wonder it is spoken in almost all parts of the world! This time, let's check out some English words borrowed from Filipino. 
1. Boondocks
The word "boondocks" is defined as a remote or isolated region. It came from the Filipino word bundok, which refers to mountains or uncharted areas beyond a coastal district.
Walang internet sa bundok kung saan sila nakatira. ("There is no internet in the mountains where they live.")
2. Calamondin
Calamondin refers to a small, evergreen citrus fruit tree, commonly known as "calamansi" in Tagalog, but as "kalamunding" in some parts of the Philippines.
Kilala ang lugar sa kanilang mga pananim na kalamansi o kalamunding. ("The place is known for its numerous Calamondin plants.")
3. Carabao
The carabao is a type of water buffalo that's native to the Philippines. The word "carabao" came from the Visayan word karbaw, which in Tagalog is kalabaw.
Mas malakas pa yata siya sa kalabaw. ("He seems to be stronger than a carabao.")
4. Cogon
Cogon is identified as a type of noxious weed that grows in the Southeastern United States. It's from the Tagalog word cogon, which refers to a rhizomatous grass commonly used for thatching the roofs of traditional Filipino houses.
Ang bubong ng bahay nila ay yari sa dahon ng cogon. ("The roof of their house is made of cogon leaves.")
5. Cooties
"Cooties" is a children's term referring to a fictitious childhood disease believed to be transmitted by obnoxious people or children of the opposite sex. It was also the nickname given to lice during the First World War. It's believed to have come from the word kuto, which is a Filipino and Austronesian term for head lice.
Sobrang dami ng kuto ni Anya. ("Anya has a lot of head lice.")
6. Jeepney
This is a combination of the words "jeep" (a type of military vehicle made by GP in the 60s) and "jitney" (an American term for 'taxi').
Balita ko ay aalisin na ng gobyerno ang mga bulok na jeepney at papalitan ng mga modernong minibus. ("I heard the government is going to get rid of all the old jeepneys and replace them with modern minibuses.")
First time riding a jeepney? Here are some key phrases you need to be familiar with if you're riding a jeepney in the Philippines.
7. Machin
Machin refers to a long-tailed macaque species. The term is derived from matsing, which is Filipino for "monkey" or "ape."
Wais man ang matsing, naisahan pa rin siya ng pagong. ("The monkey might be clever, but the tortoise was able to outsmart him still.")
8. Salacot
This one is from the word salakot, which refers to a broad-brimmed hat made of lightweight organic material used in rural areas in the Philippines.
Magsuot ka ng salakot nang hindi masunong ang balat mo. ("Wear a salacot so you won't get a sunburn.")
9. Yo-Yo
The name of this popular stringed toy is believed to have come from either the Ilocano or Tagalog term yoyo, which could mean "come, come," or "return."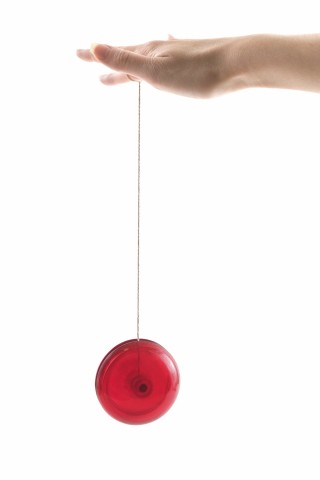 The name of this popular stringed toy is believed to have been derived from either the Ilocano or Tagalog term yoyo, which could mean "come, come," or "return."
Expand Your Vocabulary of Tagalog and Taglish Words with FilipinoPod101
Taglish is just one of the things you'll find interesting about the language and culture of the Philippines. If you want to discover other exciting things about the country, its language, and its people, I suggest you sign up for a free account on FilipinoPod101.com today.
There's no better way to learn Filipino online than through our website, where you'll be provided with all the free resources and materials you'll need to improve your vocabulary, grammar, and pronunciation.
Want to take your learning to another level? MyTeacher is here for you! This is a unique feature that lets you have one-on-one lessons with your very own Filipino teacher, who will give you real-time feedback so you'll know how much you're improving.
That's all for our guide on Taglish words and English words with different meanings in Filipino! Feel free to drop your thoughts in the comments section so we know what you think of this post. Until next time!
April 23, 2021
Studying and learning about different cultures helps us understand why certain groups of people see the world the way they do. If you're studying the Filipino language, it makes sense to gain a deeper understanding of the Filipino culture, as well. Doing so will help you better appreciate every new Filipino word or expression you learn.
The Filipino culture is quite complex, having been influenced by many different cultures. Each value and belief is applied to people's daily lives, revealing how significant the nation's history is. Yet despite the impact of other cultures on the character and behavior of Filipinos, it's interesting to know that there are still many values unique to this group of people. Thus the expression Onli in da Pilipins ("Only in the Philippines").
Come with me, and together let us discover the values, beliefs, customs, and traditions that make the Filipino people who they are.
Table of Contents
1. Values and Beliefs
Filipino culture and traditions are founded on several shared values and beliefs, a few of which we'll cover here.
A- Filipino Hospitality
Hospitality is a trademark of the Filipino people, and one can argue that there are no people in the world more hospitable than the Filipinos. Visit the country and you'll be amazed at how welcoming the people are. What's amazing is that this trait of kindness toward visitors is not confined to those who can afford to offer welcome gifts in the form of food and entertainment. Even the not-so-rich would be willing to offer their last plate of rice to a stranger visiting their little shack.
B- Regionalism
Filipinos are known for being regionalistic. It's said that this value was promoted during the Spanish era to keep the Filipinos divided, thus making it easier to manipulate them. Whether this is true or not, it's clear that Filipinos hold on to this value dearly, claiming that their region is better than others—or even the best in the country. This can be viewed as a negative trait, and true enough, this particular value system has caused a lot of negativity, especially when politics are brought into the picture. But if you look at it from another perspective, it's simply proof that Filipinos value that which belongs to their fold.
C- Bayanihan
Filipino culture values bayanihan, or the concept of teamwork. It refers to a community of Filipinos coming together for a cause. The term is derived from bayan, which is Tagalog for "country" or "community." In the past, the term was used to describe the house-moving tradition in rural areas of the Philippines, where a group of about twenty young men would volunteer to carry the house of a certain family to a new location. Most of these houses were made of nipa and other lightweight, indigenous materials. To express their gratitude, the family would prepare food for the volunteers to share. Today, the bayanihan spirit remains alive, which is evident in the way many Filipinos volunteer to help fellowmen who are in need.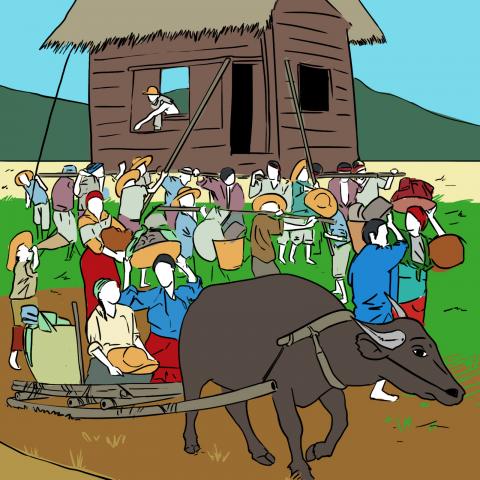 Bayanihan
D- Adaptability
One cannot overemphasize the fact that Filipinos are adaptable. They can easily adjust to any culture or situation, which is evidenced by the fact that there is a Filipino community in every major country or city in the world. Send them to a foreign country and they'll soon be speaking the language fluently. Send them to a place where no Filipino has ever set foot, and soon there will be a Filipino community flourishing. This ability to adapt helps them make do with what little they have and find joy even in the simple things. It's because of this outstanding trait that Filipinos find it easy to make a mark in the world.
E- Humor
Humor plays a huge role in Filipino culture. I'm not talking about jokes and comedy per se, but the ability of the Filipino people to find joy and humor in even the direst of situations. Yes, Pinoys make jokes all the time⁠—whether among family, friends, or strangers. The jokes could be about anything, too—a new colleague, the family next door, politics. Filipino humor goes beyond those things, though. Even in the midst of a crisis, you can expect Filipinos to find ways to make light of the situation. Whether it's a typhoon, an earthquake, or even a pandemic, no misadventure can crush the Filipino spirit.
2. Philosophy and Religion
Two of the major Filipino culture characteristics are its strong religious community and its superstitious nature. Let's briefly look at a few common philosophies and beliefs! 
A- Hiya & Utang na Loob
The Filipino concept of hiya, translated as "shame" or "embarrassment," has always been seen in a negative light. It's at the core of another Filipino concept: utang na loob, or indebtedness.
Utang means "debt," and loob means "inside," although in this case, it refers to "inner self." When you owe someone a favor, you feel deep inside that you need to return it someday, one way or another. And that's where hiya comes in. Only Filipinos who carry this virtue will understand the concept of indebtedness and the importance of returning favors.
But then there is also hiya apart from the sense of indebtedness. It's a gut feeling that you have when you're in a certain situation and you know you've got what it takes to contribute and make a positive impact:
Nakakahiya naman kung hindi ko iaalay ang aking sarili para sa aking bayan. 
"What a shame it would be if I didn't offer myself in the service of my country."
Seen from this perspective, hiya is a virtue, the act of setting aside one's own desires for the benefit of other people. 
B- Bahala Na Mentality: A Double-Edged Sword
The pre-colonial Filipino mentality of bahala na translates to "it's up to you" in English. It's said that it was derived from the expression Bathala na ("It's up to Bathala"), Bathala being the god the native Filipinos worshipped. For example:
Wala na tayong pambili ng bigas. Bahala na ang Diyos sa atin. 
"We have no money left to buy rice. May God have mercy on us."
It's a double-edged sword in the sense that it expresses faith and trust on the one hand, and on the other it expresses mediocrity. Filipinos are creative and hardworking, but many of us sometimes choose to sit and wait for some higher power to solve our problems with us.
C- Filipino Superstitions
Filipinos are arguably the most superstitious people on the planet. They tend to believe things that would seem illogical to people of other cultures. This is not surprising, though, since Filipinos are also very religious. One would think that people would be more rational in this day and age, yet superstitions still play a huge role in the daily lives of the Filipinos:
Sweeping the floor at night will sweep good fortune out of the household.
Serving pancit (noodles) during celebrations will promote long life.
It's bad luck for siblings to get married in the same year.
Don't go home immediately after attending a wake to "shake off" evil spirits.
These are just some of the hundreds or even thousands of superstitions that many Filipinos still hold on to even to this day. There may be downsides to believing in superstitions, but to believers, they help promote and maintain a positive mental attitude.
D- Christianity in the Philippines
The Philippines is dubbed as the only "Christian" nation in Southeast Asia and is ranked as the fifth most Christian country in the world. It's not because all of its people are Christians, but because 93% are. Filipinos are among the most religious people in the world, which is not surprising considering their strong superstitious nature.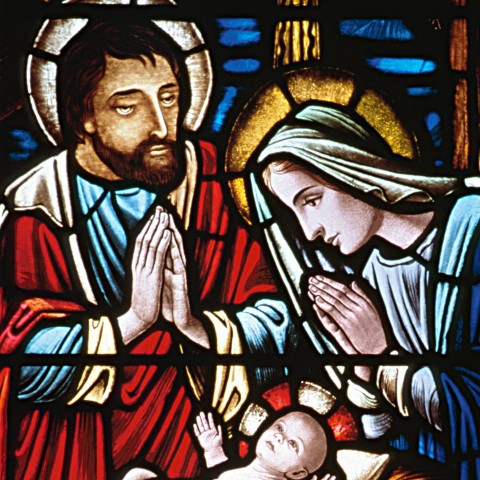 Filipinos are a very religious people.
3. Family and Work
There are a few key Filipino cultural traits related to family and work that will help you better understand the nation as a whole. Let's take a look.
A- Family Ties
A pillar of Filipino culture, family values tend to promote strong familial ties. The hospitality of the Filipino people is not only seen in how they treat their guests, but also in how they treat their family members. In the Philippines, it's common for households to be made up of extended family members. This means that families are not only composed of the parents and their children, but also of grandparents, uncles, aunts, cousins, and nephews.
In other cultures, when a person turns eighteen, they are considered an adult and encouraged to live on their own, away from their family. But in Filipino culture, living with parents until the day one gets married is considered the norm. One advantage of this practice is that elderly Filipinos seldom worry about being sent to nursing homes. A huge drawback, though, is the issue of family members meddling in each other's affairs. For Filipinos, however, the feeling of satisfaction and security that a huge family brings outweighs any disadvantage that may come with having an extended family.
B- Filipino Children as Retirement Plans
This is not something Filipinos should be proud of, but unfortunately, it's a common mindset of many Filipino parents today that one of the purposes of bearing children is to have someone to take care of them financially when they grow old. This is based on the philosophy of hiya and utang na loob. This wasn't always the case, though. In the past, Filipino parents would opt to have dozens of children, not primarily as retirement plans, but as assurance that someone would continue the family business when they're gone.
C- Pride and Modesty at Work
Filipinos, like most Asian people, value the concept of "saving one's face," which means they'll go out of their way to make sure people won't think bad about them. This is very evident in the workplace, where the Filipino worker would do his best to avoid embarrassing situations and to make sure his reputation is not compromised.  
Filipinos also take pride in their work, but above all else, they value relationships. This is why they prefer work environments that are welcoming and friendly.
D- Crab Mentality
Crab mentality is not unique to the Filipino people, but this kind of mindset has been associated with Pinoys over the past few decades, particularly among communities of Overseas Contract Workers. The concept is derived from the instinct of talangka ("crabs") to pull their fellows down with their claws while trying to get out of the bucket with which they were caught.
This culture of infighting often prevents Filipinos from achieving unity. You'll hear unfortunate stories of Filipinos working abroad scamming and betraying their fellows in their desire to stay ahead of them.
E- Sipag at Tiyaga
Despite all the negative values associated with the Filipino worker—such as being tamad ("lazy") and palaging late ("always late"), or their love of tsismosa ("gossip")—there is no question that Filipinos are among the most hardworking people in the world. That is because they value sipag at tiyaga ("hard work and perseverance"). They're also dependable and responsible, traits that can be attributed to their having a sense of filial obligation (the responsibility to take care of people who depend on them).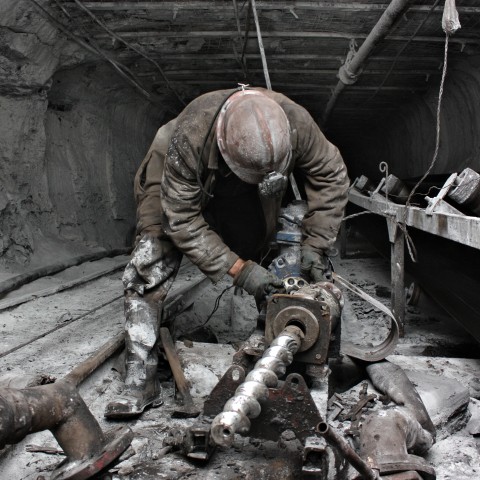 Filipinos place a huge value on sipag at tiyaga ("hard work and perseverance").
4. Art
In Filipino culture, art reflects the nation's diversity. The Malays, Chinese, Indians, Muslims—all these cultures have had a huge influence on Filipino art. 
A- Music & Dance
Music in the Philippines has evolved so much in the last several centuries. Before the Spanish came, Filipino music was limited to folk songs, which reflected the life of rural Filipinos. Many of the traditional Filipino songs also have a strong connection with nature and are often accompanied by gongs and chimes.
Filipino dance has evolved in the same way, beginning with indigenous dances of different ethnic groups and eventually evolving with modern society. The era of the Americans in the Philippines has seen the gradual introduction of more dynamic dances, which the Filipinos incorporated into their own. Before the rise of American and European dances in the country, however, there were the Tinikling ("bamboo dance"), Cariñosa, and Maglalatik, folk dances that continue to show the diverse culture of the Philippines.
B- Visual Arts
The earliest Filipino paintings can be found in pre-Spanish ritual pottery, such as the Manunggul jar, a burial jar excavated from the Tabon Caves in Palawan. Early Filipinos, such as the Pintados (tattooed indigenous Visayan tribes), also manifested their talent in painting through tattoos. In the sixteenth century, artistic paintings were introduced to the country when the Spaniards arrived. A century later, Filipinos started producing paintings in the European tradition using a mixture of landscape, religious, and political inspirations. 
Damian Domingo created various religious paintings, while Juan Luna and Felix Hidalgo were both known for their political art pieces. Fernando Amorsolo, on the other hand, utilized postmodernism in his paintings, which depicted Filipino culture.
Many of Fernando Amorsolo's sketches are on display at the Philippine National Museum of Fine Arts.
C- Architecture
Before any other culture arrived in the country, Filipino architecture was limited to the bahay kubo (nipa huts) built using indigenous materials like bamboo and coconut. The bahay kubo was gradually replaced by the bahay na bato (stone houses) when the Europeans came. Only the nobles could afford this more expensive architecture, though, and the peasants remained in their nipa huts.
Today, most of the historic structures you'll see in the country have not only Spanish influences, but also Austronesian, Chinese, and American influences. Looking at the architecture of old and new Catholic churches in the country, however, it's clear how much influence the Spaniards have had in Filipino architecture.
5. Food
Filipino culture and food go hand in hand. Food culture in the Philippines has been heavily influenced by Westerners, but Filipinos have still been able to preserve important culinary traditions.
Eating Like a True Filipino
The typical Filipino eats five times a day. There's breakfast, lunch, and dinner, and snacks referred to as merienda, eaten in-between the three main meals. Rice is the main ingredient in any Filipino meal. And unlike in Western cultures, the courses—kanin ("rice"), ulam (meat or seafood eaten with rice), and sawsawan ("dip")—are served simultaneously.
The Filipinos have adopted the Western way of eating, that is, with spoons, forks, and knives. Still, the Filipinos have never forgotten the practice of eating with their hands. This practice is often associated with poor families who can't afford to buy utensils, but the truth is, all Filipinos whether rich or poor understand that nothing is more appetizing than eating with your bare hands.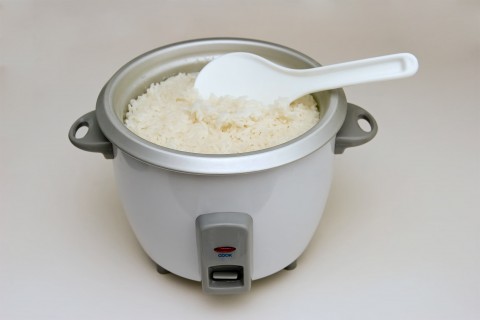 In the Philippines, rice makes the world go round. No. In the Philippines, rice is life.
6. Traditional Holidays
The Philippines is heavily influenced by Roman Catholic traditions, with 86% of its people belonging to the said religion. There are holidays based on major events and celebrations that are non-religious in nature, but most of the holidays in the country are related to religion. The Ati-atihan, Dinagyang, and Sinulog festivals, for instance, are all celebrated in honor of the Santo Niño, a Spanish term Roman Catholics use to refer to the Christ Child.
A-  Ati-Atihan
The Ati-atihan is held every January and is observed in several towns in Aklan, Panay. The term means "to imitate the Ati," with Ati referring to the local name of the Aeta people who are believed to have been the first settlers on the island. The festival was given a Christian meaning later on, with the people incorporating the Santo Niño into the festivities. During the main day of the festival, dance groups wearing body paint and colorful costumes march on the streets, dancing to music produced by marching bands. Ati-atihan is referred to as "The Mother of All Festivals" in the Philippines, having influenced other festivals in the country (including Dinagyang and Sinulog).
B- Dinagyang
If Ati-atihan is the Mother of All Festivals, Dinagyang is "The Queen of All Festivals." That's because even if it was only inspired by the Ati-atihan festival, it has become more successful in building a reputation for itself as a tourist attraction. Perhaps it's because the festival is held in Iloilo City, the most urbanized city on the island of Panay. During the week of the festival, over 200,000 tourists—including local celebrities and politicians—visit the city. 
Just like Ati-atihan, Dinagyang is celebrated every January, particularly during the fourth Sunday of the month. The three-day affair consists of religious processions, too, but its highlights are the street dance competition and the food festival.
C- Sinulog
Sinulog is another major festival held in honor of the Santo Niño, this time in Cebu. Just like the Ati-atihan and Dinagyang, it's celebrated every January and attracts up to two million people from over the country. The religious aspect is to be expected of the festival, but aside from that, what makes this a much-celebrated event are the street parties and the Sinulog dance competition.
D- Masskara
The Masskara festival is a major festival held every October in Bacolod City. The term is a pun on the word maskara, which is Filipino for "mask." It's also a blending of the English word "mass," referring to a large group of people, and the Spanish cara, which means "face." The government started the festival in 1980 to encourage its people during a time of economic crisis. Today, the Mardi Gras-like festival is one of the most popular festivals in the Philippines, with its street dances, live music, and food fests witnessed by thousands of locals and tourists.
E- Panagbenga Flower Festival
The Panagbenga Flower Festival is held every February in Baguio City. It was started as a tribute to the flowers of the city, as well as a way to encourage the people to rise up from the tragedy of the devastating Luzon earthquake in 1990. The term Panagbenga is of Kankanaey origin, and means "A time of blossoming" or "A season of blooming." The Panagbenga Flower Festival is a month-long festival celebrated with colorful costumes, native dancing, and parades.
F- Lenten Season
The Lenten Season is the most significant religious observance in the country. It starts on Ash Wednesday, which is forty days before Easter Sunday. It's on this day that you'll see Catholics returning from church with their foreheads marked with a cross made of ash. The highlight of the season is the Holy Week, referred to as Semana Santa, which begins on Palm Sunday and culminates on Easter Sunday. 
The highlight of the week is Good Friday, which is a solemn day that both Catholics and Protestants consider to be a day of much prayer and fasting. Superstitious Catholics, in particular, believe that Jesus Christ is actually dead during this time of the year and warn people against getting hurt. Any wounds acquired during Good Friday, according to them, will never heal. Some say you will have to wait until the next Holy Week for it to heal.
G- Christmas Season
The Christmas season in the Philippines officially starts on December 16, the first day of Simbang Gabi, a nine-day series of masses occurring as early as three o'clock in the morning. For most Filipinos, however, Christmas unofficially starts on the first day of September (the first month on the calendar that ends in –ber), and ends on January 6 (the day of the feast of the Three Kings, otherwise known as the Epiphany). 
Starting September 1, you'll see many houses decorated with Christmas lights, Christmas wreaths, and what is known as the Christmas Parol, a star-shaped lantern. During the week of the Simbang Gabi, Catholic churchgoers can be seen flocking to the churches at dawn. It's also during this time that the famous Puto Bumbong (purple rice cake steamed in small bamboo tubes) will start being sold outside of churches.
In the Philippines, Noche Buena is the most exciting part of Christmas. It's Spanish for "Good night," but in the Philippines, it's the night before Christmas. This is a time when family members gather and share a meal after hearing the midnight Mass.
H- Feast of the Black Nazarene
The Feast of the Black Nazarene is the ultimate symbol of religiosity in the Philippines. Every year on January 9, millions of devout followers of the Poong Itim na Nazareno (Almighty Black Nazarene) gather in the streets of Manila to join in the procession of a life-size black Jesus statue carrying the cross. The procession usually starts at Rizal Park and ends at the minor basilica in Quiapo. Few religious celebrations worldwide can match the Feast of the Black Nazarene, with millions of devotees doing all they can to get a hold of the statue, believing that it can perform miracles, such as granting petitions and healing terminal diseases.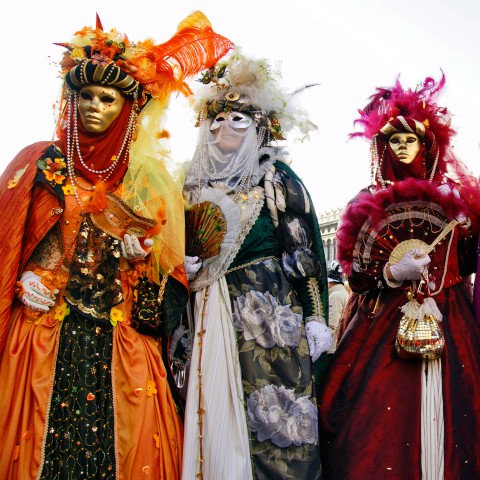 Traditional Filipino festivals, such as Dinagyang, Sinulog, and Masskara are celebrated in Mardi Gras fashion.
7. Gain a Deeper Understanding of Filipino Culture with FilipinoPod101
We've only touched the tip of the iceberg with this Filipino culture overview. There's still a lot more you can learn about how Filipinos think about and perceive the world, and one good place you can start is FilipinoPod101.com.
FilipinoPod101 is one of the best places to learn the Tagalog language online, and in addition to our free resources and our grammar lessons, we also offer all you need to better understand and appreciate Filipino culture.
Sign up today and enjoy a number of exclusive learning materials, including our Premium PLUS MyTeacher feature where you can have one-on-one interactions with your personal Filipino teacher. He or she will provide you with ongoing guidance and assessment as you continue enhancing your Filipino skills.
That's all for this post! Don't think twice about dropping a comment below should you have any questions about what we've shared here or if you have any additional insights!
March 29, 2021
Filipinos probably love eating more than any other group of people in the world. To give you an idea, there are restaurants in the Philippines that serve "unlimited rice," more popularly known as "unli-rice." And while food is the basis of social life for the hospitable Filipinos, there's also no question that Filipino food is delectable.
People in most cultures eat three meals a day with some snacks in-between. A typical Filipino eats in this order: coffee and bread upon waking up to warm the stomach; breakfast at around seven in the morning; some snacks at ten; lunch at noon; coffee break with snacks at three in the afternoon; dinner at six-thirty in the evening; and midnight snacks before going to bed. Not to mention that every major meal is followed by dessert. 
In this article, we'll present to you some of the most mouthwatering Filipino foods you need to try next time you're in the Philippines.
Table of Contents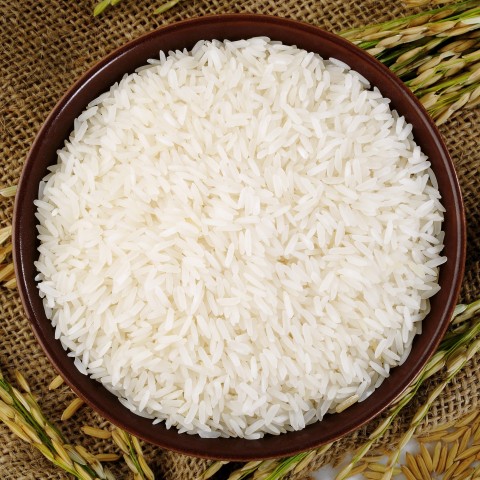 Restaurants in the Philippines serving "unli-rice" is proof that Filipinos love to eat!
1. Must-Try Dishes in Filipino Restaurants
The past two decades have seen the booming of the restaurant business in the Philippines. That, too, is evidence that we Filipinos love to eat. If you're visiting the country for the first time and would love to try the restaurants here, you should definitely order one of these dishes.
Afritada
Afritada is a braised dish made with either beef, chicken, or pork. It's one of the many Filipino dishes influenced by Spanish culture. In fact, the name afritada comes from the phrase a fritada, which means "to fry" in Spanish.
While you can use pork or beef when making afritada, the most popular version in the Philippines is the Apritadang Manok or Chicken Afritada. Aside from the meat, the main ingredients of this delicious dish are carrots, bell peppers, and potatoes. Green peas, string beans, and pineapple can also be added depending on your tastes.
Here's a detailed guide on how to cook this flexible Filipino dish: Chicken Afritada Recipe.
Bulalo
Bulalo is one of the Philippine's emblematic dishes. It's a soup dish in which beef shank and bone marrow are cooked until the fat and collagen have melted into the broth. Corn on the cob, pechay (snow cabbage), onion, garlic, scallions, ginger, and fish sauce are used to enrich the soup's flavor.
It's believed that this soup dish originated in Tagaytay, specifically Taal, where the temperature is cooler and where the best cows in the country are being raised.
Check out this Bulalo recipe from FoodNatics if you want to know how to prepare this humble cowman's stew.
Bicol Express
For years, it was thought that this popular Filipino dish originated from Bicol. But recently, a food blogger suggested that the dish was actually born in the kitchen of a restaurant in Malate, Manila, owned by Cely Kalaw who was dubbed the "Mother of Pinoy Buffets." Regardless of where it originated, there's no question that it's one of the dishes that define the Philippines.
Bicol Express is pork stew cooked with coconut milk, chili, and shrimp paste. It was named after the passenger train that traveled from Manila to Bicol, a region known for its spicy cooking. What makes this dish unique is its spicy flavor, which makes it a favorite pulutan (food to be eaten with liquor). It's actually known in Bicol as sinilihan, which means "spiced with chili."
This unique Bicol Express recipe will surely get you excited to try this tasty dish!
Crispy Pata
When it comes to Filipino food, delicacies like this one really steal the spotlight.
Every pork-lover's delight, crispy pata can be compared to the German Schweinshaxe. It's cooked by deep-frying pig knuckles. The result? Crunchy skin on the outside and tender meat on the inside.
It isn't that simple, though. Before you fry the pig leg, you need to simmer it in spices until it becomes tender. You then refrigerate it overnight to dry. Only then can you deep-fry it to moist, juicy perfection with golden,  crispy skin.

Be sure to check out this Crispy Pata recipe for a more detailed guide on how to prepare this "sinful" delicacy.
Crispy Pata (© BrokenSphere / Wikimedia Commons, under CC BY-SA 3.0)
Dinuguan
Dinuguan is a flavorful stew made of pork offal simmered in a dark gravy of pig's blood and vinegar. The term dinuguan came from the root word dugo, which means "blood." Some say the dish is pre-Hispanic. Others say it was introduced during the Spanish era in the Philippines. 
Whatever the case, it's clear that the dish was "invented" at a time when refrigeration was not an option, so every part of a butchered animal had to be put to good use. Today, dinuguan is one of the most well-known Filipino dishes. And the fact that it's served whenever and wherever there's some sort of festivity definitely helps its reputation.

Here's a simple Dinuguan recipe for you.
Dinuguan, or Filipino pork blood stew, is best served with puto (rice cake) (Photo by George Parrilla, under CC BY 2.0).
Kare-kare
Kare-kare is a unique Filipino dish in that it's cooked with peanut sauce. Some people even use peanut butter for it. It's basically beef and oxtail cooked with some vegetables including pechay, eggplant, and green beans.
The Kapampangans (an ethnolinguistic group of Filipinos from the provinces of Pampanga, Tarlac, Bataan, Bulacan, Nueva Ecija, and Zambales) are often credited for kare-kare. This is not surprising, since they can cook the best version of this tasty dish. However, historical records are claiming that kare-kare was introduced to Northern Luzon by elite classes of Muslim people from the South.
There's also a theory that kare-kare was derived from the curry dish that Indian cooks served their British masters, which was introduced to the Philippine shores in the seventeenth century.
Today, kare-kare has evolved from being food for the elites to being a comfort food for every Filipino regardless of class. This episode of GMA Public Affairs features the many different ways you can prepare kare-kare.
Mechado
Inspired by Spanish culinary methods, Mechado is beef stew simmered in tomato sauce. It's similar to afritada, but Mechado uses beef rather than chicken. The stew is often confused with kaldereta, another Filipino dish that involves cooking beef in tomato sauce and liver spread.
Sources say that the term mechado came from the Spanish word mecha, which means "wick." Others claim it's from another Spanish word, mechar, meaning "to put oil."

Mechado is a simple dish and anyone can easily prepare it. Don't believe me? This Mechado recipe should convince you.
Mechado (© BrokenSphere / Wikimedia Commons, under CC BY-SA 3.0)
Pinakbet
Pinakbet is an indigenous dish from the Ilocos Region, the historic homeland of the Ilocanos and Pangasinan people. It got its name from pinakebbet, an Ilocano term meaning "shriveled." Of all the dishes in the Philippines, pinakbet is perhaps the one that symbolizes Filipino values the most. 
For one, the dish is traditionally made by first harvesting the vegetable ingredients (eggplant, okra, bitter melon, garlic, onions, tomatoes, string beans, green chili, and winged beans) from the family backyard. They are then washed and prepared immediately to keep their freshness. 
Back in the day, harvesting vegetables in one's garden was a sign of warmth and honesty. It also provided an opportunity to have friendly conversations with neighboring families. Nowadays, you can easily purchase the ingredients with one trip to the grocery store. You can then browse the Internet when you get home to find the best Pinakbet recipe online. However, there's no doubt that there are still places in the Philippines where families prepare this palatable dish the traditional way.

You can also try this Pinakbet with Lechon Kawali recipe by Joyful Kitchen.
In many regions in the Philippines, families enjoy the privilege of harvesting their own food.
Sinigang
No other Filipino dish is more mouthwatering—literally—than sinigang. This sour-tasting soup gets much of its flavor from tamarind. Its method of cooking is rather flexible, as it can be cooked with pork, beef, shrimp, fish, and sometimes even chicken. Most of the time, however, it's made with pork ribs. And aside from tamarind, other ingredients include string beans, kangkong (water spinach), eggplant, radish, red onion, finger chili, and fish sauce. 
In the past, preparing sinigang meant climbing a huge tamarind tree first. Nowadays, people use different agents to give sinigang its sour taste. Some use raw mango, guava, or calamansi. People in Negros and Panay use batuan (Garcinia binucao). And if you have no access to organic ingredients, you can always use sinigang tamarind mix. Use this Sinigang recipe if you want to try cooking this flavorful dish yourself.
2. Unique Filipino Food
It's difficult to think that a country like the Philippines would have anything unique come out of it, considering that it's been under the rule and influence of more than one culture within 500 years. And yet, when it comes to cuisine, the Philippines may just surprise you.
Balut
Balut possibly originated from China and it's also a delicacy in other parts of Asia. However, the Philippines is most known for having this exotic street nutriment as a national food. 
Balut is a fertilized duck egg, aged between 12 and 20 days. There's a saying among Filipinos that only real men eat the more developed balut fetus. Many even consider it to be an aphrodisiac. A lot of people are repulsed by the unappetizing appearance of this Filipino street food, but once you've tried it, you'll say that it's disgustingly delicious.
Halo-Halo
Halo-halo is the ultimate treat during summer in the Philippines. It literally means "mix-mix" and it's made with shaved ice, sweetened beans, sweetened gelatin, fruit slices, and evaporated milk. It's then topped with a scoop of ice cream and mixed. It's said that halo-halo is the Pinoy version of the Japanese kakigori, except that halo-halo has more ingredients. 
Speaking of ingredients, some restaurants in the Philippines serve "special" halo-halo, which has more scoops of ice cream and contains a few leche flan (the Pinoy version of the European Crème caramel) cubes, as well as a piece of barquillo.

The fact that halo-halo has been featured in several international TV shows is proof of just how unique and well-known this Filipino dessert is.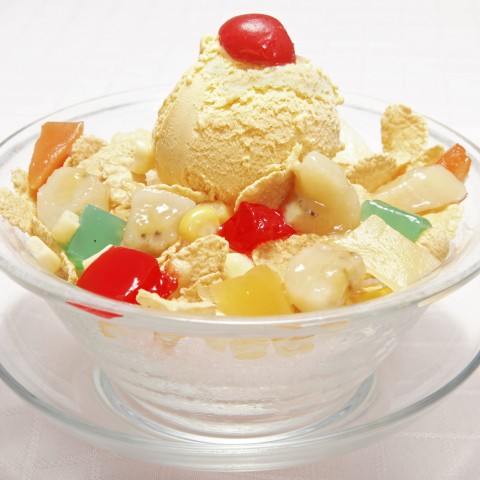 Halo-halo
Adobo 
Adobo is (unofficially) the national dish of the Philippines. It refers to a cooking method that involves marinating and stewing pork or chicken (more often chicken) in a mixture of soy sauce, vinegar, and spices. There are many versions of the Filipino adobo, but the basic ingredients are the same. Some add pineapple while others use siling haba (finger chili). 
It's up to you what you want to put in your own version of adobo. But if you want to try the standard version, stick to soy sauce (which gives it its dark color and saltiness), vinegar (which flavors and tenderizes the meat), and garlic, onions, bay leaves, and pepper for sautéeing the meat.
Kwek-Kwek 
Kwek-kwek is actually a variation of tokneneng, a Filipino street food made by deep-frying hard-boiled eggs covered in orange batter. The only difference between the two is that tokneneng uses duck egg while kwek-kwek uses quail egg. 
Local legend has it that this popular street food was invented when a balut vendor accidentally dropped her goods. To save what remained of her merchandise, she rolled the eggs in flour and fried them. 
Visit town plazas or bus stations in the Philippines if you want to have a taste of this one-of-a-kind Filipino snack.
Kwek-kwek
Lechon Baboy
Lechon is not unique to the Philippines per se, but there are probably no people in the world who treasure this method of cooking more than the Filipinos. And while the term lechon refers to a roasted piglet, it's also used in the Philippines to refer to roasted chicken or turkey. Back in the day, it was piglets that were being roasted; as time went by, the size of the pig got bigger. Nowadays, lechon is a staple for special occasions and are always present at fiestas, birthday parties, weddings, and reunions.
→ This lesson will help you learn more about the unique cuisine of the Philippines!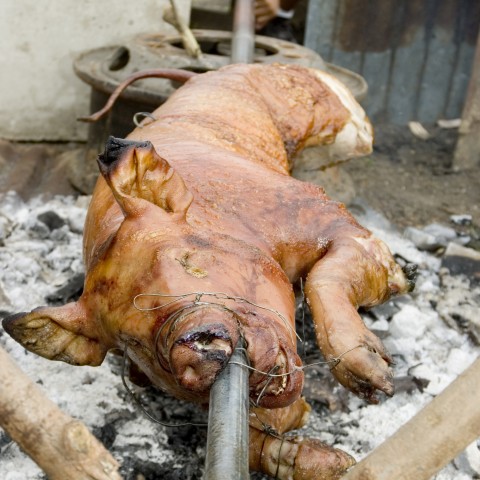 Lechon is a staple at fiestas, birthday parties, weddings, and reunions in the Philippines.
Puto-Bumbong
If you've ever attended the Simbang Gabi in the Philippines, you've probably come across this purple Filipino snack served outside church cathedrals during the Christmas season. 
There's not enough information as to where this tasty kakanin originated, but some say it was brought to the Philippines from Mexico by explorers Urdaneta and Legaspi. Puto refers to steamed glutinous rice, while bumbong refers to "bamboo cannon." This bamboo cannon, or tube, is what the flour mixture is poured into. It's then wrapped in a piece of cloth and cooked in a steamer. 
No bamboo steamer? No problem. This video will show you how to make puto bumbong at home.
3. Food-Related Vocabulary
Now, let's take a look at some common food-related words and expressions. We'll cover everything from how to order Filipino food to words you need for cooking.
Let's start with some words related to eating:
kain ("to eat")
kanin ("steamed rice")
ulam ("viand")
*Note: While rice is the main staple food in the Philippines, ulam is an essential component of every meal. Any dish eaten with rice can be considered ulam in the Philippines. There's no exact English term for it, but "viand" is what's often used to describe it.
plato/pinggan ("plate")
kutsara ("spoon")
tinidor ("fork")
kutsilyo ("knife")
baso ("glass")
merienda ("snacks")
kakanin ("sticky rice snacks")
panghimagas ("dessert")
1 – Inviting Someone to Eat
Tara, kain tayo. ("Come on, let's eat!")
Doon tayo kumain sa bagong restaurant. ("Let's try the new restaurant at the corner.")
Mag take-out tayo. ("Let's take out some food.")
Mag merienda muna kayo. ("You guys have some snacks first.")
2 – When Eating at a Restaurant
Patingin ng menu. ("May I take a look at the menu, please?")
Mayroon ba nito? ("Is this available?")
Bigyan mo kami ng… ("We will have…")
Pwede bang makuha ang bill? ("May we have the bill, please?")
3 – Talking About Food
Gutom na ako. ("I'm hungry.")
Gusto ko nang kumain. ("I really want to eat now.")
Gulay lang ang kakainin ko. ("I'm only going to eat vegetables.")
Dagdagan mo pa ang kanin mo. ("You should get more rice.")
Ang sarap! ("Delicious!")
Medyo maalat siya. ("It's a bit salty.")
Kulang siya sa lasa. ("This one's a bit bland.")
Busog na busog ako! ("I'm so full!")
Tara, kain tayo. (C'mon, let's eat.)
4 – Cooking Vocabulary
The verb "to cook" and the adjective "cooked" share the same root in Tagalog, which is luto. Note that the verb has a longer vowel sound.
luto ("to cook")
lutô ("cooked")
hilaw ("raw") or ("needs more cooking")
sunog ("burnt")
saing ("to steam rice")
prito ("to fry")
gisa ("to saute")
sangkutsa ("to pre-cook")
paksiw ("to cook in vinegar broth")
laga ("to boil meat")
ihaw ("to grill")
sangkap ("ingredient")
hiwa ("to slice") or ("to cut")
karne ("meat")
gulay ("vegetables")
kawali ("pan")
kaldero ("cooking pot")
Here's an additional list of Tagalog words about food and eating.
4. Bonus: Simple Recipes to Make Authentic Filipino Food at Home
In this section, I'm going to share with you two Filipino recipes: one for the national dish of the Philippines—chicken adobo—and another for the popular Kapampangan dish, sisig.
A- Chicken Adobo Recipe
Chicken adobo is so popular that there are now so many different versions of it. What I'm going to show you, however, is how to cook authentic chicken adobo. 
You will need:
2 lbs. cut-up chicken pieces
5 cloves garlic (chopped)
3 pcs. dried bay leaves
4 tbsp. white vinegar
8 tbsp. soy sauce
¼ tsp. salt (optional)
1 tsp. sugar
1 tsp. whole peppercorn
1 ½ cups water
3 tbsp. cooking oil
Directions
Step 1 Heat the pan.
Step 2 Add oil into the pan and cook the garlic until golden brown.
Step 3 Add the chicken and saute until the skin turns light brown.
Step 4 Add the bay leaves, soy sauce, and vinegar and cover the pan. Leave to a boil for 10 to 15 minutes. 
Step 5 Turn off the stove and add the pepper. Your chicken adobo is now ready.
Note: This is the simplest way to cook chicken adobo. You can also use onion in addition to garlic, as well as annatto powder. It's also important to note that in many provinces in the Philippines, people use native chicken, although they require a little bit more time to cook since native chicken meat is tougher.
B- Pork Sisig
Pork sisig is actually one of the dishes you need to try here in the Philippines. Just like kare-kare, it's a Kapampangan dish and is a cuisine staple of the people of Pampanga. In fact, in 2017, the city government of Angeles City declared pork sisig an intangible heritage. The term sisig is said to have been first mentioned in a Kapampangan dictionary, which dates back to the seventeenth century. 
The dish is prepared by first boiling a pig's head until it becomes tender. Portions of the head are then chopped and either grilled or broiled. It's then served on a sizzling plate, spiced with chopped onions. This is the traditional way to prepare sisig, although there are more popular versions today. Here's a recipe for one of those versions:
Ingredients:
1 lb. pig ears
¼ lb. chicken liver
1 pc. egg
1 ½ lb. pork belly
1 pc. onion (minced)
½ tsp. garlic powder
¼ tsp. ground black pepper
3 tbsp. chili flakes
½ tsp. salt
1 pc. lemon
½ cup butter
3 tbsp. soy sauce
6 cups water
3 tbsp. mayonnaise
Directions
Step 1 Pour water in the pan and bring to a boil. Add salt and pepper.
Step 2 Add pig's ear and pork belly and simmer until tender (40 minutes to 1 hour).
Step 3 Remove the meat from the pot and drain excess water.
Step 4 Grill boiled pig's ear and pork belly and chop into fine pieces once done.
Step 5 Melt the butter in a wide pan and add onions. Cook onions until soft.
Step 6 Add chicken liver, crushing it in the pan while cooking.
Step 7 Add chopped pig's ear and pork belly and cook for 12 minutes.
Step 8 Add soy sauce, garlic powder, and chili, and mix well. Add salt and pepper to taste.
Step 9 Add mayonnaise and mix it with the rest of the ingredients.
Step 10 Serve on a plate topped with chopped spring onions and raw egg.
Pork sisig was declared an intangible heritage of Angeles City, Pampanga in 2017.
5. Learn More About The Filipino Language and Culture With FilipinoPod101
You're probably drooling by now after seeing all those images of mouthwatering Filipino dishes. And while learning about Filipino food, you were also learning about Filipino culture—an important component of your language studies. If you want to expand your knowledge of the culture and language of the Philippines, there's no better place to go than FilipinoPod101.com.
FilipinoPod101 offers an innovative approach to learning Filipino. From core Filipino vocabulary to pronunciation and basic word order, FilipinoPod101 has all the lesson materials you need to learn Filipino in a fun and engaging way. With the variety of lessons provided for you, you'll start speaking Filipino after only one lesson. If you have a Premium PLUS account, you can also use our MyTeacher service, which provides one-on-one coaching and personalized feedback to further accelerate your learning.
There you have it for our top must-try Filipino dishes. Let us know in the comments if there are any dishes you believe should have been on our list!
March 18, 2021
Filipino is a beautiful language, but it cannot be learned and mastered overnight. 
If you want to master grammar in Tagalog and speak like a native Filipino, you need to have a strong foundation. That means studying the language in-depth and learning the most basic concepts before advancing to the more difficult parts.
Well, if you want to familiarize yourself with the Filipino grammar basics, you've come to the right place. On this page, we'll present you with the fundamentals of Filipino grammar, from sentence formation to pronunciation.
Table of Contents
1. General Rules
There are four general aspects of the Filipino language you need to be familiar with before you can begin studying the rest. Let's start with how words are formed and connected in Filipino.
1 – Roots and Affixes
Roots and affixes are the main ingredients of Tagalog words. Affixes are added to roots to change the meaning or aspect of a word, particularly of verbs.
The affix -in, for instance, can be added to the verb root kain (eat), to change it to its past or imperative form.
| | | |
| --- | --- | --- |
| Root | Past | Imperative |
| kain | kinain | kainin |
Some Tagalog root words can also be combined to craft a new word.
| | |
| --- | --- |
| araw (day) + gabi (night) | araw-gabi (day and night) |
New words can also be formed by repeating certain roots. In this case, a hyphen is used as a separator.
| | |
| --- | --- |
| isa (one) | isa-isa (one by one) |
| gaya (imitate) | gaya-gaya (a person who imitates) |
| halo (mix) | halo-halo (a mixture of different things) |
| araw (day) | araw-araw (every day) |
Finally, affixes can be added to the beginning, middle, or end of a root word to form new nouns, verbs, adjectives, or adverbs.
tag-ulan (rainy season)
kahapon (yesterday)
mahangin (windy)
tumawid (crossed)
mabenta (marketable)
iyakin (crybaby)
2 – Sentence Structure
Tagalog word order is a bit different from that of English, and is much simpler in a sense. For instance:
| | | |
| --- | --- | --- |
| English Sentence | Filipino Translation | Literal Meaning |
| The car is beautiful. | Maganda ang kotse. | Beautiful the car. |
Here, the particle marker ang is used to mark the noun that comes after it as the subject of the sentence. 
You could also say, Ang kotse ay maganda, which is a direct translation of the example. However, this particular sentence pattern is used only in formal writing and not in casual conversations.
3 – Pronunciation and Sounds
Replaceable Sounds
We've discussed Tagalog pronunciation in detail in one of our recent blog entries, but we haven't yet touched on the topic of replaceable sounds. Under certain conditions, some Tagalog vowel sounds can be replaced.
The /i/ sound, for instance, can be changed to the /e/ sound:
lalaki (man, male) → lalake
hindi (no) → hinde
mabuti (good) → mabute
mabait (friendly) → mabaet
madami (plenty) → madame
The /e/ sound can also be changed to the /i/ sound. This usually happens when the last syllable is immediately followed by a word:
sige na (come on, go ahead) → sigi na
And then there's the changing of the /o/ sound to the /u/ sound:
total (after all) → tutal
This also happens when the last syllable is not followed by a pause:
Ano pa? (What else?) → Anu pa?
Botika (Drugstore) → Butika
Keep in mind that the change in sound is only applied to spoken language; they keep their original spelling in written form.
Syllable Repetition
One thing that's unique about the Filipino language is the repetition of syllables in words, particularly when conjugating verbs. The word awit (to sing), for instance, becomes aawit (will sing) in its future tense. 
The rules for syllable repetition are simple. If the syllable begins with a vowel, the first vowel alone is repeated.
| | |
| --- | --- |
| amin (admit) | aamin (will admit) |
| iwan (leave behind) | iiwan (will leave behind) |
| uwi (go home) | uuwi (will go home) |
Now, if the syllable begins with a consonant, the first consonant and the first vowel are repeated.
| | |
| --- | --- |
| balik (return) | babalik (will return) |
| sayaw (dance) | sasayaw (will dance) |
| kain (eat) | kakain (will eat) |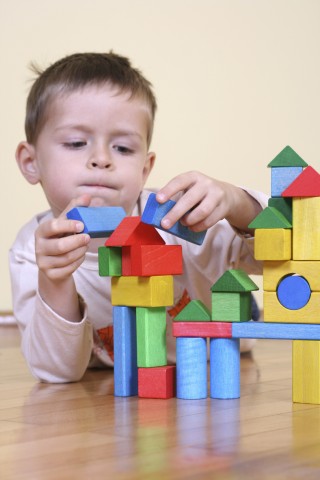 Roots and affixes are the building blocks of Tagalog words.
4 – Markers
Markers play an important role in Tagalog grammar. These are short words that indicate what role a word is playing in a sentence. The three main markers are ang, ng, and sa.
The Ang Marker
The four ang markers are: ang, si, sina, and ang mga.
The ang marker is used to mark a word as the focus of a sentence. 
| | |
| --- | --- |
| Matalino ang babae. | The woman is smart. |
| Magulo ang usapan. | The discussion was a mess. |
| May limang anak ang lalaki. | The man has five children. |
However, it's not used to mark people's names. We use the si marker for that one.
| | |
| --- | --- |
| Masipag si Marco. | Marco is hardworking. |
| Nagbabasa si Denise sa loob ng kwarto niya. | Denise is reading inside her room. |
| Nasa opisina si Roxanne. | Roxanne is in the office. |
Take note that the si marker is only used to mark singular names. To indicate the names of two or more people, we use sina.
| | |
| --- | --- |
| Nasa labas na sina Paul at Aileen. | Paul and Aileen are already outside. |
| Dumating kanina sina Rudy. | Rudy and company arrived earlier. |
| Hindi nakauwi sina JR at Lisa. | JR and Lisa were not able to make it home. |
What about ang mga? Well, we use this marker to mark a word that's in its plural form.
| | |
| --- | --- |
| Naglalaro ang mga bata. | The kids are playing. |
| Nagliparan ang mga ibon. | The birds have flown away. |
| Biglang nagsidatingan ang mga tao. | The people suddenly started arriving. |
The Ng Marker
The ng markers are: ng, ni, nina, and ng mga.
Ng is used to indicate possession, with the name of the possessor coming right after the marker.
| | |
| --- | --- |
| bahay ng presidente | home of the president |
| pagkain ng pusa | food of the cat |
| aklat ng estudyante | book of the student |
It's also used to mark a direct object that is not the focus.
| | |
| --- | --- |
| Naghanap ng trabaho si Anton. | Anton went looking for a job. |
| Bumili ng bahay ang pamilya ni Marc. | Marc's family bought a house. |
| Binigyan niya ako ng maraming pera. | He gave me a lot of money. |
The Sa Marker
The sa markers are: sa, kay, kina, and sa mga.
Sa is used to mark location, direction, future time, and the beneficiary of an action in a sentence.
| | | |
| --- | --- | --- |
| Location | May pagtitipon sa bahay ko. | There's a party at my house. |
| Direction | Pumunta siya sa Maynila. | He went to Manila. |
| Future time | Dadating si Mico sa Martes. | Mico will arrive on Tuesday. |
| Beneficiary of an action | Nagluto siya para sa asawa niya. | He cooked for his wife. |
2. Nouns
Nouns are the most important words you can learn when you begin studying a language. But they can only benefit you if you know how to use them! In this section, we'll cover a couple of basic Filipino grammar rules concerning nouns and their usage.
1 – Gender
Filipino is considered a gender-neutral language. That said, there are no equivalents for the words "he" and "she" in Tagalog.
In the following sentences, siya is used to refer to both the male subject and the female subject.
Siya yung sinasabi ko. (He was the one I was talking about.)
Umalis siya para bumili ng pagkain para sa amin. (She went to buy some food for us.)
In these examples, niya is used for the pronouns "he" and "she," serving as a substitute for an unfocused actor.
Kinuha niya ang telepono ko. (He took my phone.)
Hinugasan niya ang kanyang mga kamay. (She washed her hands.)
2 – Plurals
In English grammar, regular nouns in their singular form are changed into their plural form by adding -s at the end of the word. In Filipino grammar, a word is made plural by placing the marker mga before the word.
English
Filipino
Singular
Plural
Singular
Plural
bird
birds
ibon
mga ibon
car
cars
kotse
mga kotse
tree
trees
puno
mga puno
3. Pronouns
In Filipino grammar, pronouns are categorized in the same manner that English pronouns are. However, it's important to note that not all English pronouns have a direct equivalent in Tagalog. Tagalog pronouns are unique in that they're divided into three groups—the same groups that are used to classify markers—ang, ng, and sa.
1 – Ang pronouns are the focus in a sentence.
English
Filipino
Example
"I"
ako (singular first person)
Ako ang nag-ayos ng problema niya.
"I am the one who fixed his problem."
"you"
ikaw (singular second person)
Ikaw ang hinahanap nila.
"You are the one they are looking for."
"he" / "she"
siya (singular third person)
Siya ang may pakana ng lahat.
"She is the mastermind of all this."
"we"
tayo (inclusive) / kami (exclusive) (plural first person)
Nanalo tayo.
"We won."
"you all"
kayo (plural second person)
Dapat pumunta kayo lahat dun.
"You all should go there."
"they"
sila (plural third person)
Umuwi na sila.
"They went home already."
2 – Ng pronouns replace unfocused nouns in a sentence.
English
Filipino
Example
"my" / "of me"
ko (singular first person)
Natupad ang kahilingan ko.
"My wish was granted."
"your" / "of you"
mo (singular second person)
Nasa labas ang mga kaibigan mo. "Your friends are outside."
"his" / "her" / "of him" / "of her"
niya (singular third person)
Nahanap niya ang nawawala kong aso.
"He found my lost dog."
"our" / "of us"
namin (exclusive) / natin (inclusive) (plural first person)
Isinauli namin ang kotse.
"The car was returned by us."
"your" / "of you"
ninyo (plural second person)
Nariyan na ang mga grado ninyo.
"Your grades are now available."
"their" / "of them"
nila (plural third person)
Malayo ang opisina nila.
"Their office is quite far."
3 – Sa indicates an unfocused direction and location in a sentence; it also indicates possession.
English
Filipino
Example
"me" / "my"
akin (singular first person)
Nasa akin ang anak mo.
"Your daughter is with me."
"you" / "your"
iyo (singular second person)
Tatawag ako sa iyo bukas.
"I am going to call you tomorrow."
"him" / "his" / "her" / "hers"
kanya (singular third person)
Nasa kanya ang mikropono.
"The microphone is with him."
"us" / "our"
amin (exclusive) / atin (inclusive) (plural first person)
Amin ito.
"This is ours."
"you" / "your"
inyo (plural second person)
Sa inyo yata ito.
"This is probably yours."
"them" / "their"
kanila (plural third person)
Kanila na lang yang pagkain.
"Give the food to them."
4 – Kita
In instances when "I" (ko) acts as the doer and "you" (ka) functions as the object, the pronoun kita is used. The best example is the statement, Mahal kita ("I love you"), or literally, "You are loved by me." 
Here are more examples where kita ("I…you") is used:
Nakita kita sa TV. (I saw you on TV.)
Lit. "You were seen on TV by me."
Tinatawag kita kanina. (I was calling you earlier.)
Lit. "You were called by me earlier."
Kaibigan kita. (You are my friend.)
Tuturuan kita. (I will teach you.)
Bibigyan kita ng pabuya. (I will give you a reward.)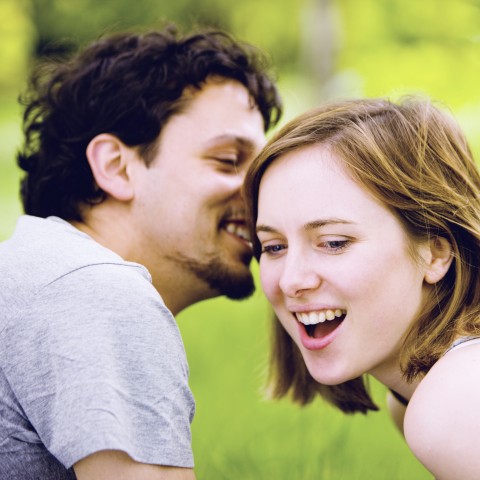 Tuturuan kita ng Filipino. ("I will teach you Filipino.")
4. Verbs and Tenses
Verbs are arguably the most difficult aspect of Tagalog grammar. Non-Tagalog speakers might find them complicated at first as they don't work the same way that English verbs do. The good news is  that, in Filipino grammar, tenses work pretty much the same way as those in English. 
Basically, Tagalog verbs are made up of a verb root and an affix. In order to change the meaning or tense of the verb, an affix can be added to the beginning, middle, or end of the verb root.
1 – Verb Groups
Tagalog verbs are grouped according to how they're conjugated. They can either be mag-, ma-, um-, in-, or i- verbs. 
Below are examples of how words are conjugated in each group:
-Mag Verb
| | | | | |
| --- | --- | --- | --- | --- |
| Root Verb | Past | Present | Future | Imperative |
| aral (to study) | nag-aral (studied) | nag-aaral (studying) | mag-aaral (will study) | mag-aral (study) |
-Ma Verb
| | | | | |
| --- | --- | --- | --- | --- |
| Root Verb | Past | Present | Future | Imperative |
| kinig (to listen) | nakinig (listened) | nakikinig (listening) | makikinig (will listen) | makinig (listen) |
-Um Verb
| | | | | |
| --- | --- | --- | --- | --- |
| Root Verb | Past | Present | Future | Imperative |
| kain (to eat) | kumain (ate) | kumakain (eating) | kakain (will eat) | kumain (eat) |
-In Verb
| | | | | |
| --- | --- | --- | --- | --- |
| Root Verb | Past | Present | Future | Imperative |
| tawag (to call) | tumawag (called) | tumatawag (calling) | tatawag (will call) | tumawag (call) |
-I Verb
| | | | | |
| --- | --- | --- | --- | --- |
| Root Verb | Past | Present | Future | Imperative |
| inom (to drink) | uminom (was drank) | iniinom (being drank) | iinumin (will be drank) | inumin (drink) |
2 – Verb Repetition
Tagalog verbs can be repeated when expressing a prolonged action. This is a unique characteristic of Filipino grammar. When verbs are repeated in this manner, the two words are linked by nang.
| | |
| --- | --- |
| Kain nang kain si Raul. | Raul keeps on eating. |
| Sumigaw nang sumigaw si Tanya. | Tanya kept on shouting. |
| Iyak nang iyak si Joy. | Joy keeps on crying. |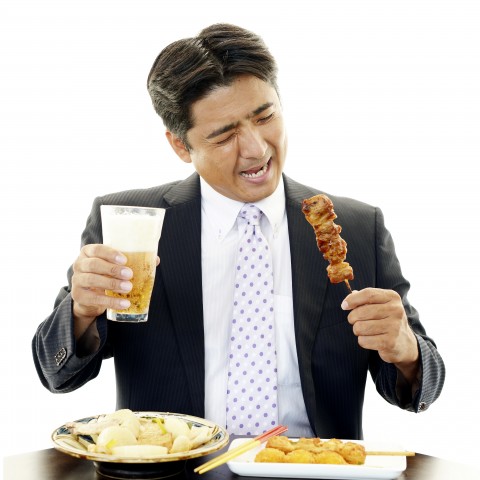 Kain nang kain si Raul. ("Raul keeps on eating.")
5. Adjectives
Adjectives are the spice of language. This section will teach you what you should know before using them yourself.
1 – Adjective-Noun Identicals
Some Tagalog adjectives are identical to nouns in both spelling and meaning, although they differ in pronunciation with the noun having a long vowel sound.
| | |
| --- | --- |
| Noun | Adjective |
| buhay (life) | buhay (alive) |
| gutom (hunger) | gutom (hungry) |
| hirap (poverty) | hirap (struggling) |
| pagod (tiredness) | pagod (tired) |
| sunog (fire) | sunog (burnt) |
2 – Adjective Gender
There are a number of Tagalog adjectives used to describe female individuals. These words usually end in /a/.
| | |
| --- | --- |
| Male | Female |
| ambisyoso (ambitious) | ambisyosa |
| bobo (stupid) | boba  |
| bungangero (vociferous) | bungangera |
| luku-luko (crazy) | luka-luka |
| suplado (snobbish) | suplada |
3 – Degrees of Adjectives
In Tagalog grammar, adjectives are sometimes repeated when describing a noun in the intensive degree. 
In the superlative degree, pinaka is usually added before the word, as in pinakamaganda (the most beautiful). 
Meanwhile, napaka is used to describe something to an intensive degree, as in napakaganda (very beautiful). 
This can also be achieved by repeating the root word, as in magandang-maganda or ang ganda-ganda.
Take note that if the root word ends in a vowel, -ng is attached to it—but only to the first appearance of the word, and not the repetition.
| | |
| --- | --- |
| batang-bata | very young |
| basang-basa | very wet |
| litong-lito | very confused |
| sirang-sira | extremely worn out |
| tuwang-tuwa | very happy |
On the other hand, if the root word ends in a consonant, the two words are linked by na.
| | |
| --- | --- |
| atat na atat | very eager |
| gutom na gutom | very hungry |
| laos na laos | very obsolete |
| malinis na malinis | very clean |
| pagod na pagod | very tired |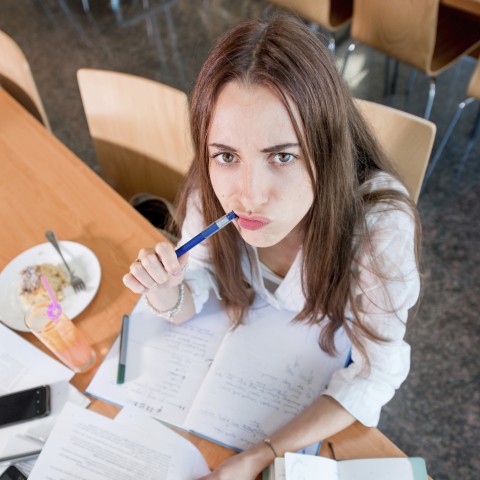 Litong-lito ka na ba? Bakit hindi mo subukan ang FilipinoPod101?
("Are you very confused already? Why don't you try FilipinoPod101?")
6. Level Up Your Filipino With FilipinoPod101
These are just some of the basic concepts of Tagalog grammar. There is definitely a lot more to the Tagalog language than these foundational rules. If you want to take things to another level, FilipinoPod101 is here for you.
There are free resources available to you on FilipinoPod101.com, but if you want to benefit from exclusive lessons and lesson materials, become a Premium member today. If you sign up now, you'll get instant access to some exclusive materials that will help you in your Tagalog learning journey. Some of the things you'll get to enjoy are the exclusive lessons from our Lesson Library, interactive lesson quizzes, and the MyTeacher feature that lets you have your own personal teacher who will provide you with a professional assessment and a personalized learning program.

That's it for this post. If you have any questions about grammar in Tagalog, don't hesitate to ask us in the comments section!
March 4, 2021
Writers often use quotes to develop a piece of writing they're working on, be it an article, poem, essay, or novel. Whether you're a writer or not, learning quotes and sayings from other cultures can benefit you in more ways than one. If you're learning the Filipino language, for instance, studying Tagalog quotes and sayings will give you a better grasp of both the language of the Filipino people and their culture.
Filipinos are a very expressive people, and they express their thoughts and emotions through art, particularly in music or literature. They also use quotes or proverbs to share wisdom, express a sentiment, give a lecture, or even try to win an argument.
There are several ways that Filipinos convey a message through these sayings. One way is through a tradition called balagtasan, which is a debate in the form of poetry. Perhaps the most common way, though, is through storytelling. In rural areas, once upon a time, Filipino kids would gather around their lolo ("grandfather") or lola ("grandmother") and wait for them to tell stories filled with proverbs, called salawikain.
Today, proverbs are still a part of daily conversations for Filipino people. In this article, we'll present you with Filipino quotes about life, love, friendship, family, and more. To ensure you get a good mix, we've included both native Filipino quotes and the Filipino translation of quotes from other languages.
Let's get started.
Table of Contents
1. Quotes About Success
Do you have big plans for the future or an upcoming project you're concerned about? Let's kick off our list with some popular Filipino quotes about work and success that are sure to inspire you.
1. Ang pagiging dukha ay hindi hadlang sa tagumpay. 
"Poverty is not a hindrance to success."
The Filipino people are not a stranger to poverty. Many rich and famous Filipinos today who started from the bottom, such as the Pinoy boxing pride Manny Pacquiao, understand that the true hindrance to success is not poverty, but the unwillingness to think big and get out of a state of helplessness.
2. Kapag may itinanim, may aanihin. 
"If you sow something, you will harvest something."
This may be similar to the saying "What you sow is what you reap," or "You get what you deserve," but it best represents the idea that if you plant while the weather is nice, you'll have something to eat when the storm comes and you can't leave the house. 
It reminds me of the parable of the ant and the grasshopper, where the carefree grasshopper mocked the ant for gathering food in the summer. In the end, when the rainy season came, the grasshopper had nothing to eat, while the ant was safe underground with the abundant resources it had collected months prior.
3. Hindi tayo makakasulong kung pahihintulutan nating hilahin tayo pabalik ng nakaraan. 
"We cannot move forward if we allow the past to pull us back." 
These were the words of President Rodrigo Duterte during the 2016 State of the Nation Address. His message is simple: If we want to succeed and progress, we must stop looking back, pointing fingers, and blaming others. Rather, we must move on and strive to reach the goal ahead of us.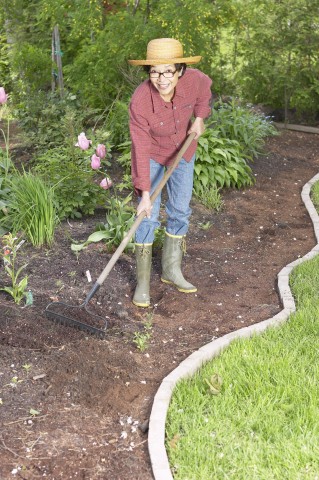 Kapag may itinanim, may aanihin. ("If you sow something, you will harvest something.")
2. Quotes About Life
Life is a mystery that people the world over have been trying to piece together since the beginning of time. Here are some quotes in Filipino concerning life and all that lies therein.
4. Ang negatibong tao ay nakakakita ng problema sa bawat pagkakataon. Ang positibong tao ay nakakakita ng pagkakataon sa bawat problema. 
"The pessimist finds difficulty in every situation. The optimist finds an opportunity in every difficulty." 
This is a popular quote often attributed to a number of great names, including Winston Churchill. It highlights the importance of positivity. 
The Filipino people, in particular, are very resilient. Even in times of disaster, you'll see them smiling and even making light of their situation. There are some who see this as a defense mechanism, but one reason Filipinos remain strong as a people is their craftiness and creativity, as well as their habit of looking at the brighter side of things.
5. Hindi mahalaga kung gaano katagal ka nabuhay. Ang mahalaga ay kung paano ka nabuhay. 
"It doesn't matter how long you've lived. What matters is how you've lived your life."
This saying has the same meaning as the famous quote, "It's not the years in your life that count, but the life in your years." It also reminds me of the final words of Nathan Algren (Tom Cruise) in the film The Last Samurai. When the emperor asked Algren to tell him how Katsumoto (Ken Watanabe) died, he replied: "I will tell you how he lived."
6. Wala nang mas masahol pa kaysa sa pagbalik sa normalidad. 
"Nothing could be worse than a return to normality."
This is a line from Arundhati Roy's latest essay entitled, The Pandemic is a Portal. I included this on our list because it's an excellent reminder that the circumstances we're facing right now are offering us a chance to evaluate ourselves, and that we should come out of it as different people.
3. Quotes About Time
Time is what binds us to our own mortality. Here are some Filipino time quotes, native and translated, to give you some cultural perspective on how Filipinos view this phenomenon. 
7. Ang pinakamagandang regalong iyong maibibigay sa taong mahalaga sa iyo ay oras. 
"The best gift you can give someone you care for is your time."
Not all people value time, and some value material things more. However, if there's one way you can show someone that you truly care for and value them, it's by giving them quality time.
8. Aanhin pa ang damo kung patay na ang kabayo? 
"What is grass good for if the horse is already dead?"
This is a very popular Filipino saying that pertains to relief or help that arrived too late. It's equivalent to the expression, "Closing the barn door after the horse has bolted." It refers to an attempt at preventing something only after the damage has been done.
9. Ang oras ay ginto. 
"Time is gold." 
A timeless classic, I must say. Every culture probably has this proverb in some form or another, and that only shows how valuable and precious time is—it must not be taken for granted. Ironically, Filipinos have a reputation for always being tardy, thus the expression "Filipino Time." But did you know that this is not an accurate representation of the Filipino people? Just go to the Philippines or visit countries where Filipinos thrive, and you'll see that most Filipinos actually value their time and that of others.
4. Quotes About Love
Are you madly in love with someone? Or maybe you're a hopeless romantic? Either way, we think you'll enjoy these Filipino quotes about love!
10. Pagsasama nang tapat, pagsasama nang maluwat. 
"Faithfulness breeds longevity." 
Literally: "Being together in faithfulness, being together for eternity."
Integrity is the most important thing in a relationship. Integrity breeds trust, and trust, in turn, breeds longevity.
11. Ang pag-ibig, pigilan man, ay makakahanap ng paraan. 
"Love, though hindered, will find a way."
Filipinos are very passionate people. Not even death itself could scare a Filipino man who's in love. 
There's a similar Tagalog saying that goes, "Pag-ibig, 'pag pumasok sa puso nino man, hahamakin ang lahat masunod ka lamang." This one was written by the Filipino great Francisco Balagtas y de la Cruz, a prominent poet during the Spanish colonial period in the Philippines. The line basically says that a man in love will endure anything just to do love's bidding.
12. Ang pag-ibig ang dapat manahan sa puso ng bawat nilalang. 
"Love should dwell in the heart of every creature."
This speaks more of 'agape,' or unconditional, love and has nothing to do with romantic love. It means what it says—that every person should have love in their hearts if there is to be real peace in the world.
5. Quotes About Family
Family is a cornerstone of any society, so it should come as no surprise that there are plenty of Filipino family quotes that discuss the nature of familial relationships. 
13. Pahalagahan mo ang pamilyang meron ka, dahil hindi sa lahat ng panahon ay nariyan sila. 
"Cherish the family you have, because they are not always there."
We often despise the family we were born into, especially if we grew up with much difficulty in life. This saying is a reminder that when worse comes to worst, it's our family who will always be there for us.
14. Ang pagmamahal ng isang pamilya ay pwede mong matagpuan kahit sa hindi mo kadugo. 
"Family is not always about blood."
We value our blood relatives because they're the ones who have been with us since the day we came into this world. However, there are times when other people treat us better, which is what this message is conveying.
15. Ituring mo ang iyong pamilya bilang kaibigan, at ituring mo naman ang iyong mga kaibigan bilang pamilya.
"Treat your family as friends, and treat your friends as family." 
Your family members are the first real friends you make in this life. In the same manner, your real friends are like your family. They love you unconditionally and treat you with respect.
Ituring mo ang iyong mga kaibigan bilang pamilya. ("Treat your friends as family.")
6. Quotes About Friendship
Friends are one of life's greatest joys and necessities. Check out these Filipino friendship quotes and see if you can relate! 
16. Wag kang humanap ng kaibigang makakaintindi sa'yo. Hanapin mo ang kaibigang hindi ka maiintindihan pero hindi ka iiwan. 
"Don't look for a friend who will understand you; look for one who might not understand you but will not leave you, nonetheless."
There are two important themes this quote touches on: loyalty and acceptance. A true friend will remain loyal to you even after learning of your weaknesses. Don't just look for any friend; look for friends who will accept you for who you are and remain loyal to you until the end.
17. Sa panahon ng kagipitan nakikilala ang tunay na kaibigan. 
"Hard times reveal true friends."
This quote doesn't need a lot of explaining. It's when you're at rock bottom that you really discover who your genuine friends are.
18. Ang taksil na kaibigan ay higit na masama kaysa kaaway. 
"A treacherous friend is worse than an enemy." 
There's nothing worse than having someone you thought was a friend betray you. This quote is saying that sometimes, it's better to have someone saying to your face that they hate you than to have someone sweet-talking you when you're around and then stabbing you the moment you turn your back.
7. Quotes About Food
Can you get any deeper into a culture than knowing how it thinks about food? Here are some Filipino food quotes to get you thinking (and hungry!). 
19. Kung magbibigay man at mahirap sa loob, ang pinapakain ay hindi mabubusog. 
"Feeding someone reluctantly will only leave the other person with an empty stomach." 
This is similar to Solomon's proverb that goes, "Better is a dinner of herbs where love is, than a stalled ox and hatred therewith." Indeed, if you're going to give, do it not out of compulsion, but out of your own willingness. A small amount given out of love will fill not only the stomach, but also the heart.
20. Makulay ang buhay sa gulay. 
"Life is colorful with vegetables."
The Philippines is an agricultural country, with most citizens living in rural areas and supporting themselves through farming. This saying is a testament to how crucial farming is to Filipinos, as well as how important vegetables are as a daily staple for every Filipino family.
21. Hayaan mong maging gamot ang iyong pagkain, at maging pagkain ang iyong gamot. 
"Let food be thy medicine and medicine be thy food." 
This quote is from the Greek physician Hippocrates, known as the Father of Medicine. It's said that he used these words in reference to certain herbs and spices, particularly garlic, which he prescribed to his patients to prolong their life.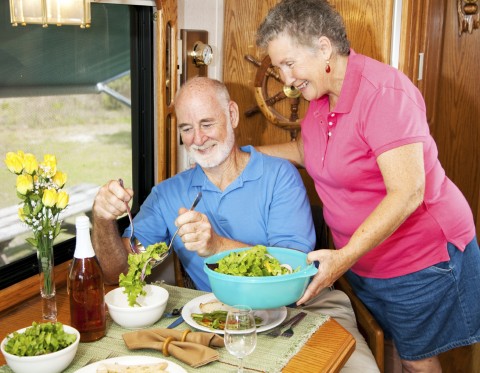 Hayaan mong maging gamot ang iyong pagkain. ("Let food be thy medicine.")
8. Quotes About Health
Health should be a person's first priority, because only in good health can one accomplish more important goals. Here are a few quotes in Filipino on the topic.
22. Ang kalusugan ay kayamanan.
"Health is wealth." 
This is a common saying that every culture probably has. It's very catchy in both English and Tagalog because of the rhyming of the two main words. Indeed, the only way we can have the power to produce wealth is if our health is intact.
23. Ang kalusugan ay parang pera. Madalas ay hindi natin alam ang halaga nito hanggang sa ito ay mawala sa atin. 
"Health is like money. Oftentimes, we have no idea of its true value until it's gone."
This is somewhat similar to the previous quote. Health, like wealth, is often taken for granted. When we have plenty, we don't seem to worry about what the future may bring; oftentimes, this leads us into letting our guard down when it comes to our health. The lesson: Don't take your health for granted. Work hard, but don't forget to rest and recharge.
24. Isang malusog na pangangatawan, mahinanon na pag-iisip, tahanan na puno ng pag-ibig—hindi nabibili ang mga bagay na ito—bagkus, ang mga ito ay pinaghihirapan. 
"A fit body, a calm mind, a house full of love—these things cannot be bought—they must be earned." 
This quote reminds us that there are things in life that cannot be bought with money. Health, family, and relationships—these things are priceless. They're not cheap, though. If you want to have a healthy mind and body, as well as healthy relationships, you need to be intentional. This means taking charge of what you eat, what you feed your mind, and how you spend time with the people you care about the most.
9. Quotes About Language Learning
What better way to motivate you in your language studies than by introducing you to some Filipino quotes about language learning?
25. Ang mga limitasyon ng aking wika ay nangangahulugan ng limitasyon ng aking mundo.
"The limits of my language mean the limits of my world."
We grow up speaking one language. The more we explore the world, either through traveling or by reading, the more language we learn. If we only know one language, it's either because we didn't travel enough or we didn't read enough.
26. Habang pinapanatili ng isang tao ang wika nito, pinapanatili nito ang mga marka ng kalayaan. 
"While a people preserves its language, it preserves the marks of liberty." 
Oddly enough, these words were spoken by Jose Rizal. Despite being able to speak over twenty languages, he understood the importance of saving and preserving one's mother tongue. Rizal wasn't discouraging the use of foreign languages, as is evidenced by his being a polyglot. What he was saying is that while you learn the languages of other nations, you have to see to it that you don't forget your own.
27. Siya na hindi nakakaalam ng mga wikang banyaga ay walang nalalaman tungkol sa kanyang sarili. 
"He who knows no foreign languages knows nothing of his own." 
This quote by writer and statesman Johann Wolfgang von Goethe simply emphasizes the importance of learning a language other than your own. When you limit yourself to one language, you also limit yourself and your potential. On the contrary, learning more than one language opens a whole new world of opportunities for you.
10. Bonus: Famous Quotes From Tagalog Movies
To close, let's look at a few popular Filipino movie quotes!
28. Walang himala! Ang himala ay nasa puso ng tao! – Nora Aunor, Himala (1982)
"There is no miracle! The miracle is in the heart of man!"
When it comes to quotes from Tagalog films, nothing could be more famous than this line by the "Superstar" of Philippine cinema, Nora Aunor. The line is from the film Himala, where Aunor played a young girl who could perform miracles. At the end of the film, she confesses that there are no miracles and that supernatural things are only man's inventions.
29. Isang bala ka lang! – Fernando Poe Jr., Isang Bala Ka Lang (1983)
"You'd only take one bullet!" / "It would only take one bullet to take your life."
This line is from the film of the same name. In the film, the late actor Fernando Poe, Jr., played the character of an honest cop who didn't mind going head-to-head with dirty politicians. At one point in the movie, he points his finger at the face of a corrupt congressman and says to him: "Stop pretending that you're a nice guy. You'd only take one bullet!"
30. "Trabaho lang ito, walang personalan." – Rudy Fernandez, Markang Bungo, The Bobby Ortega Story (1991)
"It's all just business. Don't take it personally."
The late Rudy Fernandez was considered one of the top action stars in Philippine cinema in the eighties and nineties. In his film Markang Bungo (Skull Mark), he played the character of Bobby Ortega, the chief of police of Baguio City from 1985 to 1987. Ortega was renowned for his crime-busting career, which significantly brought down the crime rate in Baguio City by 95%. He respected no one regardless of their status and would hunt down anyone who was going against the law. He argued that he was only doing his job as a cop. Thus the line, "It's all business. Don't take it personally."
31. "Mahal mo ba ako dahil kailangan mo ako, o kailangan mo ako kaya mahal mo ako?" – Claudine Barretto, Milan (2004)
"Do you love me because you need me, or do you need me because you love me?"
This line certainly sent some romantic excitement down the spines of many Filipinos when the film first came out some sixteen years ago. The film starred two of the best actors of Philippine cinema, Piolo Pascual and Claudine Barretto. Pascual played the character of Lino, a young man who followed his missing wife in Milan. There, Lino met another Filipina named Jenny (played by Barretto). Their friendship evolved into a love affair, which was later put to the test. If there's one scene in the movie that viewers will never forget, it's definitely the one where Jenny asked Lino whether he loved her because he needed her, or if he needed her because he loved her.
32. "Oo na ako na. Ako na. Ako na ang mag-isa!" – Jennylyn Mercado, English Only, Please (2014)
"Alright, I admit it. It's me. I'm the one who's single!"
English Only, Please is a romcom starring Derek Ramsey and Jennylyn Mercado, who won the Best Actor and Best Actress awards for the film, respectively, during the 40th Metro Manila Film Festival. Mercado played the role of an English tutor named Tere who was hired by Julian Parker (Ramsey's character) to translate a letter he was writing for his ex-girlfriend into Tagalog. In the middle of the film, Mercado's character was in line for the jeepney when the dispatcher shouted that there was only room for one more person. He said that anyone in the line who was single should take the opportunity, to which Tere replied, "Oo na ako na. Ako na. Ako na ang mag-isa!" ("All right, I admit it. It's me. I'm the one who's single!"). It's witty lines like this that made the film memorable, and of course, won it several awards.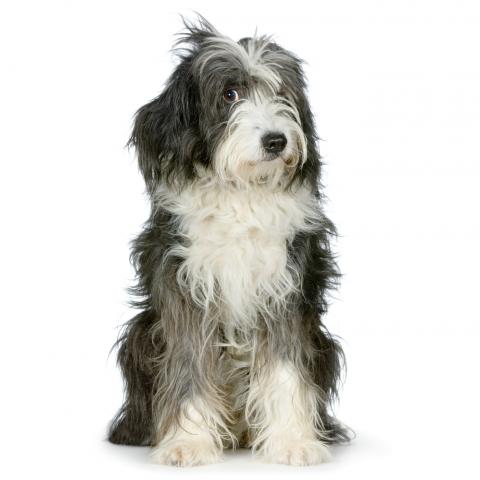 "Oo na ako na. Ako na. Ako na ang mag-isa!"
11. Learn More Than Just Tagalog Quotes With FilipinoPod101!
Phew! That was a long list of Tagalog quotes! But we know that you want more! And that's the very reason that FilipinoPod101 is here. 
FilipinoPod101 can offer you much more than the Tagalog quotes about life we covered. At FilipinoPod101.com, you can dig deeper into the Tagalog language and learn more about Tagalog grammar, pronunciation, sentence patterns, and more.
We also offer a one-of-a-kind approach to learning Tagalog. Aside from free learning resources, you can also enjoy up-to-date blog articles, learn basic and advanced Tagalog vocabulary, and have a mobile app that lets you take your lessons with you. By becoming a member, you can have full access to exclusive lessons from our Lesson Library and learn through a lesson pathway designed to suit your needs. Add to that the MyTeacher feature that lets you interact with a personal teacher, who will guide you through your program and assess your progress.
So, what did you think of our list of Tagalog quotes? Let us know by leaving a comment below!