Filipinos are known to be very romantic. In fact, Filipinos are ranked as the fourth most romantic lovers in the Asia-Pacific, despite the reality that the Filipino culture of courtship has significantly evolved over the past several decades. 
Before, a young Filipino man would serenade the love of his life to express his feelings for her in a gesture called harana. Courtship slowly shifted from the traditional serenading to phone calls and love letters. The grand arrival of the internet and the mobile phone eventually gave way to online dating. 
So, in modern times, how does one say "I love you," in Tagalog?
Despite the gradual changes to courtship and dating in the Philippines, what remains are the utterances used in expressing one's feelings and the passion behind them.
Whether you're planning to have a romantic relationship with a Filipino or already have one, it's vital for you to learn some of the most common Tagalog love phrases. And that just scratches the surface of what you're going to learn in this article!
O Love! Thou all-omnipotent one,
Who sporteth ev'n with sire and son;
Once sworn to thee, a heart then on
Defies all else: thy will be done.
– Francisco Balagtas, 1788-1862
Table of Contents
1. Confessing Your Affection: Pick-up Lines and More
The Filipino term for courtship is panliligaw. Unlike in many Western societies, courtship in Philippine culture is indirect and a bit more subdued. Men don't want to come off as mayabang ("presumptuous" or "arrogant") or presko (the term literally means "fresh," but in this context, it means "aggressive"), so when they're interested in a woman, they have to be discreet and somewhat mysterious at first.
The courtship starts with the manliligaw (the one who courts) asking the nililigawan (the one being courted) out on a date, oftentimes with a chaperone. But even before that, the young man must know to choose his words carefully in order to avoid rejection.
Pwede bang malaman ang pangalan mo?
"May I know your name?"
While courtship in the Philippines often happens between two people who are familiar with each other or have known each other for a long time, it's not unusual for two strangers to enter courtship and fall in love. If you're interested in a person, you should always start by asking for that person's name. If the other person is interested, they might give you their name, and you can take things from there.
Pwede bang hingin ang phone number mo?
"May I have your phone number?" "Is it okay if I ask for your phone number?"
Texting and online messaging are the primary means of communication in the Philippines. If you want to keep in touch with a girl you like, what better way than to ask for her phone number? Or, if you'd like to ask for her social media name, you can say:

Pwede ba kitang i-add sa social media? / "Can I add you on social media?"
May gagawin ka ba…?
"Will you be busy…?"
A Filipino guy won't directly say to a girl that he likes her. Instead, he'll show interest by asking her:

May gagawin ka ba sa Sabado? / "Will you be busy this coming Saturday?" 

Or:

May gagawin ka ba mamayang gabi? / "Will you be busy tonight?"

It's an indirect way of saying, "Let's go out on a date. I want to get to know you more."
Gusto sana kitang yayain na lumabas.
"I was wondering if you would like to go out with me."
This is what you say when the girl responds with, "I don't have any plans yet. Why?" 

By this time, the girl already has a hint that you're interested in her. If she's also interested in you, she'll say yes. Even if she's not interested (yet), she might still say yes to get to know you more.
Gusto kita. 
"I like you." 
Traditionally, Filipino women didn't like it when their manliligaw moved too fast in terms of courtship. But with the passing of time and the infiltration of Western influence on the Philippine culture of courtship and dating, it's now common for two individuals to enter into a romantic relationship without having to go through the long process of panliligaw. When a young man sees a lady he likes, he asks for her name and phone number, and then directly says to her:

Gusto kita. / "I like you." 

He can also say:

Type kita. / "You're my type."

Most Filipinas are still very conservative, though, and prefer men who play by the rules. Some would even prefer a guy who's torpe (someone who doesn't know how to court, extremely shy, or simply playing innocent) over someone who's too direct.

That said, it's not uncommon to hear phrases like:

Matagal na kitang gusto. / "I have liked you for a long time." 

This usually comes from a guy who has finally mustered the courage to express his affections, oftentimes after being exposed.

And if the girl also likes him, she answers with:

Matagal na rin kitang gusto. / "I feel the same way."
Pwede bang umakyat ng ligaw?
"Can I court you?" 
This is where the actual courtship takes place. 

Perhaps you're wondering why the word umakyat is used here. The root word is akyat, which means "to climb." Houses in the Philippines during the Spanish era usually had multiple levels. This was true both for the Bahay na Bato (concrete house) and the bahay kubo (nipa house). When a man planned to court a woman, he would do so by serenading her with an acoustic guitar. He would call out toward the window of the second level where the woman's room was, and from there, the young woman would look down at the young man as he began to serenade her. After all the singing, the man would ask for the lady's permission by saying:

Maaari ba akong pumanhik? / "Can I go up?"

If the woman was interested, she would say:

Sige, pasok ka. / "Sure, come inside."

This phrase of "going up to court someone" has been a part of Filipino tradition since, and until now, it's the same expression used by men when asking permission to court a girl.
Pwede ba kitang maging kasintahan? 
"Would you be my girlfriend?"
The first stage of courtship culminates with the man asking the woman this question. This is the part where the man expects to receive the woman's matamis na 'oo' or "sweet 'yes'" so they can officially be together.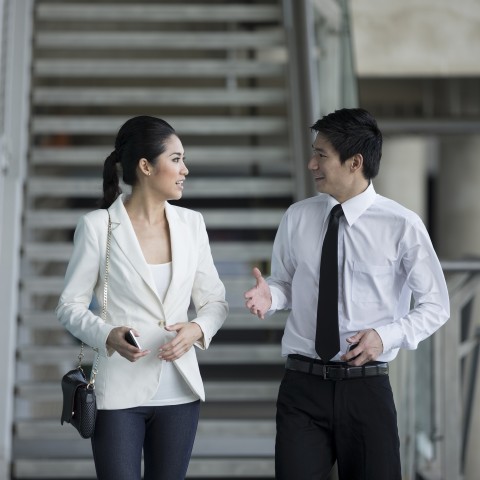 "Hi, I'm Will. God's will."
→ This lesson will help you learn how to introduce yourself in Filipino.
2. Falling in Deeper: Saying "I Love You," and More
In this section, you'll learn how "I love you," is actually said in Filipino, plus more expressions used for showing affection between two lovers.
Mahal kita. 
"I love you."
To confess your love in Filipino, you use these two simple words. If you follow our blog, you've probably come across some topics where we've explained how the pronoun kita works. It's actually the subject ko ("I") and the object ka ("you") combined. It stands for ko ka, which is never used but always replaced with kita. So, when you say Mahal kita, you're actually saying, Mahal ko ka, which is literally "Love I you."

But what if you want to say to someone that you love them very much? In that case, you could say:

Mahal na mahal kita. / "I love you very much."

Here, we see a reduplication of mahal. To express extravagant love without reduplication, you could say:

Sobrang mahal kita. / "I love you very much."
Hindi kita mabura sa isipan ko.
"I can't get you out of my head."
This is what you say to someone to let them know that you're crazy about them. The word bura is Tagalog for "erase," so this expression basically means, "I can't erase you from my head," with "head" being the word isipan, which is literally "mind."
Sabik na sabik na ako sa iyo.
"I miss you very much."
The word sabik means "eager," so by saying that you are sabik about somebody, you're saying that you're eager to see that person. There's no direct translation in Tagalog for the word "miss" or "missing" in terms of an emotional longing, so we use the Filipino word for "eager" instead. Most Filipinos nowadays seldom use the word sabik, so you can just say: Miss na miss na kita.
Baliw na baliw ako sa'yo.
"I'm so crazy about you."
Lovesickness can make anyone go crazy. There are simply times where it's impossible to wrap your arms around the person you're in love with. This is especially true among Filipino couples who are in a long-distance relationship.
Sobrang in lab ako sa iyo.
"I'm so in love with you." 
This is just another way of telling someone you're crazy about them. In lab is a loanword, or rather a loan expression, from the English "in love." This is an informal phrase.
Gustong-gusto kitang makita.
"I want to see you badly."
When you miss someone badly, the only thing you want is to see them again soon. That's where this expression comes in. Another version is: 

Gustong-gusto na kitang makasama/makapiling. / "I want to be with you so badly."
Ikaw ang lahat sa akin.
"You are everything to me."
This may sound cliche, but each culture probably has its own version of this expression. Filipinos don't use this in regular conversations; it's only used in formal contexts, like when you're writing a poem or a love letter. This five-word romantic expression is also the title of a song popularized by Filipino singer Martin Nievera in the 90s. And yes, the song perfectly embodies the message that the expression is trying to convey.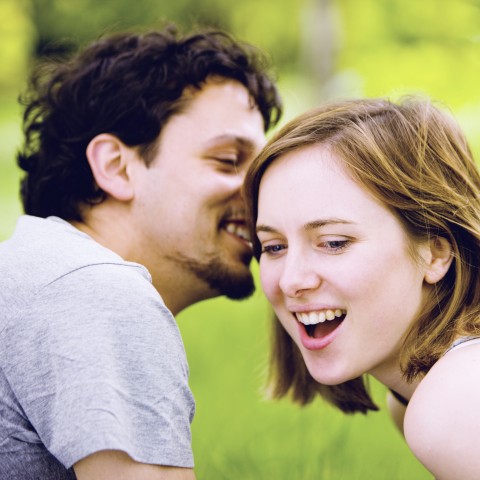 Sobrang in lab ako sa iyo. / "I'm so in love with you."
3. Take it One Step Further: "Will You Marry Me?" and More
Pagkahaba-haba man daw ng prusisyon, sa simbahan din ang tuloy. 
"The procession may be long, but it will surely still end up in the church."
This famous Filipino proverb perfectly describes traditional Filipino courtship, particularly how arduous and long the process can be when the rules of the game are strictly followed. At the end of the day, it's not the guy who's richer and better-looking who wins, but the one who perseveres until the end. Before the grand church procession happens, however, one must first learn how to ask the million-dollar question in Filipino. But first, let's meet the parents!
Gusto kitang ipakilala sa mga magulang ko.
"I'd like you to meet my parents."
It's a common saying in the Philippines that when you're courting a girl, you're also courting her entire family, particularly her parents. When a girl invites you to come over to her place to meet her parents, it means she likes you. On the other hand, when it's the guy who makes the invitation, it means he's serious about the relationship. It's not always the case, but this is one of the first signs that a guy plans to propose real soon.
Magpakasal na tayo.
"Let's get married."
The Filipinos have adopted the Western tradition of proposing marriage with the giving of an engagement ring, sometimes in public. Nevertheless, a simple Magpakasal na tayo ("Let's get married") should be sufficient.
Gusto kitang pakasalan. 
"I want to marry you."
This is another version of the previous phrase. This one is a bit indirect, though, and may come off as a simple desire to get married rather than an actual proposal. 
Pakasalan mo ako.
"Marry me." 
This one's more straightforward. Even though courtship in Filipino culture begins slowly, when the right time comes, the man should not be afraid to show his true intentions.

Mo is an indirect object pronoun that means "you." Literally, Pakasalan mo ako is "Marry you me."
Papayag ka bang magpakasal sa akin? 
"Will you marry me?"
For those of you wondering how to say "Will you marry me?" in Filipino, this is probably the closest that you can get. 

Papayag is the future tense of the verb payag, which means "to conform" or "to agree." In this context, its closest translation in English is "willing." In English, the question would sound like: "Are you willing to get married to me?"
Pakakasalan kita. 
"I will marry you."
Nothing could be more direct than this one. It's not a question but a statement, a sort of promise even. If you want to reassure a Filipina that you intend to marry her, then tell her this.
Magsama na tayo.
"Let's move in together."
Filipinos are very conservative and religious. Some people say this is a result of the Philippines having been under Spanish rule for over 300 years. Others say it's just that conservatism is a trait of Asian people. Whatever the reason, it's clear that living together before marriage is a practice that's not widely accepted in the Philippines. People are becoming more open-minded nowadays, however, and it's not unusual for couples to live together and even start a family before marriage.
Mag-anak na tayo.
"Let's have kids already."
It's common to find three generations living together in a Filipino household. Since the Philippines is primarily an agricultural country, great importance is given to child-rearing. The more children there are in a family, the greater the chance that the family's livelihood will be sustained. However, there has been a shift in the mindset of young Filipino couples nowadays when it comes to having children. For most couples, career should be given priority. But once either of the two feels it's time to have kids, they would say: 

Gumawa na tayo ng anak. / "Let's start making babies."
Papayag ka bang magpakasal sa akin? / "Will you marry me?"
4. Filipino Endearment Terms
Filipinos never use Tagalog terms of endearment. Such terms can only be found in literature, or are sometimes heard spoken by the older generation. Nowadays, Filipino couples make use of English terms to address each other romantically. They use terms like "honey," "babe," "darling," or "sweetheart." But for the sake of this lesson, allow us to show you some of the most common Filipino terms of endearment.
Irog
"Darling," "Beloved," "Dear"
Irog is an old Filipino term which could mean "darling," "beloved," or "dear." No one uses this term in regular conversations, though. You'll mostly encounter this word as a lyric in a love song. Here's one line from the song Solomon by Filipino indie band Munimuni:

O irog dinig mo ba
Ang pagtibok ng aking puso?

"O darling, do you hear 
the beating of my heart?"
Sinta
"Love," "My love"
Sinta is another old-fashioned term of endearment that is synonymous with "love." Calling someone sinta is like saying in English, "my darling." It's the root word of kasintahan, which means "girlfriend" or "boyfriend." Just like irog, you will seldom hear the word sinta used in normal conversations.
Mahal
"Love"
One of the definitions of the Filipino word mahal is "expensive" or "valuable." Interestingly, the word is also the Filipino word for "love." When you tell someone Mahal kita, you're essentially saying that the person is dear to you.
Pangga
"My love"
Pangga is a variant of the Visayan term palangga, which means "to love" or "to have a strong affection for someone." It's the equivalent of the Tagalog mahal, and while it's Cebuano and Hiligaynon in origin, it's now very common to hear it spoken by Tagalog-speaking people.
Beh
"Baby"
Beh is a Filipino slang term for "baby." It's often used between two lovers, but it's not uncommon to hear it being used between very close friends, particularly between two females.
5. Must-know Filipino Love Quotes
In the past, Filipino love quotes were mostly from classic Tagalog love songs, movies, or literature, such as those written by the great Filipino poet, Francisco Balagtas. These days, you'll usually get them from what the younger generations refer to as hugot. This is the Filipino term for "pull out," like when you're pulling money from a deep pocket. If you search the web using the keyword "Filipino love quotes," you'll be amazed that most of the results are not purely classic love quotes, but modern "hugot lines." These lines are usually given birth by deep emotional experience, such as falling in (or even out of) love. 
Now that you have some cultural context, here are some of the most common love quotes in Filipino…
Ang puso ko ay pumili, at ang pinili ay ikaw.
"My heart made its choice, and it chose you."
It's not uncommon for a Filipina woman to have more than one suitor. Even until a couple of decades ago, it was a usual occurrence that two or even three suitors would visit a girl in her home at the same time. The first one to arrive would court first, and the rest would wait for their turn like true gentlemen. At the end of the day, the girl would make her choice. Only the best man would win.
Ibibigay ko ang lahat sa'yo, maging ang araw at ang buwan, pati bituin ay aking susungkitin.
"I'll give you everything, the sun, the moon, and even the stars in the sky."
This is one of the oldest Filipino pick-up lines. It may not guarantee success nowadays, but there are probably still a lot of Filipinas out there who prefer this kind of romantic line over something cheesy like, "Is your dad a terrorist? 'Coz you're the bomb!"
Ang pag-ibig parang taxi, agawan.
"Love is like queuing for a taxi. People fight to get a ride."
This is a more modern Filipino love quote. The person who invented this probably had to overcome several obstacles and competitors just to get the attention of the woman he loves. I'm not sure if he ended up successful, but it's interesting that he compared love to the taxi queuing system in the Philippines, which requires you to be patient and assertive at the same time if you want to get a ride.
Nang dumating ka sa buhay ko, naging makulay ang mundo ko.
"When you came into my life, my world became colorful."
What a beautiful description of what it means to find love! Indeed, for many of us, the only thing that could light up our world is the love of our life!
Mag-ingat sa lalaking matamis ang dila.
"Beware of sweet talkers."
Scams and scammers are rampant these days, but did you know that love scams are not new? Filipino men are known to be malambing ("sweet"), but girls will know when you're genuine with your intentions or are simply sweet-talking them. Avoid being matamis ang dila or you'll come off as a player.
Kay tamis ng kanyang mga salita! / "How sweet his words are!"
6. Learn More Important Tagalog Phrases with FilipinoPod101!
This has been a long lesson on how to say "I love you," in Tagalog, and we could still go on and on because there are actually many more love phrases in Filipino and cultural details to explore! 
To learn more important Filipino phrases, why not just create your account on FilipinoPod101.com? With FilipinoPod101, you'll learn more than just romantic Filipino phrases and Tagalog pick-up lines. Here, you'll learn the basics of Filipino grammar, including how to construct sentences properly, pronounce difficult Tagalog words, and appropriately apply Filipino expressions to any situation.
FilipinoPod101 is unlike any other online language learning platform. Here, you can study lessons that are tailored to perfectly match your requirements. And with our MyTeacher service for Premium PLUS members, you can learn how to speak fluent Tagalog in no time with the help of a Filipino teacher who will provide you with guidance and ongoing assessment. 
What are you waiting for? Become part of the FilipinoPod101 community today! And if you found this post helpful, don't hesitate to let us know your thoughts in the comments section below!