Filipino is a beautiful language, but it cannot be learned and mastered overnight. 
If you want to master grammar in Tagalog and speak like a native Filipino, you need to have a strong foundation. That means studying the language in-depth and learning the most basic concepts before advancing to the more difficult parts.
Well, if you want to familiarize yourself with the Filipino grammar basics, you've come to the right place. On this page, we'll present you with the fundamentals of Filipino grammar, from sentence formation to pronunciation.
Table of Contents
1. General Rules
There are four general aspects of the Filipino language you need to be familiar with before you can begin studying the rest. Let's start with how words are formed and connected in Filipino.
1 – Roots and Affixes
Roots and affixes are the main ingredients of Tagalog words. Affixes are added to roots to change the meaning or aspect of a word, particularly of verbs.
The affix -in, for instance, can be added to the verb root kain (eat), to change it to its past or imperative form.
| | | |
| --- | --- | --- |
| Root | Past | Imperative |
| kain | kinain | kainin |
Some Tagalog root words can also be combined to craft a new word.
| | |
| --- | --- |
| araw (day) + gabi (night) | araw-gabi (day and night) |
New words can also be formed by repeating certain roots. In this case, a hyphen is used as a separator.
| | |
| --- | --- |
| isa (one) | isa-isa (one by one) |
| gaya (imitate) | gaya-gaya (a person who imitates) |
| halo (mix) | halo-halo (a mixture of different things) |
| araw (day) | araw-araw (every day) |
Finally, affixes can be added to the beginning, middle, or end of a root word to form new nouns, verbs, adjectives, or adverbs.
tag-ulan (rainy season)
kahapon (yesterday)
mahangin (windy)
tumawid (crossed)
mabenta (marketable)
iyakin (crybaby)
2 – Sentence Structure
Tagalog word order is a bit different from that of English, and is much simpler in a sense. For instance:
| | | |
| --- | --- | --- |
| English Sentence | Filipino Translation | Literal Meaning |
| The car is beautiful. | Maganda ang kotse. | Beautiful the car. |
Here, the particle marker ang is used to mark the noun that comes after it as the subject of the sentence. 
You could also say, Ang kotse ay maganda, which is a direct translation of the example. However, this particular sentence pattern is used only in formal writing and not in casual conversations.
3 – Pronunciation and Sounds
Replaceable Sounds
We've discussed Tagalog pronunciation in detail in one of our recent blog entries, but we haven't yet touched on the topic of replaceable sounds. Under certain conditions, some Tagalog vowel sounds can be replaced.
The /i/ sound, for instance, can be changed to the /e/ sound:
lalaki (man, male) → lalake
hindi (no) → hinde
mabuti (good) → mabute
mabait (friendly) → mabaet
madami (plenty) → madame
The /e/ sound can also be changed to the /i/ sound. This usually happens when the last syllable is immediately followed by a word:
sige na (come on, go ahead) → sigi na
And then there's the changing of the /o/ sound to the /u/ sound:
total (after all) → tutal
This also happens when the last syllable is not followed by a pause:
Ano pa? (What else?) → Anu pa?
Botika (Drugstore) → Butika
Keep in mind that the change in sound is only applied to spoken language; they keep their original spelling in written form.
Syllable Repetition
One thing that's unique about the Filipino language is the repetition of syllables in words, particularly when conjugating verbs. The word awit (to sing), for instance, becomes aawit (will sing) in its future tense. 
The rules for syllable repetition are simple. If the syllable begins with a vowel, the first vowel alone is repeated.
| | |
| --- | --- |
| amin (admit) | aamin (will admit) |
| iwan (leave behind) | iiwan (will leave behind) |
| uwi (go home) | uuwi (will go home) |
Now, if the syllable begins with a consonant, the first consonant and the first vowel are repeated.
| | |
| --- | --- |
| balik (return) | babalik (will return) |
| sayaw (dance) | sasayaw (will dance) |
| kain (eat) | kakain (will eat) |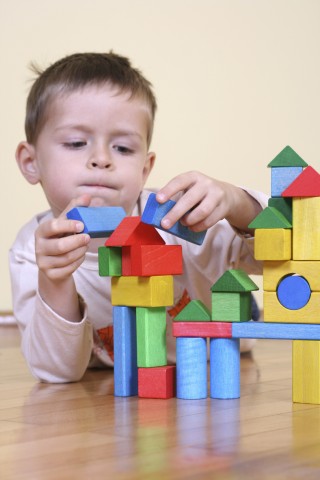 Roots and affixes are the building blocks of Tagalog words.
4 – Markers
Markers play an important role in Tagalog grammar. These are short words that indicate what role a word is playing in a sentence. The three main markers are ang, ng, and sa.
The Ang Marker
The four ang markers are: ang, si, sina, and ang mga.
The ang marker is used to mark a word as the focus of a sentence. 
| | |
| --- | --- |
| Matalino ang babae. | The woman is smart. |
| Magulo ang usapan. | The discussion was a mess. |
| May limang anak ang lalaki. | The man has five children. |
However, it's not used to mark people's names. We use the si marker for that one.
| | |
| --- | --- |
| Masipag si Marco. | Marco is hardworking. |
| Nagbabasa si Denise sa loob ng kwarto niya. | Denise is reading inside her room. |
| Nasa opisina si Roxanne. | Roxanne is in the office. |
Take note that the si marker is only used to mark singular names. To indicate the names of two or more people, we use sina.
| | |
| --- | --- |
| Nasa labas na sina Paul at Aileen. | Paul and Aileen are already outside. |
| Dumating kanina sina Rudy. | Rudy and company arrived earlier. |
| Hindi nakauwi sina JR at Lisa. | JR and Lisa were not able to make it home. |
What about ang mga? Well, we use this marker to mark a word that's in its plural form.
| | |
| --- | --- |
| Naglalaro ang mga bata. | The kids are playing. |
| Nagliparan ang mga ibon. | The birds have flown away. |
| Biglang nagsidatingan ang mga tao. | The people suddenly started arriving. |
The Ng Marker
The ng markers are: ng, ni, nina, and ng mga.
Ng is used to indicate possession, with the name of the possessor coming right after the marker.
| | |
| --- | --- |
| bahay ng presidente | home of the president |
| pagkain ng pusa | food of the cat |
| aklat ng estudyante | book of the student |
It's also used to mark a direct object that is not the focus.
| | |
| --- | --- |
| Naghanap ng trabaho si Anton. | Anton went looking for a job. |
| Bumili ng bahay ang pamilya ni Marc. | Marc's family bought a house. |
| Binigyan niya ako ng maraming pera. | He gave me a lot of money. |
The Sa Marker
The sa markers are: sa, kay, kina, and sa mga.
Sa is used to mark location, direction, future time, and the beneficiary of an action in a sentence.
| | | |
| --- | --- | --- |
| Location | May pagtitipon sa bahay ko. | There's a party at my house. |
| Direction | Pumunta siya sa Maynila. | He went to Manila. |
| Future time | Dadating si Mico sa Martes. | Mico will arrive on Tuesday. |
| Beneficiary of an action | Nagluto siya para sa asawa niya. | He cooked for his wife. |
2. Nouns
Nouns are the most important words you can learn when you begin studying a language. But they can only benefit you if you know how to use them! In this section, we'll cover a couple of basic Filipino grammar rules concerning nouns and their usage.
1 – Gender
Filipino is considered a gender-neutral language. That said, there are no equivalents for the words "he" and "she" in Tagalog.
In the following sentences, siya is used to refer to both the male subject and the female subject.
Siya yung sinasabi ko. (He was the one I was talking about.)
Umalis siya para bumili ng pagkain para sa amin. (She went to buy some food for us.)
In these examples, niya is used for the pronouns "he" and "she," serving as a substitute for an unfocused actor.
Kinuha niya ang telepono ko. (He took my phone.)
Hinugasan niya ang kanyang mga kamay. (She washed her hands.)
2 – Plurals
In English grammar, regular nouns in their singular form are changed into their plural form by adding -s at the end of the word. In Filipino grammar, a word is made plural by placing the marker mga before the word.
English
Filipino
Singular
Plural
Singular
Plural
bird
birds
ibon
mga ibon
car
cars
kotse
mga kotse
tree
trees
puno
mga puno
3. Pronouns
In Filipino grammar, pronouns are categorized in the same manner that English pronouns are. However, it's important to note that not all English pronouns have a direct equivalent in Tagalog. Tagalog pronouns are unique in that they're divided into three groups—the same groups that are used to classify markers—ang, ng, and sa.
1 – Ang pronouns are the focus in a sentence.
English
Filipino
Example
"I"
ako (singular first person)
Ako ang nag-ayos ng problema niya.
"I am the one who fixed his problem."
"you"
ikaw (singular second person)
Ikaw ang hinahanap nila.
"You are the one they are looking for."
"he" / "she"
siya (singular third person)
Siya ang may pakana ng lahat.
"She is the mastermind of all this."
"we"
tayo (inclusive) / kami (exclusive) (plural first person)
Nanalo tayo.
"We won."
"you all"
kayo (plural second person)
Dapat pumunta kayo lahat dun.
"You all should go there."
"they"
sila (plural third person)
Umuwi na sila.
"They went home already."
2 – Ng pronouns replace unfocused nouns in a sentence.
English
Filipino
Example
"my" / "of me"
ko (singular first person)
Natupad ang kahilingan ko.
"My wish was granted."
"your" / "of you"
mo (singular second person)
Nasa labas ang mga kaibigan mo. "Your friends are outside."
"his" / "her" / "of him" / "of her"
niya (singular third person)
Nahanap niya ang nawawala kong aso.
"He found my lost dog."
"our" / "of us"
namin (exclusive) / natin (inclusive) (plural first person)
Isinauli namin ang kotse.
"The car was returned by us."
"your" / "of you"
ninyo (plural second person)
Nariyan na ang mga grado ninyo.
"Your grades are now available."
"their" / "of them"
nila (plural third person)
Malayo ang opisina nila.
"Their office is quite far."
3 – Sa indicates an unfocused direction and location in a sentence; it also indicates possession.
English
Filipino
Example
"me" / "my"
akin (singular first person)
Nasa akin ang anak mo.
"Your daughter is with me."
"you" / "your"
iyo (singular second person)
Tatawag ako sa iyo bukas.
"I am going to call you tomorrow."
"him" / "his" / "her" / "hers"
kanya (singular third person)
Nasa kanya ang mikropono.
"The microphone is with him."
"us" / "our"
amin (exclusive) / atin (inclusive) (plural first person)
Amin ito.
"This is ours."
"you" / "your"
inyo (plural second person)
Sa inyo yata ito.
"This is probably yours."
"them" / "their"
kanila (plural third person)
Kanila na lang yang pagkain.
"Give the food to them."
4 – Kita
In instances when "I" (ko) acts as the doer and "you" (ka) functions as the object, the pronoun kita is used. The best example is the statement, Mahal kita ("I love you"), or literally, "You are loved by me." 
Here are more examples where kita ("I…you") is used:
Nakita kita sa TV. (I saw you on TV.)
Lit. "You were seen on TV by me."
Tinatawag kita kanina. (I was calling you earlier.)
Lit. "You were called by me earlier."
Kaibigan kita. (You are my friend.)
Tuturuan kita. (I will teach you.)
Bibigyan kita ng pabuya. (I will give you a reward.)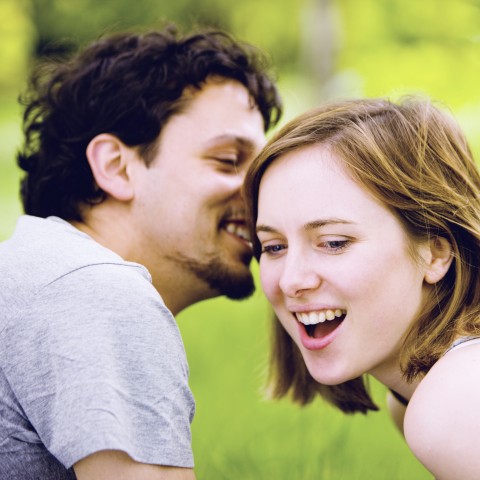 Tuturuan kita ng Filipino. ("I will teach you Filipino.")
4. Verbs and Tenses
Verbs are arguably the most difficult aspect of Tagalog grammar. Non-Tagalog speakers might find them complicated at first as they don't work the same way that English verbs do. The good news is  that, in Filipino grammar, tenses work pretty much the same way as those in English. 
Basically, Tagalog verbs are made up of a verb root and an affix. In order to change the meaning or tense of the verb, an affix can be added to the beginning, middle, or end of the verb root.
1 – Verb Groups
Tagalog verbs are grouped according to how they're conjugated. They can either be mag-, ma-, um-, in-, or i- verbs. 
Below are examples of how words are conjugated in each group:
-Mag Verb
| | | | | |
| --- | --- | --- | --- | --- |
| Root Verb | Past | Present | Future | Imperative |
| aral (to study) | nag-aral (studied) | nag-aaral (studying) | mag-aaral (will study) | mag-aral (study) |
-Ma Verb
| | | | | |
| --- | --- | --- | --- | --- |
| Root Verb | Past | Present | Future | Imperative |
| kinig (to listen) | nakinig (listened) | nakikinig (listening) | makikinig (will listen) | makinig (listen) |
-Um Verb
| | | | | |
| --- | --- | --- | --- | --- |
| Root Verb | Past | Present | Future | Imperative |
| kain (to eat) | kumain (ate) | kumakain (eating) | kakain (will eat) | kumain (eat) |
-In Verb
| | | | | |
| --- | --- | --- | --- | --- |
| Root Verb | Past | Present | Future | Imperative |
| tawag (to call) | tumawag (called) | tumatawag (calling) | tatawag (will call) | tumawag (call) |
-I Verb
| | | | | |
| --- | --- | --- | --- | --- |
| Root Verb | Past | Present | Future | Imperative |
| inom (to drink) | uminom (was drank) | iniinom (being drank) | iinumin (will be drank) | inumin (drink) |
2 – Verb Repetition
Tagalog verbs can be repeated when expressing a prolonged action. This is a unique characteristic of Filipino grammar. When verbs are repeated in this manner, the two words are linked by nang.
| | |
| --- | --- |
| Kain nang kain si Raul. | Raul keeps on eating. |
| Sumigaw nang sumigaw si Tanya. | Tanya kept on shouting. |
| Iyak nang iyak si Joy. | Joy keeps on crying. |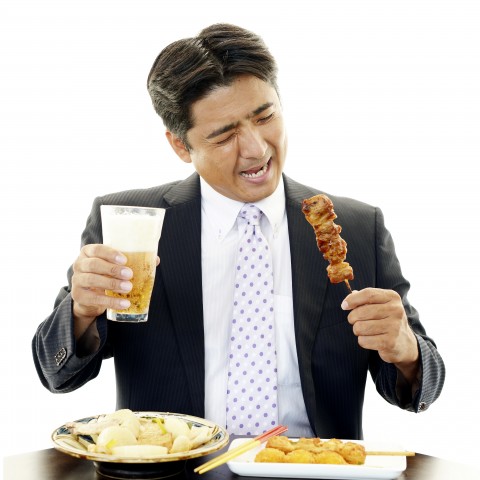 Kain nang kain si Raul. ("Raul keeps on eating.")
5. Adjectives
Adjectives are the spice of language. This section will teach you what you should know before using them yourself.
1 – Adjective-Noun Identicals
Some Tagalog adjectives are identical to nouns in both spelling and meaning, although they differ in pronunciation with the noun having a long vowel sound.
| | |
| --- | --- |
| Noun | Adjective |
| buhay (life) | buhay (alive) |
| gutom (hunger) | gutom (hungry) |
| hirap (poverty) | hirap (struggling) |
| pagod (tiredness) | pagod (tired) |
| sunog (fire) | sunog (burnt) |
2 – Adjective Gender
There are a number of Tagalog adjectives used to describe female individuals. These words usually end in /a/.
| | |
| --- | --- |
| Male | Female |
| ambisyoso (ambitious) | ambisyosa |
| bobo (stupid) | boba  |
| bungangero (vociferous) | bungangera |
| luku-luko (crazy) | luka-luka |
| suplado (snobbish) | suplada |
3 – Degrees of Adjectives
In Tagalog grammar, adjectives are sometimes repeated when describing a noun in the intensive degree. 
In the superlative degree, pinaka is usually added before the word, as in pinakamaganda (the most beautiful). 
Meanwhile, napaka is used to describe something to an intensive degree, as in napakaganda (very beautiful). 
This can also be achieved by repeating the root word, as in magandang-maganda or ang ganda-ganda.
Take note that if the root word ends in a vowel, -ng is attached to it—but only to the first appearance of the word, and not the repetition.
| | |
| --- | --- |
| batang-bata | very young |
| basang-basa | very wet |
| litong-lito | very confused |
| sirang-sira | extremely worn out |
| tuwang-tuwa | very happy |
On the other hand, if the root word ends in a consonant, the two words are linked by na.
| | |
| --- | --- |
| atat na atat | very eager |
| gutom na gutom | very hungry |
| laos na laos | very obsolete |
| malinis na malinis | very clean |
| pagod na pagod | very tired |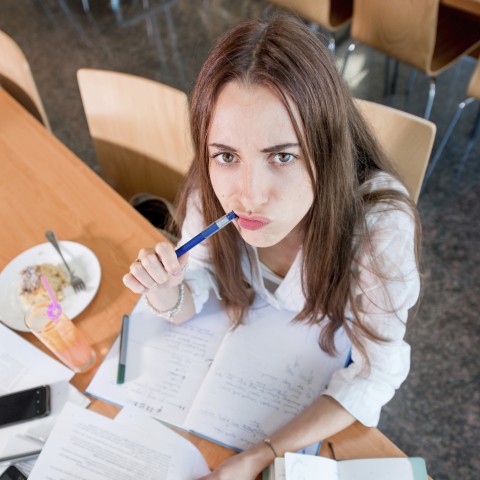 Litong-lito ka na ba? Bakit hindi mo subukan ang FilipinoPod101?
("Are you very confused already? Why don't you try FilipinoPod101?")
6. Level Up Your Filipino With FilipinoPod101
These are just some of the basic concepts of Tagalog grammar. There is definitely a lot more to the Tagalog language than these foundational rules. If you want to take things to another level, FilipinoPod101 is here for you.
There are free resources available to you on FilipinoPod101.com, but if you want to benefit from exclusive lessons and lesson materials, become a Premium member today. If you sign up now, you'll get instant access to some exclusive materials that will help you in your Tagalog learning journey. Some of the things you'll get to enjoy are the exclusive lessons from our Lesson Library, interactive lesson quizzes, and the MyTeacher feature that lets you have your own personal teacher who will provide you with a professional assessment and a personalized learning program.

That's it for this post. If you have any questions about grammar in Tagalog, don't hesitate to ask us in the comments section!
March 4, 2021
Writers often use quotes to develop a piece of writing they're working on, be it an article, poem, essay, or novel. Whether you're a writer or not, learning quotes and sayings from other cultures can benefit you in more ways than one. If you're learning the Filipino language, for instance, studying Tagalog quotes and sayings will give you a better grasp of both the language of the Filipino people and their culture.
Filipinos are a very expressive people, and they express their thoughts and emotions through art, particularly in music or literature. They also use quotes or proverbs to share wisdom, express a sentiment, give a lecture, or even try to win an argument.
There are several ways that Filipinos convey a message through these sayings. One way is through a tradition called balagtasan, which is a debate in the form of poetry. Perhaps the most common way, though, is through storytelling. In rural areas, once upon a time, Filipino kids would gather around their lolo ("grandfather") or lola ("grandmother") and wait for them to tell stories filled with proverbs, called salawikain.
Today, proverbs are still a part of daily conversations for Filipino people. In this article, we'll present you with Filipino quotes about life, love, friendship, family, and more. To ensure you get a good mix, we've included both native Filipino quotes and the Filipino translation of quotes from other languages.
Let's get started.
Table of Contents
1. Quotes About Success
Do you have big plans for the future or an upcoming project you're concerned about? Let's kick off our list with some popular Filipino quotes about work and success that are sure to inspire you.
1. Ang pagiging dukha ay hindi hadlang sa tagumpay. 
"Poverty is not a hindrance to success."
The Filipino people are not a stranger to poverty. Many rich and famous Filipinos today who started from the bottom, such as the Pinoy boxing pride Manny Pacquiao, understand that the true hindrance to success is not poverty, but the unwillingness to think big and get out of a state of helplessness.
2. Kapag may itinanim, may aanihin. 
"If you sow something, you will harvest something."
This may be similar to the saying "What you sow is what you reap," or "You get what you deserve," but it best represents the idea that if you plant while the weather is nice, you'll have something to eat when the storm comes and you can't leave the house. 
It reminds me of the parable of the ant and the grasshopper, where the carefree grasshopper mocked the ant for gathering food in the summer. In the end, when the rainy season came, the grasshopper had nothing to eat, while the ant was safe underground with the abundant resources it had collected months prior.
3. Hindi tayo makakasulong kung pahihintulutan nating hilahin tayo pabalik ng nakaraan. 
"We cannot move forward if we allow the past to pull us back." 
These were the words of President Rodrigo Duterte during the 2016 State of the Nation Address. His message is simple: If we want to succeed and progress, we must stop looking back, pointing fingers, and blaming others. Rather, we must move on and strive to reach the goal ahead of us.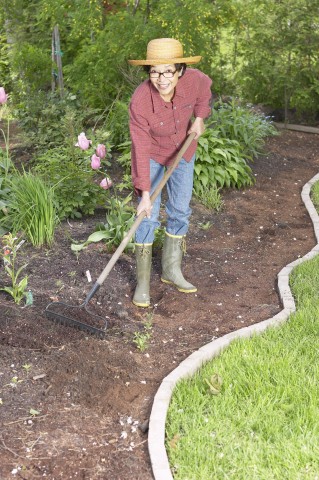 Kapag may itinanim, may aanihin. ("If you sow something, you will harvest something.")
2. Quotes About Life
Life is a mystery that people the world over have been trying to piece together since the beginning of time. Here are some quotes in Filipino concerning life and all that lies therein.
4. Ang negatibong tao ay nakakakita ng problema sa bawat pagkakataon. Ang positibong tao ay nakakakita ng pagkakataon sa bawat problema. 
"The pessimist finds difficulty in every situation. The optimist finds an opportunity in every difficulty." 
This is a popular quote often attributed to a number of great names, including Winston Churchill. It highlights the importance of positivity. 
The Filipino people, in particular, are very resilient. Even in times of disaster, you'll see them smiling and even making light of their situation. There are some who see this as a defense mechanism, but one reason Filipinos remain strong as a people is their craftiness and creativity, as well as their habit of looking at the brighter side of things.
5. Hindi mahalaga kung gaano katagal ka nabuhay. Ang mahalaga ay kung paano ka nabuhay. 
"It doesn't matter how long you've lived. What matters is how you've lived your life."
This saying has the same meaning as the famous quote, "It's not the years in your life that count, but the life in your years." It also reminds me of the final words of Nathan Algren (Tom Cruise) in the film The Last Samurai. When the emperor asked Algren to tell him how Katsumoto (Ken Watanabe) died, he replied: "I will tell you how he lived."
6. Wala nang mas masahol pa kaysa sa pagbalik sa normalidad. 
"Nothing could be worse than a return to normality."
This is a line from Arundhati Roy's latest essay entitled, The Pandemic is a Portal. I included this on our list because it's an excellent reminder that the circumstances we're facing right now are offering us a chance to evaluate ourselves, and that we should come out of it as different people.
3. Quotes About Time
Time is what binds us to our own mortality. Here are some Filipino time quotes, native and translated, to give you some cultural perspective on how Filipinos view this phenomenon. 
7. Ang pinakamagandang regalong iyong maibibigay sa taong mahalaga sa iyo ay oras. 
"The best gift you can give someone you care for is your time."
Not all people value time, and some value material things more. However, if there's one way you can show someone that you truly care for and value them, it's by giving them quality time.
8. Aanhin pa ang damo kung patay na ang kabayo? 
"What is grass good for if the horse is already dead?"
This is a very popular Filipino saying that pertains to relief or help that arrived too late. It's equivalent to the expression, "Closing the barn door after the horse has bolted." It refers to an attempt at preventing something only after the damage has been done.
9. Ang oras ay ginto. 
"Time is gold." 
A timeless classic, I must say. Every culture probably has this proverb in some form or another, and that only shows how valuable and precious time is—it must not be taken for granted. Ironically, Filipinos have a reputation for always being tardy, thus the expression "Filipino Time." But did you know that this is not an accurate representation of the Filipino people? Just go to the Philippines or visit countries where Filipinos thrive, and you'll see that most Filipinos actually value their time and that of others.
4. Quotes About Love
Are you madly in love with someone? Or maybe you're a hopeless romantic? Either way, we think you'll enjoy these Filipino quotes about love!
10. Pagsasama nang tapat, pagsasama nang maluwat. 
"Faithfulness breeds longevity." 
Literally: "Being together in faithfulness, being together for eternity."
Integrity is the most important thing in a relationship. Integrity breeds trust, and trust, in turn, breeds longevity.
11. Ang pag-ibig, pigilan man, ay makakahanap ng paraan. 
"Love, though hindered, will find a way."
Filipinos are very passionate people. Not even death itself could scare a Filipino man who's in love. 
There's a similar Tagalog saying that goes, "Pag-ibig, 'pag pumasok sa puso nino man, hahamakin ang lahat masunod ka lamang." This one was written by the Filipino great Francisco Balagtas y de la Cruz, a prominent poet during the Spanish colonial period in the Philippines. The line basically says that a man in love will endure anything just to do love's bidding.
12. Ang pag-ibig ang dapat manahan sa puso ng bawat nilalang. 
"Love should dwell in the heart of every creature."
This speaks more of 'agape,' or unconditional, love and has nothing to do with romantic love. It means what it says—that every person should have love in their hearts if there is to be real peace in the world.
5. Quotes About Family
Family is a cornerstone of any society, so it should come as no surprise that there are plenty of Filipino family quotes that discuss the nature of familial relationships. 
13. Pahalagahan mo ang pamilyang meron ka, dahil hindi sa lahat ng panahon ay nariyan sila. 
"Cherish the family you have, because they are not always there."
We often despise the family we were born into, especially if we grew up with much difficulty in life. This saying is a reminder that when worse comes to worst, it's our family who will always be there for us.
14. Ang pagmamahal ng isang pamilya ay pwede mong matagpuan kahit sa hindi mo kadugo. 
"Family is not always about blood."
We value our blood relatives because they're the ones who have been with us since the day we came into this world. However, there are times when other people treat us better, which is what this message is conveying.
15. Ituring mo ang iyong pamilya bilang kaibigan, at ituring mo naman ang iyong mga kaibigan bilang pamilya.
"Treat your family as friends, and treat your friends as family." 
Your family members are the first real friends you make in this life. In the same manner, your real friends are like your family. They love you unconditionally and treat you with respect.
Ituring mo ang iyong mga kaibigan bilang pamilya. ("Treat your friends as family.")
6. Quotes About Friendship
Friends are one of life's greatest joys and necessities. Check out these Filipino friendship quotes and see if you can relate! 
16. Wag kang humanap ng kaibigang makakaintindi sa'yo. Hanapin mo ang kaibigang hindi ka maiintindihan pero hindi ka iiwan. 
"Don't look for a friend who will understand you; look for one who might not understand you but will not leave you, nonetheless."
There are two important themes this quote touches on: loyalty and acceptance. A true friend will remain loyal to you even after learning of your weaknesses. Don't just look for any friend; look for friends who will accept you for who you are and remain loyal to you until the end.
17. Sa panahon ng kagipitan nakikilala ang tunay na kaibigan. 
"Hard times reveal true friends."
This quote doesn't need a lot of explaining. It's when you're at rock bottom that you really discover who your genuine friends are.
18. Ang taksil na kaibigan ay higit na masama kaysa kaaway. 
"A treacherous friend is worse than an enemy." 
There's nothing worse than having someone you thought was a friend betray you. This quote is saying that sometimes, it's better to have someone saying to your face that they hate you than to have someone sweet-talking you when you're around and then stabbing you the moment you turn your back.
7. Quotes About Food
Can you get any deeper into a culture than knowing how it thinks about food? Here are some Filipino food quotes to get you thinking (and hungry!). 
19. Kung magbibigay man at mahirap sa loob, ang pinapakain ay hindi mabubusog. 
"Feeding someone reluctantly will only leave the other person with an empty stomach." 
This is similar to Solomon's proverb that goes, "Better is a dinner of herbs where love is, than a stalled ox and hatred therewith." Indeed, if you're going to give, do it not out of compulsion, but out of your own willingness. A small amount given out of love will fill not only the stomach, but also the heart.
20. Makulay ang buhay sa gulay. 
"Life is colorful with vegetables."
The Philippines is an agricultural country, with most citizens living in rural areas and supporting themselves through farming. This saying is a testament to how crucial farming is to Filipinos, as well as how important vegetables are as a daily staple for every Filipino family.
21. Hayaan mong maging gamot ang iyong pagkain, at maging pagkain ang iyong gamot. 
"Let food be thy medicine and medicine be thy food." 
This quote is from the Greek physician Hippocrates, known as the Father of Medicine. It's said that he used these words in reference to certain herbs and spices, particularly garlic, which he prescribed to his patients to prolong their life.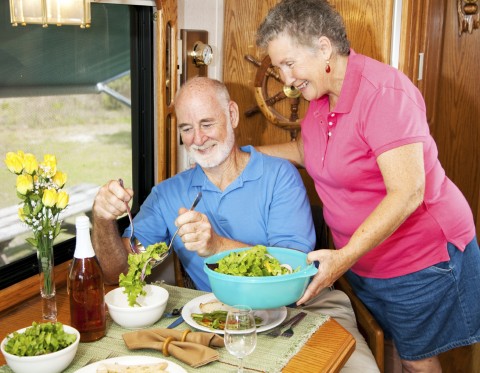 Hayaan mong maging gamot ang iyong pagkain. ("Let food be thy medicine.")
8. Quotes About Health
Health should be a person's first priority, because only in good health can one accomplish more important goals. Here are a few quotes in Filipino on the topic.
22. Ang kalusugan ay kayamanan.
"Health is wealth." 
This is a common saying that every culture probably has. It's very catchy in both English and Tagalog because of the rhyming of the two main words. Indeed, the only way we can have the power to produce wealth is if our health is intact.
23. Ang kalusugan ay parang pera. Madalas ay hindi natin alam ang halaga nito hanggang sa ito ay mawala sa atin. 
"Health is like money. Oftentimes, we have no idea of its true value until it's gone."
This is somewhat similar to the previous quote. Health, like wealth, is often taken for granted. When we have plenty, we don't seem to worry about what the future may bring; oftentimes, this leads us into letting our guard down when it comes to our health. The lesson: Don't take your health for granted. Work hard, but don't forget to rest and recharge.
24. Isang malusog na pangangatawan, mahinanon na pag-iisip, tahanan na puno ng pag-ibig—hindi nabibili ang mga bagay na ito—bagkus, ang mga ito ay pinaghihirapan. 
"A fit body, a calm mind, a house full of love—these things cannot be bought—they must be earned." 
This quote reminds us that there are things in life that cannot be bought with money. Health, family, and relationships—these things are priceless. They're not cheap, though. If you want to have a healthy mind and body, as well as healthy relationships, you need to be intentional. This means taking charge of what you eat, what you feed your mind, and how you spend time with the people you care about the most.
9. Quotes About Language Learning
What better way to motivate you in your language studies than by introducing you to some Filipino quotes about language learning?
25. Ang mga limitasyon ng aking wika ay nangangahulugan ng limitasyon ng aking mundo.
"The limits of my language mean the limits of my world."
We grow up speaking one language. The more we explore the world, either through traveling or by reading, the more language we learn. If we only know one language, it's either because we didn't travel enough or we didn't read enough.
26. Habang pinapanatili ng isang tao ang wika nito, pinapanatili nito ang mga marka ng kalayaan. 
"While a people preserves its language, it preserves the marks of liberty." 
Oddly enough, these words were spoken by Jose Rizal. Despite being able to speak over twenty languages, he understood the importance of saving and preserving one's mother tongue. Rizal wasn't discouraging the use of foreign languages, as is evidenced by his being a polyglot. What he was saying is that while you learn the languages of other nations, you have to see to it that you don't forget your own.
27. Siya na hindi nakakaalam ng mga wikang banyaga ay walang nalalaman tungkol sa kanyang sarili. 
"He who knows no foreign languages knows nothing of his own." 
This quote by writer and statesman Johann Wolfgang von Goethe simply emphasizes the importance of learning a language other than your own. When you limit yourself to one language, you also limit yourself and your potential. On the contrary, learning more than one language opens a whole new world of opportunities for you.
10. Bonus: Famous Quotes From Tagalog Movies
To close, let's look at a few popular Filipino movie quotes!
28. Walang himala! Ang himala ay nasa puso ng tao! – Nora Aunor, Himala (1982)
"There is no miracle! The miracle is in the heart of man!"
When it comes to quotes from Tagalog films, nothing could be more famous than this line by the "Superstar" of Philippine cinema, Nora Aunor. The line is from the film Himala, where Aunor played a young girl who could perform miracles. At the end of the film, she confesses that there are no miracles and that supernatural things are only man's inventions.
29. Isang bala ka lang! – Fernando Poe Jr., Isang Bala Ka Lang (1983)
"You'd only take one bullet!" / "It would only take one bullet to take your life."
This line is from the film of the same name. In the film, the late actor Fernando Poe, Jr., played the character of an honest cop who didn't mind going head-to-head with dirty politicians. At one point in the movie, he points his finger at the face of a corrupt congressman and says to him: "Stop pretending that you're a nice guy. You'd only take one bullet!"
30. "Trabaho lang ito, walang personalan." – Rudy Fernandez, Markang Bungo, The Bobby Ortega Story (1991)
"It's all just business. Don't take it personally."
The late Rudy Fernandez was considered one of the top action stars in Philippine cinema in the eighties and nineties. In his film Markang Bungo (Skull Mark), he played the character of Bobby Ortega, the chief of police of Baguio City from 1985 to 1987. Ortega was renowned for his crime-busting career, which significantly brought down the crime rate in Baguio City by 95%. He respected no one regardless of their status and would hunt down anyone who was going against the law. He argued that he was only doing his job as a cop. Thus the line, "It's all business. Don't take it personally."
31. "Mahal mo ba ako dahil kailangan mo ako, o kailangan mo ako kaya mahal mo ako?" – Claudine Barretto, Milan (2004)
"Do you love me because you need me, or do you need me because you love me?"
This line certainly sent some romantic excitement down the spines of many Filipinos when the film first came out some sixteen years ago. The film starred two of the best actors of Philippine cinema, Piolo Pascual and Claudine Barretto. Pascual played the character of Lino, a young man who followed his missing wife in Milan. There, Lino met another Filipina named Jenny (played by Barretto). Their friendship evolved into a love affair, which was later put to the test. If there's one scene in the movie that viewers will never forget, it's definitely the one where Jenny asked Lino whether he loved her because he needed her, or if he needed her because he loved her.
32. "Oo na ako na. Ako na. Ako na ang mag-isa!" – Jennylyn Mercado, English Only, Please (2014)
"Alright, I admit it. It's me. I'm the one who's single!"
English Only, Please is a romcom starring Derek Ramsey and Jennylyn Mercado, who won the Best Actor and Best Actress awards for the film, respectively, during the 40th Metro Manila Film Festival. Mercado played the role of an English tutor named Tere who was hired by Julian Parker (Ramsey's character) to translate a letter he was writing for his ex-girlfriend into Tagalog. In the middle of the film, Mercado's character was in line for the jeepney when the dispatcher shouted that there was only room for one more person. He said that anyone in the line who was single should take the opportunity, to which Tere replied, "Oo na ako na. Ako na. Ako na ang mag-isa!" ("All right, I admit it. It's me. I'm the one who's single!"). It's witty lines like this that made the film memorable, and of course, won it several awards.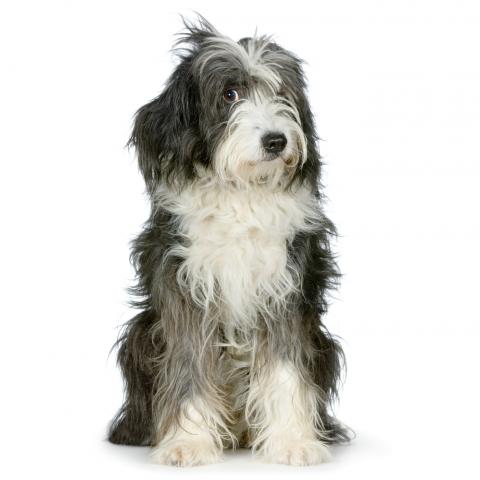 "Oo na ako na. Ako na. Ako na ang mag-isa!"
11. Learn More Than Just Tagalog Quotes With FilipinoPod101!
Phew! That was a long list of Tagalog quotes! But we know that you want more! And that's the very reason that FilipinoPod101 is here. 
FilipinoPod101 can offer you much more than the Tagalog quotes about life we covered. At FilipinoPod101.com, you can dig deeper into the Tagalog language and learn more about Tagalog grammar, pronunciation, sentence patterns, and more.
We also offer a one-of-a-kind approach to learning Tagalog. Aside from free learning resources, you can also enjoy up-to-date blog articles, learn basic and advanced Tagalog vocabulary, and have a mobile app that lets you take your lessons with you. By becoming a member, you can have full access to exclusive lessons from our Lesson Library and learn through a lesson pathway designed to suit your needs. Add to that the MyTeacher feature that lets you interact with a personal teacher, who will guide you through your program and assess your progress.
So, what did you think of our list of Tagalog quotes? Let us know by leaving a comment below!
July 31, 2020
Filipinos are known for following "Filipino Time" (also referred to as "late" in other countries). Despite that, there are still many people in the Philippines who are very much time-conscious. 
As a matter of fact, the Department of Science and Technology initiated a campaign called "Juan Time" several years ago with the aim of promoting the nationwide use of Philippine Standard Time.
That's good news for anyone who values time. But what does this have to do with this post? Well, in this post, we're going to learn how to tell the Philippines' time, using the Filipino language, of course. 
Knowing how to read and tell time is a basic universal skill. And yes, learning how to tell time in Filipino or Tagalog is as easy as 1-2-3. You can always read and tell time in English when you're in the Philippines, since most Pinoys can understand English anyway. But it's no question that knowing how to tell time in Tagalog has many benefits and advantages.
Table of Contents
1. How to Ask for the Time
Knowing how to ask for the time is just as important as knowing how to read and tell time. Before anything else, let's first learn how to ask for the time in Filipino. 
There are different ways you can ask this. Here are some of them:
1 –  What time is it? 
Anong oras na?
This is the most straightforward way of asking "What time is it?" in Filipino. It's rather informal and less polite. You can use this approach when asking someone you're familiar with, like a friend or colleague. Never ask this way when talking to someone in authority, though.
2 – Do you know what time it is? 
Alam mo ba kung anong oras na?
This is a more polite approach, although it's not that formal. You can use this question when asking someone you're not too familiar with, such as a stranger. 
If you want a more polite approach, then use this one:
3 – May I know what time it is already? 
Maaari/Pwede ko bang malaman kung anong oras na? 
If you're asking an older person or a person in authority, simply add the word po right after ko.
4- Asking What Time Something Will Start or What Time Something Happened
Now, if you want to ask what time something will start, you can simply say: Anong oras magsisimula ang palabas? ("What time will the show start?")
More examples:
"What time is the plane arriving?" 
Anong oras dadating ang eroplano?
"What time is the meeting scheduled?" 
Anong oras ang schedule ng meeting? 
"What time did the game end last night?" 
Anong oras natapos ang laro kagabi?
2. How Pinoys Tell Time
Marunong ka bang magbasa ng oras? Do you know how to tell time? 
This is a question often asked of young Filipino kids. Just as in other countries, Pinoy kids are taught how to read time and dates at an early age.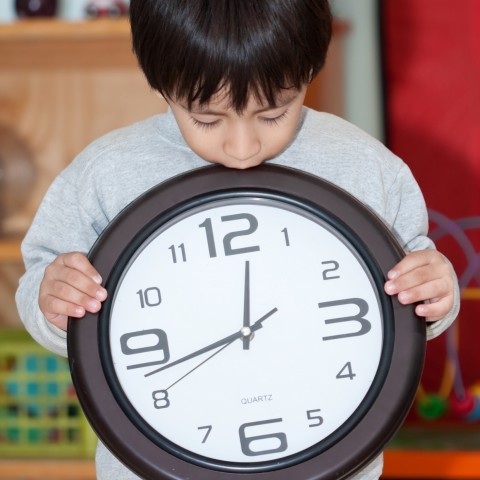 In the Philippines, most people use the twelve-hour format. The Filipino word for "hour" is the same word used for "time," which is oras. This is derived from 'horas,' the Spanish word for "time."
Meanwhile, "o'clock" in Tagalog is either la or las, both of which are Spanish for "the."
There are two general ways of how to read time in Filipino. But before we go there, let's talk about time markers first. 
1- Time Markers
The basic time markers or references are as follows:
| | |
| --- | --- |
| Umaga | Morning |
| Tanghali | Noon |
| Hapon | Afternoon |
| Gabi | Evening |
| Hating-Gabi | Midnight |
| Madaling-Araw | Middle of the night |
A – Umaga
Umaga in the Philippines usually begins at 5:00 a.m., depending on what time the sun rises. The time between the rising of the sun and 11:59 a.m. is considered umaga or "morning." When asked what time it is, and your watch says it's 10:30 a.m., you respond by saying: Alas diyes y medya ng umaga.
In English, that translates to "10:30 in the morning." In written form, that would be Alas-10 y medya n.u. N.u. is the abbreviation for ng umaga, or "in the morning."
The same rule applies when telling time in Filipino at different times of the day.
B – Tanghali
Tanghali, on the other hand, is high noon, and is the time between 12:00 p.m. and 12:59 p.m. When reading time during tanghali, let's say fifteen minutes past 12:00, you simply say:
Alas dose kinse ng tanghali. 
(Written form: Alas-12 kinse n.t.), kinse being "fifteen" in Spanish.
If you're not too familiar with Philippine history, the reason there are a lot of Spanish words and expressions in the Filipino language is that the country has been under Spanish rule for more than 300 years. So, don't be surprised if you come across a number of loanwords in your studies.
Now, back to the lesson.
C – Hapon
Hapon is the Filipino word for "afternoon." It's the time between 1:00 p.m. and 5:59 p.m. In written form, it's abbreviated as n.h., or ng hapon ("in the afternoon"). In Filipino, 3:00 p.m. is spoken as Alas tres ng hapon. and written as Alas-3 n.h.
D – Gabi 
Gabi is the Filipino word for "evening." You'll know when it's gabi in the Philippines once the clock strikes 6:00 p.m. Around this time, most Filipino families are already preparing for the evening meal. In the barrios, mothers are often heard yelling at their children to come home as it's already dark. 
Mga anak, pasok na at alas sais na! Maghahapunan na tayo! 
"Come home now kids! It's 6 o'clock, and it's already time for dinner!" 
Gabi lasts from 6:00 p.m. until 12 a.m.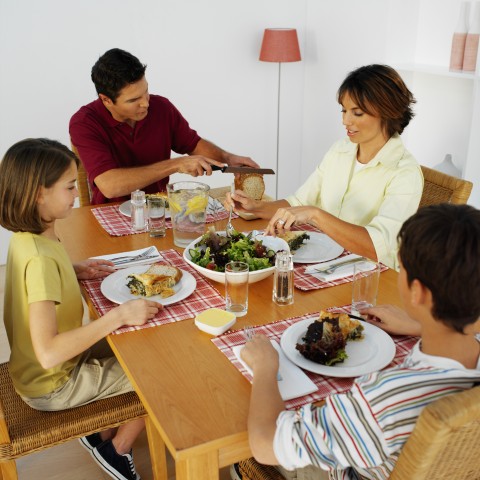 E – Hating-gabi
It's already hating-gabi, or midnight, once the clock strikes 12 a.m. Unless you're working night shift, there's very little chance someone is going to ask you what time it is at this hour.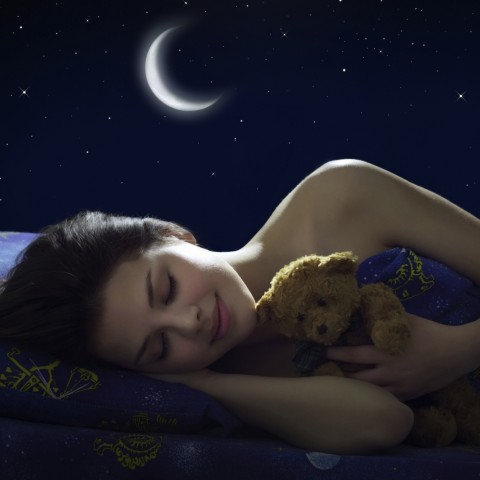 F – Madaling Araw
Madaling araw literally means "the day is breaking soon," madali being "fast" and araw being "day." As a time marker, however, this phrase translates to "in the middle of the night." In Filipino, 4:00 a.m. is read as Alas kwatro ng madaling araw.
As mentioned, there are two general ways we tell time in the Philippines: the Filipino way and the Spanish way.
2- The Filipino Way
The Filipino way is a more formal approach to reading and telling time in the Filipino language. Let's say it's 10:00 a.m. and you're asked what time it is. You reply with: a-a-sampu na ng umaga. 
Here's a table of how to say the time in Filipino for your reference:
| Time | In Filipino we say… |
| --- | --- |
| 1:00 | ika-isa |
| 2:00 | ikalawa |
| 3:00 | ikatlo |
| 4:00 | ikaapat |
| 5:00 | ikalima |
| 6:00 | ika-anim |
| 7:00 | ika-pito |
| 8:00 | ika-walo |
| 9:00 | ika-siyam |
| 10:00 | ika-sampu |
| 11:00 | ika-labing-isa |
| 12:00 | ika-labing-dalawa |
This is how we read exact hours in Filipino:
For 1:00 a.m., we say:
Ang oras ay ika-isa ng umaga. 
"The time is one o'clock in the morning."
For 2:00 p.m., we say: 
Ang oras ay ikalawa ng hapon. 
"The time is two o'clock in the afternoon."
Minuto
What if the clock says it's 4:15? That's when we read in hours and minutes. "Minute" in Filipino is minuto. When reading the time in hours and minutes, we simply read the equivalent of the minutes in words.
Example: 
"It's five fifteen in the afternoon." 
Ang oras ay labinlimang minuto makalipas ang ikalima ng hapon.

Labinlima is Filipino for "fifteen," while makalipas is Filipino for "past." So that would be the same as saying, "The time is fifteen minutes past five in the afternoon." 
Speaking of which, learning simple numbers in Filipino is another crucial step in this study, so make sure you find ways to do so.
3- The Spanish Way
Alternatively, you can use the Spanish way of reading time. In the Philippines, this is the more practical and common way people read and tell time. You don't normally hear people saying, Ang oras ay dalawampu't-limang minuto makalipas ang ika-siyam ng umaga ("The time is twenty-five minutes past nine in the morning") unless it's the disc jockey announcing the time over your favorite A.M. or F.M. station.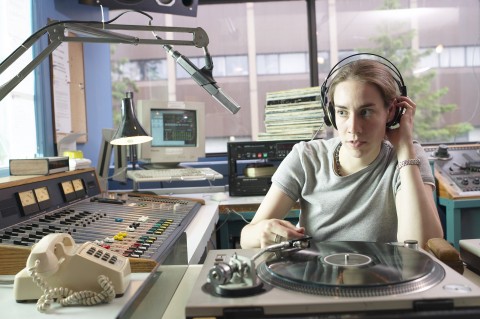 So, when you ask a Filipino on the streets what time it is and it's 5:15 p.m., you'll most likely hear them respond with: Alas-singko kinse. The time marker, which in this case is ng hapon, is omitted unless the person asking has just awoken from a very long sleep over the weekend and has no idea what period of the day it is.
Menos
And then there's the word menos, which is Spanish for "less." In reading the time, we can use the term this way:
Ang oras ay menos kinse bago mag alas-kwatro. 
That's fifteen minutes "minus" or "less" four o'clock, and indicates that the time is a quarter to four or fifteen minutes before four.
Meanwhile, here's another table for your reference. This time, it's for the Spanish way of reading time:
| Time | Another way we read time in Filipino is… |
| --- | --- |
| 1:00 | ala-una |
| 2:00 | alas-dos |
| 3:00 | alas-tres |
| 4:00 | alas-kwatro |
| 5:00 | alas-singko |
| 6:00 | alas-sais |
| 7:00 | alas-siete |
| 8:00 | alas-otso |
| 9:00 | alas-nueve |
| 10:00 | alas-dies |
| 11:00 | alas-onse |
| 12:00 | alas-dose |
In order for you to be able to tell time in Filipino, you need to be familiar with Spanish numbers. This post might be able to help you with that.
3. Hours Divided into Minutes
Reading and telling time in Filipino when hours are divided into minutes is also straightforward, although most Pinoys never read time in this manner.
1- Quarter
The direct equivalent for the word "quarter" in Tagalog is kwarter, but it's not a commonly used word. That said, "It's a quarter past seven in the evening," is read as Alas-siete kinse ng gabi. 
To be more formal, you can say: Ang oras ay labinlimang minuto makalipas ang alas-siete ng gabi. 
2- Half
The Filipino word for "half" is kalahati. When reading 8:30 p.m., you say: Alas-otso y medya ng gabi. Or, in the more formal manner: Ang oras ay kalahating oras/tatlumpong minuto makalipas ang ika-walo ng umaga.
4. Time Adverbs
Using an adverb of time in Filipino when giving the time is very useful. There are a lot of time adverbs available, but we'll give you a list of only the most commonly used time adverbs in Filipino, with examples of how to use them.
1 – Now/Right Now (Ngayon)
"What time is it now?"
2 – Currently (Kasalukuyan)
Ang oras sa kasalukuyan ay sampung minuto makalipas ang ika-siyam ng umaga. 
"The current time is ten minutes past nine in the morning."
 3 – Today (Ngayon/Ngayong araw)
Anong oras ka pupunta doon ngayong araw? 
"What time are you going there today?"
4 – Yesterday (Kahapon)
Pasado alas dose ng tanghali sila umalis kahapon. 
"They left past twelve noon yesterday."
5 – Tomorrow (Bukas)
May deyt sila bukas ng gabi. 
"They'll have a date tomorrow evening."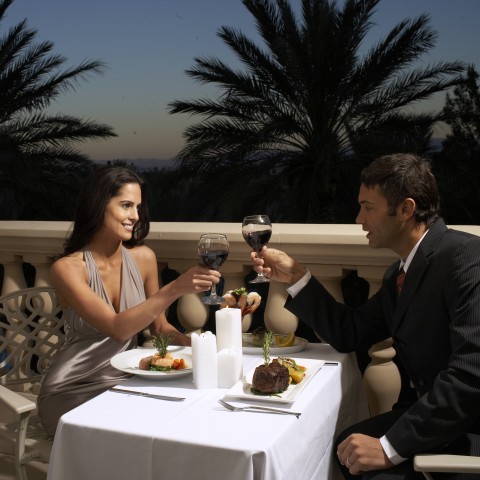 6 – Before (Bago)
Pinalampas ko ang alas otso ng umaga bago magluto ng agahan. 
"I waited until past eight in the morning before deciding to cook breakfast."
Limang minuto na lang bago mag alas-dose ng hating-gabi. 
"There's only five minutes left before twelve midnight."
7 – After (Pagkatapos)
Sinundo siya ng drayber pagkatapos niyang tawagan ito ng pasado alas tres ng hapon. 
"The driver fetched her after she phoned him at past three in the afternoon."
8. Soon/As soon as possible (Sa lalong madaling panahon)
Kailangan nilang tapusin ang proyekto sa lalong madaling panahon. 
"They need to finish the project as soon as possible."
9. Later (Mamaya)
Manonood kami ng sine mamaya. 
"We're going to watch a movie later."
10. In a while/Shortly (Maya-maya/Sa ilang sandali)
Nandiyan na ako maya-maya. 
"I'll be there in a while."
Lalapag na ang eroplano sa ilang sandali. 
"The plane will be landing shortly."
5. Common Filipino Proverbs about Time
There aren't a lot of time proverbs in the Philippines, but the few that are there truly echo how Filipinos are supposed to value time. Here are some of them:
1 – "The early comer is better than the hard worker."
Daig ng maagap ang masipag.
This is a critique against the habit of many Filipinos of being late to meetings and appointments. It suggests that a person who's always on time will always beat a person who's more talented but never comes on time.
2 – "Time is gold."
Ang oras ay ginto.
This doesn't need much explanation. Time is valuable and must not be wasted.
3 – "Do today what you can do tomorrow."
Gawin ngayon ang kaya mong gawin bukas.
Filipinos are known to be procrastinators, and are thus said to possess the mañana habit attitude. Mañana is a Spanish word that describes an indefinite time in the future. This proverb is targeted at those who have a habit of saying mamaya na or "later" when asked to work on an important task.
These next two sayings are related to the first three. They're designed to encourage Filipinos not to put off doing something important—or they may regret their actions in the end.
4 – "Opportunity knocks but once. Grasp it before it disappears."
Isang beses lang kumatok ang pagkakataon. Hawakan nang mahigpit bago pa ito maglaho.
5 – "What good is grass if the horse is dead?"
Aanhin pa ang damo kung patay na ang kabayo?
6. Conclusion
As promised, learning how to tell time in Filipino is trouble-free. Sure, you'll need to learn a few basic Spanish terms (or English if it's not your first language), but overall, it's not very complicated. However, to accurately tell time—or both the date and time in the Philippines—you'll need to take your ability to read and speak the Filipino or Tagalog language up a notch.
One way you can do this is through FilipinoPod101, an online portal that provides students who wish to learn Filipino with a way to learn the language and culture of the Philippines in a systematic yet fun and convenient manner. FilipinoPod101 can provide you with countless video lessons if you're a visual learner, as well as audio tools if you're the type who loves learning through listening. Most importantly, it gives you the opportunity to learn the Filipino language on your own. We hope you'll continue to let us join you on your language-learning journey!
Before you go, let us know in the comments what time it is where you are, in Filipino! We look forward to hearing from you.
December 20, 2019
Did you know there are many different types of calendars?
As you probably know – a calendar is a system of organizing days in weeks and months for specific purposes, according to Wikipedia.
Worldwide, most countries use the Gregorian calendar. Some just work on the same framework, meaning that time is divided into units based on the earth's movement around the sun – the "solar calendar". Other calendars keep time by observing the moon's movements, a combination of the moon and the sun's movements, and seasons.
Through FilipinoPod101, you can learn all about this and so much more! Our themed, culturally relevant lessons are skillfully designed so you can do your planning perfectly for a holiday or a date.
Having a good plan for a visit or a trip is like studying well for an exam. You're just so much better prepared! For that, you could well need specific phrases to plan around appointments and such, especially on business trips. Make sure to use the charts we provide here with the days of the week in Filipino, as well as the months in Filipino to navigate your way as you plan. Great resources!
Also – always remember to have fun!
Table of Contents
1. Why Will It Help To Know How To Talk About Dates in Filipino?
Well, that's not a difficult question to answer. No matter why you're travelling, it would be best to at least know the names of days and months in Filipino. You don't want to miss your flight or an appointment because you confused "Biyernes" (Friday) with "Sabado" (Saturday)! Or maybe you planned a holiday for "Hulyo" (July), but you booked a flight for "Hunyo" (June) by accident!
Avoid this confusion by learning the Filipino calendar before you leave.
Now, as promised, the 15 phrases to help you make and discuss plans.
2. Talking About your Plans
Perhaps you're working in Philippines, or maybe you're enjoying a prolonged holiday. Fabulous! Memorize these phrases so you can be sure to successfully negotiate meetings, appointments, dates, events, the list goes on!
1. Anon bang gagawin mo sa Sabado at Linggo?
"What are you doing this weekend?"
This question is usually a preamble to inviting someone somewhere. Given that it's over the weekend, it probably means a casual get-together or another social event. (But not necessarily! A manager or boss could also ask this for entirely different reasons.)
It's a handy phrase to know when you've made Filipino or expat friends in the country. Or, be the one doing the inviting. Then train your ear to learn the following phrases so you can understand the response.
2. Maglalakbay ako ngayong katapusan ng linggo.
"I am traveling this weekend."
This could be a reply if you're not available because you're doing other fun stuff.
No matter why you are visiting Philippines, do take the time to explore the country! It's beautiful and it has so many wonderful, interesting spots ready to be visited.
3. Nagpaplano akong manatili sa bahay.
"I am planning to stay at home."
Maybe you feel unwell, but don't want to give too much information? Or maybe you have work to do? Perhaps you just need some quiet gardening time…it doesn't matter. This response is polite and honest without oversharing.
It could also be a slightly open-ended response, depending on how you deliver it. Because hey, being home could still mean your plans are flexible, right?
That said – depending on your relationship with the inviter, nuances like these will probably not be so apparent in a foreign culture. So, best to use this excuse for declining an invitation only if you are truly set on staying in.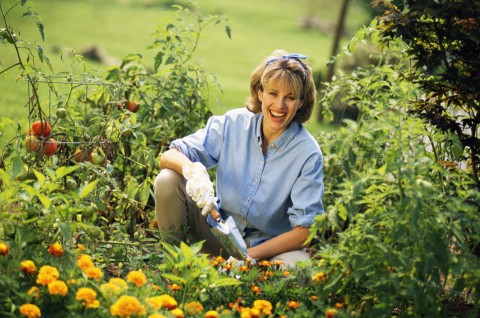 4. Abala ako ngayong linggo.
"This week I am busy."
Another polite phrase that gives a reason for declining an invitation but without oversharing details.
Don't decline too many invitations, though! You don't want people to think that you're too busy to hang out with them. They will stop inviting you out, and you know how the saying goes – all work and no play makes Jack a dull boy…! Being social is good for the soul.
5. Libre ako bukas.
"I am free tomorrow."
Yay! Perhaps you were approached by that person and they asked about your availability for a date. This would be a fine reply. Not too eager, but still indicating that you're interested.
Or maybe you're just replying to a colleague or manager's request for a meeting. Polite, honest and clear.
Alternatively, you're just busy right now, and plans are not going the way they were…well, planned. Compromise is a lovely thing! And this phrase sounds just like that.
Use it to indicate that you want to accommodate an invitation or the inviter's plans, despite your current unavailability. Only if you are really free, of course.
6. Maaari ba nating i-reschedule ito?
"Can we reschedule this?"
So, life happened and you are unable to meet obligations or attend a planned meeting. This is a suitable question to ask if you wish to indicate your willingness to still engage with whatever is on the table.
Obviously you should (ideally) not ask to reschedule a party or big meeting! (Unless you're the boss or it's your own party, of course.) But if there's reasonable wiggle room regarding arrangements, then this one's your question.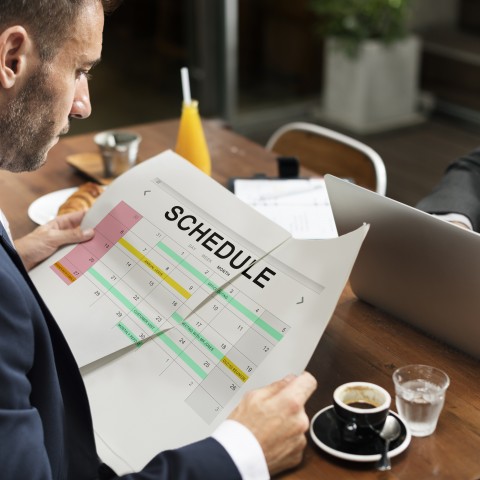 7. Magkakaroon ako nang sapat na oras pagtatapos ng buwan.
"I will have enough time at the end of the month."
A go-to phrase when events or activities are likely to take up a lot of your time, such as going away for a weekend, spending the day at a local market, or writing your manager's quarterly report (with 20 flow-charts in Powerpoint) – anything that won't only take an hour or two.
8. Kailan ang pinakamagandang oras na nababagay sayo?
"When is the best time that suits you?"
Remember phrase #5? That was a possible reply to this question. Asked by your crush, very possibly! Or, it could be asked by any other person for any other reason, doesn't matter.
If this is addressed to you, it usually means that the person respects your time and schedule, which is a good thing. It probably also means that their own schedule is flexible, another good thing.
This is also a polite question to ask when a manager or senior colleague wants to meet with you. Let them decide on the time, and be as accommodating as possible. This attitude shows respect for seniority – good for career building. (Within reason, of course. You don't need to postpone your wedding or your paid-up holiday to Australia because your manager wants to see you.)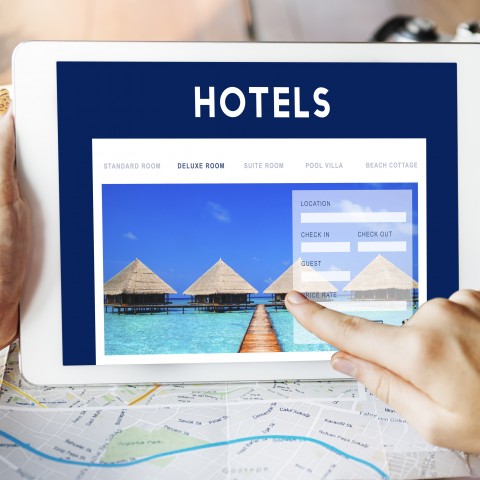 9. Ayos lang ba ang petsa na ito sayo?
"Is this date OK with you?"
But – if the other party insists that you choose a time for a meeting, appointment, or date etc., then do so! Respond with this nice, somewhat casual question that leaves space for negotiation, but only needs a simple reply.
Suitable for friends, and casual acquaintances and colleagues.
10. Libre ka ba sa araw na iyon?
"Are you available on that day?"
This is the a-bit-more-formal version of the previous question. Again, it has room for negotiation, but only needs a simple response – nice and neat!
Maybe this is the go-to question when you're addressing your seniors at work, or a person much older than you.
11. Maaari ba nating gawin ito sa lalong madaling panahon?
"Can we do it as soon as possible?"
This question has an urgency to it that should preferably be responded to with the same. A simple reply will be good – yes or no. Less negotiable, this is still polite because it's a question that gives you a choice.
But stand ready with one of the phrases in this article to help tie down a time and date!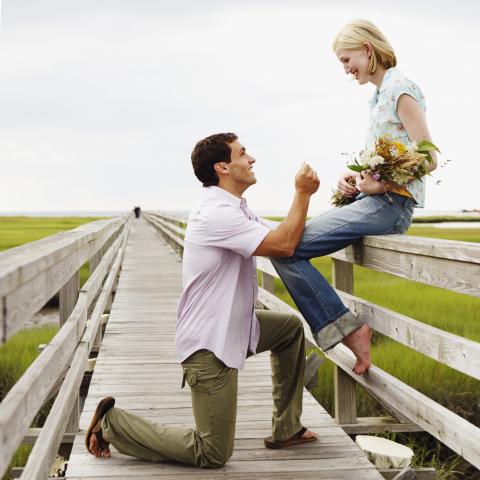 12. Libre ako tuwing gabi.
"I'm available every evening"
If you're going to reply with this phrase, context is everything.
– If it's your manager asking you to put in a bit of overtime, and you are available to – great reply! When deadlines are tight and everybody is stressing, your willingness to go the extra mile can only improve your relationship with your boss.
(Still, no need to be a doormat! If you get asked to work overtime too often, or if everyone else is goofing around while you have to graft, then re-evaluate the situation. And if you feel you're being exploited a bit, don't stress! Equip yourself with the diplomatic, yet assertive responses right in this article.)
– If it's an old friend or longtime significant other asking to hang out – good reply. You know one another and appearances don't matter any longer.
– If it's a new crush who just asked when you'd be available for a date – stop. Not such a great reply. Tone down a bit! "Interested but not overly eager" is what you're going for here.
Refer back to response #5, or use a counter-question, such as #1. Whatever suits you.
But if they – or anyone else – invite you to scale the Himalayas with them, then the next phrase will probably be the only sane response!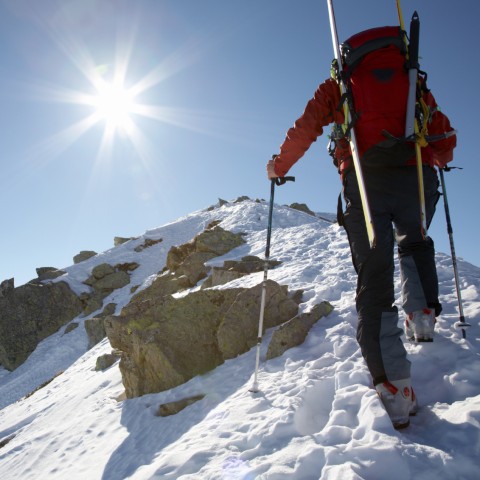 13. Kailangan kong planuhin ito nang maaga.
"I need to plan this well in advance."
So, as said under #9, perhaps you're invited to join someone conquer the Himalayas.
Or your company manager wants you to plan the Party that Tops All Year-End Parties Forever.
Simply – if you get asked to do something that you know will need a lot of thorough planning, this is a good phrase to respond with.
It's an assertive phrase that demonstrates two things regarding your attitude:
a) That you know your own abilities, and respect your own schedule.
b) That your respect other people's time and schedule too.
Then just be sure to actually do that planning well in advance!
14. Kailangan nating humanap ng iba pang petsa.
"We need to find another date."
So, you're in negotiations regarding a date.
This is an assertive statement that should probably not be used with a "My way or the highway" attitude.
That stuff only works in the movies – think sharp-tongued Samuel L. Jackson. Or fierce Kristen Stewart. Yea, they can be scary, so tone down that tone.
Also, be mindful that fickle people who change plans all the time don't keep friends! Taking others' needs into consideration, while simultaneously having your way is a delicate art that takes proper cultivation. Use this phrase sparingly – we have better ones here to negotiate with.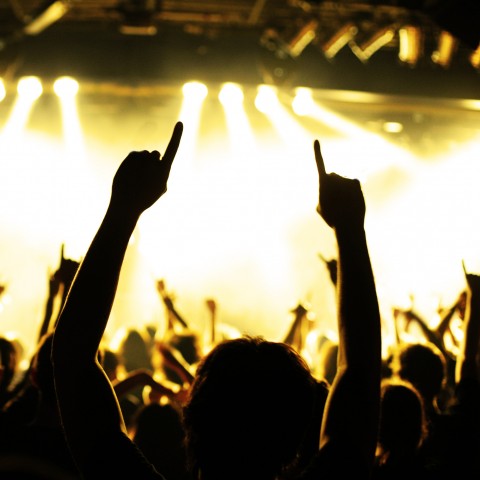 Of course, if your planned trip to the dentist falls on the same day as the only Billie Eilish concert close by…well, priorities are priorities. Feel free to call the dentist with this phrase. Or even better, use the next one.
15. Hindi ko yan magagawa sa araw na iyon.
"I cannot do it on that day."
This is the low-key-but-still-firm cousin of the previous phrase. You're stating a personal fact, and depending on your tone, this can be as non-negotiable as you prefer.
Again, only use this when you really mean it, if you're visiting Philippines or any other foreign country.
So, that's it, folks! Which phrase did you find the most helpful? Let us know in the comments!
3. Can FilipinoPod101 Help You In Other Ways Too?
Well yes, of course!
We think you will find these phrases easy to use when talking about dates and months in Filipino. But knowing how to employ them properly could help you avoid sticky situations!
FilipinoPod101 is uniquely geared to help you with this and so much more.
This InnovativeLanguage.com initiative is one of many online language-learning courses. With us, you'll find it easy and fun to learn a new language, and here are a few reasons why:
Immediately upon enrollment, you'll receive hundreds of well-designed lessons to get you going.
Watch superb recordings of native Filipino speakers in cool slide-shows – the easy way to practice till you sound just like a native speaker yourself!
Also immediately upon enrollment, you'll get access to a huge library of free resources! These include extensive, theme-based Vocabulary Lists and a Word of the Day List (For free, hot bargains!) These alone are sure to give your vocab-learning boxing gloves.
You'll also immediately be able to use an excellent and free Filipino online dictionary. Necessary for quick, handy translations, no matter where you find yourself.
For the serious learner, there are numerous enrollment upgrades available, one of which offers you a personal, online Filipino host. Allow us to hold your hand and support you in your learning!
If you're serious about mastering Filipino easily yet correctly, FilipinoPod101 is definitely one of, if not the best, online language learning platforms available. Talking about your plans or dates in Filipino need not ever spoil your stay.
So, hurry up—enroll today!
November 21, 2019
There is no doubt you have done your research about the Philippines and know how rich its culture is and how stunningly beautiful its tourist spots are. As an archipelago with over 7,000 islands, the Pearl of the Orient Seas (as it is commonly called), the Philippines is one of the best countries to visit in Southeast Asia. However, beyond knowing which places to visit, which hotels to stay, and what delicacies to eat, you need to be armed with basic Tagalog phrases for travel to truly enjoy your stay in the country.
Sure, you can just speak English when communicating with the locals, since most will understand you. But what if you happened to get stuck in a particular situation and the person you asked for help from didn't understand any English? In any case, it is still to your advantage to learn basic Filipino words and phrases to help you get around when traveling in the Philippines.
This guide will teach you Filipino travel phrases that you can use when conversing with the locals, commuting via taxi or train, shopping, and dining at restaurants. You will also learn more important expressions, such as those you'll need when asking for directions or calling for help during an emergency. Finally, you will learn basic expressions when complimenting or praising someone using the Tagalog language.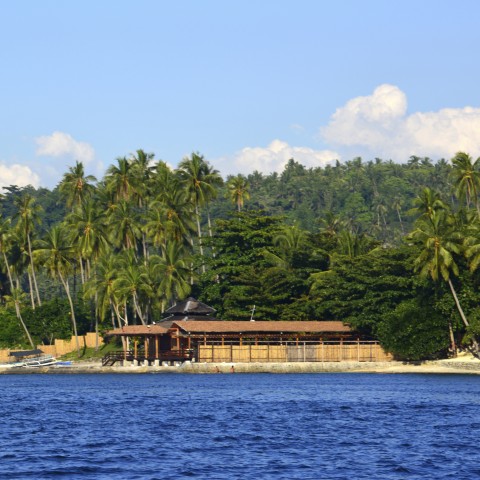 The Philippines is one of the best countries to visit in Southeast Asia.
Table of Contents
1. Basic Expressions
Your efficiency in using Filipino travel phrases will be determined by how familiar you are with basic Filipino phrases, such as greetings, polite phrases, and other general expressions. This section will focus on just that. Here, we have a list of essential words, phrases, and expressions you'll need to initiate a conversation with the locals as you visit various beautiful spots in the Philippines.
1 – Polite Expressions
Filipinos place a lot of emphasis on politeness. When meeting with the locals, it's important to communicate in a polite tone. You'll make a good impression if you are familiar with the following polite expressions:
Kumusta?

"How are you?" 

(Using the third person plural when addressing someone shows a higher degree of respect. For example, you can say Kumusta po sila, which translates to "How are they?")
Magandang araw. 
"Good day."
Ikinagagalak kitang makilala. 
"It's nice to meet you."
Maraming salamat. 
"Thank you very much."
Paumanhin.
"Sorry." / "Excuse me."
Walang anuman. 
"You're welcome." (Literally "It's nothing.")
Pwede magtanong? 
"Can I ask a question?"
Paalam. 
"Goodbye."
Take note that the Filipino language doesn't have a word for "please," but one word that would convey the same expression would be pakiusap, which means "plea" or "request." Here's an example: 
Pakiusap, tulungan niyo po ako. ("Please, help me." )
In most cases, you can simply attach paki before a verb to mean that you are making a request:
Pakisabi sa kanya na tumawag ako. ("Please tell her that I called,")
2 – General Expressions
Oo / Hindi

"Yes / No" 

(You can use Opo instead of Oo to sound more polite)
Sige / Hindi bale 
"Sure / Never mind"
Bakit? 
"Why?"
Anong oras na po? 
"What time is it already?"
Nakakaintindi ako ng Tagalog.
"I can understand Tagalog."
Kaunti lang na Tagalog ang alam ko.
"I know very little Tagalog."
Pwede niyo po akong kuhanan ng litrato? 
"Could you please take my picture?"
Ang ganda!
"It's beautiful!"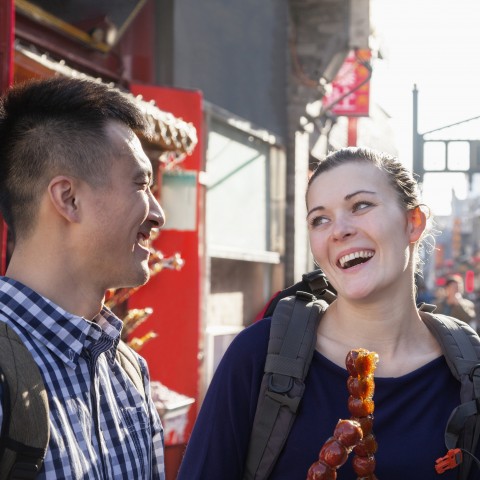 Nakakaintindi ako ng Tagalog. ("I can understand Tagalog.")
➜ Learning new words related to travel is one of the first things you should do when planning to travel to a different country. Be sure to check out our lesson on Filipino words related to travel to familiarize yourself with basic Tagalog travel vocabulary.
2. Transportation
Not including jeepneys, the three primary modes of transportation within Manila are taxi, bus, and train. Taxis are the most convenient option when you're simply moving from one district to another. Buses, on the other hand, are for when you need to visit a different city or nearby province. As for rail transportation, it's the perfect choice if you want to avoid heavy traffic and get to your destination fast.
If you are taking the taxi, here are a few common Tagalog phrases for your convenience.
When taking the taxi…
| | |
| --- | --- |
| Sa Intramuros po.  | "To Intramuros, please." |
| Metro lang po tayo.  | "Let's just use the meter, please." |
| Dito po ako bababa.  | "I'll get off here." |
| Pilahan ng taksi | "Taxi stand" |
Meanwhile, here are phrases when you need to take the bus.
When taking the bus…
| | |
| --- | --- |
| Dadaan po ba ito sa…  | "Will this pass through…" |
| Ito po ba ang bus papuntang…  | "Is this the bus to…" |
| Gaano po katagal ang biyahe? | "How long will the trip take?" |
| Istasyon ng bus | "Bus station" |
Finally, here are some phrases you will find helpful when you're taking the train.
When taking the train…
| | |
| --- | --- |
| Saan po makakabili ng mga tiket?  | "Where can I buy some tickets?" |
| Anong oras po dadating ang tren?  | "What time is the train arriving?" |
| Isang tiket po papuntang Magallanes.  | "One ticket to Magallanes, please." |
| Istasyon ng tren | "Train station" |
3. Shopping
Only a couple of kilometers apart, Quiapo and Divisoria are the two best places to do bargain shopping when you're in Manila. Quiapo used to be a center for trade and commerce, while Divisoria is dubbed as the Budget Shopping Capital of the Philippines. Today, Quiapo is known for cheap electronics, while Divisoria is considered the best place to go shopping for very affordable clothes. 
One of the distinct characteristics of Filipino shopping is a practice called pagtatawad, which refers to bidding, or more appropriately, haggling. Whether you're shopping for fashion accessories in Quiapo or for cheap household items in Divisoria, you need to learn a Tagalog shopping expression or two to help you get the best deals.
| | |
| --- | --- |
| Magkano po ito?  | "How much is this?" |
| Pwede bang tumawad?  | "Can I get a discount?" |
| Naka-sale po ba ngayon? | "Is there a sale right now?" |
| Ano po ang mas bagay sa akin?  | "Which one suits me best?" |
| Mayroon ba kayong mas malaki pa dito?  | "Do you have a bigger size for this?" |
| Saan ko pwedeng bayaran ang mga ito? | "Where can I pay for these?" |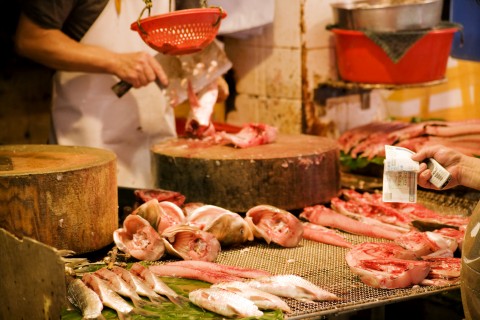 Pwede bang tumawad? ("Can I get a discount?")
4. Restaurants
Whether you're dining at a fancy restaurant or eating at a karenderia (a Filipino term used to refer to a food stall with a small seating), it's good to be familiar with basic expressions to use when ordering food or simply letting your companion know that you enjoyed the food.
Most restaurants in the Philippines, whether fine dining or not, have staff who take customers' orders. The staff takes your order, you wait ten to fifteen minutes to be served, you enjoy your meal, and you pay when you're done. The following are a few basic phrases you can use when eating at a restaurant.
Pwede bang makita ang menu? 
"May I see the menu?"
Bigyan mo ako ng… 
"Please give me…"
Hindi ako pwede sa… 
"I'm allergic to…" 
(Literally "I am not allowed [that]….")
May hipon ba ito?
"Does this contain shrimp?"
U-order na kami. 
"We are ordering now."
Pwede ko nang makuha ang bill? 
"May I have the bill, please?"
Tumatanggap kayo ng card?
"Do you accept card payments?"
Ako na ang magbabayad ng kinain natin.
"Allow me to pay for our meal."
Things are a bit different when you're eating at a karenderia. The experience in such places is referred to as turo-turo, which literally means "point-point." Small fast food restaurants characterized by this experience are also referred to as turo-turo. That's because when you're eating at these places, the food is usually displayed on glass shelves, and you simply tell the staff which one you'd like to have by pointing at the food.
| | |
| --- | --- |
| Bigyan mo ako niyan. | "Please give me that one." |
| Dalawa pa pong plato ng extra rice. | "Two more plates of rice, please. |
| Isang kanin at dalawang tinolang manok. | "One order of rice and two orders of chicken tinola." |
| Mag-so-soft drinks ka ba? | "Would you like some soft drinks to go with that?" |
| Maraming salamat po. Nabusog kami! | "Thanks a lot. We're so satisfied with the food!" |
5. Asking For and Giving Directions
There's been a trend among travelers in the past few years of getting lost while traveling. It's called the art of getting lost. The idea is that the exploration of new places becomes more fulfilling when we lose ourselves in the process and only choose to be found when we're ready. Indeed, not having an itinerary or a map when you're visiting a new city adds a lot to the thrill. 
However, at the end of the day, you will still have to return to your hotel or find the nearest restaurant so you can eat. With that, you'll need to be familiar with the basic words and expressions to use when asking for directions. In the same manner, you also need to be ready to give a response when it's your turn to point a fellow traveler in the right direction. Here are a few phrases to familiarize yourself with.
When asking for directions…
| | |
| --- | --- |
| Saan banda ang…? | "Where is the…?" |
| Paano pumunta sa…? | "How do I get to…?" |
| Saan po ang pinakamalapit na kainan?  | "Do you know where the nearest restaurant is?" |
| Malayo ba dito ang Mind Museum? | "Is the Mind Museum far from here?" |
When giving directions…
| | |
| --- | --- |
| Lumiko ka sa kaliwa…  | "Turn left…." |
| Kumanan ka…  | "Turn right…" |
| Diretsuhin mo lang ang daan na ito…  | "Just go straight this way…" |
| Tumawid ka pagdating mo sa kanto…  | "Cross the street when you get to the corner…" |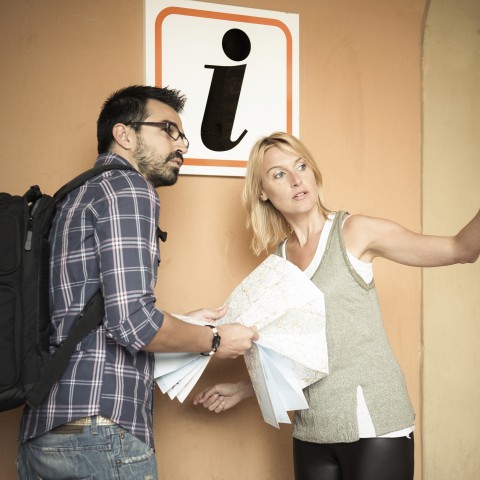 Diretsuhin mo lang ang daan na ito… ("Just go straight this way…")
6. Emergencies
Having an emergency is the last thing you want when you're touring a new place. But if worse comes to worst, it would be to your advantage to know a few native words and phrases so you can easily get anyone's attention in case you need help. Take a look at some of the most practical expressions you'll need whenever you need help during an emergency.
| | |
| --- | --- |
| Tulong!  | "Help!" |
| Tulungan ninyo ako!  | "Help me!" |
| Pwede niyo ba akong tulungan?  | "Can you help me, please?" |
| | |
| --- | --- |
| Tumawag kayo ng doktor! | "Call a doctor!" |
| Tumawag kayo ng ambulansya!  | "Call an ambulance!" |
| Ang gamot ko.  | "My medicine." |
| Dalhin natin siya sa ospital. | "Let's take him/her to the hospital." |
| Kailangan kong makapunta kaagad ng ospital.  | "I need to get to the hospital immediately." |
| | |
| --- | --- |
| Nawala ko ang pitaka ko. | "I lost my wallet." |
| Hindi ko mahanap ang pasaporte ko.  | "I can't find my passport." |
| | |
| --- | --- |
| Tumawag kayo ng pulis! | "Call the police!" |
| Humingi kayo ng tulong sa pulisya.  | "Ask the police for help." |
➜ You don't want to get caught in an emergency without knowing how to ask for help in Filipino. Don't worry because our lessons on Essential Filipino for Emergencies got you covered!
7. Phrases for Giving Compliments
Filipinos aren't that good when it comes to receiving compliments. The good news is that we are learning. The key is to show that you are sincere when complimenting or trying to flatter someone. Here are some basic phrases to use when you want to praise someone or show your appreciation.
| | |
| --- | --- |
| Mahal ko ang mga Pilipino.  | "I love the FIlipino people." |
| Gusto ko dito sa Pilipinas.  | "I like it here in the Philippines." |
| Walang kasing-sarap ang pagkaing Pilipino.  | "There is nothing as delicious as Filipino food."  |
| Ang bait-bait mo. | "You are very kind." |
| Pwede ba kitang maging kaibigan? | "Will you be my friend?" |
| Bagay sa iyo.  | "It suits you." |
| Ang galing mo!  | "You're great!" |
| Dabest ka talaga!  | "You're the best!" |
8. Useful Phrases to Go through Language Problems
The best way to overcome language barriers is to become proficient in a language you're trying to learn. If you're still on your way to mastering Filipino, here are some useful phrases to help you clear things up when communicating with a local starts to become a bit complicated.
| | |
| --- | --- |
| Marunong ka bang mag-Ingles?  | "Do you know how to speak in English?" |
| Nakakaintindi ka ba ng Ingles?  | "Can you understand English?" |
| Hindi ko masyadong maintindihan. | "I don't quite understand." |
| Pwede mong ulitin ang sinabi mo?  | "Can you repeat what you said?" |
| Bagalan mong magsalita para maintindihan ko.  | "Please speak slowly so I can understand." |
| Paano mo sabihin ang salitang ito sa Pilipino?  | "How do you say this word in Filipino?" |
| Paano basahin ito?  | "How do you read this?" |
| Pwede mo bang isulat?  | "Can you write it down, please?" |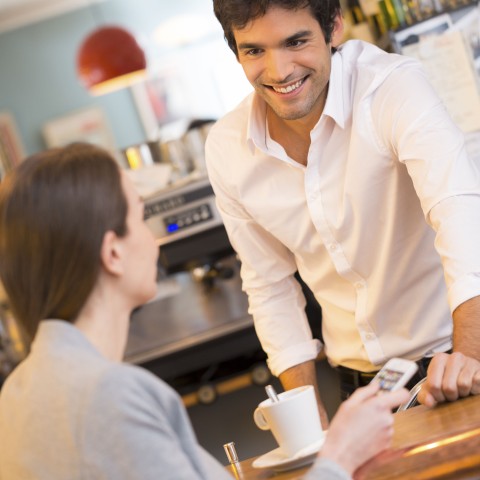 Nakakaintindi ka ba ng Ingles? ("Can you understand English?")
➜ Many people want to learn Tagalog but are hesitant thinking that it's a difficult language to learn. Or is it? Find out by reading this article.
9. How FilipinoPod101 Can Help
So, what did you think about this guide? Did we miss anything? Don't hesitate to let us know in the comments section below. One more thing, though! Did you know that you can learn more travel phrases in Tagalog by joining FilipinoPod101? 
That's right! In this guide, you were able to learn basic Tagalog travel words. If you join FilipinoPod101, you'll learn not only Filipino phrases and words to help you get by. You will also learn basic, intermediate, and advanced words and expressions, as well as grammar and pronunciation, to help you master the Filipino language. You'll also learn the proper accent, tone, and nuances of the Filipino language.
You can always enjoy free learning resources here on our website and get tips to learn Tagalog, but if you want to get the most of your time here, consider signing up for a free lifetime account. From there, you can always upgrade to a Premium PLUS account and take advantage of exclusive learning tools and resources, such as MyTeacher. With MyTeacher and other similar exclusive features, you'll have the opportunity to master Filipino twice as fast and twice as fun!
December 26, 2017
Learn all the Filipino New Year wishes online, in your own time, on any device! Join FilipinoPod101 for a special Filipino New Year celebration!
Can you relate to the year passing something like this: "January, February, March – December!"? Many people do! Quantum physics teaches us that time is relative, and few experiences illustrate this principle as perfectly as when we reach the end of a year. To most of us, it feels like the old one has passed in the blink of an eye, while the new year lies ahead like a very long journey! However, New Year is also a time to celebrate beginnings, and to say goodbye to what has passed. This is true in every culture, no matter when New Year is celebrated.
So, how do you say Happy New Year in Filipino? Let a native teach you! At FilipinoPod101, you will learn how to correctly greet your friends over New Year, and wish them well with these Filipino New Year wishes!
Table of Contents
But let's start with some vocabulary for Filipino New Year celebrations, very handy for conversations.
1. How to Celebrate New Year in Philippines
In the Philippines, New Year's Day is celebrated every 1st of January. The celebration starts with New Year's Eve, when families gather for Media Noche meaning the meal to greet the new year, and to set off firecrackers. This is why New Year's Eve is said to be the noisiest day of the year in the Philippines, because of the large number of outdoor celebrations, parties, and firecrackers.
Now, before we get into more detail, do you know the answer to this question-
What do you think would be a good outfit to wear on New Year's Eve in the Philippines?
If you don't already know, you'll find out a bit later. Keep reading.
During New Year's Eve, families gather in the houses of their parents for Media Noche. Media Noche is a feast shared by the family to welcome the new year. Every type of food served is laced with an underlying meaning and is believed to bring luck, or swerte and prosperity, or kasaganaan for the new year. Some of the food prepared during the party, or handaan in Filipino, include a dozen circular fruits believed to bring prosperity, biko (which is a kind of sweetened sticky rice), in order to make our luck stick around; and pansit (a type of noodles) or spaghetti for longevity. In Filipino, the word longevity is mahabang buhay.
Filipinos believe that it's necessary to make noises to ward off evil spirits. That's why firecrackers are set off the moment the clock strikes twelve, and normally continue on until early morning. The exact time new year begins is the noisiest because you won't just hear firecrackers, but also the ringing of pots and pans, trumpets, and blowing of horns.
In recent years, going to street parties to welcome the New Year has become a popular tradition in the Philippines, especially in Manila. This is partly due to the fact that firecrackers are gradually being prohibited for individual use. Due to the massive amount of firecrackers used and since the people typically setting them off at home are not professionals, individual use of firecrackers brings danger to the neighborhood.
Many people also attend street parties sponsored by the two biggest television stations in the country. One of these is held every year at the intersection of Ayala and Makati Avenue. Here, participants can closely see their favorite artists, dance, and watch a fireworks display from professional pyrotechnicians.
When welcoming the new year, it's a tradition for children to jump at midnight, since it is believed that it will make them taller. It is also common to see adults jumping because they are still hoping to grow taller!
Now it's time to answer our quiz question-
What do you think would be a good outfit to wear on New Year's Eve in the Philippines?
It is said that polka dots are the best design to wear on New Year's Eve! Filipinos believe that wearing something with circular patterns, like polka dots, will bring a prosperous year full of luck, especially when it comes to money.
Happy New Year!
Maligayang Bagong Taon!
2. Must-Know Filipino Words & Phrases for the New Year!
1- Year
taon
This is pretty self-explanatory. Most countries follow a Gregorian calendar, which has approximately 365 days in a year, while in some cultures, other year designations are also honored. Therefore, New Year's day in Philippines could fall on a different day than in your country. When do you celebrate New Year?
2- Midnight
hatinggabi
The point in time when a day ends and a new one starts. Many New Year celebrants prefer to stay awake till midnight, and greet the new annum as it breaks with fanfare and fireworks!
3- New Year's Day
Araw ng Bagong Taon
In most countries, the new year is celebrated for one whole day. On the Gregorian calendar, this falls on January 1st. On this day, different cultures engage in festive activities, like parties, parades, big meals with families and many more.
4- Party
kasiyahan
A party is most people's favorite way to end the old year, and charge festively into the new one! We celebrate all we accomplished in the old year, and joyfully anticipate what lies ahead.
5- Dancing
sayawan
Usually, when the clock strikes midnight and the New Year officially begins, people break out in dance! It is a jolly way to express a celebratory mood with good expectations for the year ahead. Also, perhaps, that the old year with its problems has finally passed! Dance parties are also a popular way to spend New Year's Eve in many places.
6- Champagne
champagne
Originating in France, champagne is a bubbly, alcoholic drink that is often used to toast something or someone during celebrations.
7- Fireworks
paputok
These are explosives that cause spectacular effects when ignited. They are popular for announcing the start of the new year with loud noises and colorful displays! In some countries, fireworks are set off to scare away evil spirits. In others, the use of fireworks is forbidden in urban areas due to their harmful effect on pets. Most animals' hearing is much more sensitive than humans', so this noisy display can be very frightful and traumatising to them.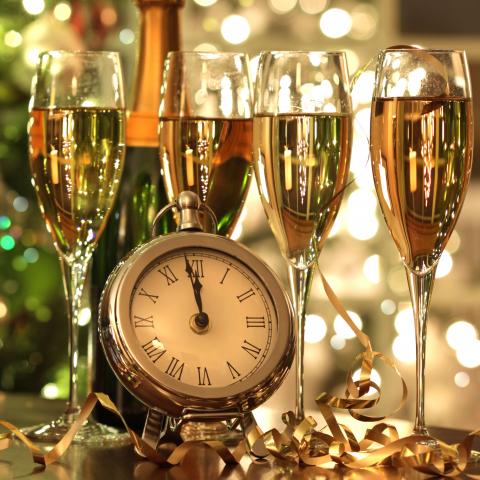 8- Countdown
countdown
This countdown refers to New Year celebrants counting the seconds, usually backward, till midnight, when New Year starts – a great group activity that doesn't scare animals, and involves a lot of joyful shouting when the clock strikes midnight!
9- New Year's Holiday
Bagong Taon
In many countries, New Year's Day is a public holiday – to recuperate from the party the previous night, perhaps! Families also like to meet on this day to enjoy a meal and spend time together.
10- Confetti
konfeti
In most Western countries, confetti is traditionally associated with weddings, but often it is used as a party decoration. Some prefer to throw it in the air at the strike of midnight on New Year's Eve.
11- New Year's Eve
Bisperas ng Bagong Taon
This is the evening before New Year breaks at midnight! Often, friends and family meet for a party or meal the evening before, sometimes engaging in year-end rituals. How are you planning to give your New Year greetings in 2018?
12- Toast
tagay
A toast is a type of group-salutation that involves raising your glass to drink with others in honor of something or someone. A toast to the new year is definitely in order!
13- Resolution
resolusyon
Those goals or intentions you hope to, but seldom keep in the new year! Many people consider the start of a new year to be the opportune time for making changes or plans. Resolutions are those intentions to change, or the plans. It's best to keep your resolutions realistic so as not to disappoint yourself!
14- Parade
parada
New Year celebrations are a huge deal in some countries! Parades are held in the streets, often to celebratory music, with colorful costumes and lots of dancing. Parades are like marches, only less formal and way more fun. At FilipinoPod101, you can engage in forums with natives who can tell you what Filipino New Year celebrations are like!
3. Top 10 New Year's Resolutions
So, you learned the Filipino word for 'resolution'. Fabulous! Resolutions are those goals and intentions that we hope to manifest in the year that lies ahead. The beginning of a new year serves as a good marker in time to formalise these. Some like to do it in writing, others only hold these resolutions in their hearts. Here are our Top 10 New Year's resolutions at FilipinoPod101 – what are yours?
Learn these phrases and impress your Filipino friends with your vocabulary.
1- Read more
Magbasa ng mas marami.
Reading is a fantastic skill that everyone can benefit from. You're a business person? Apparently, successful business men and women read up to 60 books a year. This probably excludes fiction, so better scan your library or Amazon for the top business reads if you plan to follow in the footsteps of the successful! Otherwise, why not make it your resolution to read more Filipino in the new year? You will be surprised by how much this will improve your Filipino language skills!
2- Spend more time with family
Mag-ukol ng mas maraming oras sa pamilya
Former US President George Bush's wife, Barbara Bush, was quoted as having said this: "At the end of your life, you will never regret not having passed one more test, not winning one more verdict, or not closing one more deal. You will regret time not spent with a husband, a friend, a child, a parent." This is very true! Relationships are often what gives life meaning, so this is a worthy resolution for any year.
3- Lose weight
magpapayat
Hands up, how many of you made this new year's resolution last year too…?! This is a notoriously difficult goal to keep, as it takes a lot of self discipline not to eat unhealthily. Good luck with this one, and avoid unhealthy fad diets!
4- Save money
mag-ipon
Another common and difficult resolution! However, no one has ever been sorry when they saved towards reaching a goal. Make it your resolution to save money to upgrade your subscription to FilipinoPod101's Premium PLUS option in the new year – it will be money well spent!
5- Quit smoking
Tumigil sa paninigarilyo.
This is a resolution that you should definitely keep, or your body could punish you severely later! Smoking is a harmful habit with many hazardous effects on your health. Do everything in your power to make this resolution come true in the new year, as your health is your most precious asset.
6- Learn something new
Matuto ng bago.
Science has proven that learning new skills can help keep brain diseases such as dementia and Alzheimer's at bay! It can even slow down the progression of the disease. So, keep your brain healthy by learning to speak a new language, studying towards a qualification, learning how to sew, or how to play chess – no matter how old you are, the possibilities are infinite!
7- Drink less
Bawasan ang pag-inom.
This is another health resolution that is good to heed any time of the year. Excessive drinking is associated with many diseases, and its effect can be very detrimental to good relationships too. Alcohol is a poison and harmful for the body in large quantities!
8- Exercise regularly
Regular na mag-ehersisyo.
This resolution goes hand-in-hand with 'Lose weight'! An inactive body is an unhealthy and often overweight one, so give this resolution priority in the new year.
9- Eat healthy
Kumain ng masustansyang pagkain
If you stick with this resolution, you will lose weight and feel better in general. It is a very worthy goal to have!
10- Study Filipino with FilipinoPod101
pag-aaral ng Filipino kasama ang FilipinoPod101.com
Of course! You can only benefit from learning Filipino, especially with us! Learning how to speak Filipino can keep your brain healthy, it can widen your circle of friends, and improve your chances to land a dream job anywhere in the world. FilipinoPod101 makes it easy and enjoyable for you to stick to this resolution.
4. Inspirational New Year Quotes
Everyone knows that it is sometimes very hard to stick to resolutions, and not only over New Year. The reasons for this vary from person to person, but all of us need inspiration every now and then! A good way to remain motivated is to keep inspirational quotes near as reminders that it's up to us to reach our goals.
Click here for quotes that will also work well in a card for a special Filipino new year greeting!
Make decorative notes of these in Filipino, and keep them close! Perhaps you could stick them above your bathroom mirror, or on your study's wall. This way you not only get to read Filipino incidentally, but also remain inspired to reach your goals! Imagine feeling like giving up on a goal, but reading this quote when you go to the bathroom: "It does not matter how slowly you go, as long as you do not stop." What a positive affirmation!
5. Inspirational Language Learning Quotes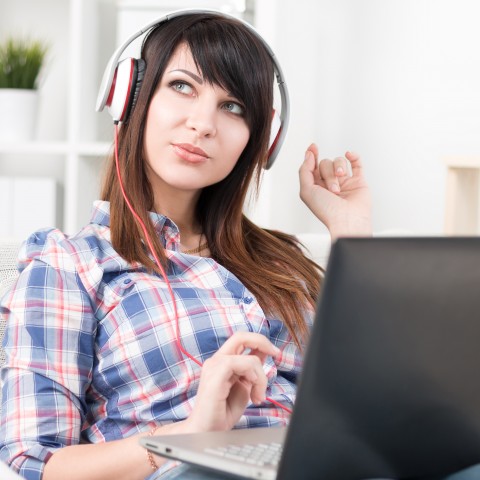 Still undecided whether you should enroll with FilipinoPod101 to learn a new language? There's no time like the present to decide! Let the following Language Learning Quotes inspire you with their wisdom.
Click here to read the most inspirational Language Learning Quotes!
As legendary President Nelson Mandela once said: "If you talk to a man in a language he understands, that goes to his head. If you talk to him in his own language, that goes to his heart." So, learning how to say Happy New Year in Filipino could well be a way into someone special's heart for you! Let this year be the one where you to learn how to say Happy New Year, and much more, in Filipino – it could open many and unexpected doors for you.
6. How To Say Happy New Year in 31 Languages
Here's a lovely bonus for you! Why stop with Filipino – learn how to say Happy New Year in 31 other languages too! Watch this video and learn how to pronounce these New Year's wishes like a native in under two minutes.
7. Why Enrolling with FilipinoPod101 Would Be the Perfect New Year's Gift to Yourself!
If you are unsure how to celebrate the New Year, why not give yourself a huge gift, and enroll to learn Filipino! With more than 12 years of experience behind us, we know that FilipinoPod101 would be the perfect fit for you. There are so many reasons for this!
There's no reason not to go big in 2018 by learning Filipino with FilipinoPod101. Just imagine how the world can open up for you!
December 14, 2017
Do you know any ways to wish someone a 'Merry Christmas' in Filipino? FilipinoPod101 brings you easy-to-learn translations and the correct pronunciation of Filipino Christmas phrases!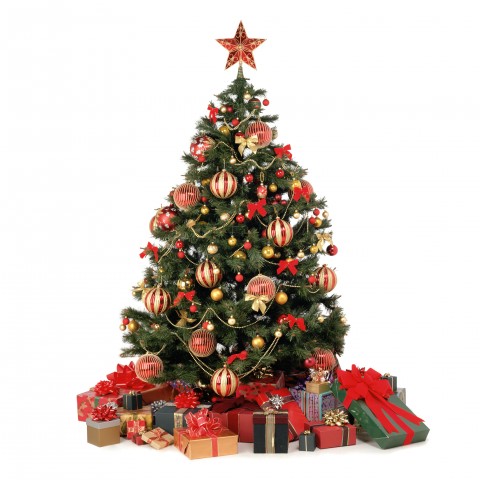 Christmas is the annual commemorative festival of Christ's birth in the Western Christian Church. It takes place on December 25th and is usually celebrated with much food and fanfare! However, not all cultures celebrate Christmas. In some countries, Christmas is not even a public holiday! However, many countries have adapted Christmas and its religious meaning to tally with their own beliefs, or simply in acknowledgment of the festival's importance to other cultures. If you want to impress native Filipino speakers with culturally-appropriate Christmas phrases and vocabulary, FilipinoPod101 will teach you the most important ways to wish someone a 'Merry Christmas' in Filipino!
Table of Contents
1. How to Celebrate Christmas in the Philippines
The most colorful and happiest season in the Philippines is Christmas. Note that here we say season, or in Filipino panahon, because Christmas in the Philippines is not just celebrated on a single day, but over 3 to 4 months! From September to January, the spirit of Christmas is felt across the entire country, which is why the Philippines is usually recognized for having the longest Christmas in the world.
Now, before we get into more detail, do you know the answer to this question-
What do Filipinos call the tradition of Secret Santa?
If you don't already know, you'll find out a bit later. Keep reading.
Before Christmas Day, Catholics in the Philippines must make many preparations. Misa de Gallo, also known as Simbang Gabi, is a novena of nine masses held from the 16th to the 24th of December. This mass is celebrated over nine consecutive days, usually beginning at 5 in the morning, but some masses are held as early as 3 in the morning.
Many Filipinos wake up early and strive to complete the entirety of the Misa de Gallo. It is believed that if you are able to attend each ceremony, you can make a wish and it will come true.
During Christmas Eve, Filipinos usually go to church to attend Misa de Aguinaldo. This is held on the 24th of December between 10 in the evening and midnight, or in Filipino hatinggabi.
Like other feasts and celebrations in the Philippines, parties, food, and most importantly, family, are key pillars of the festivities. In the Philippines, big families are very common, which is why Christmas celebrations are always lively and noisy.
During Christmas gatherings, families come together to eat Noche Buena meaning Christmas meal. This feast includes queso de bola, which is edam cheese sealed in red paraffin wax, chocolates, fruit salad, ham, and sometimes even roasted pork. This is also the time when people exchange and open presents, or regalo.
Also, wherever you go you will undoubtedly hear Christmas Carols, or in Filipino karoling, often sung by children carrying copper bottle caps, spoons, forks, and other household items that can make a sound to carry a beat.
Now it's time to answer our quiz question-
What do Filipinos call the tradition of Secret Santa?
In the Philippines, Secret Santa is called Monito or Monita, and of course, the gift recipient doesn't know who picked him or her. It is also called Kris Kringle and done during Christmas parties with friends, classmates, or workmates.
2. Holiday Greetings and Wishes for the Holiday Season
1- Merry Christmas!
Maligayang Pasko!
Do you know how to say 'Merry Christmas' in Filipino? Learn here how to pronounce it perfectly! 'Merry' means to be joyful, to celebrate and generally be in good spirits. So, with this phrase you are wishing someone a joyful, celebratory remembrance of Christ's birth!
2- Happy Kwanzaa!
Happy Kwanzaa!
Surprise your African-American, or West African native friends with this phrase over the Christmas holidays! Kwanzaa is a seven-day, non-religious celebration, starting on Dec 26th each year. It has its roots in African American modern history, and many people celebrate both Kwanzaa and Christmas!
3- Have a happy New Year!
Magkaroon ng isang masayang Bagong Taon!
In countries where Christmas is not officially celebrated, but a Gregorian calendar is observed, this would be a friendly festive-season wish over New Year.
4- Happy Hanukkah!
Maligayang Hanukkah!
Hanukkah is the beautiful Hebrew festival over November or December each year. It is also called the 'Festival of Lights' and is celebrated to commemorate the Jewish freedom of religion.
5- Have a great winter vacation!
Magkaroon ka sana ng isang masayang winter vacation!
This is a good phrase to keep handy if someone doesn't observe any religious festival over the Christmas holidays! However, this will only be applicable in the Northern hemisphere, where it is winter over Christmas.
6- See you next year!
Magkita tayo sa susunod na taon!
Going away on holiday over Christmas season, or saying goodbye to someone about to leave on vacation? This would be a good way to say goodbye to your friends and family.
7- Warm wishes!
Lubos na bumabati!
An informal, friendly phrase to write in Filipino Christmas cards, especially for secular friends who prefer to observe Christmas celebrations without the religious symbolism. It conveys the warmth of friendship and friendly wishes associated with this time of year.
8- Happy holidays!
Maligayang Pasko at Manigong Bagong Taon!
If you forget how to say 'Merry Christmas!' in Filipino, this is a safe, generic phrase to use instead.
9- Enjoy the holidays!
Magsaya ngayong bakasyon!
After saying 'Merry Christmas' in Filipino, this would be a good phrase with which to wish Christmas holiday-goers well! It is also good to use for secular friends who don't celebrate Christmas but take a holiday at this time of the year.
10- Best wishes for the New Year!
Lubos na bumabati para sa bagong taon!
This is another way of wishing someone well in the New Year if they observe a Gregorian calendar. New Year's day would then fall on January 1st.
3. Must-Know Christmas Day Vocabulary
Christmas is associated with many traditions and religious symbols in multiple countries across the world. It originated centuries ago in the West with the birth of Christianity, and the celebrations are often embedded with rich cultural significance. So, by now you know how to say Merry Christmas in Filipino! Next, learn pertinent vocabulary and phrases pertaining to Christmas, as well as how to pronounce them correctly. At FilipinoPod101, we make sure you sound like a native speaker!
1- Christmas
Pasko
This is the Filipino word for 'Christmas'. Most happy Christmas wishes in Filipino will include this word!
2- Snow
niyebe
In most Northern-hemisphere countries, Christmas is synonymous with snow, and for Christmas, the snowman is often dressed as Santa Claus.
3- Snowflake
snowflake
Snowflakes collectively make up snow. A single snowflake is small, white, light like a feather and icy cold! When put under a microscope, the snowflake reveals itself to have the most beautiful, symmetrical patterns. These patterns have become popular Christmas decorations, especially in Western countries.
4- Snowman
snowman
As you guessed – a snowman is only possible to build if it is snowing! What a fun way to spend Christmas day outside.
5- Turkey
pabo
Roast turkey is the traditional main dish on thousands of lunch tables on Christmas day, mainly in Western countries. What is your favorite Christmas dish?
6- Wreath
wreath
Another traditional Western decoration for Christmas, the wreath is an arrangement of flowers, leaves, or stems fastened in a ring. Many families like to hang a Christmas wreath outside on their houses' front doors.
7- Reindeer
reindeer
Reindeer are the animals commonly fabled to pull Santa Claus' sled across the sky! Western Christmas folklore tells of Father Christmas or Santa Claus doing the rounds with his sled, carrying Christmas presents for children, and dropping them into houses through the chimney. But who is Santa Claus?
8- Santa Claus
Santa Klaus
Santa Claus is a legendary and jolly figure originating in the Western Christian culture. He is known by many names, but is traditionally depicted as a rotund man wearing a red costume with a pointy hat, and sporting a long, snow-white beard!
9- Elf
duwende
An elf is a supernatural creature of folklore with pointy ears, a dainty, humanoid body and a capricious nature. Elves are said to help Santa Claus distribute presents to children over Christmas!
10- Rudolph the Red-Nosed Reindeer
Rudolph the red-nosed reindeer
'Rudolph the Red-Nosed Reindeer' is a Christmas song based on an American children's story book with the same name. Rudolph is one of Santa's reindeer. The song became more famous than the book, and can still be heard playing in many shopping malls over Christmas time across the globe!
11- North Pole
Hilagang Polo
The cold North Pole is where Santa Claus is reputed to live with his reindeer!
12- Sled
kareta
A sled is a non-motorised land vehicle used to travel over snow in countries where it snows a lot, and is usually pulled by animals such as horses, dogs or reindeer. This one obviously refers to Santa's sled! Another word for sled is sleigh or sledge.
13- Present
regalo
Gift or present giving is synonymous with Christmas Eve and the greatest source of joy for children over this festive time! This tradition signifies that Christ's birth was a gift to mankind, but not all people who hand out presents over Christmas observe the religious meaning.
14- Bell
kampanilya
On Christmas Day, or Christmas Eve, many religious celebrants enjoy going to church for a special sermon and Christmas rituals. The start of the sermon is often announced with bells or a bell, if the church has one. For this reason, the sound of ringing bells is often associated with Christmas Day.
15- Chimney
tsimineya
The chimney is the entrance Santa Claus uses to deliver children's presents on Christmas Day, according to folklore! Wonder how the chubby man and his elves stay clean…?!
16- Fireplace
fireplace
In most countries where it snows, Christmas is synonymous with a fire or burning embers in houses' fireplaces. Families huddle around its warmth while opening Christmas presents. Also, this is where Santa Claus is reputed to pop out after his journey down the chimney!
17- Christmas Day
Araw ng Pasko
This is the official day of commemorative celebration of Christ's birth, and falls each year on December 25.
18- Decoration
palamuti
Decorations are the colourful trinkets and posters that make their appearance in shops and homes during the Christmas holiday season in many countries! They give the places a celebratory atmosphere in anticipation of the big Christmas celebration. Typical Christmas decorations include colorful photographs and posters, strings of lights, figurines of Santa Claus and the nativity scene, poinsettia flowers, snowflakes and many more.
19- Stocking
medyas
According to legend, Santa Claus places children's presents in a red stocking hanging over the fireplace. This has also become a popular decoration, signifying Christmas.
20- Holly
asebo
Holly is a shrub native to the UK, and parts of Europe, Africa and Asia. It is characterised by glossy, spiny-toothed leaves, small, whitish flowers, and red berries. Ironically, its significance for Christmas relates to Christ's crucifixion and suffering rather than his birth. However, the leaves' distinctive shape and image have become popular Christmas decorations.
21- Gingerbread house
gingerbread house
According to legend, the gingerbread house synonymous with Christmas is related to Christ's birth place, Bethlehem. Bethlehem literally means 'House of Bread'. Over centuries, it has become a popular treat over Christmas time in many non-religious households as well.
22- Candy cane
candy cane
According to folklore, Christmas candy canes made their appearance first in Germany in the 16th century. A choir master gave children the candy canes to suck on in church in order to keep them quiet during the Christmas sermon! Apparently, the candy is shaped like a cane in remembrance of the shepherds who were the first to visit the baby Jesus. Today, like gingerbread houses, they are still a popular sweet over the festive season!
23- Mistletoe
mistletoe
Mistletoe is a parasitic plant that grows on certain trees. In the Middle Ages, it was believed that the mistletoe has magical powers, and could protect a household from evil if hung above a door during December. The belief didn't last but the habit did, and the mistletoe is another popular Christmas decoration!
4. Twelve Days of Christmas
Wow, you're doing extremely well! You know how to wish someone a Merry Christmas in Filipino, and you learned pertinent vocabulary too! The Twelve Days of Christmas is not very well known in modern times, so, you're on your way to becoming an expert in Christmas traditions and rituals. Well done!
The Twelve Days of Christmas, also known as Twelvetide, is a traditional festive period of 12 days dedicated to celebrate the nativity of Christ. Christmas Day is, for many who observe Twelvetide, the first day of this period.
'The Twelve Days of Christmas' is also a popular Christmas song about a series of gifts given on each day of Twelvetide. According to experts, these gifts were created as a coded reference to important symbols in the Christian church. Here is a list of those gifts mentioned in the song! Do you recognise them?
5. Top 10 Christmas Characters in American Culture
This is fantastic, you know how to explain almost everything about Christmas in Filipino! However, do you know the most popular Christmas characters in American culture? Your knowledge will not be complete without this list.
6. FilipinoPod101 Is One Of The Best Online Language Schools Available!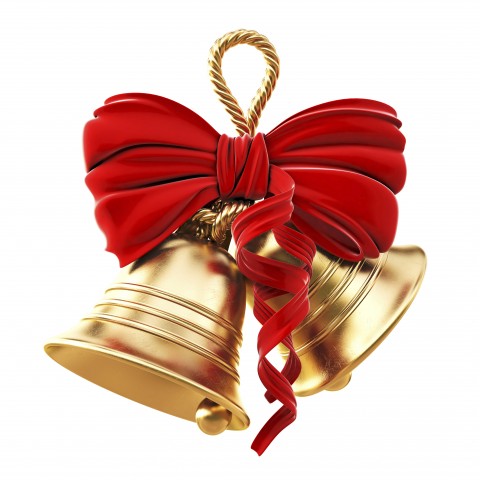 We don't just say this – we can prove it! Geared to your personal needs and goals, we have several learning paths from which to choose. From Filipino for Absolute Beginners to Advanced Filipino, lessons are designed to meet you where you are, and increase your language abilities in fun, easy and interactive lessons! Mastering a new language has never been this easy or enjoyable.
We have over a decade of experience and research behind us, and it shows! With thousands of audio and video lessons, detailed PDF lessons and notes, as well as friendly, knowledgeable hosts, FilipinoPod101 is simply unbeatable when it comes to learning correct Filipino. Plenty of tools and resources are available when you study with us. New lessons are added every week so material remains fresh and relevant. You also have the option to upgrade and enjoy even more personalised guidance and services. This is a sure way to fast-track your learning!
So, this Christmas, why don't you give yourself a present and enroll in FilipinoPod101? Or give an enrollment as a present to a loved one. It will be a gift with benefits for a whole lifetime, not just over Christmas!
November 27, 2017
In most cultures, it is custom to express gratitude in some way or another. The dictionary defines gratitude as follows: it is "the quality of being thankful; readiness to show appreciation for and to return kindness". Giving a sincere, thankful response to someone's actions or words is often the 'glue' that keeps relationships together. This is true in most societies! Doing so in a foreign country also shows your respect and appreciation for the culture. Words have great power – use these ones sincerely and often!
Table of Contents
So, how do you say 'Thank you' in Filipino? You can learn easily! Below, FilipinoPod101 brings you perfect translations and pronunciation as you learn the most common ways Filipino speakers say 'Thanks' in various situations.
1. 12 Ways to say 'Thank you' in Filipino
1- Thank you.
Salamat!
The magical words that can bring a smile to any face. For one day, truly mean it whenever you say these words, and see how this lifts your spirit too!
2- That's very kind of you.
Napakabuti ninyo.
This phrase is appropriate when someone clearly goes out of their way to give good service, or to offer you a kindness.
3- Thanks for your kind words!
Salamat sa iyong mga papuri!
Someone paid you a compliment and made you feel good? That is kind of him/her, so express your gratitude!
4- Thank you for coming today.
Salamat sa pagdating ngayong araw.
This welcoming phrase should be part of your arsenal if you're conducting more formal meetings with Filipino speakers. If you're hosting a party, this is also a good phrase when you greet your Filipino guests!
5- Thank you for your consideration.
Salamat sa iyong konsiderasyon.
This is a more formal, almost solemn way to thank someone for their thoughtfulness and sensitivity towards you. It is also suitable to use when a native speaker has to consider something you submit, like a job application, a project or a proposal. You are thanking them, in essence, for time and effort they are about to, or have spent on your submission.
6- Thanks a lot!
Maraming salamat!
This means the same as 'Thank you', but with energy and enthusiasm added! It means almost the same as 'thank you so much' in Filipino. Use this in an informal setting with your Filipino friends or teachers.
7- Teachers like you are not easy to find.
Ang mga guro na katulad ninyo ay bihira.
Some phrases are compliments, which express gratitude by inference. This is one of them. If you're particularly impressed with your FilipinoPod101 teacher, this is an excellent phrase to memorize!
8- Thank you for spending time with us.
Salamat sa iyong oras na makasama kami.
Any host at a gathering with Filipino speakers, such as a meeting or a party, should have this under his/her belt! Use it when you're saying goodbye or busy closing a meeting. It could also be another lovely way to thank your Filipino language teacher for her time.
9- Thank you for being patient and helping me improve.
Salamat sa iyong pasensiya at pagtulong na mapabuti ako.
This phrase is another sure way to melt any formal or informal Filipino teacher's heart! Teaching is not easy, and often a lot of patience is required from the teacher. Thank him/her for it! It's also a good phrase to use if you work in Philippines, and want to thank your trainer or employer. You will go a long way towards making yourself a popular employee – gratitude is the most attractive trait in any person!
10- You're the best teacher ever!
Ikaw ang pinakamahusay na guro magpakailanman!
This is also an enthusiastic way to thank your teacher by means of a compliment. It could just make their day!
11- Thank you for the gift.
Salamat sa iyong regalo.
This is a good phrase to remember when you're the lucky recipient of a gift. Show your respect and gratitude with these words.
12- I have learned so much thanks to you.
Marami akong natutunan, salamat sayo.
What a wonderful compliment to give a good teacher! It means they have succeeded in their goal, and you're thankful for it.
2. Video Lesson: Learn to Say 'Thank You' in 3 Minutes
With a hundred dialects and two officially recognized languages (Filipino and English) there are several ways of expressing thanks. Lets take a look at the most common ways of saying "thank you" in Filipino. As in many languages, there are formal and informal ways of showing thanks.
1- Salamat.
In Filipino "Thank you" is salamat. The word salamat is the casual way of saying "thank you" or "thanks." Now in Filipino there are other ways to express one's gratitude. There is a formal way to do this.
2- Salamat po.
In Filipino the Formal way of expressing gratitude, e.g. "Thank you" is salamat po. This phrase is used among older people to show politeness and respect.
3- Maraming salamat po.
For very special occasions when someone goes above and beyond the call of being kind, when someone is extremely generous, or at any other time you're extremely grateful, we have the following phrase to express gratitude: maraming salamat po (Thank you very much). The first word maraming means "many." It is followed by salamat, which in English is "thanks" and it is then followed by po. Po has no equivalent word in English. Po is used in phrases as a sign of respect to older people. The entire phrase is maraming salamat po. The informal way of saying this phrase is maraming salamat.
Cultural Insights
Quick Tip 1
Salamat is the Filipino word for "thank you." You may want to use a more formal phrase to express your gratitude, in this case salamat po is more appropriate. You would use salamat po if you were thanking someone older than you. In expressing extreme gratefulness you may use maraming salamat or "thank you very much." In exceptional circumstances, you may combine the three phrases at the same time: maraming salamat po.
Quick Tip 2
The most typical way of saying "thank you" in Filipino is salamat. It is also the informal or the casual way of expressing your gratitude to someone you are comfortable with like friends or casual acquaintances.
On the run to the Phillipines? Wait! You can't go without some basic language phrases under your belt! Especially if you're heading to meet your prospective employer! Either in person or online, knowing how to say 'Thank you' in the Filipino language will only improve their impression of you! FilipinoPod101 saves you time with this short lesson that nevertheless packs a punch. Learn to say 'Thank you' in Filipino in no time!
3. Audio Lesson: Survival Phrases – Thank You
Perhaps you think it's unimportant that you don't know what 'Thank you' is in Filipino, or that it's too difficult a language to learn. Yet, as a traveler or visitor, you will be surprised at how far you can go using a little bit of Filipino in Philippines!
Click Here to Listen to the Free Audio Lesson!
At FilipinoPod101, we offer you a few ways of saying 'Thank you' in Filipino that you have no excuse not knowing, as they're so simple and easy to learn. The lesson is geared to aid your 'survival' in formal and informal situations in Philippines, so don't wait! You will never have to google 'How do you say thanks in Filipino' again…!
4. 'Thank You' in 31 Languages
For the global traveler in a hurry, here are 31 ways to say 'Thank you'! These are the first words you need to learn in any foreign language – it is sure to smooth your way with native speakers by showing your gratitude for services rendered, and your respect for their culture! Learn and know how to correctly say 'Thank you' in 31 different languages in this short video.
5. Why would FilipinoPod101 be the perfect choice to learn Filipino?
However, you need not stop at 'Thank you' in Filipino – why not learn to speak the language?! You have absolutely nothing to lose. Research has shown that learning a new language increases intelligence and combats brain-aging. Also, the ability to communicate with native speakers in their own language is an instant way to make friends and win respect! Or imagine you know how to write 'Thank you' to that special Filipino friend after a date…he/she will be so impressed!
FilipinoPod101 Has Special Lessons, Tools and Resources to Teach You How to Say Thank You and Other Key Phrases
With more than a decade of experience behind us, we have taught thousands of satisfied users to speak foreign languages. How do we do this? First, we take the pain out of learning! At FilipinoPod101, students are assisted as they master vocabulary, pronunciation, and conversation through state-of-the-art and fun online learning methods. A library replete with learning resources allows for you to learn at your own pace and in your own space! Resources include thousands of video and audio recordings, downloadable PDF lessons and plenty of learning apps for your mobile devices. Each month, we add benefits with FREE bonuses and gifts to improve your experience.
We accommodate all levels and types of learners, from Absolute Beginner to Advanced, and FilipinoPod101 is free for anyone to sign up. However, you can choose to fast track your fluency with lesson customization and increased interactive learning and practicing. Upgrade to Premium, or Premium PLUS to enhance your experience and greatly expedite your learning. With this type of assistance, and pleasurable effort on your part, you will speak Filipino in a very short period of time!
Click Here to Visit FilipinoPod101!
Best of all is that you're never alone! We believe that practice is the holy grail of learning any new language, and we gear our courses to ensure lots of it. Enroll with us, and you gain immediate access to our lively forum where we meet and greet, and discuss your burning questions. Our certified teachers are friendly and helpful, and you are very likely to practice your first 'Thanks!' in Filipino on him/her, AND mean it! Hurry up, and sign up now – you will thank us for it.