Filipinos are known for following "Filipino Time" (also referred to as "late" in other countries). Despite that, there are still many people in the Philippines who are very much time-conscious. 
As a matter of fact, the Department of Science and Technology initiated a campaign called "Juan Time" several years ago with the aim of promoting the nationwide use of Philippine Standard Time.
That's good news for anyone who values time. But what does this have to do with this post? Well, in this post, we're going to learn how to tell the Philippines' time, using the Filipino language, of course. 
Knowing how to read and tell time is a basic universal skill. And yes, learning how to tell time in Filipino or Tagalog is as easy as 1-2-3. You can always read and tell time in English when you're in the Philippines, since most Pinoys can understand English anyway. But it's no question that knowing how to tell time in Tagalog has many benefits and advantages.
Table of Contents
1. How to Ask for the Time
Knowing how to ask for the time is just as important as knowing how to read and tell time. Before anything else, let's first learn how to ask for the time in Filipino. 
There are different ways you can ask this. Here are some of them:
1 –  What time is it? 
Anong oras na?
This is the most straightforward way of asking "What time is it?" in Filipino. It's rather informal and less polite. You can use this approach when asking someone you're familiar with, like a friend or colleague. Never ask this way when talking to someone in authority, though.
2 – Do you know what time it is? 
Alam mo ba kung anong oras na?
This is a more polite approach, although it's not that formal. You can use this question when asking someone you're not too familiar with, such as a stranger. 
If you want a more polite approach, then use this one:
3 – May I know what time it is already? 
Maaari/Pwede ko bang malaman kung anong oras na? 
If you're asking an older person or a person in authority, simply add the word po right after ko.
4- Asking What Time Something Will Start or What Time Something Happened
Now, if you want to ask what time something will start, you can simply say: Anong oras magsisimula ang palabas? ("What time will the show start?")
More examples:
"What time is the plane arriving?" 
Anong oras dadating ang eroplano?
"What time is the meeting scheduled?" 
Anong oras ang schedule ng meeting? 
"What time did the game end last night?" 
Anong oras natapos ang laro kagabi?
2. How Pinoys Tell Time
Marunong ka bang magbasa ng oras? Do you know how to tell time? 
This is a question often asked of young Filipino kids. Just as in other countries, Pinoy kids are taught how to read time and dates at an early age.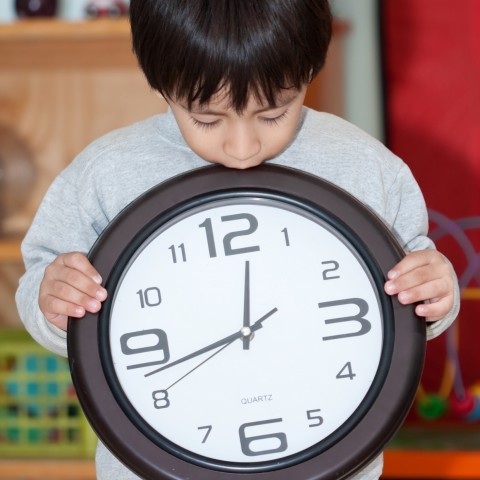 In the Philippines, most people use the twelve-hour format. The Filipino word for "hour" is the same word used for "time," which is oras. This is derived from 'horas,' the Spanish word for "time."
Meanwhile, "o'clock" in Tagalog is either la or las, both of which are Spanish for "the."
There are two general ways of how to read time in Filipino. But before we go there, let's talk about time markers first. 
1- Time Markers
The basic time markers or references are as follows:
| | |
| --- | --- |
| Umaga | Morning |
| Tanghali | Noon |
| Hapon | Afternoon |
| Gabi | Evening |
| Hating-Gabi | Midnight |
| Madaling-Araw | Middle of the night |
A – Umaga
Umaga in the Philippines usually begins at 5:00 a.m., depending on what time the sun rises. The time between the rising of the sun and 11:59 a.m. is considered umaga or "morning." When asked what time it is, and your watch says it's 10:30 a.m., you respond by saying: Alas diyes y medya ng umaga.
In English, that translates to "10:30 in the morning." In written form, that would be Alas-10 y medya n.u. N.u. is the abbreviation for ng umaga, or "in the morning."
The same rule applies when telling time in Filipino at different times of the day.
B – Tanghali
Tanghali, on the other hand, is high noon, and is the time between 12:00 p.m. and 12:59 p.m. When reading time during tanghali, let's say fifteen minutes past 12:00, you simply say:
Alas dose kinse ng tanghali. 
(Written form: Alas-12 kinse n.t.), kinse being "fifteen" in Spanish.
If you're not too familiar with Philippine history, the reason there are a lot of Spanish words and expressions in the Filipino language is that the country has been under Spanish rule for more than 300 years. So, don't be surprised if you come across a number of loanwords in your studies.
Now, back to the lesson.
C – Hapon
Hapon is the Filipino word for "afternoon." It's the time between 1:00 p.m. and 5:59 p.m. In written form, it's abbreviated as n.h., or ng hapon ("in the afternoon"). In Filipino, 3:00 p.m. is spoken as Alas tres ng hapon. and written as Alas-3 n.h.
D – Gabi 
Gabi is the Filipino word for "evening." You'll know when it's gabi in the Philippines once the clock strikes 6:00 p.m. Around this time, most Filipino families are already preparing for the evening meal. In the barrios, mothers are often heard yelling at their children to come home as it's already dark. 
Mga anak, pasok na at alas sais na! Maghahapunan na tayo! 
"Come home now kids! It's 6 o'clock, and it's already time for dinner!" 
Gabi lasts from 6:00 p.m. until 12 a.m.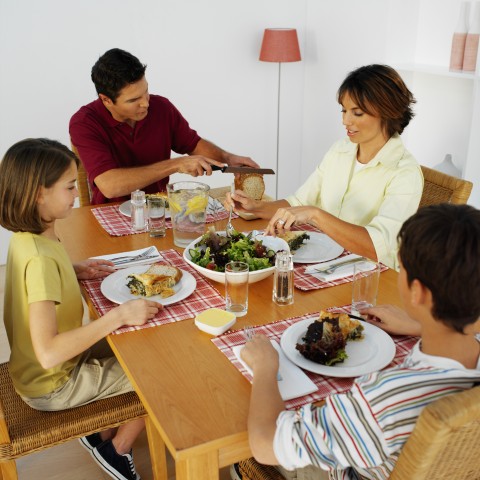 E – Hating-gabi
It's already hating-gabi, or midnight, once the clock strikes 12 a.m. Unless you're working night shift, there's very little chance someone is going to ask you what time it is at this hour.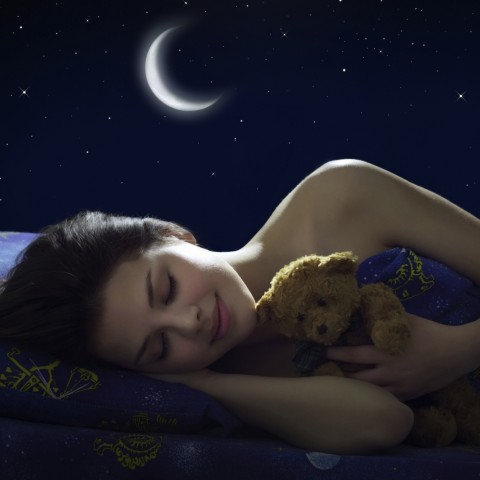 F – Madaling Araw
Madaling araw literally means "the day is breaking soon," madali being "fast" and araw being "day." As a time marker, however, this phrase translates to "in the middle of the night." In Filipino, 4:00 a.m. is read as Alas kwatro ng madaling araw.
As mentioned, there are two general ways we tell time in the Philippines: the Filipino way and the Spanish way.
2- The Filipino Way
The Filipino way is a more formal approach to reading and telling time in the Filipino language. Let's say it's 10:00 a.m. and you're asked what time it is. You reply with: Ika-sampu na ng umaga. 
Here's a table of how to say the time in Filipino for your reference:
| Time | In Filipino we say… |
| --- | --- |
| 1:00 | ika-isa |
| 2:00 | ikalawa |
| 3:00 | ikatlo |
| 4:00 | ikaapat |
| 5:00 | ikalima |
| 5:00 | ika-anim |
| 7:00 | ika-pito |
| 8:00 | ika-walo |
| 9:00 | ika-siyam |
| 10:00 | ika-sampu |
| 11:00 | ika-labing-isa |
| 12:00 | ika-labing-dalawa |
This is how we read exact hours in Filipino:
For 1:00 a.m., we say:
Ang oras ay ika-isa ng umaga. 
"The time is one o'clock in the morning."
For 2:00 p.m., we say: 
Ang oras ay ikalawa ng hapon. 
"The time is two o'clock in the afternoon."
Minuto
What if the clock says it's 4:15? That's when we read in hours and minutes. "Minute" in Filipino is minuto. When reading the time in hours and minutes, we simply read the equivalent of the minutes in words.
Example: 
"It's five fifteen in the afternoon." 
Ang oras ay labinlimang minuto makalipas ang ikalima ng hapon.

Labinlima is Filipino for "fifteen," while makalipas is Filipino for "past." So that would be the same as saying, "The time is fifteen minutes past five in the afternoon." 
Speaking of which, learning simple numbers in Filipino is another crucial step in this study, so make sure you find ways to do so.
3- The Spanish Way
Alternatively, you can use the Spanish way of reading time. In the Philippines, this is the more practical and common way people read and tell time. You don't normally hear people saying, Ang oras ay dalawampu't-limang minuto makalipas ang ika-siyam ng umaga ("The time is twenty-five minutes past nine in the morning") unless it's the disc jockey announcing the time over your favorite A.M. or F.M. station.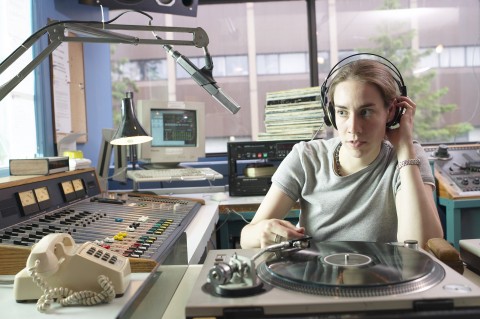 So, when you ask a Filipino on the streets what time it is and it's 5:15 p.m., you'll most likely hear them respond with: Alas-singko kinse. The time marker, which in this case is ng hapon, is omitted unless the person asking has just awoken from a very long sleep over the weekend and has no idea what period of the day it is.
Menos
And then there's the word menos, which is Spanish for "less." In reading the time, we can use the term this way:
Ang oras ay menos kinse bago mag alas-kwatro. 
That's fifteen minutes "minus" or "less" four o'clock, and indicates that the time is a quarter to four or fifteen minutes before four.
Meanwhile, here's another table for your reference. This time, it's for the Spanish way of reading time:
| Time | Another way we read time in Filipino is… |
| --- | --- |
| 1:00 | ala-una |
| 2:00 | alas-dos |
| 3:00 | alas-tres |
| 4:00 | alas-kwatro |
| 5:00 | alas-singko |
| 6:00 | alas-sais |
| 7:00 | alas-siete |
| 8:00 | alas-otso |
| 9:00 | alas-nueve |
| 10:00 | alas-dies |
| 11:00 | alas-onse |
| 12:00 | alas-dose |
In order for you to be able to tell time in Filipino, you need to be familiar with Spanish numbers. This post might be able to help you with that.
3. Hours Divided into Minutes
Reading and telling time in Filipino when hours are divided into minutes is also straightforward, although most Pinoys never read time in this manner.
1- Quarter
The direct equivalent for the word "quarter" in Tagalog is kwarter, but it's not a commonly used word. That said, "It's a quarter past seven in the evening," is read as Alas-siete kinse ng gabi. 
To be more formal, you can say: Ang oras ay labinlimang minuto makalipas ang alas-siete ng gabi. 
2- Half
The Filipino word for "half" is kalahati. When reading 8:30 p.m., you say: Alas-otso y medya ng gabi. Or, in the more formal manner: Ang oras ay kalahating oras/tatlumpong minuto makalipas ang ika-walo ng umaga.
4. Time Adverbs
Using an adverb of time in Filipino when giving the time is very useful. There are a lot of time adverbs available, but we'll give you a list of only the most commonly used time adverbs in Filipino, with examples of how to use them.
1 – Now/Right Now (Ngayon)
"What time is it now?"
2 – Currently (Kasalukuyan)
Ang oras sa kasalukuyan ay sampung minuto makalipas ang ika-siyam ng umaga. 
"The current time is ten minutes past nine in the morning."
 3 – Today (Ngayon/Ngayong araw)
Anong oras ka pupunta doon ngayong araw? 
"What time are you going there today?"
4 – Yesterday (Kahapon)
Pasado alas dose ng tanghali sila umalis kahapon. 
"They left past twelve noon yesterday."
5 – Tomorrow (Bukas)
May deyt sila bukas ng gabi. 
"They'll have a date tomorrow evening."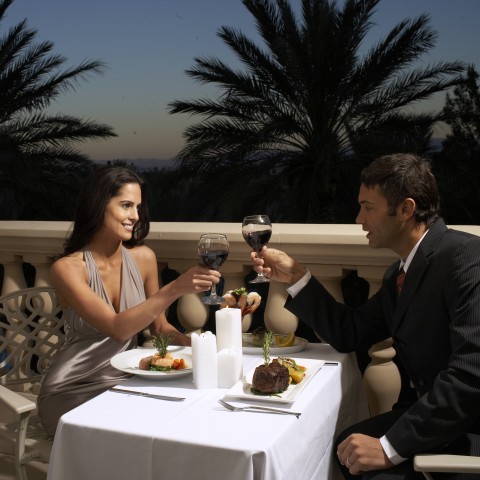 6 – Before (Bago)
Pinalampas ko ang alas otso ng umaga bago magluto ng agahan. 
"I waited until past eight in the morning before deciding to cook breakfast."
Limang minuto na lang bago mag alas-dose ng hating-gabi. 
"There's only five minutes left before twelve midnight."
7 – After (Pagkatapos)
Sinundo siya ng drayber pagkatapos niyang tawagan ito ng pasado alas tres ng hapon. 
"The driver fetched her after she phoned him at past three in the afternoon."
8. Soon/As soon as possible (Sa lalong madaling panahon)
Kailangan nilang tapusin ang proyekto sa lalong madaling panahon. 
"They need to finish the project as soon as possible."
9. Later (Mamaya)
Manonood kami ng sine mamaya. 
"We're going to watch a movie later."
10. In a while/Shortly (Maya-maya/Sa ilang sandali)
Nandiyan na ako maya-maya. 
"I'll be there in a while."
Lalapag na ang eroplano sa ilang sandali. 
"The plane will be landing shortly."
5. Common Filipino Proverbs about Time
There aren't a lot of time proverbs in the Philippines, but the few that are there truly echo how Filipinos are supposed to value time. Here are some of them:
1 – "The early comer is better than the hard worker."
Daig ng maagap ang masipag.
This is a critique against the habit of many Filipinos of being late to meetings and appointments. It suggests that a person who's always on time will always beat a person who's more talented but never comes on time.
2 – "Time is gold."
Ang oras ay ginto.
This doesn't need much explanation. Time is valuable and must not be wasted.
3 – "Do today what you can do tomorrow."
Gawin ngayon ang kaya mong gawin bukas.
Filipinos are known to be procrastinators, and are thus said to possess the mañana habit attitude. Mañana is a Spanish word that describes an indefinite time in the future. This proverb is targeted at those who have a habit of saying mamaya na or "later" when asked to work on an important task.
These next two sayings are related to the first three. They're designed to encourage Filipinos not to put off doing something important—or they may regret their actions in the end.
4 – "Opportunity knocks but once. Grasp it before it disappears."
Isang beses lang kumatok ang pagkakataon. Hawakan nang mahigpit bago pa ito maglaho.
5 – "What good is grass if the horse is dead?"
Aanhin pa ang damo kung patay na ang kabayo?
6. Conclusion
As promised, learning how to tell time in Filipino is trouble-free. Sure, you'll need to learn a few basic Spanish terms (or English if it's not your first language), but overall, it's not very complicated. However, to accurately tell time—or both the date and time in the Philippines—you'll need to take your ability to read and speak the Filipino or Tagalog language up a notch.
One way you can do this is through FilipinoPod101, an online portal that provides students who wish to learn Filipino with a way to learn the language and culture of the Philippines in a systematic yet fun and convenient manner. FilipinoPod101 can provide you with countless video lessons if you're a visual learner, as well as audio tools if you're the type who loves learning through listening. Most importantly, it gives you the opportunity to learn the Filipino language on your own. We hope you'll continue to let us join you on your language-learning journey!
Before you go, let us know in the comments what time it is where you are, in Filipino! We look forward to hearing from you.