There is no doubt you have done your research about the Philippines and know how rich its culture is and how stunningly beautiful its tourist spots are. As an archipelago with over 7,000 islands, the Pearl of the Orient Seas (as it is commonly called), the Philippines is one of the best countries to visit in Southeast Asia. However, beyond knowing which places to visit, which hotels to stay, and what delicacies to eat, you need to be armed with basic Tagalog phrases for travel to truly enjoy your stay in the country.
Sure, you can just speak English when communicating with the locals, since most will understand you. But what if you happened to get stuck in a particular situation and the person you asked for help from didn't understand any English? In any case, it is still to your advantage to learn basic Filipino words and phrases to help you get around when traveling in the Philippines.
This guide will teach you Filipino travel phrases that you can use when conversing with the locals, commuting via taxi or train, shopping, and dining at restaurants. You will also learn more important expressions, such as those you'll need when asking for directions or calling for help during an emergency. Finally, you will learn basic expressions when complimenting or praising someone using the Tagalog language.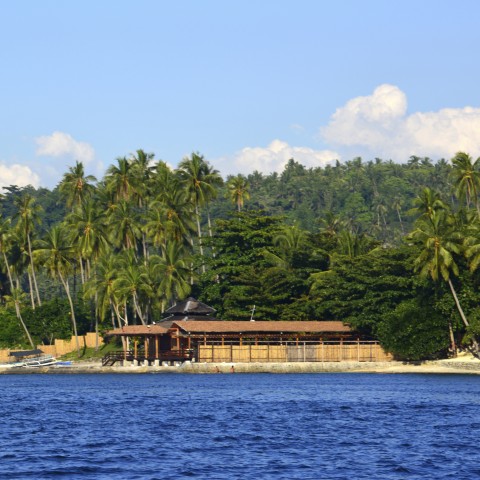 The Philippines is one of the best countries to visit in Southeast Asia.
Table of Contents
1. Basic Expressions
Your efficiency in using Filipino travel phrases will be determined by how familiar you are with basic Filipino phrases, such as greetings, polite phrases, and other general expressions. This section will focus on just that. Here, we have a list of essential words, phrases, and expressions you'll need to initiate a conversation with the locals as you visit various beautiful spots in the Philippines.
1 – Polite Expressions
Filipinos place a lot of emphasis on politeness. When meeting with the locals, it's important to communicate in a polite tone. You'll make a good impression if you are familiar with the following polite expressions:
Kumusta?

"How are you?" 

(Using the third person plural when addressing someone shows a higher degree of respect. For example, you can say Kumusta po sila, which translates to "How are they?")
Magandang araw. 
"Good day."
Ikinagagalak kitang makilala. 
"It's nice to meet you."
Maraming salamat. 
"Thank you very much."
Paumanhin.
"Sorry." / "Excuse me."
Walang anuman. 
"You're welcome." (Literally "It's nothing.")
Pwede magtanong? 
"Can I ask a question?"
Paalam. 
"Goodbye."
Take note that the Filipino language doesn't have a word for "please," but one word that would convey the same expression would be pakiusap, which means "plea" or "request." Here's an example: 
Pakiusap, tulungan niyo po ako. ("Please, help me." )
In most cases, you can simply attach paki before a verb to mean that you are making a request:
Pakisabi sa kanya na tumawag ako. ("Please tell her that I called,")
2 – General Expressions
Oo / Hindi

"Yes / No" 

(You can use Opo instead of Oo to sound more polite)
Sige / Hindi bale 
"Sure / Never mind"
Bakit? 
"Why?"
Anong oras na po? 
"What time is it already?"
Nakakaintindi ako ng Tagalog.
"I can understand Tagalog."
Kaunti lang na Tagalog ang alam ko.
"I know very little Tagalog."
Pwede niyo po akong kuhanan ng litrato? 
"Could you please take my picture?"
Ang ganda!
"It's beautiful!"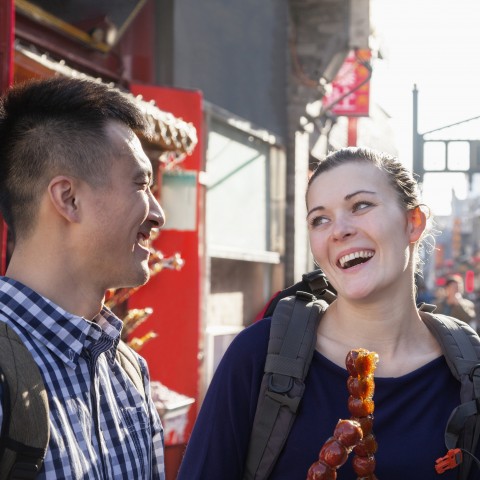 Nakakaintindi ako ng Tagalog. ("I can understand Tagalog.")
➜ Learning new words related to travel is one of the first things you should do when planning to travel to a different country. Be sure to check out our lesson on Filipino words related to travel to familiarize yourself with basic Tagalog travel vocabulary.
2. Transportation
Not including jeepneys, the three primary modes of transportation within Manila are taxi, bus, and train. Taxis are the most convenient option when you're simply moving from one district to another. Buses, on the other hand, are for when you need to visit a different city or nearby province. As for rail transportation, it's the perfect choice if you want to avoid heavy traffic and get to your destination fast.
If you are taking the taxi, here are a few common Tagalog phrases for your convenience.
When taking the taxi…
| | |
| --- | --- |
| Sa Intramuros po.  | "To Intramuros, please." |
| Metro lang po tayo.  | "Let's just use the meter, please." |
| Dito po ako bababa.  | "I'll get off here." |
| Pilahan ng taksi | "Taxi stand" |
Meanwhile, here are phrases when you need to take the bus.
When taking the bus…
| | |
| --- | --- |
| Dadaan po ba ito sa…  | "Will this pass through…" |
| Ito po ba ang bus papuntang…  | "Is this the bus to…" |
| Gaano po katagal ang biyahe? | "How long will the trip take?" |
| Istasyon ng bus | "Bus station" |
Finally, here are some phrases you will find helpful when you're taking the train.
When taking the train…
| | |
| --- | --- |
| Saan po makakabili ng mga tiket?  | "Where can I buy some tickets?" |
| Anong oras po dadating ang tren?  | "What time is the train arriving?" |
| Isang tiket po papuntang Magallanes.  | "One ticket to Magallanes, please." |
| Istasyon ng tren | "Train station" |
3. Shopping
Only a couple of kilometers apart, Quiapo and Divisoria are the two best places to do bargain shopping when you're in Manila. Quiapo used to be a center for trade and commerce, while Divisoria is dubbed as the Budget Shopping Capital of the Philippines. Today, Quiapo is known for cheap electronics, while Divisoria is considered the best place to go shopping for very affordable clothes. 
One of the distinct characteristics of Filipino shopping is a practice called pagtatawad, which refers to bidding, or more appropriately, haggling. Whether you're shopping for fashion accessories in Quiapo or for cheap household items in Divisoria, you need to learn a Tagalog shopping expression or two to help you get the best deals.
| | |
| --- | --- |
| Magkano po ito?  | "How much is this?" |
| Pwede bang tumawad?  | "Can I get a discount?" |
| Naka-sale po ba ngayon? | "Is there a sale right now?" |
| Ano po ang mas bagay sa akin?  | "Which one suits me best?" |
| Mayroon ba kayong mas malaki pa dito?  | "Do you have a bigger size for this?" |
| Saan ko pwedeng bayaran ang mga ito? | "Where can I pay for these?" |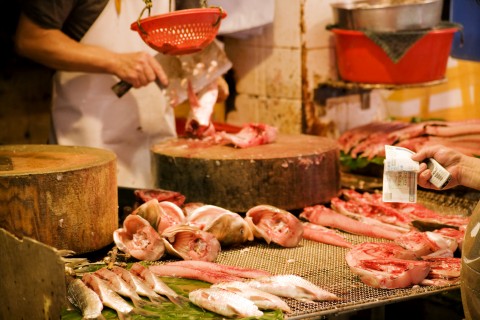 Pwede bang tumawad? ("Can I get a discount?")
4. Restaurants
Whether you're dining at a fancy restaurant or eating at a karenderia (a Filipino term used to refer to a food stall with a small seating), it's good to be familiar with basic expressions to use when ordering food or simply letting your companion know that you enjoyed the food.
Most restaurants in the Philippines, whether fine dining or not, have staff who take customers' orders. The staff takes your order, you wait ten to fifteen minutes to be served, you enjoy your meal, and you pay when you're done. The following are a few basic phrases you can use when eating at a restaurant.
Pwede bang makita ang menu? 
"May I see the menu?"
Bigyan mo ako ng… 
"Please give me…"
Hindi ako pwede sa… 
"I'm allergic to…" 
(Literally "I am not allowed [that]….")
May hipon ba ito?
"Does this contain shrimp?"
U-order na kami. 
"We are ordering now."
Pwede ko nang makuha ang bill? 
"May I have the bill, please?"
Tumatanggap kayo ng card?
"Do you accept card payments?"
Ako na ang magbabayad ng kinain natin.
"Allow me to pay for our meal."
Things are a bit different when you're eating at a karenderia. The experience in such places is referred to as turo-turo, which literally means "point-point." Small fast food restaurants characterized by this experience are also referred to as turo-turo. That's because when you're eating at these places, the food is usually displayed on glass shelves, and you simply tell the staff which one you'd like to have by pointing at the food.
| | |
| --- | --- |
| Bigyan mo ako niyan. | "Please give me that one." |
| Dalawa pa pong plato ng extra rice. | "Two more plates of rice, please. |
| Isang kanin at dalawang tinolang manok. | "One order of rice and two orders of chicken tinola." |
| Mag-so-soft drinks ka ba? | "Would you like some soft drinks to go with that?" |
| Maraming salamat po. Nabusog kami! | "Thanks a lot. We're so satisfied with the food!" |
5. Asking For and Giving Directions
There's been a trend among travelers in the past few years of getting lost while traveling. It's called the art of getting lost. The idea is that the exploration of new places becomes more fulfilling when we lose ourselves in the process and only choose to be found when we're ready. Indeed, not having an itinerary or a map when you're visiting a new city adds a lot to the thrill. 
However, at the end of the day, you will still have to return to your hotel or find the nearest restaurant so you can eat. With that, you'll need to be familiar with the basic words and expressions to use when asking for directions. In the same manner, you also need to be ready to give a response when it's your turn to point a fellow traveler in the right direction. Here are a few phrases to familiarize yourself with.
When asking for directions…
| | |
| --- | --- |
| Saan banda ang…? | "Where is the…?" |
| Paano pumunta sa…? | "How do I get to…?" |
| Saan po ang pinakamalapit na kainan?  | "Do you know where the nearest restaurant is?" |
| Malayo ba dito ang Mind Museum? | "Is the Mind Museum far from here?" |
When giving directions…
| | |
| --- | --- |
| Lumiko ka sa kaliwa…  | "Turn left…." |
| Kumanan ka…  | "Turn right…" |
| Diretsuhin mo lang ang daan na ito…  | "Just go straight this way…" |
| Tumawid ka pagdating mo sa kanto…  | "Cross the street when you get to the corner…" |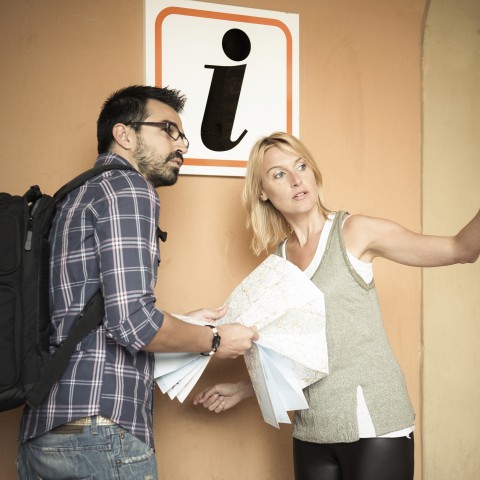 Diretsuhin mo lang ang daan na ito… ("Just go straight this way…")
6. Emergencies
Having an emergency is the last thing you want when you're touring a new place. But if worse comes to worst, it would be to your advantage to know a few native words and phrases so you can easily get anyone's attention in case you need help. Take a look at some of the most practical expressions you'll need whenever you need help during an emergency.
| | |
| --- | --- |
| Tulong!  | "Help!" |
| Tulungan ninyo ako!  | "Help me!" |
| Pwede niyo ba akong tulungan?  | "Can you help me, please?" |
| | |
| --- | --- |
| Tumawag kayo ng doktor! | "Call a doctor!" |
| Tumawag kayo ng ambulansya!  | "Call an ambulance!" |
| Ang gamot ko.  | "My medicine." |
| Dalhin natin siya sa ospital. | "Let's take him/her to the hospital." |
| Kailangan kong makapunta kaagad ng ospital.  | "I need to get to the hospital immediately." |
| | |
| --- | --- |
| Nawala ko ang pitaka ko. | "I lost my wallet." |
| Hindi ko mahanap ang pasaporte ko.  | "I can't find my passport." |
| | |
| --- | --- |
| Tumawag kayo ng pulis! | "Call the police!" |
| Humingi kayo ng tulong sa pulisya.  | "Ask the police for help." |
➜ You don't want to get caught in an emergency without knowing how to ask for help in Filipino. Don't worry because our lessons on Essential Filipino for Emergencies got you covered!
7. Phrases for Giving Compliments
Filipinos aren't that good when it comes to receiving compliments. The good news is that we are learning. The key is to show that you are sincere when complimenting or trying to flatter someone. Here are some basic phrases to use when you want to praise someone or show your appreciation.
| | |
| --- | --- |
| Mahal ko ang mga Pilipino.  | "I love the FIlipino people." |
| Gusto ko dito sa Pilipinas.  | "I like it here in the Philippines." |
| Walang kasing-sarap ang pagkaing Pilipino.  | "There is nothing as delicious as Filipino food."  |
| Ang bait-bait mo. | "You are very kind." |
| Pwede ba kitang maging kaibigan? | "Will you be my friend?" |
| Bagay sa iyo.  | "It suits you." |
| Ang galing mo!  | "You're great!" |
| Dabest ka talaga!  | "You're the best!" |
8. Useful Phrases to Go through Language Problems
The best way to overcome language barriers is to become proficient in a language you're trying to learn. If you're still on your way to mastering Filipino, here are some useful phrases to help you clear things up when communicating with a local starts to become a bit complicated.
| | |
| --- | --- |
| Marunong ka bang mag-Ingles?  | "Do you know how to speak in English?" |
| Nakakaintindi ka ba ng Ingles?  | "Can you understand English?" |
| Hindi ko masyadong maintindihan. | "I don't quite understand." |
| Pwede mong ulitin ang sinabi mo?  | "Can you repeat what you said?" |
| Bagalan mong magsalita para maintindihan ko.  | "Please speak slowly so I can understand." |
| Paano mo sabihin ang salitang ito sa Pilipino?  | "How do you say this word in Filipino?" |
| Paano basahin ito?  | "How do you read this?" |
| Pwede mo bang isulat?  | "Can you write it down, please?" |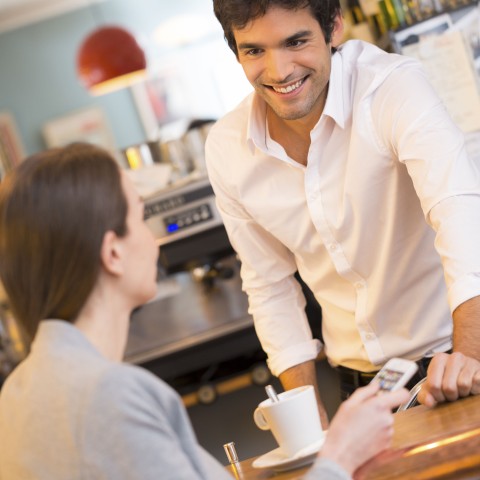 Nakakaintindi ka ba ng Ingles? ("Can you understand English?")
➜ Many people want to learn Tagalog but are hesitant thinking that it's a difficult language to learn. Or is it? Find out by reading this article.
9. How FilipinoPod101 Can Help
So, what did you think about this guide? Did we miss anything? Don't hesitate to let us know in the comments section below. One more thing, though! Did you know that you can learn more travel phrases in Tagalog by joining FilipinoPod101? 
That's right! In this guide, you were able to learn basic Tagalog travel words. If you join FilipinoPod101, you'll learn not only Filipino phrases and words to help you get by. You will also learn basic, intermediate, and advanced words and expressions, as well as grammar and pronunciation, to help you master the Filipino language. You'll also learn the proper accent, tone, and nuances of the Filipino language.
You can always enjoy free learning resources here on our website and get tips to learn Tagalog, but if you want to get the most of your time here, consider signing up for a free lifetime account. From there, you can always upgrade to a Premium PLUS account and take advantage of exclusive learning tools and resources, such as MyTeacher. With MyTeacher and other similar exclusive features, you'll have the opportunity to master Filipino twice as fast and twice as fun!