Filipinos probably love eating more than any other group of people in the world. To give you an idea, there are restaurants in the Philippines that serve "unlimited rice," more popularly known as "unli-rice." And while food is the basis of social life for the hospitable Filipinos, there's also no question that Filipino food is delectable.
People in most cultures eat three meals a day with some snacks in-between. A typical Filipino eats in this order: coffee and bread upon waking up to warm the stomach; breakfast at around seven in the morning; some snacks at ten; lunch at noon; coffee break with snacks at three in the afternoon; dinner at six-thirty in the evening; and midnight snacks before going to bed. Not to mention that every major meal is followed by dessert. 
In this article, we'll present to you some of the most mouthwatering Filipino foods you need to try next time you're in the Philippines.
Table of Contents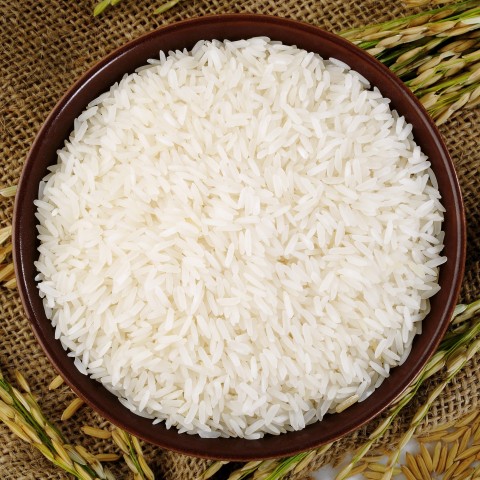 Restaurants in the Philippines serving "unli-rice" is proof that Filipinos love to eat!
1. Must-Try Dishes in Filipino Restaurants
The past two decades have seen the booming of the restaurant business in the Philippines. That, too, is evidence that we Filipinos love to eat. If you're visiting the country for the first time and would love to try the restaurants here, you should definitely order one of these dishes.
Afritada
Afritada is a braised dish made with either beef, chicken, or pork. It's one of the many Filipino dishes influenced by Spanish culture. In fact, the name afritada comes from the phrase a fritada, which means "to fry" in Spanish.
While you can use pork or beef when making afritada, the most popular version in the Philippines is the Apritadang Manok or Chicken Afritada. Aside from the meat, the main ingredients of this delicious dish are carrots, bell peppers, and potatoes. Green peas, string beans, and pineapple can also be added depending on your tastes.
Here's a detailed guide on how to cook this flexible Filipino dish: Chicken Afritada Recipe.
Bulalo
Bulalo is one of the Philippine's emblematic dishes. It's a soup dish in which beef shank and bone marrow are cooked until the fat and collagen have melted into the broth. Corn on the cob, pechay (snow cabbage), onion, garlic, scallions, ginger, and fish sauce are used to enrich the soup's flavor.
It's believed that this soup dish originated in Tagaytay, specifically Taal, where the temperature is cooler and where the best cows in the country are being raised.
Check out this Bulalo recipe from FoodNatics if you want to know how to prepare this humble cowman's stew.
Bicol Express
For years, it was thought that this popular Filipino dish originated from Bicol. But recently, a food blogger suggested that the dish was actually born in the kitchen of a restaurant in Malate, Manila, owned by Cely Kalaw who was dubbed the "Mother of Pinoy Buffets." Regardless of where it originated, there's no question that it's one of the dishes that define the Philippines.
Bicol Express is pork stew cooked with coconut milk, chili, and shrimp paste. It was named after the passenger train that traveled from Manila to Bicol, a region known for its spicy cooking. What makes this dish unique is its spicy flavor, which makes it a favorite pulutan (food to be eaten with liquor). It's actually known in Bicol as sinilihan, which means "spiced with chili."
This unique Bicol Express recipe will surely get you excited to try this tasty dish!
Crispy Pata
When it comes to Filipino food, delicacies like this one really steal the spotlight.
Every pork-lover's delight, crispy pata can be compared to the German Schweinshaxe. It's cooked by deep-frying pig knuckles. The result? Crunchy skin on the outside and tender meat on the inside.
It isn't that simple, though. Before you fry the pig leg, you need to simmer it in spices until it becomes tender. You then refrigerate it overnight to dry. Only then can you deep-fry it to moist, juicy perfection with golden,  crispy skin.

Be sure to check out this Crispy Pata recipe for a more detailed guide on how to prepare this "sinful" delicacy.
Crispy Pata (© BrokenSphere / Wikimedia Commons, under CC BY-SA 3.0)
Dinuguan
Dinuguan is a flavorful stew made of pork offal simmered in a dark gravy of pig's blood and vinegar. The term dinuguan came from the root word dugo, which means "blood." Some say the dish is pre-Hispanic. Others say it was introduced during the Spanish era in the Philippines. 
Whatever the case, it's clear that the dish was "invented" at a time when refrigeration was not an option, so every part of a butchered animal had to be put to good use. Today, dinuguan is one of the most well-known Filipino dishes. And the fact that it's served whenever and wherever there's some sort of festivity definitely helps its reputation.

Here's a simple Dinuguan recipe for you.
Dinuguan, or Filipino pork blood stew, is best served with puto (rice cake) (Photo by George Parrilla, under CC BY 2.0).
Kare-kare
Kare-kare is a unique Filipino dish in that it's cooked with peanut sauce. Some people even use peanut butter for it. It's basically beef and oxtail cooked with some vegetables including pechay, eggplant, and green beans.
The Kapampangans (an ethnolinguistic group of Filipinos from the provinces of Pampanga, Tarlac, Bataan, Bulacan, Nueva Ecija, and Zambales) are often credited for kare-kare. This is not surprising, since they can cook the best version of this tasty dish. However, historical records are claiming that kare-kare was introduced to Northern Luzon by elite classes of Muslim people from the South.
There's also a theory that kare-kare was derived from the curry dish that Indian cooks served their British masters, which was introduced to the Philippine shores in the seventeenth century.
Today, kare-kare has evolved from being food for the elites to being a comfort food for every Filipino regardless of class. This episode of GMA Public Affairs features the many different ways you can prepare kare-kare.
Mechado
Inspired by Spanish culinary methods, Mechado is beef stew simmered in tomato sauce. It's similar to afritada, but Mechado uses beef rather than chicken. The stew is often confused with kaldereta, another Filipino dish that involves cooking beef in tomato sauce and liver spread.
Sources say that the term mechado came from the Spanish word mecha, which means "wick." Others claim it's from another Spanish word, mechar, meaning "to put oil."

Mechado is a simple dish and anyone can easily prepare it. Don't believe me? This Mechado recipe should convince you.
Mechado (© BrokenSphere / Wikimedia Commons, under CC BY-SA 3.0)
Pinakbet
Pinakbet is an indigenous dish from the Ilocos Region, the historic homeland of the Ilocanos and Pangasinan people. It got its name from pinakebbet, an Ilocano term meaning "shriveled." Of all the dishes in the Philippines, pinakbet is perhaps the one that symbolizes Filipino values the most. 
For one, the dish is traditionally made by first harvesting the vegetable ingredients (eggplant, okra, bitter melon, garlic, onions, tomatoes, string beans, green chili, and winged beans) from the family backyard. They are then washed and prepared immediately to keep their freshness. 
Back in the day, harvesting vegetables in one's garden was a sign of warmth and honesty. It also provided an opportunity to have friendly conversations with neighboring families. Nowadays, you can easily purchase the ingredients with one trip to the grocery store. You can then browse the Internet when you get home to find the best Pinakbet recipe online. However, there's no doubt that there are still places in the Philippines where families prepare this palatable dish the traditional way.

You can also try this Pinakbet with Lechon Kawali recipe by Joyful Kitchen.
In many regions in the Philippines, families enjoy the privilege of harvesting their own food.
Sinigang
No other Filipino dish is more mouthwatering—literally—than sinigang. This sour-tasting soup gets much of its flavor from tamarind. Its method of cooking is rather flexible, as it can be cooked with pork, beef, shrimp, fish, and sometimes even chicken. Most of the time, however, it's made with pork ribs. And aside from tamarind, other ingredients include string beans, kangkong (water spinach), eggplant, radish, red onion, finger chili, and fish sauce. 
In the past, preparing sinigang meant climbing a huge tamarind tree first. Nowadays, people use different agents to give sinigang its sour taste. Some use raw mango, guava, or calamansi. People in Negros and Panay use batuan (Garcinia binucao). And if you have no access to organic ingredients, you can always use sinigang tamarind mix. Use this Sinigang recipe if you want to try cooking this flavorful dish yourself.
2. Unique Filipino Food
It's difficult to think that a country like the Philippines would have anything unique come out of it, considering that it's been under the rule and influence of more than one culture within 500 years. And yet, when it comes to cuisine, the Philippines may just surprise you.
Balut
Balut possibly originated from China and it's also a delicacy in other parts of Asia. However, the Philippines is most known for having this exotic street nutriment as a national food. 
Balut is a fertilized duck egg, aged between 12 and 20 days. There's a saying among Filipinos that only real men eat the more developed balut fetus. Many even consider it to be an aphrodisiac. A lot of people are repulsed by the unappetizing appearance of this Filipino street food, but once you've tried it, you'll say that it's disgustingly delicious.
Halo-Halo
Halo-halo is the ultimate treat during summer in the Philippines. It literally means "mix-mix" and it's made with shaved ice, sweetened beans, sweetened gelatin, fruit slices, and evaporated milk. It's then topped with a scoop of ice cream and mixed. It's said that halo-halo is the Pinoy version of the Japanese kakigori, except that halo-halo has more ingredients. 
Speaking of ingredients, some restaurants in the Philippines serve "special" halo-halo, which has more scoops of ice cream and contains a few leche flan (the Pinoy version of the European Crème caramel) cubes, as well as a piece of barquillo.

The fact that halo-halo has been featured in several international TV shows is proof of just how unique and well-known this Filipino dessert is.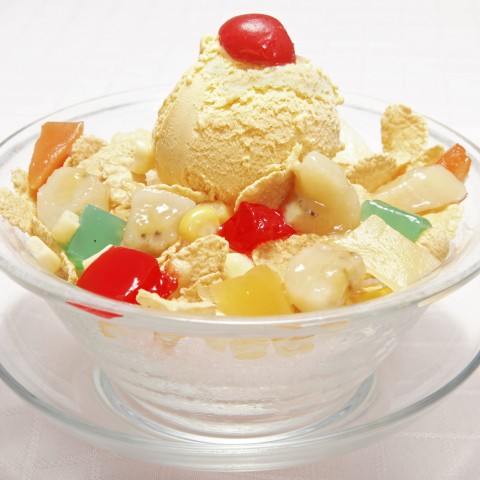 Halo-halo
Adobo 
Adobo is (unofficially) the national dish of the Philippines. It refers to a cooking method that involves marinating and stewing pork or chicken (more often chicken) in a mixture of soy sauce, vinegar, and spices. There are many versions of the Filipino adobo, but the basic ingredients are the same. Some add pineapple while others use siling haba (finger chili). 
It's up to you what you want to put in your own version of adobo. But if you want to try the standard version, stick to soy sauce (which gives it its dark color and saltiness), vinegar (which flavors and tenderizes the meat), and garlic, onions, bay leaves, and pepper for sautéeing the meat.
Kwek-Kwek 
Kwek-kwek is actually a variation of tokneneng, a Filipino street food made by deep-frying hard-boiled eggs covered in orange batter. The only difference between the two is that tokneneng uses duck egg while kwek-kwek uses quail egg. 
Local legend has it that this popular street food was invented when a balut vendor accidentally dropped her goods. To save what remained of her merchandise, she rolled the eggs in flour and fried them. 
Visit town plazas or bus stations in the Philippines if you want to have a taste of this one-of-a-kind Filipino snack.
Kwek-kwek
Lechon Baboy
Lechon is not unique to the Philippines per se, but there are probably no people in the world who treasure this method of cooking more than the Filipinos. And while the term lechon refers to a roasted piglet, it's also used in the Philippines to refer to roasted chicken or turkey. Back in the day, it was piglets that were being roasted; as time went by, the size of the pig got bigger. Nowadays, lechon is a staple for special occasions and are always present at fiestas, birthday parties, weddings, and reunions.
→ This lesson will help you learn more about the unique cuisine of the Philippines!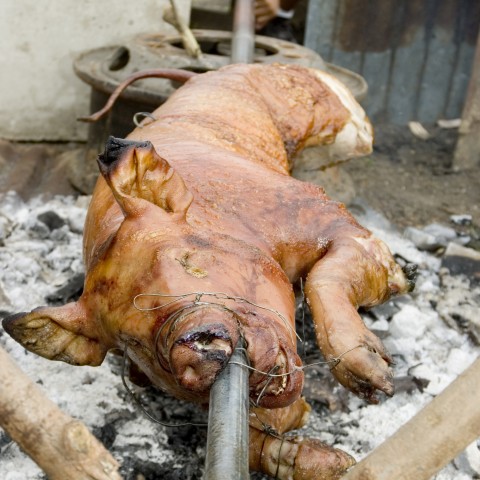 Lechon is a staple at fiestas, birthday parties, weddings, and reunions in the Philippines.
Puto-Bumbong
If you've ever attended the Simbang Gabi in the Philippines, you've probably come across this purple Filipino snack served outside church cathedrals during the Christmas season. 
There's not enough information as to where this tasty kakanin originated, but some say it was brought to the Philippines from Mexico by explorers Urdaneta and Legaspi. Puto refers to steamed glutinous rice, while bumbong refers to "bamboo cannon." This bamboo cannon, or tube, is what the flour mixture is poured into. It's then wrapped in a piece of cloth and cooked in a steamer. 
No bamboo steamer? No problem. This video will show you how to make puto bumbong at home.
3. Food-Related Vocabulary
Now, let's take a look at some common food-related words and expressions. We'll cover everything from how to order Filipino food to words you need for cooking.
Let's start with some words related to eating:
kain ("to eat")
kanin ("steamed rice")
ulam ("viand")
*Note: While rice is the main staple food in the Philippines, ulam is an essential component of every meal. Any dish eaten with rice can be considered ulam in the Philippines. There's no exact English term for it, but "viand" is what's often used to describe it.
plato/pinggan ("plate")
kutsara ("spoon")
tinidor ("fork")
kutsilyo ("knife")
baso ("glass")
merienda ("snacks")
kakanin ("sticky rice snacks")
panghimagas ("dessert")
1 – Inviting Someone to Eat
Tara, kain tayo. ("Come on, let's eat!")
Doon tayo kumain sa bagong restaurant. ("Let's try the new restaurant at the corner.")
Mag take-out tayo. ("Let's take out some food.")
Mag merienda muna kayo. ("You guys have some snacks first.")
2 – When Eating at a Restaurant
Patingin ng menu. ("May I take a look at the menu, please?")
Mayroon ba nito? ("Is this available?")
Bigyan mo kami ng… ("We will have…")
Pwede bang makuha ang bill? ("May we have the bill, please?")
3 – Talking About Food
Gutom na ako. ("I'm hungry.")
Gusto ko nang kumain. ("I really want to eat now.")
Gulay lang ang kakainin ko. ("I'm only going to eat vegetables.")
Dagdagan mo pa ang kanin mo. ("You should get more rice.")
Ang sarap! ("Delicious!")
Medyo maalat siya. ("It's a bit salty.")
Kulang siya sa lasa. ("This one's a bit bland.")
Busog na busog ako! ("I'm so full!")
Tara, kain tayo. (C'mon, let's eat.)
4 – Cooking Vocabulary
The verb "to cook" and the adjective "cooked" share the same root in Tagalog, which is luto. Note that the verb has a longer vowel sound.
luto ("to cook")
lutô ("cooked")
hilaw ("raw") or ("needs more cooking")
sunog ("burnt")
saing ("to steam rice")
prito ("to fry")
gisa ("to saute")
sangkutsa ("to pre-cook")
paksiw ("to cook in vinegar broth")
laga ("to boil meat")
ihaw ("to grill")
sangkap ("ingredient")
hiwa ("to slice") or ("to cut")
karne ("meat")
gulay ("vegetables")
kawali ("pan")
kaldero ("cooking pot")
Here's an additional list of Tagalog words about food and eating.
4. Bonus: Simple Recipes to Make Authentic Filipino Food at Home
In this section, I'm going to share with you two Filipino recipes: one for the national dish of the Philippines—chicken adobo—and another for the popular Kapampangan dish, sisig.
A- Chicken Adobo Recipe
Chicken adobo is so popular that there are now so many different versions of it. What I'm going to show you, however, is how to cook authentic chicken adobo. 
You will need:
2 lbs. cut-up chicken pieces
5 cloves garlic (chopped)
3 pcs. dried bay leaves
4 tbsp. white vinegar
8 tbsp. soy sauce
¼ tsp. salt (optional)
1 tsp. sugar
1 tsp. whole peppercorn
1 ½ cups water
3 tbsp. cooking oil
Directions
Step 1 Heat the pan.
Step 2 Add oil into the pan and cook the garlic until golden brown.
Step 3 Add the chicken and saute until the skin turns light brown.
Step 4 Add the bay leaves, soy sauce, and vinegar and cover the pan. Leave to a boil for 10 to 15 minutes. 
Step 5 Turn off the stove and add the pepper. Your chicken adobo is now ready.
Note: This is the simplest way to cook chicken adobo. You can also use onion in addition to garlic, as well as annatto powder. It's also important to note that in many provinces in the Philippines, people use native chicken, although they require a little bit more time to cook since native chicken meat is tougher.
B- Pork Sisig
Pork sisig is actually one of the dishes you need to try here in the Philippines. Just like kare-kare, it's a Kapampangan dish and is a cuisine staple of the people of Pampanga. In fact, in 2017, the city government of Angeles City declared pork sisig an intangible heritage. The term sisig is said to have been first mentioned in a Kapampangan dictionary, which dates back to the seventeenth century. 
The dish is prepared by first boiling a pig's head until it becomes tender. Portions of the head are then chopped and either grilled or broiled. It's then served on a sizzling plate, spiced with chopped onions. This is the traditional way to prepare sisig, although there are more popular versions today. Here's a recipe for one of those versions:
Ingredients:
1 lb. pig ears
¼ lb. chicken liver
1 pc. egg
1 ½ lb. pork belly
1 pc. onion (minced)
½ tsp. garlic powder
¼ tsp. ground black pepper
3 tbsp. chili flakes
½ tsp. salt
1 pc. lemon
½ cup butter
3 tbsp. soy sauce
6 cups water
3 tbsp. mayonnaise
Directions
Step 1 Pour water in the pan and bring to a boil. Add salt and pepper.
Step 2 Add pig's ear and pork belly and simmer until tender (40 minutes to 1 hour).
Step 3 Remove the meat from the pot and drain excess water.
Step 4 Grill boiled pig's ear and pork belly and chop into fine pieces once done.
Step 5 Melt the butter in a wide pan and add onions. Cook onions until soft.
Step 6 Add chicken liver, crushing it in the pan while cooking.
Step 7 Add chopped pig's ear and pork belly and cook for 12 minutes.
Step 8 Add soy sauce, garlic powder, and chili, and mix well. Add salt and pepper to taste.
Step 9 Add mayonnaise and mix it with the rest of the ingredients.
Step 10 Serve on a plate topped with chopped spring onions and raw egg.
Pork sisig was declared an intangible heritage of Angeles City, Pampanga in 2017.
5. Learn More About The Filipino Language and Culture With FilipinoPod101
You're probably drooling by now after seeing all those images of mouthwatering Filipino dishes. And while learning about Filipino food, you were also learning about Filipino culture—an important component of your language studies. If you want to expand your knowledge of the culture and language of the Philippines, there's no better place to go than FilipinoPod101.com.
FilipinoPod101 offers an innovative approach to learning Filipino. From core Filipino vocabulary to pronunciation and basic word order, FilipinoPod101 has all the lesson materials you need to learn Filipino in a fun and engaging way. With the variety of lessons provided for you, you'll start speaking Filipino after only one lesson. If you have a Premium PLUS account, you can also use our MyTeacher service, which provides one-on-one coaching and personalized feedback to further accelerate your learning.
There you have it for our top must-try Filipino dishes. Let us know in the comments if there are any dishes you believe should have been on our list!