Knowing how to give the right compliment is a skill. In a country like the Philippines, where many people seem to find receiving compliments unnerving or awkward, it's especially important to learn how to express praise or admiration without coming across as sarcastic. And that's what this post is all about—learning how to deliver the perfect compliment in Tagalog.
To be honest, Pinoys aren't really good at receiving compliments. We're somewhat modest and very shy when it comes to claiming things we're good at. Most of us even consider suspicion as an accepted mode of receiving compliments. It must have something to do with trust issues, but regardless, it can't be denied that giving and receiving compliments is not a forte of many Filipinos.
The good news is that times are a-changin', and nowadays, if you know the right words to say to praise or admire a Filipino friend, you can expect some love and appreciation in return. In connection with that, we've compiled twenty-one Filipino compliments that will surely make your Pinoy friends feel good and love having you around all the time.

Table of Contents
1. Complimenting Someone's Look
Studies show that Pinoys are more conscious than ever about their appearance. This was one of the main findings of the Men Revolution 2013 study done by an international company that provided consumer insight. This is accurate, since most Filipinos, particularly men, are very particular about the way they look and smell; they believe that both factors play an important role in their career. Here are several ways you can compliment a Filipino friend on the way he or she looks.
1- Astig ang porma mo ah!
The word astig is actually Tagalog for "tough," although in many cases, it's used to refer to something cool or awesome.
When to use it: A friend comes along and you notice that he's especially fashionable today. You greet him and say: Uy, astig ang porma mo ngayon ah. ("You look cool, man.")
2- Ang pogi/ganda mo naman.
When to use it: You're going to a party with a friend and you notice that she looks prettier than usual. You go ahead and say to her: Ang ganda mo naman. ("You're looking pretty!")
3- Bagay sa iyo ang suot mo.
The word bagay has two meanings in Tagalog, the first one being "thing" and the other one being "match." In this case, we're talking about the latter.
When to use it: It seems that your colleague has really spent some time fixing herself up, making sure every piece of her outfit matches well with the others. You show your appreciation to her by saying: Bagay sa'yo 'yang suot mong blouse. ("That blouse looks perfect on you!")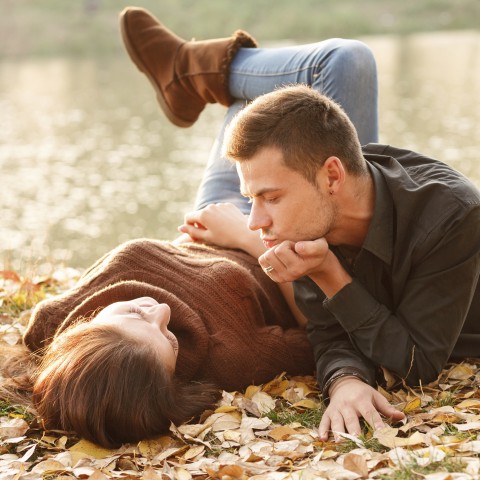 Girl: Bagay ba? Boy: Oo, bagay…tayo. (Girl: "Perfect match, right?" Boy: "Indeed…we are.")
4- "Blooming" ka ngayon ah.
Blooming is a Tagalog expression used to describe a person who's especially happy, particularly as a result of being in a romantic relationship.
When to use it: Your friend came to work looking jollier than usual. Is she in love? You say: Mukhang 'blooming' ka ngayon ah? ("Your face seems to be glowing today.")
5- Ang kinis ng pisngi mo!
When to use it: You're impressed with your friend's smooth skin and want to find out their secret. Without sounding too obvious, you compliment them instead: Ang kinis ng pisngi mo! ("You know what, you really have beautiful and healthy skin.")
6- Sumiseksi ka yata!
When to use it: You noticed that your friend has been losing weight—and looking good because of it—for quite some time now. Not wanting to sound impolite, you simply say: Sumiseksi ka yata! ("I noticed you're getting sexier every day!")
Just make sure you're not a married man saying this to a female colleague.
7- Marunong ka talagang pumili.
When to use it: You're really amazed at your friend's ability to mix and match clothes so that they look good in anything they wear. You tell your friend: Marunong ka talagang pumili ng mga isusuot mo. ("You really have good taste, you know?")
Marunong ka talagang pumili? ("You really have good taste, you know?")
2. Complimenting Someone's Work
Filipinos are no question some of the most hardworking people in the world. Perhaps it's because of pride or modesty that Pinoys go out of their way to avoid being embarrassed, but regardless of the reasons, there's no doubt that Pinoys will almost always do anything they can to add value to their work. Here are some Tagalog compliments you can use to show appreciation for your coworkers.
1- Ang galing mo ah.
When to use it: Your colleague did an exceptionally good job, so you go to him and say: Ang galing mo ah! ("You were pretty good back there!")
2- Gusto ko yang ginawa mo.
When to use it: You find a teammate's contribution really helpful. To show your appreciation, you say: Gusto ko 'yang ginawa mo. Malaking tulong talaga 'yan. ("I really like what you did. That will really help us big time.")
3- Wow! Ang ganda ng gawa mo!
Gawa is Tagalog for "work," "act," or "deed." In this context, it could refer to a masterpiece, such as handicraft, artwork, a song, a poem, or any similar project.
When to use it: This is just another version of the previous example. The only difference is that you're really impressed this time: Wow! Ang ganda naman ng sinulat mong tula! ("Wow! This is a really great piece of poetry you've written!")
4- Ipagpatuloy mo 'yan ha.
When to use it: This can be used as a follow-up to the previous compliment: Gusto ko 'yang ginawa mo. Ipagpatuloy mo 'yan ha? ("I really like what you did there. Keep it up, okay?")
5- Turuan mo naman ako.
When to use it: This is an indirect way to tell someone that they're better than anyone else in the room. You kindly ask them to teach you how to do something that you've observed they're very good at: Turuan mo naman akong sumayaw. ("Please teach me how to dance.")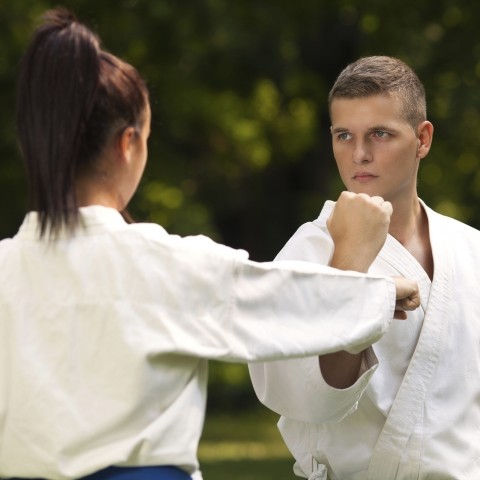 Turuan niyo po ako, Sifu. ("Please teach me, Sifu.")
6- Mahusay.
When to use it: A subordinate showed some impressive stuff at work. You respond accordingly by saying: Mahusay. ("Excellent!") or Mahusay itong trabaho mo. ("You did an excellent job here.")
7- Da best ka talaga!
This is like saying "You are amazing" in Tagalog. So, when do you use it?
When to use it: Once again, your colleague has shown that they can be trusted with stuff at work. You show your appreciation and amazement by saying: Da best ka talaga! ("You're really the best at what you do!")
3. Complimenting Someone's Skills
Not only are Pinoys hardworking, but they're also very skillful. In fact, there are dozens of Filipino animators who have made it big in Hollywood! When it comes to skilled work, Filipinos are exceptional—whether at home, in school, or in the workplace. Wondering how you can show appreciation for someone's skills using compliments in Filipino? Here's how.
1- Ang sarap nitong niluto mo!
When to use it: The way to a Filipino man's heart is through his stomach. The way to a Filipina's heart? Through a sincere compliment on her cooking (or her mom's). Filipinos love inviting guests over to a meal. When you know you're in for some delectable treat, show your appreciation by saying: Ang sarap nitong niluto mo! ("This is top-notch cooking!")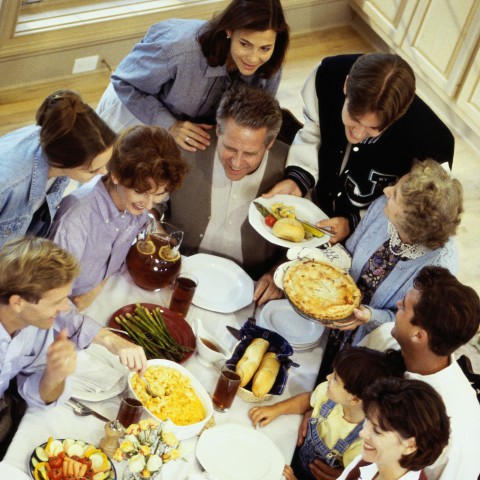 Ang sarap po ng luto niyo, mama…este…ma'am. ("This is top-notch cooking, mom…I mean, ma'am.")
2- Ang galing mo na ah!
When to use it: Someone you know is showing obvious improvements on a craft they're learning. You compliment them by saying: Ang galing mo ng mag Tagalog ah! ("I can see your Tagalog has improved.")
3- Ang ganda talaga ng boses mo.
When to use it: A friend of yours once again showcases their singing skills. Captivated, you tell that friend: Alam mo, ang ganda talaga ng boses mo. ("You know what? Your voice is really good.")
4- Saan ka natuto niyan?
When to use it: This is another indirect way to compliment a person. You find out that your friend is really good at calligraphy. You're impressed and ask her where she learned the skill: Saan ka natuto mag-calligraphy? ("Where/How did you learn calligraphy?")
5- Ikaw ba gumawa nito? Astig!
When to use it: You're impressed at another person's work, but you're too shy to directly compliment them on it. You say: Ikaw ba gumawa nito? Astig! ("Is this your work? Cool!")
6- Ang galing mo talagang magpatawa!
When to use it: You sincerely appreciate a friend's sense of humor, so you say to him: Ang galing mo talagang magpatawa. ("You really have a great sense of humor, you know.")
7- Bilib talaga ako sa'yo.
When to use it: You're really impressed by the way your friend handles tough life situations. You compliment them by saying: Bilib talaga ako sa'yo. Hindi ka madaling sumuko. ("I'm really amazed at how well you handle things. You don't easily give up.")
4. How to Make Your Compliments Sound More Sincere
There's nothing more repulsive than false flattery, but showing real appreciation can also be a challenge. This is especially true if you grew up in a household where giving and receiving praise wasn't the norm. Yes, Pinoys can be gullible sometimes, but most can actually tell when they're being genuinely appreciated. Here are practical tips on how to deliver heartfelt compliments in Tagalog.
1- Be authentic.
The most natural way to offer praise is to just be yourself. Even if you're truly sincere, you might not come across that way if you're giving a compliment and trying to impress the other person at the same time. The goal of giving a compliment is to make the other person feel good, and not the other way around. Before praising a colleague for a job well done, make sure you're doing it because they deserve the praise and that you're genuinely happy for them.
2- Don't exaggerate.
When giving compliments, be sure to offer one that's appropriate for the situation. That said, avoid overdoing things and giving a string of compliments when a simple statement of adoration is enough. Giving out a stream of flattering remarks might be a good way to establish that you're a nice person, but it also has the danger of doing the opposite. Avoid giving a barrage of compliments to the same person, and be careful not to exaggerate things. The more words you say, the higher the chances they'll lose their impact.
3- Be specific.
Broad compliments tend to be vague. Avoid any awkwardness by getting specific with your compliments. Instead of simply saying, Ang talino mo talaga ("You're really smart"), say something like, Napahanga mo ako sa presentation mo sa meeting kanina ("I was impressed with your presentation during the meeting earlier"). The more specific your compliment, the more your recipient will treat it as legitimate.
4- Timing is everything.
An effective compliment involves proper timing. Telling a coworker how much you love his new jacket while you're at the pantry relaxing over a cup of coffee is great. Doing so when he's in the middle of a very important task? Not so.
5- Follow up with a gentle shoulder tap.
Don't underestimate the power of physical touch when giving compliments. Sometimes, a gentle tap on the shoulder can say more about how you feel. But as mentioned, always consider time and place before doing so, as a friendly touch can have an unfavorable effect in the wrong situation.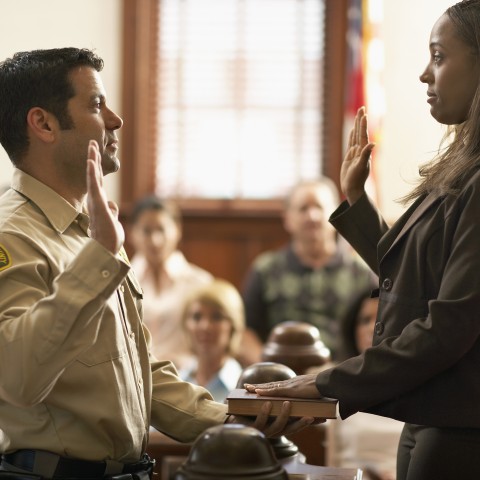 Nagsasabi ako ng totoo. Peksman! ("I'm telling the truth. I promise!")
5. What to Expect After Giving Compliments
As mentioned already, Filipinos aren't used to receiving compliments, so don't be surprised if someone you know blushes after you've complimented them.
Most Pinoys will even reply with suspicion: May kailangan ka, 'no? ("So, what is it that you need this time?"), Hindi nga? ("Really?")
What do you do when people aren't so welcoming of your positive appraisal of them? Simply reassure them that you're sincere: Hindi, totoo. Seryoso ako. ("No, really. I'm serious.")
The good thing is that most Pinoys also know when you're being sincere, so as long as you're authentic, you have nothing to worry about. And when they say, "Thank you," simply respond with a polite Walang anuman. ("You're welcome.")
→ Speaking of polite, you might find this short video on Filipino manners really helpful.
6. Learn to Craft the Perfect Tagalog Compliments with FilipinoPod101
Learning how to give Filipino compliments is easier when you have someone teaching and guiding you. What we gave you here is just a quick guide on giving Filipino complimenting phrases. If you want to develop your skills further, there's no better way to do so than with FilipinoPod101.com.
With FilipinoPod101, you'll learn about so much more than compliments in Filipino. You'll also get to know the Filipino culture a lot better, which will help you understand how to deal with Pinoys in social situations. FilipinoPod101 provides resources that will help you improve your Tagalog vocabulary, as well as your pronunciation and speaking skills. A lesson library where you can have access to practical tips is also available. For example, see our lessons on what survival phrases to use when traveling or when you're caught in an emergency.
Need to master your Filipino a little bit faster? That's where our Premium PLUS feature MyTeacher comes in. With Premium PLUS, you get access to more than 120 hours of audio and video courses and Tagalog study tools.
So, what do you think about our guide on giving the perfect compliment in Tagalog? Feel free to let us know in the comments section below! Oh, and don't forget to visit our blog page for more articles like this!