Manila may not be the same since the lockdown started, but what remains is the fact that it's one of the best and most important places to visit in the Philippines. This is especially true if you have a desire to study the language and culture of the Filipinos. 
In this Manila travel guide, we'll take a look at the top ten places to visit in Manila. Whether or not you've been to Manila before, you'll find this guide invaluable. Here, you'll learn the best times to visit the region, which landmarks and tourist spots to see, and which words and phrases to use when conversing with the locals.
So, fasten your seatbelts, and let's take a ride to the capital of the Philippines—Manila!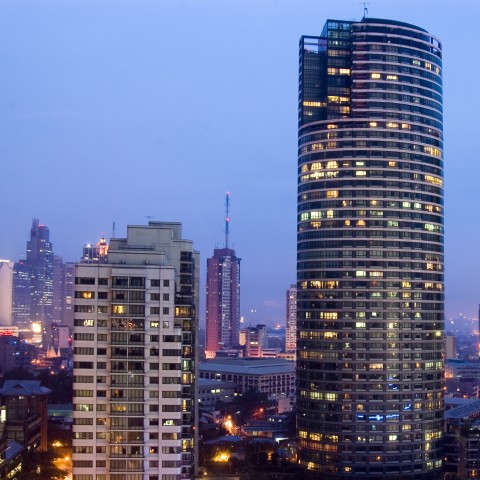 Metro Manila at night.
Table of Contents
1. Before You Go
Before Manila became the great city it is today, it was a walled settlement for Muslims during the late sixteenth century. When the Spanish arrived in 1571, the settlement was destroyed; in its place was built another walled settlement, this time a city called Intramuros. Since then, Manila has been the capital of the Philippines.
Today, Metro Manila has a land area of 42.88 km² (or 16.56 mi.²) and is home to 1.78 million residents. It's a highly urbanized area and is considered the most densely populated city proper in the world. Every year, the city welcomes over a million tourists, with major destinations including Rizal Park, the Cultural Center of the Philippines Complex, and the historic Intramuros.
Planning to visit Manila soon?
There's really no "best time" to visit Manila. There are only two seasons in the Philippines—dry and rainy—and it's up to you to decide which season you think is best for traveling. Some people love taking tours during the summer months, while others don't really care about getting wet. As for me, I prefer to tour the place during the Christmas season (December-January) when it's cooler and there are more attractions to see. 
You're lucky if you have friends or relatives in Manila who would be kind enough to let you stay at their place free of charge, although there are many affordable hotels and Airbnbs in Manila. I lived in Manila for a season, and I have visited the place with my family every year for the past ten years. You could say that I'm an expert when it comes to touring the country's capital. 
That said, allow me to give you some practical tips I've learned over years of back-and-forth trips to Manila:
1. Travel light.
I can't stress this enough. Whether you're staying in Manila for a couple of days or a full two months, remember to carry with you only what can be considered truly essential. 
I take my family with me to Manila every year and spend two to three weeks there. In the past, we would carry two large suitcases, fearing we would lack clothes to wear. Over the years, we've learned that it's possible to travel with only a few essentials. 
I suggest you carry two to three sets of dri-fit shirts and a pair of pants. Manila can be hot and humid, and dri-fit shirts will keep you cool. These things also dry quickly, so you can be sure you won't run out of fresh clothes to wear. Most importantly, these clothes are a lot lighter than most fabrics.
2. Check the weather.
The Philippines has a tropical climate, which means it rains all year round—yes, even on some days during the summer. There's always a chance that it's going to rain. Before heading out, make sure you've checked your favorite weather-prediction app to see what the weather will be. I recommend wearing comfortable clothing if there's no chance of rain, although it's always good to have your umbrella on hand just in case.
3. Check Google Maps in advance.
Get the most out of Google Maps or any other map application you may have installed on your phone. Manila is a big city, and you'll want to be familiar with the streets and landmarks before you start your trip. I can't count how many times using a map has helped me find the places I needed to visit with ease. It'll also come in handy when you need to find the nearest restaurant or cafe for a quick bite.
4. Wear comfortable footwear.
You're going to do a lot of walking, especially if you're planning to visit Intramuros and Rizal Park, so be sure to wear comfortable sneakers. Flip-flops are okay, too, but I wouldn't recommend them if you're planning to go someplace crowded like Divisoria or Quiapo. As for me, I usually wear a pair of boots or sneakers when going around Manila. Sneakers are perfect when you need to keep a light-footed pace. Boots, on the other hand, will make sure your toes are protected in busy and crowded places.
5. Consider using public transportation.
Unless you're traveling with a child or someone with a disability, I would recommend using public transportation when touring Manila. It will not only let you experience the entire trip like a local would, but it will also save you from a lot of headaches induced by looking for a spot to park.
6. Bring enough water (and snacks!).
You'll be losing a lot of bodily fluids from either the heat or humidity, so make sure you carry enough water with you. Don't forget to bring some snacks, too, in case you get hungry in the middle of your stroll.
7. Be aware of rush hour times.
This is arguably the best travel tip anyone could give you regarding your visit to Manila. You're probably aware that Manila has one of the worst traffic situations on the planet, and the city even ranks as one of the top ten worst places to drive in the world. It's good to schedule your arrival at the airport in the morning, because the roads usually get busy and crowded starting at around five in the afternoon.
8. Observe safety in crowded places.
We all need to observe safety when going out these days, but not considering any viral or bacterial infection you might acquire, you need to be alert when roaming the streets of Manila. I suggest that you leave all jewelry behind when going out. And like me, you might want to wear a small fanny pack around your waist (hidden under your shirt) to store your phone and some cash.
This does bring us to an important question: Is it safe to visit Manila? 
Yes, Manila is safe for tourists. But just as you would do in any country you were visiting, you'll want to be aware of your surroundings when touring Manila. 
2. Must-See Places for a 1-3 Day Trip
Manila may not have picturesque sceneries of mountains, or seas, or waterfalls, or sunsets, but that doesn't mean it's lacking in iconic tourist attractions! You'll be amazed that there are, hidden amid the traffic and the crowds, beautiful landmarks and attractions in Manila that are a must-see for first-time visitors. 
1 – Intramuros
When speaking of Manila tourist spots and attractions, the Walled City of Intramuros always seems to come up first. I got the chance to visit this historic place several months ago, and the experience was just breathtaking! 
The word Intramuros came from Intra, which means "within," and Muros, or "fortification." In short, Intramuros means "within walls." Did you know that the entire 64 hectares of Intramuros used to be the city of Manila? All the other regions outside the walls of the city were considered probinsya, or "province." The walls were first constructed in the sixteenth century under the initiative of a Jesuit Priest named Antonio Sedeno. The walls were built to protect the city from constant threats from foreign invaders.
One day is enough to enjoy most of the beautiful spots inside Intramuros, although you might want to spend up to three days here to fully experience the place. I suggest you start your tour at Fort Santiago. Here, you'll find the Jose Rizal Museum, where the hero was detained right before his execution. This spot alone will already take you an hour or two, so you'll want to start your tour very early in the morning. From there, you can head straight to the Manila Cathedral—but not until after you've caught a quick glimpse of Plaza Roma just in front of the church.
You should be hungry by this time, but thankfully, there are many restaurants and cafes to choose from. Once you've had your fill, go straight to Casa Manila, a small mansion made of stone and wood that depicts the colonial lifestyle during the Spanish era. If you still have time, don't miss the Bahay Tsinoy Museum, which is just a block away from Casa Manila. You can tour the entire place by foot, but in case you get tired, there are always e-trikes (electric tricycles) for your convenience.
2 – Luneta Park
Anyone who has only seen Luneta Park in pictures would think that it's simply a 58-hectare piece of land with a bronze statue of the national hero of the Philippines at the center. But your perspective will change once you see it in person, and you'll realize that it's full of beautiful scenery, shaded with trees and dotted with fragrant flowers.
Located in Ermita, Manila, this park stands in what used to be Bagumbayan; it's adjacent to Intramuros and faces the shores of Manila Bay. It's in this very place where Jose Rizal was executed on December 30, 1896, and so the park is also officially known as Rizal Park. 
If you're visiting this place, I suggest you head straight to the Rizal Execution Site. The entrance fee is only Php 20 (about 0.40 USD). Inside, you'll be welcomed by an oversized diorama that depicts notable events in the life of Rizal, including his execution. Take time to experience zen inside the Japanese garden and be transported to old Peking inside the Chinese garden. And don't forget to take a selfie with the famous Rizal Monument, albeit only from a distance.
3 – National Museum Complex
The National Museum Complex consists of the National Museum of Natural History, the National Museum of Anthropology, and the National Museum of Fine Arts. These three are all located within the vicinity of Rizal Park and are constructed with a Neoclassical architectural design. 
The National Museum of Fine Art is just six minutes away from the entrance of Intramuros, if you're traveling on foot. It's here where you'll find the famous Juan Luna painting, the Spoliarium. Other important works you'll get to see here are the Parisian Life (also by Luna) and the Assassination of Governor Bustamante and His Son by Félix Resurrección Hidalgo. 
Walk another three to five minutes and you'll reach the National Museum of Anthropology, which houses ethnological and archaeological artifacts, including costumes, tools, and carvings. Wondering what language and script the early Filipinos used? Head straight to the fourth floor of the museum, and there you'll find the Baybayin Gallery, where artifacts of ancient and traditional scripts of the Philippines are displayed.
If you're a nature-lover, you'll definitely fall in love with the National Museum of Natural History. This is the twin building of the National Museum of Anthropology and it's located at the southern side of the Agrifina Circle in Rizal Park. Here, you'll enjoy six floors of different species of plants and animals found in the Philippines, with each gallery representing a different ecosystem where those species are found.
Entrance to The National Museum Complex is free, but be aware that you'll be required to leave your backpack at the counter. Also, touring one building alone will take you a couple of hours or even more, so you'll want to set aside one day to visit all three museums.
3. Highly Recommended Places for a 4-7 Day Trip (or Longer)
Staying longer than a couple days? Here are other things to visit in Manila once you're done seeing Intramuros, Rizal Park, and The National Museum Complex.
4 – Bonifacio Global City
Bonifacio Global City, or BGC among the locals, is an emerging business district within the city of Taguig in Manila. The place is named after the Filipino hero Andres Bonifacio and used to be a part of the Philippine Army Camp. This 240-hectare city is popular among locals and tourists alike, considering that it's more modern-looking than its surrounding cities. It's a melting pot of pop culture and is one of the best places to visit in Manila at night for its vibrant nightlife. 
Aside from residential buildings, BPO companies, malls, and restaurants, other places to visit at BGC with the family are the Mind Museum, the MiracleArt Happy Museum, Lego Certified Store BGC, and KidZania Manila.
You won't run out of options when it comes to hotels since there are more than a dozen choices for lodging in BGC. Buses, jeepneys, and taxis are also available as modes of transportation.
5 – Resorts World Manila
If you want to experience some world-class entertainment, then the Resorts World Manila is for you. It's conveniently located across the Terminal 3 of the Ninoy Aquino International Airport and is home to a variety of prestigious, world-renowned hotel brands, including Marriott, Ritz-Carlton, Hilton, and Belmont. 
For many people, the first thing that comes to mind when they hear "Resorts World" is "casino." Indeed, this place offers world-class gaming, but what piques my interest about RW Manila is the Newport Performing Arts Theatre. Here, you can see live production shows, concerts, and musical plays.
If you plan to visit RW Manila, here's a complete guide on how to get there.
6 – Quiapo Church
Constructed in Baroque style, the Quiapo Church is one of the most historic religious landmarks in Manila and the Philippines in general. One reason is that it houses the Black Nazarene, an image of the suffering Christ that's considered to be miraculous. In fact, the church is properly called Minor Basilica of the Black Nazarene, although it's canonically known as the Parish of Saint John the Baptist.
Three times a year, a procession is held in honor of the Black Nazarene. The largest of these three is the January 9 Traslación ("transfer"), a solemn re-enactment of the image's transfer from its original shrine in Intramuros to the Quiapo Church, its current location.
Every Friday, a novena for the Black Nazarene is held in the church, and it's attended by thousands of Roman Catholic devotees. Getting to the church won't be difficult. You only need to find a way to the LRT 1 station either by bus or jeepney. Alternatively, you can take a cab since it's only nine minutes away if you're coming from Intramuros or nearby areas.
7 – Cultural Center of the Philippines
For those who are interested in learning more about the unique culture and art of the Philippines, the Cultural Center of the Philippines is the place to see. It's located at Roxas Boulevard, just fifteen minutes away from Terminal 2 of Ninoy Aquino International Airport. Founded in 1966, this performing-arts center was designed by the great Filipino architect Leandro Locsin.
The center provides information about theatre in the Philippines and has been a reliable venue for classical music and ballet for a long time now. It promotes local and indigenous artists, although it has also hosted several international artists, such as New York Philharmonic, Bolshoi Ballet, and the Cleveland Symphony Orchestra.
There are two main theatres in the complex, both able to accommodate theatre performances as well as show films. Libraries and galleries are located on the third floor of the building. If you wish to see pre-Spanish Philippine art exhibits, then head to the fourth floor.
Visit the CCP website to stay updated on shows and events.
8 – Ayala Museum
This state-of-the-art museum, located at the heart of Makati City in Manila, features four floors of wonderfully curated Filipino culture exhibits. Another must-see attraction if you're bringing the entire family with you, the Ayala Museum highlights sixty dioramas that present a stunning visual narrative of the Filipino people. For years, this exquisite presentation has been the nucleus of every Ayala Museum visit. There's also the super collection of indigenous textiles representing communities of indigenous Filipinos from the Cordilleras in the north and Mindanao in the south.
You'll also get to enjoy an exclusive art collection of the works of Fernando Zobel, the man behind the Ayala Foundation and the Ayala Museum itself. Within the collection, you'll find paintings, sketches, and photographs of the artist.
Perhaps the highlight of the museum is the exhibition of over 1,000 gold objects that date back to as early as the tenth century. A visit here is truly unique, as many of the artifacts here have never been revealed to the public. That said, taking pictures inside the "Gold of Ancestors" gallery is prohibited.
To learn more about the Ayala Museum, feel free to visit their website's About page.
9 – SM Mall of Asia
Filipino shopping malls are insane, and the SM Mall of Asia is proof of that. After a day's tour in some of the top Manila spots mentioned here, take some time to shop and dine at one of the largest shopping malls in the country. You can get all the essentials you'll need for your Manila stay here. It's not your average shopping mall, though. Inside, you can also enjoy some unique activities and experiences, such as the SM Skating Rink, an Olympic-sized skating rink where skating competitions are sometimes held. Or, how about visiting the SM MOA By the Bay Amusement Park? Yes, that's how big this mall is! 
The best thing about this place is that you won't have to look elsewhere for places to stay while in Manila, as there are condominium units for rent just within the premises. Oh, and by the way, SM MOA is an average of only thirty minutes away by car from most of the attractions mentioned in this article.
10 – Binondo, Quiapo, and Divisoria Markets
A tour of Manila wouldn't be complete without a trip to the three most popular markets in the area: The Binondo, Quiapo, and Divisoria Markets. 
Binondo is known as the Chinatown of Manila. Some even say it's the oldest Chinatown in the world, having been established in the sixteenth century. This place is famous for what is known as the "Binondo Food Crawl." In fact, you can't call yourself a true-blue foodie until you've gone to Binondo. Don't miss this place if you want to try some of the most mouthwatering authentic Chinese dishes in the world!
Go up north from the Binondo Market and a fifteen-minute walk away is Divisoria. Here, you'll get to experience a taste of "the real Manila." This place is one of the busiest in the area because this is where the locals go shopping for really cheap products, be it clothing, cell phone cases, bags, or food. It used to be noisy and chaotic, but thanks to the efforts of the government, it's much cleaner and more organized now.
From here, you can walk toward the Bambang LRT station and take the train headed south. Get off by the Carriedo Station, head east another six to seven minutes by foot, and you'll see the Quiapo Market. You'll realize that the Quiapo Market is just in front of the Quiapo Church, so coming here is hitting two birds with one stone. Just like Divisoria, Quiapo Market is home to some great finds in terms of clothes, accessories, electronic items, and of course, food!
4. Survival Filipino Phrases for Travelers 
Filipinos are hospitable people, and Manileños are no exception. You can approach a local anytime you need help and you can expect to be accommodated 100% of the time. As long as you know English, you don't need to worry about communication issues, since most Filipinos can speak and understand the language. But locals will still appreciate you learning a few basic Tagalog phrases, especially if your English isn't fluent. 
Here are some Filipino survival phrases you can use to make your Manila tour a lot more fun and convenient.
Kumusta po kayo?
"How are you?" / "Hello."
Maraming salamat po.
"Thank you very much."
Paalam!
"Goodbye!"
Paumanhin po.
"Excuse me."
Mabuti.
Ayos ito.
"Good."
"This is very good." / "This is okay."
Paumanhin, pero hindi ko po maintindihan.
"Pardon, but I can't understand."
Pwede po bang malaman kung saan may palikuran?
"May I know where the restroom is?"
Magkano po ito?
"How much is this?"
Bigyan po ninyo ako nito.
Gusto ko po nito.
"Please give me some of this."
"I want some of this."
Tulong!
"Help!"
Notice that the word po is present in almost all of these phrases. That's because it indicates politeness or respect, and should be used when speaking to a stranger (especially someone who's older).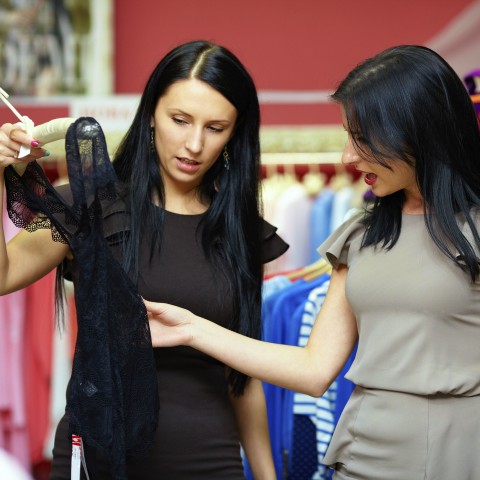 Magkano po ito? ("How much is this?")
Make Your Manila Tour More Meaningful by Learning Tagalog
Visiting Manila and touring all the beautiful attractions it offers will be worth your while, whether you can speak Filipino or not. However, wouldn't you agree that your Manila travels would be more meaningful after learning Tagalog first? 
With FilipinoPod101, you can learn the fundamentals of the Filipino language in just a short amount of time. We offer all the resources you'll need to study the basics, including pronunciation, grammar, and vocabulary.
Want to speed up your learning progress? No problem! FilipinoPod101 offers the MyTeacher guided learning system, which allows you to enjoy a learning process exactly tailored to your needs. FilipinoPod101 also has a YouTube channel that's regularly updated to provide fun and engaging audio and visual lessons for our aspiring learners.
To experience all of this and more, sign up now for a free account on FilipinoPod101.com! And if you liked this post, feel free to show your appreciation in the comments section below!
By the way: Which of these locations do you most want to visit, and why?