Filipino conversation skills are important to learn when you're studying the Filipino language. One reason is that conversations play a significant role in language development. Not only will it help you express your thoughts and ideas, but it will also improve your listening skills. After all, conversation skills are about being able to talk fluently and knowing how to listen well at the same time. In other words, you'll learn more about the Filipino language in actual conversations than inside the classroom. 
With that, you'll need something to help you get started. In this guide, you will find the resources you need to improve your conversation skills. You'll specifically learn how to create a script that you can use to introduce yourself confidently. You'll also learn which exact reaction phrases, filler words, conversation starters, and questions to use and when.
When you've mastered all that, meeting new people and making new friends, whether in school or at work, will no longer be one of your concerns.
Table of Contents
1. Crafting Your Language Profile
There are two things to consider when creating and developing your language profile:
It must be relevant.
It must fit your context.
You might ask, "Relevant to what?" When making a language cheat sheet (an appropriate term to describe a language profile), you want to ensure that it's practical. It's easy to get examples of phrases and expressions from textbooks. Still, the question is, do they apply to you and your circumstance? 
One question you'd want to ask is: "In what context will I be able to benefit most from my language profile?" There could be hundreds or even thousands of answers to that one question, but the most common situation you'll be able to use a language cheat sheet is when you're meeting new people. For that reason, it makes sense to build your language profile around this idea. 
Here's what a language profile in Filipino may look like:
Ako nga pala is Rene, tatlumpung-taong gulang mula sa Australia. Nandito ako sa Pilipinas para mag-aral. Kumuha ako ng kurso sa Business sa isang unibersidad dito sa Maynila. Magta-tatlong taon na ako dito. Ang karaniwang ginagawa ko sa bakanteng oras ko ay magbasa. Minsan, namamasyal ako sa mga museo at sa mga makasaysayang lugar sa siyudad kasama ang mga kaibigan ko.
"I am Rene, thirty years old from Australia. I am here in the Philippines to study. I took a Business course at a university here in Manila. I have been here for three years. What I usually do during my spare time is read books. Sometimes, I visit museums and historical places in the city with my friends."
As you can see, you can start with a quick self-introduction and then follow it up with other interesting details, such as what you do for a living or where you go to school. You can change some of the details depending on your specific context and the situation. Here are a few ideas:
Kakalipat ko lang dito. ("I just moved here.")
Lumipat ako dito noong 2017. ("I moved here in 2017)
Nagustuhan ko ang klima dito. ("I fell in love with the climate here.")
Taga-rito ang napangasawa ko.  ("I married a Filipino/Filipina.") (Lit. "The person I married is from here.")
Nabighani ako sa ganda ng Pilipinas. ("I was fascinated by the beauty of the Philippines.")
Nais kong dito na mamalagi.  ("I want to stay here for good.")
Mahilig din akong magbisikleta.  ("I also love to cycle.")
Pumunta sa dalampasigan. ("To go to the beach.")
Kumain ng pagkaing Pilipino.  ("To eat Filipino food.")
Now that you have an idea of how to craft your language cheat sheet let's get it on with phrases and expressions you will need to improve your conversation skills.
2. Filipino Reaction Words & Expressions
Filipinos can be emotional. We love expressing ourselves and have so many words and phrases to help us convey what we feel. From feelings of love, being surprised, frustrated, or amused, you can rest assured that there's a Filipino word for it. In this section, we will look at some of the most common expressions you can use as responses to a conversation starter. For instance, how would you respond when someone shares with you some good news? How about when someone tells you about an awful experience they've had?
Really?
A: Namili ako ng mga halaman kahapon. ("I went to buy some plants yesterday.")

B: Talaga? Anong mga binili mo? ("Really? What kind of plants did you buy?")
B: Talaga? Sama ako sa'yo sa susunod! ("Really? Let me come with you next time!")
Ayos lang ako.
A: Kumusta ka? Antagal nating hindi nagkita. ("How are you? It's been a long time.")

B: Ayos lang ako. Ikaw? ("I'm fine. And you?")
A more formal way to respond to Kumusta ka? would be Mabuti, which means "good" or "fine."
Oo, tama ka.
A: Ikaw yung bago naming kapitbahay, diba? ("You're our new neighbor, right?")
B: Oo, tama ka. Kumusta? ("Yes, you're right. How are you?")

A: Ito ba ang sinasabi mong kailangang baguhin? ("Is this the one you said that needs editing?")
B: Oo, tama ka. Maraming salamat. (Yes, you're correct. Thank you so much.")
Ayos yan ah!
A: Alam mo bang na-promote ako sa trabaho? ("Did you know that I was promoted at work?")

B: Ayos yan ah! Dapat kumain tayo sa labas. (That's awesome! We eat out and celebrate.")
Pasensya na.
A: Baka gusto mong makipagpalitan ng shift? ("I was wondering if you would swap shifts.")

B: Pasensya na, may aasikasuhin ako sa Sabado. ("I'm sorry, but I have something to do on Saturday.")
Naku!
A: Nagkasakit daw ang nanay niya. ("He said his mom is sick.")

B: Naku! Sana gumaling siya kaagad. ("Oh my! I hope she gets better soon.")
Grabe!
A: Sabi niya sinigawan daw siya nung lalaki kaya niya sinuntok. ("He said the guy shouted at him, which is why he punched him.")

B: Grabe! Ginawa niya yun? ("Gosh! He actually did that?")
Astig!
A: Dumating na yung mga binili kong komiks! ("The comic books I ordered are here!")

B: Astig! Tara tignan natin! ("Cool! C'mon, let's take a look at them.")
Ay sayang!
A: Hindi natuloy ang lakad namin kasi nag-lockdown. ("Our trip was cancelled due to the lockdown.")

B: Ay sayang! Sige lang, sa ibang araw na lang siguro. ("Aw, too bad. That's fine. Some other time, perhaps."
➜ These are just a few reaction words and phrases to get you started. Be sure to check out our blog entry on Intermediate Filipino Phrases to learn more!
Grabe! Ginawa niya yun? ("Gosh. He actually did that?")
3. Filipino Filler Words
Regardless of how much you've practiced your Tagalog, and no matter how prepared you are, there will be times that you will struggle with remembering certain words. That's where fillers come in. Fillers are unacceptable when you're making a speech, but they serve a purpose when you're having casual conversations. Filler words may seem meaningless, but they can save you from a lot of embarrassment by giving you a chance to think of what to say next. The following are some of the most common Filipino filler words to help you sound like a local.
Filipino: Ano…
English equivalent: "Uhm…" (Literally "What")
Bigyan mo ako nung ano…yung matamis na kulay dilaw na kendi. ("Please give me one of those…uhm…sweet yellow candies.")

Si ano…nakalimutan ko na pangalan niya. ("Uhm…him…I forgot his name.")
Filipino: Diba?
English equivalent: "Right?" (Literally "Isn't it?")
Nakapunta na ako dun, diba? Diba? Bakit di ko maalala? ("I've already been there, right? Right? Why can't I remember?")

Binigay ko sa'yo yung susi diba? Nakita niyo na binigay ko diba? Diba? ("I gave you the keys, right? You guys saw that I did give it to her, right? Right?")
Filipino: Kuwan?
English equivalent: "Uhm?" (Literally "That thing")
Yung inorder mo online…kuwan…dumating na kanina. ("That thing you ordered online…uhm…it arrived earlier.")

Nahanap mo na ba yung kuwan…yung charger ng telepono ko? ("Were you able to find the…uhm…my cellphone charger?")
Filipino: Ay
English equivalent: "Oh?" / "Aww"
Ay. Bakit di matutuloy? ("Aww. How come it's not happening?")

Ay, oo nga no? ("Oh, you're right.")
Filipino: Parang
English equivalent: "It's like" (Literally "Supposedly")
Yung parang…gusto mo siyang gawin pero ang hirap. ("It's like…you want to do it, but it's hard.")

Parang ano…basta…kalimutan mo na lang. ("It's like…nevermind.")
Filipino: Kasi
English equivalent: "It's because…uhm" 
Kasi…ano…wala ako sa bahay kahapon. "It's because…uhm…I wasn't home yesterday."

Ano kasi…sinamahan niya lang ako. Magkaibigan lang talaga kami. "Uhm…he just accompanied me. We're just friends, really."
Filipino: Ayun
English equivalent: "So…yeah" / "There it is"
Kaya ayun…nag taxi na lang kami. "So yeah…we just took the taxi."

Ayun! Naalala ko na. Bernard ang pangalan niya. "There it is! I remember now. His name's Bernard."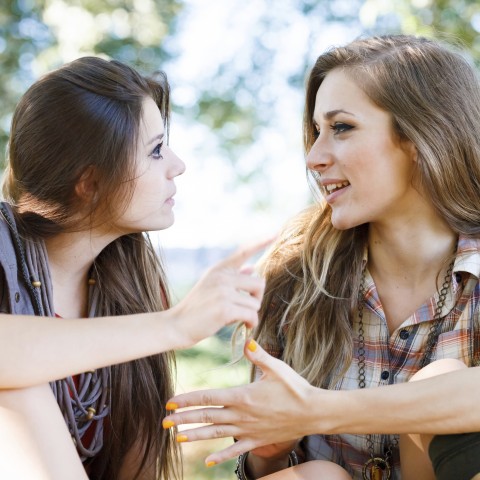 Ayun! Naalala ko na. Bernard ang pangalan niya. "There it is! I remember now. His name's Bernard."
➜ There are over a dozen Filipino filler words that you could learn besides the ones on this list. You can find more here.
4. Common Questions and Answers in Filipino
Questions make conversations interesting and meaningful. In fact, most exchanges are initiated by asking questions. From the very basic "How are you" to more complex and more personal queries, here are some Filipino questions you can use to start a conversation and some common responses to come with them.
"How are you?"
Q: Kumusta ka?

A: Mabuti naman. Salamat. ("I'm fine. Thank you.")
A: Ayos lang ako. Ikaw, kumusta ka naman? ("I'm doing great. How about you?")
"What's your name?"
Q: Anong pangalan mo?

A: Samuel. Ikaw? ("Samuel. And you?")
A: Lenny ang pangalan ko. Ikinagagalak kitang makilala. ("My name is Lenny. I'm glad to meet you.")
"How did you learn to speak Tagalog?"
Q: Paano ka natuto magsalita ng Tagalog?

A: Sumali ako sa FilipinoPod101 ("I joined FilipinoPod101.")
A: Kalahating Pilipino ang tatay ko. ("My father is half-Filipino.")
"Where are you from?"
Q: Taga saan ka?

A: Sa Paris ako lumaki, pero mag-iisang dekada na ako dito sa bansa.  ("I grew up in Paris, but I've been in the country for almost a decade now.")
A: Taga Austria ang pamilya ko. ("My family is from Austria.")
"Do you know how to speak Tagalog?"
Q: Marunong kang mag-Tagalog?

A: Oo, kaunti. Kakalipat ko lang dito. ("Yes, just a bit. I just moved here.")
A: Oo naman. Matagal na ako dito sa Pilipinas. ("Yes, of course. I've been here in the Philippines for a long time.")
"What have you been up to lately?"
Q: Anong mga pinagkakaabalahan mo ngayon?

A: Nagtuturo ako ng gitara sa mga bata tuwing Sabado.  ("I teach kids how to play the guitar on Saturdays.")
A: Tinatapos ko ang thesis ko. ("I'm finishing my thesis.")
"Where did you finish your studies?"
Q: Saan ka nakapagtapos ng pag-aaral?

A: Sa Kyoto University ako nagtapos. ("I graduated from Kyoto University.")
A: Ngayong taon pa lang ako magtatapos. ("I'm only graduating this year.")
"What made you consider studying Filipino?"
Q: Bakit mo naisipang mag-aral ng Pilipino?

A: Napamahal na ako sa Pilipinas kaya naisipan kong aralin ang wika at kultura nito. ("I fell in love with the Philippines, so I decided to learn its language and culture.")
A: Nais kong dito na bumuo ng pamilya. ("I decided that this is where I will start a family.")
Anong mga pinagkakaabalahan mo ngayon? ("What have you been up to lately?")
5. Filipino Conversation Starters
Filipinos are great at conversations. Whether you're attending a social gathering, having lunch at school or the workplace, or simply doing your grocery shopping, you want to be ready anytime in case you meet a Filipino friend who wants to have a chat.
Here are conversation starters to help build your confidence.
Kumusta ang unang araw mo dito?
"How's your first day here?"
Matagal na kayong magkakilala ni Anne?
"How long have you and Anne known each other?"
Lit. "Have you and Anne known each other for a long time?"
Kumusta? Pwede ba akong sumabay sa inyong kumain?
"Hi. How are you? Is it okay if I join you for a meal?"
Kumain ka na ba? 
"Have you eaten already?"
Kumain tayo sa labas pagkatapos ng trabaho. 
"Let's eat out after work.
Nagawa mo ba iyong takdang-aralin natin sa Accounting?
"Were you able to work on our assignment for Accounting?
Mahilig ka din bang magbasa? 
"Do you also like to read?"
Nakikinig ka din ba ng mga podcast? 
"Do you also listen to podcasts?"
6. Tips for Improving Your Conversation Skills
There is no best way for improving Filipino conversation skills. However, you will feel more confident conversing with the locals when you have mastered the basic rules. Here are simple techniques you can apply in both formal and informal situations. 
1- Listen Before You Speak
Conversations are sometimes more about listening than talking. One of the best ways to improve your conversation skills is by practicing active listening. It's all about being present in the conversation and paying careful attention to what the other person says. People with good communication skills don't simply wait for their turn to speak but ensure that they register what they hear.
A great way to stay focused is to paraphrase what your conversation partner is saying back to them. For instance, if someone is talking about wanting to go to the beach, you might say, "So, it's been a long time since you've been to the beach? Which place do you want to visit when you have the opportunity?"
2- Find Common Ground
Nothing keeps a conversation going than when you and your partner are talking about things that both of you love, whether general preferences, activities, or hobbies. Try talking about what you're passionate about and see whether the other person responds. If it turns out there's nothing common between you two, it's still possible to get the conversation going by sharing how you feel. This approach is called pivoting. Rather than simply focusing on facts, you try to steer the conversation to emotions. 
A: I went to the National Museum yesterday.
B: Oh, great. I seldom visit such places myself, but there's something special about learning your country's history, would you agree?
A: I agree. It's an entirely unique experience. There's something about it that opens your mind to a new world.
B: I understand what you mean…[continue sharing]
3- Move Past Small Talk With Personal Questions
Small talk helps you get the conversation started, and that's it. After a while, it can get uninteresting. Find an opportunity to move past it toward more meaningful, or if possible, more personal topics. Try asking questions that ask for the other person's opinions, such as "What did you think about the conference?" Or, go for questions that give the other person a chance to talk about their passion, desires, and ambitions. For example, you can ask, "How come you're so passionate about what you do?"
4- Practice As Often As You Can
Conversation skills are so-called for a reason. They require practice for you to get better at them. To get better at them, you need to practice every chance you get. If the idea intimidates you, remind yourself that you're learning a new language and that it's not about perfection but about being relevant. Remind yourself that it's about being yourself, that it's not about being someone you're not. 
5- Be Approachable
Striking a conversation with a person you've met for the first time can be scary. After all, you don't want people to discover that you're yet to master their language. However, the only way for you to be really good at the language you're learning is to have conversations with people who speak that language, whether or not you know them. 
Appearing confident and approachable plays a huge role when you're talking to new people. Standing straight, looking at the other person's eye, and smiling can all make a big difference. 
6- Be Authentic
It's tempting to want to focus on being witty when you're having a conversation. People tend to gravitate toward quick-witted individuals, don't they? However, rather than trying to sound funny or clever, you'd want to be genuine and authentic. Your goal for having a conversation is for other people to know who you truly are, so be yourself. It's going to be less stressful and will take so much pressure off of you. 
7- Don't Be Afraid To Take A Break
Finally, always remember that it's okay to take a break when you're nervous or anxious. Avoid speaking too fast just to get the entire thing over with as soon as possible. This will only cause you to lose your focus, stammer, and say the wrong thing. Take things slowly. If you need to speak slowly, do so. It's also important to remove yourself from a situation that's causing you to have social burnout. If you're in a social gathering, politely tell the other person or persons that you need to go somewhere for a while and return when you're ready to talk again. Or if you need to leave early, just express your intention kindly and leave.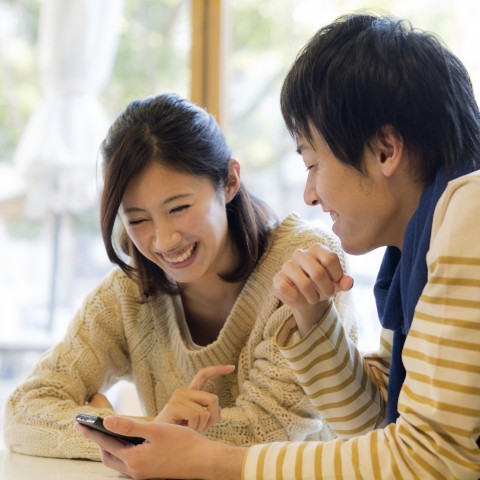 Be genuine and authentic in a conversation. It will take so much pressure off of you.
7. How FilipinoPod101 Can Help
Your Tagalog conversation skills play an integral role in your ability to express yourself when conversing in Filipino. In this guide, you learned exactly how to take those skills to another level. One is by learning how to craft your personal language profile (or cheat sheet as we call it). Another is by familiarizing yourself with various expressions to use in various circumstances. Did we forget to add anything? Let us know in the comments section!
Meanwhile, why don't you join FilipinoPod101 and learn more than just how to improve Filipino conversation skills? Here at FilipinoPod101, you can enjoy a wide range of free resources to help you with mastering the Filipino language. Whether it's audio lessons, vocabulary lists, or blog entries like the one you're reading right now, you can rest assured that there's a resource that suits your learning needs.
And did we mention MyTeacher? MyTeacher is a premium feature that provides you with one-on-one coaching with a private teacher. With MyTeacher, you can receive real-time feedback on your progress. That way, you'll know exactly where you are at every time in your journey of learning the Filipino language! 
What are you waiting for? Sign up for a free lifetime account today!