Knowing how to break the ice by starting a conversation is an important social skill. You don't have to be an eloquent speaker to achieve it, though. The key is confidence. However, to gain confidence, you need to know exactly what to say to gain other people's trust—all the more if you're trying to strike a conversation using a language you're just learning. But that's the reason we're making this guide. In this guide, we'll teach you how to start a conversation in Tagalog.
The good news is that Filipinos are not intimidated by small talk. As a matter of fact, most Filipinos welcome it. That said, you shouldn't worry if you're not very fluent in the Tagalog language yet. Filipinos are generally friendly, and if you allow them, they might even offer you a tip or two when it comes to initiating a conversation with someone.
But look no further because, in this guide, we'll give you some of the most common Filipino basic conversation starters that you can use whether you're meeting new people at a party, at work, or in school. And, yes, we'll also offer you some tips on how to break the ice when going out on a date.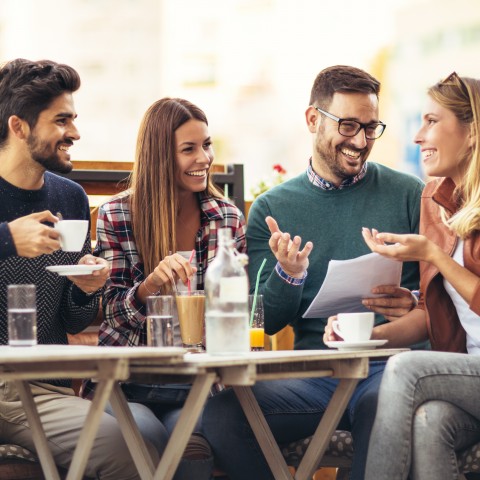 Table of Contents
1. Conversation Starters for Mingling and Socializing
Filipinos love to socialize. It's not uncommon for families to throw parties and invite friends and colleagues, whether for a grand family reunion, an annual fiesta, a thanksgiving celebration, or a birthday party. Social gatherings in the Philippines are not too formal, though. But even in formal gatherings, people are not expected to speak formally. As long as you approach every conversation with respect and politeness, you won't have any problem at all.
Oh, before anything else, you need to understand that most Filipinos no longer speak Tagalog 100% of the time, especially those living in the cities. Don't be surprised if you hear someone speak in Taglish or if someone inserts English words within sentences. Still, there's nothing wrong with conversing in pure Tagalog and learning common Tagalog phrases, and that's why we didn't include a lot of Taglish in this guide. After all, it's more impressive to hear a non-native speaker speak in straight Filipino.
Without further ado, here are a few ways you can break the ice when meeting new people at a social event.
1- General conversation starters
Saan kayo nagkakilala ni Richard? "Where did you and Richard first meet?"
Paano mo nakilala si Annie? "How did you meet Annie?"
Matagal na kayong magkakilala? "How long have you known each other?" Lit. "Have you known each other for a long time?"
Magkasama kayo sa trabaho? "Are you guys colleagues at work?"
Saan ka pala nagtatrabaho? "Where do you work, by the way?"
Aling kumpanya ang pinagtatrabahuhan mo? "Which company do you work for?"
Anong hanapbuhay mo? "What do you do for a living?"
Anong negosyo mo? "What kind of business are you into?"
2- When talking to a group
Anong mga pinagkakaabalahan ninyo? "What keeps you guys busy?"
Anong pinakapinananabikan niyong parte ng kaganapan ngayon? "What part of this event are you most excited about?"
Nakadalo na ba kayo sa ganitong klaseng pagtitipon? "Have you been to this kind of event before?"
3- Conversation starters over food
Mukhang masarap yang nakuha mo ah? "What you got there looks delicious."
Mukhang masarap yang kinakain mo ah? "What you're eating there looks delicious."
Ito na yata ang pinakamasarap na paella na natikman ko. Hinda ba? "This is probably the best paella I have tasted. Would you agree?"
Natikman mo ba yung lechon nila? Ang lutong ng balat! "Were you able to taste the roasted pig? The skin is perfectly crunchy!"
Kukuha pa ako ng pagkain, gusto mo din ba? "I'm going to get more food. Would you like to come?" / "I'm going to get more food. Is there anything I can get you?"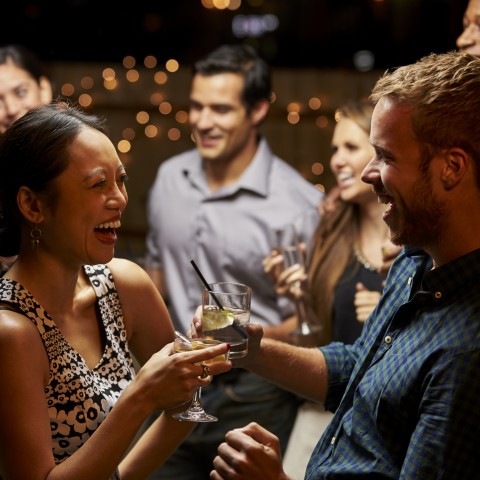 2. Conversation Starters for First Day at a New School or New Job
The first day at work or school is always the most exciting, but it's also the most nerve-wracking. The scenarios are quite different when you're talking about the first day at work since most people already know each other. In school, you're usually not the only one who's new, which means you're not the only one who's nervous about meeting strangers. Don't worry because we've got you covered in both situations.
Most Filipino greetings start with "kumusta?" or "how are you?" Don't just stop there, though. Be creative and follow it up with another question.
Here are general conversation starters that you can use whether you're at work or in school.
Kumusta? Unang araw ko dito. Ikaw? "Hi. It's my first day here. How about you?"
Kumusta? Ako nga pala si Carol. Anong pangalan mo? "Hi. I'm Carol, by the way. What's your name?"
Kumusta? Pwede ba akong sumabay sa inyong kumain? "Hi. How are you? Is it okay if I join you for a meal?"
Ilang taon ka na dito? "How long have you been here?" Lit. "How many years have you been here?"
And here are conversation starters you can use after the first few days in school.
Magkaklase ba tayo sa Biology? "Are you in my Biology class?" Lit. "Are we classmates in Biology?"
Napansin kita sa Calculus kanina. Ang galing mo pala. "I noticed you in Calculus earlier. You're good!"
May sinalihan ka na ba na club? "Have you joined any club yet?"
Pupunta ako sa silid-aklatan. Gusto mong sumama? "I'm going to the library. Would you like to come?"
Now, here are conversation starters you can use on your first day at the office.
Sa IT department ako naka-assign. Ikaw? "I'm from the IT department. You?"
Saang departamento ka? "Which department are you in?"
Sa aling proyekto kayo magkasama? "Which project are you working on together?"
Anong trabaho mo dito? "What's your job here?"
Matagal ka na bang nagtatrabaho dito? "Have you been working here for a long time?"
If you know someone who's also new to the job, you can use the following expressions to make them feel comfortable.
Kumusta ang unang araw mo? "How's your first day?"
May maitutulong ba ako? "Can I help with anything?"
Huwag kang mag-atubiling magsabi kung may kailangan ka. "Don't hesitate to let me know if you need anything."
After a while, you'll get more comfortable with your colleagues, and that's the time you can use more personal conversation starters like the following:
Matagal na akong naghahanap ng ganyang sapatos. Saan mo nabili? "I've been searching for a pair of shoes like that one. Where did you buy it?"
Ang ganda naman ng suot mo. Bagay sa'yo. "Your shirt looks nice. It suits you."
Kumusta ang bagong proyekto niyo? "How's your new project going?"
Kumain tayo sa labas pagkatapos ng trabaho. Yayain natin si boss. "Let's eat out after work. Let's invite the boss."
Inuman tayo pag natapos na natin ang proyekto. "Let's celebrate with a drink once we've completed the project."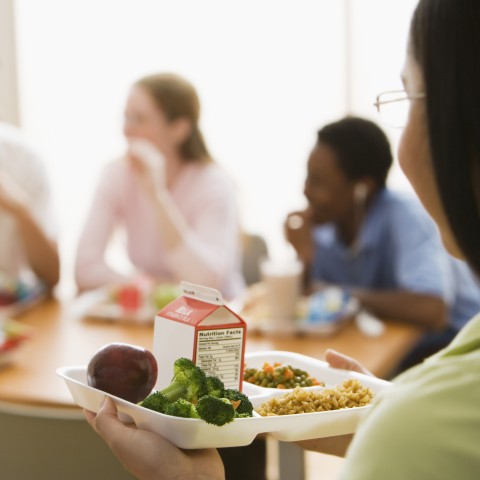 Kumusta? Pwede akong sumabay sa inyong kumain? "Hi. How are you? Is it okay if I join you?"
3. Conversation Starters for a First Date
Filipinos are outgoing, but most prefer to maintain a conservative attitude when it comes to first dates, especially the ladies. Since it's the first date, your aim is to get to know the other person. And what better way to do that than by having deep and meaningful conversations? You have to start by breaking the ice, though. Try to keep things slow at first and gradually move on to more intimate topics only when the two of you have started to feel a lot more comfortable with each other.
Here are a few expressions you can say to your date on your initial engagement.
Bagay sa iyo ang suot mo. "Your dress suits you."
Ang ganda mo naman. "You're really beautiful."
Naghintay ka ba nang matagal? "Did you wait long?"
Saan mo gustong pumunta? "Where do you want to go?"
Saan mo gustong kumain? "Where do you want to eat?"
Nasubukan mo na bang kumain sa… "Have you tried dining at…?"
And once things start to heat up between the two of you…
Gusto mo bang manood ng sine pagkatapos nating kumain? "Would you love to watch a movie after we eat?"
Napanood mo ba yung… "Have you seen…?"
Nagustuhan mo ba ang pagkain? "So, did you like the food here?"
Sabihin mo lang kung may gusto ka pang kainin. "Just let me know if there's anything else you want to try on the menu."
You'll know when it's time to talk about the more serious stuff, and when that happens, here are some things you can talk about with your date.
Taga saan ang pamilya mo? "Where is your family from?"
Dito ka ba lumaki? "Did you grow up in these parts?"
Anong mga hilig mo? "What are your interests?"
Ano pala ang paborito mong… "What's your favorite [insert subject here], by the way?"
Mahilig ka ba sa mga aso/pusa? "Do you like dogs/cats?"
Anong ginagawa mo sa bakanteng oras mo? "What do you do in your free time?" 
Anong pangarap mong trabaho? "What would be your dream job?"
Mas pipiliin mo bang magtrabaho sa umaga o sa gabi? "Are you a morning person or a night owl?"
Sa aling mga lugar ka na nakapunta? Where have you traveled? 
Mas pipiliin mo bang nasa bahay ka lang o yung namamasyal? "Are you more of an indoors or outdoors person?"
Anong mga hanap mo sa isang lalaki/babae? "What traits do you look for in men/women?"
This last one is either a bit straightforward or cheesy. You will know if your date is comfortable with such questions, but still, use it with discretion.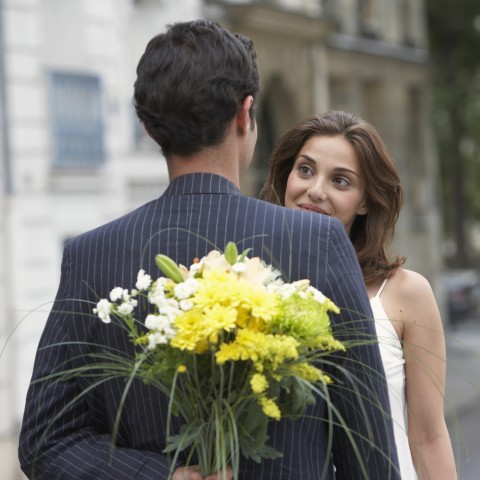 4. Conversation Starters to Reconnect with a Friend
In this day and age, you might think that the term "reconnecting" doesn't seem to apply to friendships anymore, considering that social media has made it very easy for people to chat with or call one another anytime. However, you might be surprised to find out that people are more disconnected these days than twenty or thirty years ago.
That's where the following conversation starters come in. In the Philippines, there's an English expression people use when meeting a friend whom they haven't seen for a long time. It's the expression "Long time no see." You can use this phrase too, of course, although it's not the best way to reconnect with someone. The following are much better alternatives that you can use to reconnect, whether via chat, text, or email.
Ano na ang balita sa iyo? "What's up with you these days?" Lit. "What's the news about you?"
May gagawin ka ba sa Linggo? "Do you have anything to do this Sunday?"
Kumusta ka na? Kita tayo. "How are you? Let's meet."
Ang tagal na nating hindi nagkita ah. Kape tayo sa Sabado? "We haven't seen each other for a long time. Coffee this Saturday?"
Ilang buwan na mula nung huli tayong nagkita. Dalawin mo naman ako minsan. "It's been months since we've last seen each other. You should visit me sometime." 
Uy, may ikukuwento ako sayo. Pwede bang tumawag? "Hey, I've got something to tell you. Can I call?"
Pwede mo ba akong tulungan? "Can you help me with something?"
Saan ka na nagtatrabaho ngayon? "Where do you work now?"
Dun ka pa rin ba nakatira sa condo mo dati? "Do you still live in that same condo of yours?"
Balita ko umuwi ka raw. Kita tayo! "I heard you're in town. Let's meet!" Lit. "I've received news that you've come home. Let's see each other."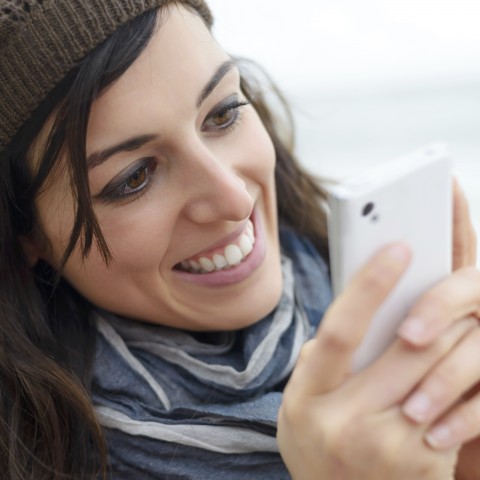 Balita ko umuwi ka raw. Kita tayo! "I heard you're in town. Let's meet!"
5. How FilipinoPod101 Can Help
In this guide, we introduced you to the most practical conversation starters in Tagalog for beginners. Today, you learned how to strike up a conversation when meeting new people at parties, at work, and in school. You also learned conversation starters to make your first date successful and memorable.
Are there any other Tagalog words or expressions you feel should have been included in this guide? Or is there a Tagalog conversation example that's not very clear to you? Let us know in the comments below! But whether we missed anything or not, we believe that the ones we've included here should be enough to give you the confidence to converse with native speakers.
To feel even more confident with your skills, why not join FilipinoPod101? At FilipinoPod101, you can enjoy innovative language learning tools you won't find elsewhere. Whether it's tools for improving your grammar, vocabulary, and pronunciation or materials to help you learn Tagalog and the Filipino culture better, you can rest assured that FilipinoPod101's got your back.
Did we mention that you can also enjoy one-on-one coaching with MyTeacher? With this premium feature, you can receive detailed feedback on your progress, so you know exactly where you are in your journey of learning Filipino.
What are you waiting for? Sign up now!