In your interactions with native Tagalog speakers, don't be surprised to hear a few English words thrown in. Some refer to this mixing of the two languages as Taglish, while others call it Philippine English or Filipinism. The practice of using English words or phrases in a uniquely Filipino way has been around for decades, and it usually leaves English-speaking foreigners scratching their heads. Yes, that's what this kind of Filipino-speak produces at times: confusion. 
If you're a foreigner studying the Filipino language and desire to truly master it, this is one aspect of the language you must not overlook, as 99% of Filipinos speak in this manner. To help you navigate this crazy world of English words used in the Filipino language, we've crafted this guide to Taglish and loanwords. 
Let's dive in!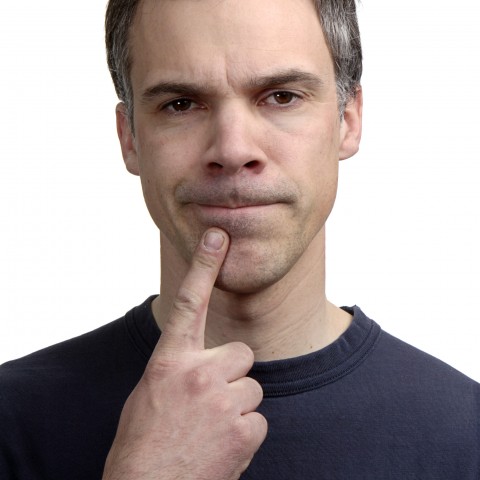 Is that Tagalog or English? Oh, it's Taglish.
Table of Contents
1. An Introduction to Taglish
Taglish is now a part of everyday life in the Philippines, but it wasn't always so widely accepted. Once upon a time, people would laugh at you and mock you for speaking Tagalog mixed with English. 
Its prominence today either indicates that Taglish is one difficult adversary to bring down or that Filipinos are simply that malleable. Or perhaps it's just inevitable that a mixed language such as Taglish would become a part of such a diverse, mixed-race nation.
It's difficult to find someone who speaks pure Filipino nowadays. But perhaps that's only because not all English words have direct equivalents in Filipino and vice-versa. And that's how Taglish works, by the way: you simply switch from Filipino to English whenever necessary to best deliver the message you're trying to convey. 
Let me give you an example:
If you wanted to say you're going to be late for your class, you'd say something like:
"Gosh, I'm going to be late for my class."
In pure Filipino, you can say that as:
Naku, mahuhuli na ako sa klase ko.
In Taglish, you say that as:
Naku, male-late na ako sa klase ko.
Notice how "late" was inserted into the sentence?
Here's another example:
"We need to study for our exams."
In pure Filipino, you can say that as:
Kailangan nating mag-aral para sa ating pagsusulit.
In Taglish, it would be something like:
Kailangan nating mag-study para sa exams natin.
Coño English takes this to another level. The word coño has Spanish origins, but in Filipino, it refers to the language that has originated from the younger generations of rich Filipinos from Manila. It's also used to refer to the people who speak this language, oftentimes carrying a negative connotation.
Here are some examples of Coño English:
| | | |
| --- | --- | --- |
| English | Tagalog | Coño  |
| You're so good in Filipino! | Ang galing mo naman sa Filipino! | You're so galing naman sa Filipino! |
| Don't poke the balloon. | Huwag mong tusukin ang lobo. | Don't make tusok the balloon. |
| Man, it's so hot in here! | Grabe, ang init dito! | Grabe, so hot naman here! |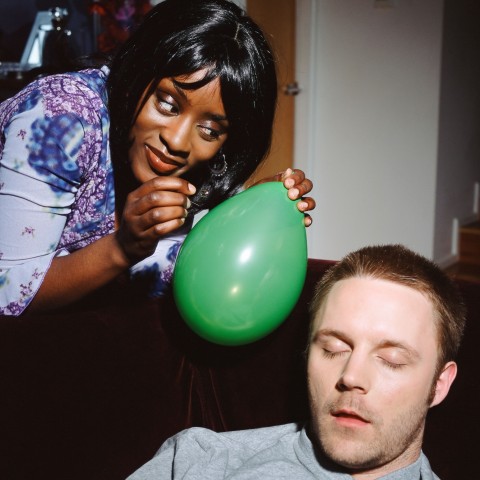 Don't make tusok the balloon! ("Don't pop the balloon!")
→ Speaking of confusion, here's a lesson on how to tell someone that you don't understand their Filipino.
2. Taglish Examples
You'll hear English spoken almost everywhere when you're in the Philippines. In addition to the code-switching we discussed in the previous section, Taglish can also refer to English words adapted to Filipino, but given different meanings than the original words. This isn't unique to the Philippines, and many other countries (particularly Asian ones), have this habit of giving alternative meanings to English words. Let's check out a few that are used in Filipino.
1. Adidas
We all know Adidas as a brand of sports clothing. Filipinos know that, too. But in the Philippines, the term 'Adidas' has another meaning: barbecued chicken feet sold as street food. The dish is called this because the three main toes on chicken feet resemble the three stripes that represent the famous brand.
Tara! Kumain tayo ng adidas sa may kanto. ("C'mon! Let's eat some adidas at the corner.")
2. Bad Trip
This term could refer to a trip that went bad or to an unpleasant experience triggered by psychoactive drugs. In Tagalog, however, it's used to describe the feeling of being disappointed or frustrated about something, like when you're late for work but the traffic is heavy.
Bad trip na traffic 'to! ("This heavy traffic is wearing on my nerves!")
3. Blooming
This is a British expression used to emphasize annoyance over something. It could also refer to flower production in plants. In the Philippines, it's used to describe a person who's looking unusually good as a result of a lifestyle change.
Wow! Blooming ka ngayon ah! ("Wow! You look blooming today!")
4. Chancing
In English, "chancing" is the present participle of the word "chance." In Filipino, it refers to the act of taking advantage of another person sexually, as in taking a "chance" to touch someone without being noticed. It's also spelled as tsansing.
Huwag mo nga akong tsansingan! ("Enough with your sexual advances!")
5. Double Deck
When something is "double-decked," it has two layers or levels, such as in a "double-decker bus." In the Philippines, however, it refers to a bunk bed.
Ayokong matulog sa double-deck. Baka mahulog ako. ("I don't want to sleep in a double-deck. I might fall.")
6. Feeler 
In the insect world, 'feelers' are the antennae that bugs use to "feel" the world around them. It could also refer to a question or suggestion one uses to find out another person's thoughts or opinions. But Filipinos use this term to describe an individual who comes across as narcissistic.
Sino nagsabi na cute ka? Feeler ka talaga! ("Who told you you're cute? You're such a feeler.")
7. High Blood
This is a medical term that refers to having high blood pressure. In the Philippines, it's used to describe a person who's always cranky or who seems to have an anger management issue.
Bakit high blood ka na lang palagi? ("Why are you high blood [cranky] all the time?")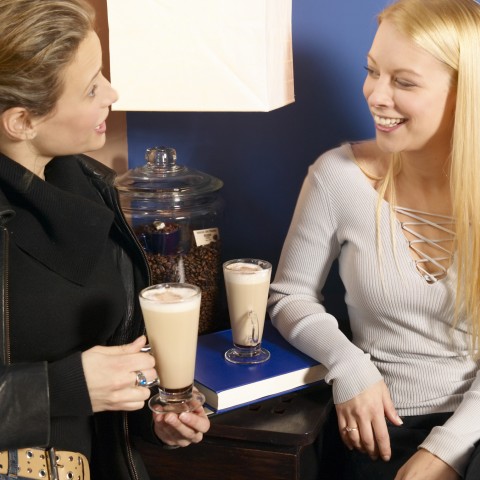 Mag-milk tea ka muna. High blood ka na naman eh. 
("You're cranky again. Why don't you have some milk tea first?")

8. Maniac
This term is used to describe a person who exhibits extreme symptoms of wild behavior, someone who has some sort of mental illness and becomes violent when having episodes. It is manyak (or manyakis) in Tagalog, and it's used to describe a pervert. 
Parang siyang manyak makatingin sa akin. ("He stares at me like a manyak [pervert].")
9. Napkin
A napkin is a small piece of cloth or paper that is used during a meal to clean one's lips and fingers. A napkin can also be worn to protect one's clothes when eating. Filipinos use the term to refer to sanitary pads, used by women for hygienic purposes during "that time of the month."
Ate, bilhan mo ako ng napkin na *whisper*. ("Ate, please buy me some *whisper* napkin [sanitary pads].")
10. Racket
A racket is a piece of sports equipment similar to a bat but with a round netted frame used for badminton or lawn tennis. In Tagalog, however, it's used to refer to a money-making scheme or a gig.
Balita ko may panibagong raket ka naman daw? ("I heard you have a new racket [gig].")
*Trivia: Many Filipinos mistakenly refer to a badminton shuttlecock as "racket."
11. Salvage
The meaning of the word "salvage" is reversed in Tagalog. While its original meaning is to save or protect someone or something, Filipinos use it to refer to the act of murdering someone and dumping the body. Interestingly, it's spelled similarly to the Spanish word salvaje, which means "wild" or "untamed," and which Filipinos now use to describe an evil person.
May bangkay na nakita sa labas. Salvage daw sabi ng mga pulis. ("There's a dead body outside. The policemen say it's salvage.")
12. Tomboy
The Tagalog word tomboy is used to describe female homosexuals. It's not too far off from its original definition in English, which refers to a girl who enjoys things or activities often associated with males.
Tomboy na talaga ako dati pa. ("I've been a tomboy since way back.")
13. Traffic
In English, the word "traffic" is a noun that refers to vehicles moving on a road. In the Philippines, it's a negative term used as an adjective referring to heavy traffic.
Grabe ang traffic kanina kaya na-late ako. ("The traffic was so heavy this morning, which is why I was late.")
Did you know that you can take advantage of the heavy traffic by learning Tagalog inside your car?
14. Cowboy 
A cowboy is an animal herder who tends cattle. In Filipino, you're a "cowboy" if you're not picky and don't easily complain over an inconvenience.
Okay lang sa akin kumain ng balut. Cowboy 'to no. ("I don't mind eating balut. I'm a cowboy, you know.")
3. Loanwords vs. Taglish
So far, we've looked at borrowed English words that have different meanings in Filipino. Now, we're going to examine a few English loanwords in Filipino that have been integrated into the language while retaining their original meanings (or a similar meaning).
1. Adik (Addict)
Adik means to be addicted to something. 
Na-adik ka na yata sa nilalaro mo ah? ("It seems you've been addicted to that game.")
2. Bakwit (Evacuate)
The word bakwit came from the English word "evacuate," which means to remove something from a place of danger to a place of safety. In the Philippines, bakwit is used in the same manner.
Nagbakwit sila dahil sa bagyo. ("They evacuated because of the typhoon.")
3. Babay (Buh-bye)
Babay is the direct translation of "Buh-bye" in Filipino. You can also check here to learn other ways Filipinos say "goodbye."
Mag-babay ka na sa kanila. ("Say your goodbyes to them now.")
4. Disko (Disco)
Disko is from the word "disco," a club where people dance to popular music. The term became popular in the 80s, but you will seldom hear it being used these days.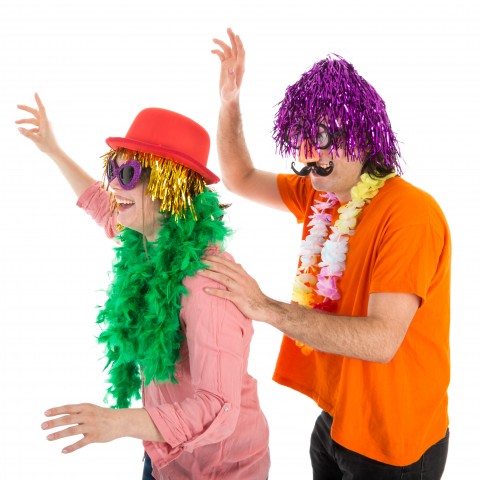 Mahilig mag disko si Lola nung dalaga pa siya. 
("Grandma used to frequent disco bars when she was younger.")
5. Keri (Carry)
Keri is from the English word "carry," which means to support the weight of an object or to lift an object from one place to another. In the Philippines, the term refers to the ability of a person to overcome a difficult task.
Kilala kita. Keri mo 'yan. ("I know you. You can do it.")
6. Kodak (Kodak, the brand)
Filipinos started using the term kodak to refer to photographs and the act of taking pictures back when film photography and the Kodak brand were at the height of their popularity.
Kodakan mo naman ako. ("Will you take my picture, please?")
7. Tambay (Stand by)
Tambay was derived from the phrase "stand by," which has several meanings in English. It could refer to the act of remaining loyal to someone in a time of need, or the readiness for immediate deployment. It could also refer to being present while something undesirable is happening and yet failing to do something to help. It's to this last definition that the Tagalog word tambay seems closest. In Filipino, a tambay is an adult who is capable of working and yet chooses to hang around and do nothing except eat and play.
Tama na ang tambay. Maghanap ka ng trabaho! ("Stop being a lollygagger. Go look for a job!")
8. Lobat (Low battery)
Filipinos love inventing words. One such word is lobat, which is Tagalog for "low battery." No one is more familiar with the term than the people who live in the "Texting and selfie capital of the world."
Naku, lobat na ang cellphone ko. Kailangan ko nang mag-charge. ("Gosh, my phone's battery is almost drained. I need to charge it now.")
9. Pulis (Police)
Pulis is the Filipino term for "police." Whichever region you go to in the Philippines, you'll hear people using this same word when referring to cops.
Gusto niyang maging pulis paglaki niya. ("He wants to be a policeman when he grows up.")
10. Traysikel (Tricycle)
The French may have been the ones who invented the first tricycle, but there is no place in the world where this three-wheeled vehicle is found more abundantly than the Philippines. In many places in the country, the traysikel is used as some sort of taxicab. And like taxis, they can be a vehicle-for-hire or used to travel over a fixed route.
Kaunti lang ang traysikel dito sa lugar namin. ("We don't have a lot of tricycles here in our place.")
11. Wais (Wise)
Pronounced as |wa-is|, this word is derived from the English "wise." Unlike the word of its origin, though, it doesn't necessarily mean showing knowledge, experience, and good judgement. It's more often used to describe a cunning or crafty person.
Naisahan mo na naman ako. Wais ka talaga! ("You got the better of me again. Such a crafty person you are!")
Aside from learning Taglish, learning Tagalog slang can help improve your Filipino.
4. English Words Derived from Filipino
Loanwords make up 80% of the English language. No wonder it is spoken in almost all parts of the world! This time, let's check out some English words borrowed from Filipino. 
1. Boondocks
The word "boondocks" is defined as a remote or isolated region. It came from the Filipino word bundok, which refers to mountains or uncharted areas beyond a coastal district.
Walang internet sa bundok kung saan sila nakatira. ("There is no internet in the mountains where they live.")
2. Calamondin
Calamondin refers to a small, evergreen citrus fruit tree, commonly known as "calamansi" in Tagalog, but as "kalamunding" in some parts of the Philippines.
Kilala ang lugar sa kanilang mga pananim na kalamansi o kalamunding. ("The place is known for its numerous Calamondin plants.")
3. Carabao
The carabao is a type of water buffalo that's native to the Philippines. The word "carabao" came from the Visayan word karbaw, which in Tagalog is kalabaw.
Mas malakas pa yata siya sa kalabaw. ("He seems to be stronger than a carabao.")
4. Cogon
Cogon is identified as a type of noxious weed that grows in the Southeastern United States. It's from the Tagalog word cogon, which refers to a rhizomatous grass commonly used for thatching the roofs of traditional Filipino houses.
Ang bubong ng bahay nila ay yari sa dahon ng cogon. ("The roof of their house is made of cogon leaves.")
5. Cooties
"Cooties" is a children's term referring to a fictitious childhood disease believed to be transmitted by obnoxious people or children of the opposite sex. It was also the nickname given to lice during the First World War. It's believed to have come from the word kuto, which is a Filipino and Austronesian term for head lice.
Sobrang dami ng kuto ni Anya. ("Anya has a lot of head lice.")
6. Jeepney
This is a combination of the words "jeep" (a type of military vehicle made by GP in the 60s) and "jitney" (an American term for 'taxi').
Balita ko ay aalisin na ng gobyerno ang mga bulok na jeepney at papalitan ng mga modernong minibus. ("I heard the government is going to get rid of all the old jeepneys and replace them with modern minibuses.")
First time riding a jeepney? Here are some key phrases you need to be familiar with if you're riding a jeepney in the Philippines.
7. Machin
Machin refers to a long-tailed macaque species. The term is derived from matsing, which is Filipino for "monkey" or "ape."
Wais man ang matsing, naisahan pa rin siya ng pagong. ("The monkey might be clever, but the tortoise was able to outsmart him still.")
8. Salacot
This one is from the word salakot, which refers to a broad-brimmed hat made of lightweight organic material used in rural areas in the Philippines.
Magsuot ka ng salakot nang hindi masunong ang balat mo. ("Wear a salacot so you won't get a sunburn.")
9. Yo-Yo
The name of this popular stringed toy is believed to have come from either the Ilocano or Tagalog term yoyo, which could mean "come, come," or "return."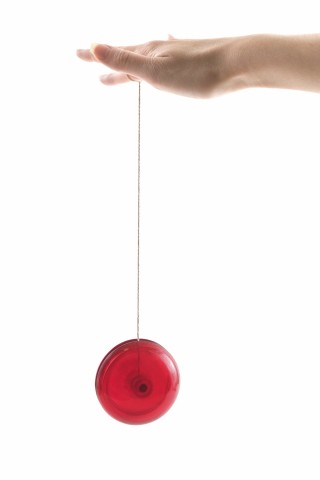 The name of this popular stringed toy is believed to have been derived from either the Ilocano or Tagalog term yoyo, which could mean "come, come," or "return."
Expand Your Vocabulary of Tagalog and Taglish Words with FilipinoPod101
Taglish is just one of the things you'll find interesting about the language and culture of the Philippines. If you want to discover other exciting things about the country, its language, and its people, I suggest you sign up for a free account on FilipinoPod101.com today.
There's no better way to learn Filipino online than through our website, where you'll be provided with all the free resources and materials you'll need to improve your vocabulary, grammar, and pronunciation.
Want to take your learning to another level? MyTeacher is here for you! This is a unique feature that lets you have one-on-one lessons with your very own Filipino teacher, who will give you real-time feedback so you'll know how much you're improving.
That's all for our guide on Taglish words and English words with different meanings in Filipino! Feel free to drop your thoughts in the comments section so we know what you think of this post. Until next time!