Filipinos are a hardworking people. They love to work, work, and work. But that doesn't mean they don't take time to play and have fun with friends and family. While Pinoys work hard, they also play hard. In short, they love action! Speaking of action, one of the things you really need to master when studying Filipino grammar is action words or verbs. 
The verb in Tagalog is referred to as pandiwa. This part of speech plays an important role in communication as it's used to describe motion. Without the verb, or pandiwa, a sentence can't exist or stand on its own. In the same manner, life isn't complete without action. So, without further ado, let's get down to business and learn 100 of the most common Filipino verbs.
Table of Contents
1. The Two Kinds of Pandiwa
Before we proceed to our list of the 100 most common Filipino verbs, let's do a quick study of pandiwa first. There are two kinds of pandiwa: palipat and katawanin.
1 – Palipat
This type of pandiwa needs a direct object to receive the action done in a sentence. The direct object usually comes after the verb and is preceded by the following prepositions:
Examples:
Gumuhit ng larawan ang kanyang anak na lalaki.
"His son drew a picture."
Si Butch ay magaling sumayaw ng tinikling.
"Butch dances tinikling really well."
Sumunod kay Maria ang kanyang alagang aso.
"Maria's pet dog followed her around."
2 – Katawanin
Unlike palipat, katawanin doesn't need a direct object to receive the action done in a sentence; it already has a complete idea and can stand on its own.
Examples:
"Happy jumped!"
Sina Max at Hazel ay umalis.
"Max and Hazel left."
Nagkukuwentuhan sa loob sina Carlo at Connie.
"Carlo and Connie are chatting inside."
2. The Five Aspects of Pandiwa
The first three aspects of pandiwa show the tenses of the verb or the time the action took place. Not all verb tenses in Filipino have an equivalent in English grammar, just as not all Filipino words have a direct English translation. Nevertheless, we can't study verbs in Filipino without touching on tenses.
1 – Naganap/Perpektibo
The first of these Filipino verb tenses shows that the action has already been done, or is in the past tense. Verbs in this category are usually affixed with nag-, um-, -um-, -in-, and -an.
Examples:
"She cooked dinner."
Umalis kaagad ang binata.
"The young man left immediately."
Si Diana ay inalis sa group.
"Diana was removed from the team."
Nagpalakpakan ang mga manonood.
"The audience roared in applause." 
Note that in the last sentence, nag- is added before the verb palakpak, or "clap," and –an after it.
2 – Pangkasalukuyan/Imperpektibo
This describes an action verb in Tagalog that is always, or is currently, being done. The verb is affixed with -na, -nag, or -um at the beginning, and the root word is usually repeated.
Examples:
Naglalaro si Jose sa ulan.
"Jose is playing in the rain."
Kumakain ang mga aso sa labas.
"The dogs are eating outside."
Nanonood ako ng pelikula sa Netflix nang dumating si Marie.
"I was watching a movie on Netflix when Marie arrived."
3- Kontemplatibo
This aspect of the verb in Tagalog implies that an action has not yet been performed, or is in the future tense. To change a verb into this tense, simply affix ma- or mag- before the word and repeat the first syllable of its root word. For some words, ma- and mag- are no longer necessary.
Examples:
Uunlad din ang bansa natin balang araw.
"Our country is going to progress someday."
Magtitinda ako ng mga damit sa Facebook.
"I will sell some clothes on Facebook."
Magsisimula na ang programa.
"The show is about to start."
Meanwhile, the two other aspects of pandiwa express the voice of the verb, with tahasan being the active voice, and balintiyak being the passive voice.
4 – Tahasan
In this aspect of pandiwa, the action word serves as the subject. In English grammar, it's referred to as the active voice of the verb, wherein the subject is the one performing the action stated by the verb.
Examples:
Nagdilig si Joey ng kanilang mga halaman.
"Joey watered the plants."
Pumunta kami sa Mall of Asia nung nakaraang araw.
"We went to the Mall of Asia the other day."
Si Harry ay kumakain ng hipon.
"Harry is eating shrimp."
5 – Balintiyak
This is the opposite of tahasan, where the one performing the action is not the subject, and the performer of the action is positioned right after the pandiwa. In English grammar, it's the passive voice of the verb.
Examples:
Ang clean-up drive ay pinangunahan ng Mayor.
"The clean-up drive was led by the Mayor."
Ang giyera ay sinimulan ng mga terrorista.
"The war was started by the terrorists." 
Ang Warriors ay tinalo ng Raptors.
"The Warriors were beaten by the Raptors."
3. The Linking Verb in Filipino: Keeping Things Simple
Commonly used linking verbs in English include "am," "is," "are," "was," and "were." There's also "been," "being," "had," and "has." In Filipino, we only have the linking verb ay regardless of the tense.
And since there's only one linking verb in Tagalog, using it in a sentence is very simple and easy. Simply place the word ay after the subject and right before the predicate. We told you Filipino is an easy language to learn!
Examples:
Ako ay nag-aaral ng Filipino.
"I am studying the Filipino language."
Ako ay ipinanganak sa Mindanao.
"I was born in Mindanao."
Si Daniel ay palaging naglalaro ng Mobile Legends.
"Daniel is always playing Mobile Legends."
4. Verb Usage
How do you conjugate verbs in Filipino? What about Filipino subject-verb agreement?
The case system of Tagalog verbs is quite complex, but we can still learn proper usage of the action verb in Tagalog by following a few simple rules on how to conjugate them. The fastest way to learn about proper verb placement in a sentence is to learn common affixes used in Filipino action words. These Tagalog verb affixes are mag-, ma-, um-, in-, and i-, all of which are used to indicate verb tense. 
We'll have a separate article for Filipino verb conjugation, though, so right now, let's move on to our Filipino verbs list of the 100 most practical verbs you should know.
1- At Home
Filipino homes are the foundation of the Philippine culture. Because of that, we want to start this list with commonly used verbs inside the home.
1
kumain
"to eat"
Oras na para kumain.
"It's time to eat."
2
matulog
"to sleep"
Matulog ka na.
"Go to sleep now."
3
gumising
"to wake up," "to be awake"
Bakit gumising ka na?
"Why did you wake up already?"
4
magluto
"to cook"
Magluluto ako ngayon para bukas.
"I'll cook food now for tomorrow."
5
magsaing
"to cook rice"
Magsaing ka na para makakain na tayo.
"You better cook rice now so we can eat already."
6
manood
"to watch," "to observe"
Manonood na lang ako sa YouTube.
"I'll just watch it on YouTube."
7
uminom
"to drink"
Mahilig uminom ng gatas si Stephan.
"Stephan loves to drink milk."
8
maghugas
"to wash"
Sino ang maghuhugas ng mga kinainan?
"Who's going to wash the dishes?"
9
maglaba
"to do the laundry"
Day off ko; maglalaba ako.
"It's my day off; I'm going to do the laundry."
10
maglinis
"to clean"
Bakit walang gustong maglinis nito?
"Why isn't there anyone who wants to clean this?"
11
magwalis
"to sweep the floor"
Magwalis ka ng sahig.
"Go sweep the floor."
12
magpunas
"to wipe"
Magpunas ka ng mesa pagkatapos kumain.
"Wipe the table after eating."
13
magdilig
"to water"
Joe, magdilig ka ng halaman mamaya ha?
"Joe, water the plants later, okay?"
14
humiga
"to lie down"
Gusto ko humiga buong araw.
"I want to lie down all day."
15
umubos
"to finish off"
Hindi ko maubos ang pagkain ko.
"I can't finish off my food."
16
magbihis
"to change clothes"
Doon ka magbihis sa loob.
"Go change inside."
17
magsuot
"to wear"
Magsuot ka nito mamaya.
"Wear this later."
18
magbukas
"to open"
Magbukas ka ng de lata na sardinas.
"Go and open a can of sardines."
19
magsara
"to close"
Magsara naman kayo ng pinto.
"Please close the door, guys."
2- School and Work
20
mag-isip
"to think"
Hindi ako makapag-isip nang mabuti.
"I can't think properly."
21
mag-aral
"to study"
Kailangan niyong mag-aral nang mabuti.
"You all need to study hard."
22
magturo
"to teach"
Magaling magturo si Amy.
"Am can teach really well."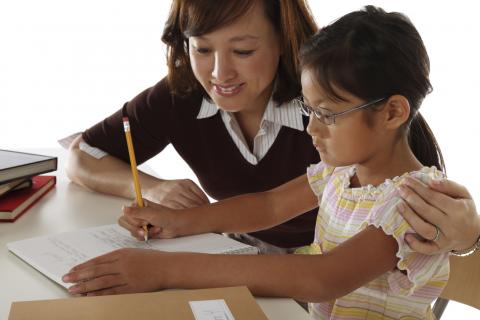 23
magsaulo
"to memorize"
Hindi ganun kahirap magsaulo.
"It's not that difficult to memorize."
24
magtrabaho
"to work," "to go to work"
Ayaw niya nang magtrabaho.
"She doesn't want to work anymore."
25
magsulat
"to write"
Hindi marunong magsulat ang matanda.
"The old woman doesn't know how to write."
26
magbasa 
"to read"
Mabilis siyang matutong magbasa.
"He quickly learned how to read."
27
magtanong
"to ask," "to inquire"
Magtatanong lang po sana ako.
"I would like to ask something."
28
sumagot
"to answer," "to reply"
Sumagot si Sheldon sa tanong ni Penny.
"Sheldon answered Penny's question."
29
umintindi
"to understand"
Mahirap bang umintindi ng Tagalog?
"Is it that difficult to understand Tagalog?"
30
mag-analisa
"to analyze"
Matuto kang mag-analisa.
"You need to learn how to analyze."
31
magsalita
"to speak," "to talk"
Huwag kang magsalita ng masama.
"Don't speak evil."
32
magpadala
"to send"
Napadala mo ba ang mensahe?
"Were you able to send the message?"
33
gumuhit
"to draw" (as in a picture)
Mahusay gumuhit si Jose.
"Jose draws well."
34
tumayo
"to stand," "to get up"
Huwag kang tumayo.
"Do not stand up."
35
umupo
"to sit down"
Umupo ka diyan sa sahig.
"Go sit on the floor."
36
magpahinga
"to rest," "to take a break"
Magpahinga ka muna.
"Take a break for a while."
37
bumati
"to greet"
Bumati ka sa bagong manager.
"Go and greet the new manager."
38
mag-presenta
"to volunteer"
Dapat sana nag-presenta ka.
"You should have volunteered."
3- The Outdoors
39
maglaro
"to play"
Naglalaro ang mga bata sa labas.
"The kids are playing outside."
40
maglakad
"to walk"
Maglalakad lang daw sila pauwi.
"They said they'll just walk home."
41
tumakbo
"to run"
Araw-araw si Benjie tumatakbo.
"Benjie runs every single day."
42
tumalon
"to jump"
Huwag kang tatalon pagkatapos kumain.
"Don't go on jumping after eating."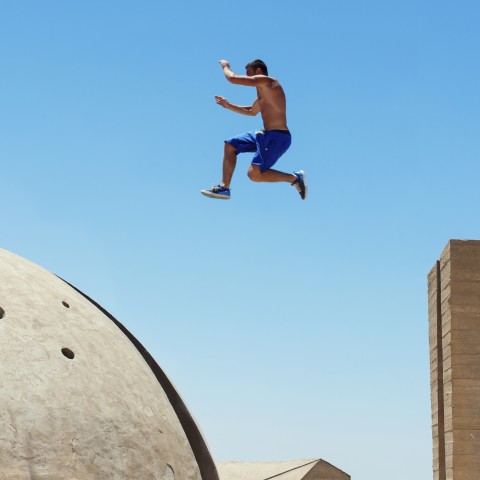 43
umalis
"to leave"
Umalis na ang bisita nila.
"Their guests left already."
44
maghintay
"to wait"
Dito tayo maghintay.
"Let's wait here."
45
kumuha
"to take," "to get"
Bakit hindi ka kumuha ng lisensya?
"Why don't you get a license?"
46
pumunta 
"to go," "to head to," "to come"
Pwede ka bang pumunta dito?
"Can you come here to my place?"
47
dumating
"to arrive"
Anong oras sila dumating kagabi?
"What time did they arrive last night?"
48
gumamit
"to use"
Umuulan. Gumamit ka ng payong.
"It's raining. Use an umbrella."
49
bumitbit
"to carry"
Paki bitbit ng mga dala ko.
"Please carry my things for me."
50
magdala
"to bring"
Pwede bang magdala ng kasama?
"Is it okay to bring someone?"
4- Traveling
The Philippines is composed of over 7,000 islands, making it an excellent place to visit if you love traveling. If you want to tour the country, though, you need to add these twenty useful Filipino travel phrases to your arsenal.
51
bumiyahe
"to travel"
Madalas bumiyahe si Drew.
"Drew travels a lot."
52
magmaneho
"to drive"
Si Roxanne daw ang magmamaneho.
"Roxanne said she'll drive."
53
sumakay
"to ride," "to take a ride"
Araw-araw siyang sumasakay ng tren.
"She takes/rides the train everyday."
54
huminto
"to stop"
Ihinto mo ang sasakyan.
"Stop the car."
55
umabante
"to move forward"
Umaabante na sila.
"They're moving forward now."
56
umatras
"to step back," "to move backward"
Umatras ka muna para makadaan siya.
"Move backward first so she can pass."
57
mag-empake
"to pack up"
Mag-empake ka habang maaga pa.
"Pack your things up while it's early."
58
bumaba
"to get off," "to go down"
Dito na lang ako bababa.
"I'll just get off here."
59
lumipad
"to fly," "to take off"
Lumipad na ang eroplano.
"The plane already took off."
60
sumundo
"to pick up"
Sino ang sumundo sa inyo sa airport?
"Who picked you up from the airport?"
61
maghatid
"to deliver," "to take someone someplace," "to see someone off"
Ihahatid daw kami ni kuya.
"Big brother is going to take us to the airport and see us off."
62
mamasyal
"to look around," "to explore"
Gusto kong mamasyal doon.
"I would love to explore those areas."
63
pumara
"to hail" (as in a taxi)
Pumara ka ng taxi
"Call a taxi."
How do you catch a taxi in the Philippines? Here's how.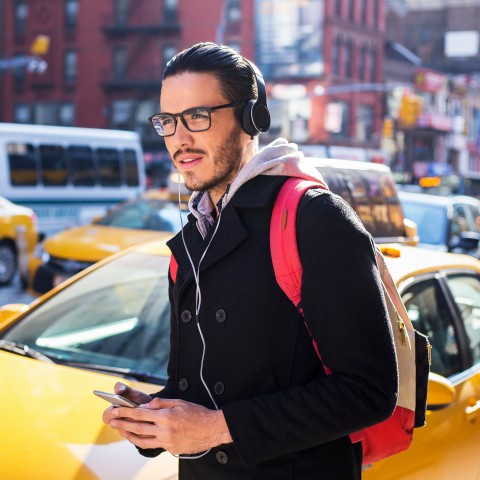 64
magmadali
"to hurry up"
Magmadali ka dahil mahuhuli na tayo.
"Hurry up because we're getting late."
65
pumila
"to fall in line," "to queue up"
Pumila ka palagi sa tamang pilahan.
"Always get into the right queue."
5- Expressing Emotions
Filipinos are very emotional people. Don't forget to check out this lesson on how to describe feelings and emotions in Filipino as well.
66
magmahal
"to love"
Kaysarap magmahal.
"It's so good to love."
67
magalit
"to get mad or angry"
Huwag sana siyang magalit.
"I hope she doesn't get mad."
68
magtampo
"to feel bad," "to sulk"
Walang dahilan para magtampo ka.
"There's no reason for you to feel bad."
69
tumawa
"to laugh"
Ang lakas mong tumawa.
"You laugh really loud."
70
umiyak
"to cry"
Umiiyak ka na naman.
"You're crying again."
71
masaktan
"to get hurt"
Ayoko nang masaktan.
"I don't want to get hurt anymore."
mag-alala
"to worry"
Huwag kang mag-alala.
"Don't you worry."
73
maawa
"to have or to show compassion"
Hindi siya marunong maawa.
"He doesn't know how to show compassion."
74
kumalma
"to calm down"
Kumalma ka muna nang kaunti.
"Why don't you calm down a bit."
75
magkulitan
"to goof around with someone"
Itigil niyo na nga ang pagkukulitan niyo.
"Stop goofing around, guys."
76
sumimangot
"to frown"
Huwag ka ngang sumimangot diyan!
"Stop frowning!"
77
sumigaw
"to shout"
Gusto kong sumigaw!
"I want to shout!"
78
mang-insulto
"to insult"
Ang galing mo mang-insulto!
"You really know how to insult somebody!"
6- Verbs for Actions Done When Angry
Are you looking for stronger emotional words to add to your Filipino vocabulary? Verbs that describe angry actions are always useful.
Speaking of fighting, why don't you check out our video on how to fight language-learning failure? Here, you'll discover why many people fail at learning a new language and find out how you can beat the said problem. 
79
sumuntok
"to punch"
Malakas sumuntok si Manny.
"Manny punches really hard."
80
sumipa
"to kick"
Sinubukan niyang sumipa subalit mintis.
"He kicked but missed."
81
humampas
"to hit," "to clobber"
Gusto ko siyang hampasin ng unan.
"I want to hit him with the pillow."
82
bumugbog
"to beat"
Binubugbog ni Manny si Keith.
"Manny is beating Keith."
83
tumulak
"to push"
Tinutulak mo ako!
"You're pushing me!"
84
maghagis
"to throw"
Hinagis niya ang kalaban niya sa sahig.
"He threw his opponent on the floor."
85
umatake
"to attack"
Umaatake na siya.
"He is attacking now."
7- Miscellaneous Everyday Verbs
Before anything else, if you haven't checked out our feature on the top 25 everyday Filipino verbs, make sure you do so! And now, on to the final leg of our Filipino verbs list. 
86
pumasok
"to enter"
Nakita ko siyang pumasok sa kwarto.
"I saw him enter the room."
87
lumabas
"to go outside"
Lumabas siya nang walang paalam.
"He went outside with no permission."
88
tumanggap
"to receive," "to accept"
Tumanggap ng gantimpala ang babae.
"The lady received a reward."
89
sumunod
"to follow"
Sumunod lamang daw sila sa utos.
"They said they simply followed orders."
90
bumili
"to buy"
Palagi siyang bumibili kina Edna.
"He always buys at Edna's store."
91
tumawag
"to call"
Bilis! Tumawag ka ng ambulansya!
"Quick! Call an ambulance!"
92
maghanap
"to look for something"
Oras na para maghanap ka ng nobya.
"It's time for you to look for a girlfriend."
93
magbigay
"to give"
Magbigay ka ng paliwanag.
"Give an explanation."
94
makiramay
"to condole," "to sympathize"
Nakikiramay kami sa inyo.
"We sympathize with you."
95
kumagat
"to bite"
Ayaw kumagat ng preno.
"The brakes won't bite."
96
tumapak
"to step on something"
Tapakan mo ang ipis!
"Step on the cockroach!"
97
magpa-andar
"to turn on"
Paandarin mo ang bentilador.
"Turn on the electric fan."
98
umistambay
"to hang around"
Mahilig umistambay sa labas si Andre.
"Andre loves hanging around outdoors."
99
umiwas
"to avoid"
Bakit ka umiiwas sa akin?
"Why are you avoiding me?"
100
sumang-ayon
"to agree"
Hindi ako sumasang-ayon sa'yo.
"I don't agree with you."
5. Learn More About Verbs in Tagalog with FilipinoPod101!
Today, you've learned the basics of pandiwa, or the verb in Filipino, as well as 100 of the most practical basic Filipino verbs. (You should also see our collection of 100 adjectives and 100 nouns!)
Adding these words to your Filipino language arsenal is already an advantage, but do you know that you can further refine your vocabulary by taking advantage of FilipinoPod101's advanced features? That's right. 
Aside from fundamental lessons like how to learn Filipino verbs, there are more advanced lessons that can help fast-track your learning. The MyTeacher service, for instance, is a premium service that lets you do one-on-one lessons with a FilipinoPod101 teacher, as well as receive a personalized learning program tailored just for you. And with the InnovativeLanguage101 App, you can do all of your lessons anytime, anywhere!
Before you go, let us know in the comments if there are any Filipino verbs you still want to know. We look forward to hearing from you!