Want to learn some Tagalog swear words? Want to know how we Pinoys get angry and how we express our frustration? Well, you've come to the right place.
Before anything else, consider this quote by General Douglas MacArthur:
"Give me 10,000 Filipino soldiers and I will conquer the world."
These words of the great American general are a confirmation of the bravery of the Filipino guerilla men and women who stood their ground against the Japanese colonizers during the Second World War. It's not a surprise that MacArthur was impressed by the resilience and bravery of the Filipinos. After all, Pinoys are considered to be a "warlike" people. From the time of Lapu-Lapu to the days of heroes like Jose Rizal and Andres Bonifacio, Filipinos have never failed to show the world that they are no pushovers.
That doesn't necessarily mean that Filipinos are always hot-headed. It only means they know when to stand up for what's right. If you've been to the Philippines, you'll agree that most Pinoys are very gentle, warmhearted, and hospitable.
Of course, they do get angry, but who doesn't? And speaking of angry, in this article, you'll learn how to express anger in Filipino grammar, as well as become familiar with some Tagalog swear words.

Table of Contents
1. Angry Imperatives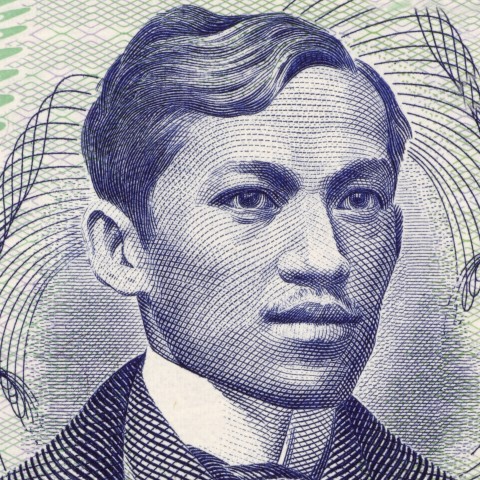 1 – Tumahimik ka!
This is the Tagalog equivalent of "Shut up!" or "You shut up!" and is used to express annoyance, particularly to someone who's being unreasonable.
The word tumahimik means "to keep quiet," but it's the nearest equivalent to "shut up" since the English expression doesn't have a direct translation in Filipino. Well, it does, but with a different meaning. It's isara, which means "to close" or "to shut."
→ Tumahimik ka! Inuubos mo ang pasensya ko!
"Shut up! You're making me lose my patience!"
Variations:
Isara mo ang bunganga mo! ("Shut your mouth!" )
Huwag ka nang magsalita! ("Stop talking already!" )
2 – Tama na sabi!
There are times when you get annoyed, but the other person still keeps on bothering you. In frustration, you exclaim, Tama na sabi! This literally means "I said stop already!" Tama in this statement means "enough," so, in a sense, Tama na sabi could mean, "I said enough already!"
Variations:
This is the quickest way to tell someone to quit annoying or angering you. Word for word, it translates to "Enough already!"
3 – Huwag mo akong pakialaman!
People can sometimes be meddlesome, interfering with other people's lives when they shouldn't. Pinoys can be nosy at times, too, placing excessive interest in another person's private affairs. At the same time, Filipinos can be very private people and easily get annoyed if they notice that you're being obtrusive.
When that happens, prepare to hear the words, Huwag mo akong pakialaman! This translates to "Do not interfere in my business!" and is one of the best angry Filipino phrases for a situation like this.
→ Hindi ikaw ang nanay ko kaya huwag mo akong pakialaman!
"You're not my mother, so mind your own business!"
Variations:
Huwag kang makialam! ("Do not interfere!" )
Intindihin mo ang sarili mo! ("Mind your own business!" )
4 – Tumabi ka diyan!
Most Pinoys avoid fights as much as possible. Being peace-loving people, they would even go out of their way to be the middleman when two people are fighting. But then again, most people don't like it when you're meddling with their personal affairs, especially when it involves them quarreling with another person.
This is where this angry phrase comes in. Tumabi is a verb that means "to step aside," although it could also mean "to get out of the way."
→ Tumabi ka diyan kung ayaw mong madamay.
"Out of my way if you don't want to get involved."
Variations:
Huwag kang humarang diyan! ("Don't block my way!" )
Harang is Filipino for "obstruction." You say this phrase to someone if you don't want them blocking your view, either from another person or from something they wish to see.
Tabi can be translated to "beside" or "aside." In this case, the word is an order for someone to step aside.
Alis is literally "to leave." When you don't want someone in your way, you say Alis so they'll move out of the way or leave.
2. Angry Warnings
1 – Huwag mong hintayin na mapuno ako!
These are some angry words in Filipino to say if you're starting to lose your patience with someone. It's a warning that tells another person that something bad might happen to them if they don't quit bugging you.
The root word for mapuno is puno, meaning "full." This phrase, in essence, implies being full of anger and exploding. It's like saying, "Don't wait for me to lose my patience," or "Don't wait for me to explode!"
Variations:
Punong-puno na ako sa'yo! ("I am so full of you!" )
In English, saying "I'm full of it!" implies that you've lost your patience with someone who keeps breaking their promises. This Filipino expression, however, is that of exasperation.
Malapit na akong sumabog! ("I am about to explode!" )
2 – Isa na lang!
"One more and I'm going to blow!" This is what this angry warning is all about.
Variations:
Isang-isa na lang! ("You've run out of chances!" )
This basically means the same thing. The repetition is for emphasis.
Counting down to warn someone is very common in Filipino culture. It's a major part of the "Behave or Else" parenting style of many Filipino parents.
3 – Lagot ka sa akin mamaya.
The word lagot has several meanings. It could mean "to snap" as with a rope, or "to fall." When used as a word of warning, the latter is the more appropriate meaning; here, it means to fail or to drop someone.
To say Lagot ka sa akin mamaya to someone is telling that person that they're going to be really sorry for what they've done. The word mamaya means "later." Literally translated, it would mean, "I'm going to drop you/break you/cut you off!"
→ Lagot ka sa akin mamaya 'pag hindi ka pa tumigil diyan!
"You'll be sorry if you don't quit doing that!"
Variations:
There's no direct translation of the word hala in English. In Tagalog, however, hala is an interjection used to warn or frighten someone.
The verb humanda means "to be ready." When used as an expression of anger, it's like telling the other person "You better be ready for what's coming to you!"
4 – Hihintayin kita sa labas.
Most Filipinos know that there's an appropriate place to express anger. So when someone is angry with a peer or a colleague, they won't just fight with the other person right there and then, especially where someone in higher authority might see them. Instead, they'll warn the other person that they'll be waiting for them outside the building.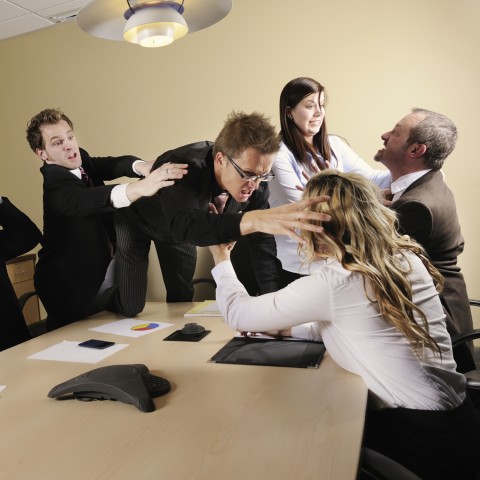 Working in an office will allow you to meet different types of people, some of whom are easy to work with, and others not so much. Learning how to use Filipino words in the workplace will help you avoid conflict or resolve conflicts quickly in case they do arise.

→ Humanda ka, at hihintayin kita sa labas!
"You better be ready 'coz I'm going to wait for you outside!"
Variations:
Kita is the verb for "to see." This is both a warning and invitation, informing the other party that you plan on seeing them outside.
Magkikita din tayo mamaya.
"We're still going to see each other later anyway." This is more of a threat that warns the other person they can't get away from you.
The last two angry warnings are more of a threat. Should someone threaten you with the same words, don't hesitate to seek help immediately.
3. Angry Blames
1 – Ano ba'ng iniisip mo?!
This, in essence, is letting the other person know that you find them stupid. The root word for iniisip is isip, which means "to think." Asking another person what they're thinking is sarcastically implying that they're not focusing or are not thinking at all.
→ Binangga mo ang kotse ko! Ano ba ang iniisip mo?
"You hit my car! What were you thinking?"
Variations:
Nag-iisip ka ba? ("Are you even thinking?" )
Hindi ka talaga nag-iisip! ("You're not using your brain!" )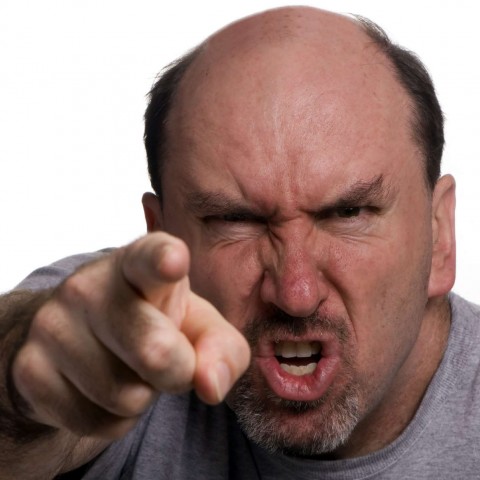 (Ano ba ang iniisip mo?!)
2 – Kasalanan mo ang lahat ng ito!
These are very critical words and are often said by a person who has already erupted in anger and frustration. It translates to "This is all your fault!"
→ Naubos ang pera natin! Kasalanan mo ang lahat ng ito!
"We are bankrupt, and this is all your fault!"
Variations:
Wala nang dapat sisihin dito kundi ikaw! ("There's no one else to blame here but you!" )
The root word for sisihin is sisi, which means "to blame."
Wala ka ng ginawang tama! ("You never did anything right!" )
3 – Dapat kasi nakinig ka!
When someone failed to listen to advice or instruction you gave them, and they've ended up messing things up, this is what you say to them.
→ Tingnan mo. Nasira tuloy. Dapat kasi nakinig ka!
"Look what happened. It's broken now. You should have listened to me."
Variations:
Makinig ka naman kasi paminsan-minsan. ("You should try listening to advice from time to time." )
Dapat talaga hindi ako nakinig sa'yo. ("I shouldn't have listened to you!" )
This is what you say when the roles are reversed, when someone gave you bad advice and you listened. Out of anger, you say: Dapat talaga hindi ako nakinig sa'yo. Napahamak tuloy ako. In essence, it's saying, "I'm in trouble now because I listened to you!"
4 – Iyan ang sinasabi ko.
Iyan ang sinasabi ko is directly translated to "That's what I was saying." But as an expression of frustration and sarcasm, the more accurate interpretation would be, "What did I say?"
→ Iyan ang sinasabi ko! Hindi mo kasi sinunod ang payo ko. Nagkasakit ka tuloy.
"What did I say? You didn't follow my advice, and now you're sick!"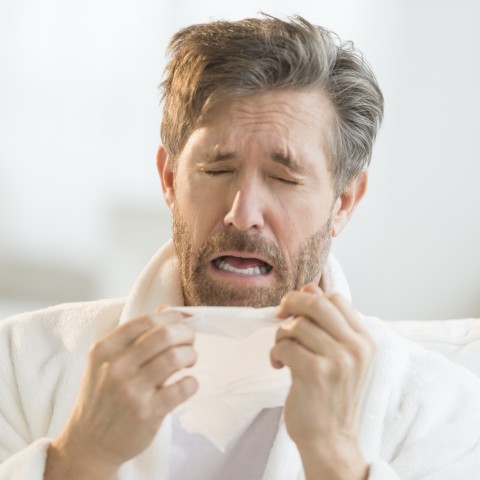 Variations:
Ano ba'ng sinabi ko sa'yo? ("What did I tell you?" )
Sabi sa'yo eh! ("I told you!" )
4. Angry Insults
How better to let someone know that you're angry in Filipino than with insults?
1 – Hayop ka!
The word hayop can be translated to either "animal" or "beast." You'll know a Filipino is already very angry when they start blurting out these words.
Variations:
Animal ka! ("You animal!" ) or ("You beast!" )
Demonyo ka! ("You devil!" )
Demonyo means "demon" or "devil," and since the devil is often portrayed as a beast, this is considered a good variation of the main phrase Hayop ka!
2 – Batugan! ("You lazy bastard!" )
While Filipinos are generally hardworking and industrious, many Pinoys can be slothful at times. This angry expression is one proof of that.
→ Kumilos ka! Huwag kang batugan!
"Do something! Don't be a lazy bastard!"
Variations:
Tamad is just another term for batugan, which basically means "lazy" or "indolent."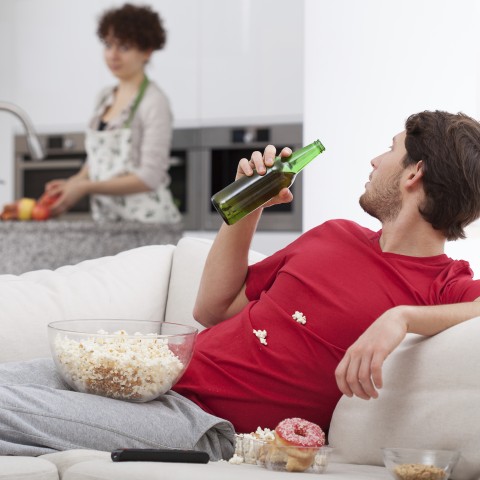 3 – Wala kang kwenta! ("You're useless!" )
This is quite similar to the previous expression, except it's more of an angry expression toward a person who, despite his or her efforts, doesn't seem to do anything right. Kwenta can be interpreted as "count" or "value," so to say that someone is walang kwenta is saying that they have no value or don't count for anything.
Variations:
Wala kang silbi! ("You're worthless!" )
Silbi means "to serve," so Wala kang silbi! is the same as saying, "You don't serve any purpose."
Isa kang inutil! ("You're one worthless person!" )
Inutil is derived from the same Spanish word, which means "useless" or "inservible."
4 – Matapobre!
This is often an insult to someone who is full of himself and tends to look down on others. There's no direct translation of matapobre in English, although it could mean "snobbish." Essentially, matapobre is more of an idiomatic expression.
It came from the words mata ("eye" ) and pobre ("poor" ). Some scholars say that the word mata might have come from the Spanish matar ("to kill" ). In that sense, a person who's matapobre is an elitist or someone who looks down on poor people.
Isa kang matapobre!
Variations:
Mapagmata (disdainful toward others)
Mapangmata (haughty)
Mapagmataas (proud)
5. Describing How You Feel
1 – Naiinis ako.
The verb mainis means "to be annoyed." Naiinis ako means "I'm annoyed," and you say it when you're really pissed off already.
Variations:
Nakakainis ka! ("You're so annoying!" )
Iniinis mo ako! ("You're annoying me!" )
Nakakairita ka! ("You're very irritating!" )
Another way of expressing annoyance in Tagalog is by saying Nakakairita ka! with irita being the Filipino word for "irritate."
2 – Galit ako.
Galit is Filipino for "angry" or "mad." By saying Galit ako, you're saying, "I'm mad" or "I'm angry."
Variations:
Ginagalit mo ako! ("You are angering me!" )
Galit ako sa'yo! ("I'm mad at you!" )
Pinapainit mo ang ulo ko!
Sometimes, instead of saying Galit ako, you can also say Pinapainit mo ang ulo ko. The verb pinapainit means "causing something to get hot." Ulo is Filipino for "head," so literally speaking, this phrase means, "You're causing my head to get hot!"
3 – Nanggigigil ako!
The word gigil is used to describe an overwhelming feeling that comes over you, particularly when you see something cute. It's also used to describe having an overwhelming feeling of disgust, anger, or rage, to the point that your body is shaking as a result. When you say Nanggigigil ako! what you're trying to say is, "I'm shaking in anger right now!"
This means that another person is causing you to feel so much anger and frustration. It doesn't have a direct equivalent in English, but it could be translated to, "You are so frustrating!"
4 – Ayoko na!
Saying Ayoko na! is telling everyone that enough is enough. The word Ayoko is a contraction of the phrase Ayaw ko, with ayaw meaning "to back out from," "to reject," or "to refuse." It may also mean "do not." In saying Ayaw ko na, you're literally saying, "I do not want (any of it) anymore," or "I quit!"
Variations:
Suko na ako! ("I surrender!" )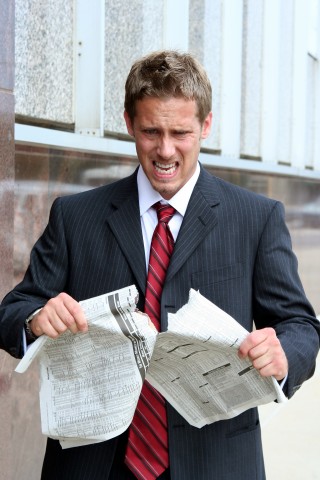 (Suko na ako!)
6. Popular Filipino Swear Words
Every culture has its own list of swear words. In the Philippines, we also have our own Filipino swear words. This isn't an exhaustive list, but it should be enough to give you an idea of the most commonly used negative expressions in Tagalog.
1 – Gago!
Calling someone gago is saying that the person is stupid or foolish, someone who doesn't think before he acts. This is one of the most common angry words in Tagalog. It's also a very insulting one because it's like telling another person that he's dull or unintelligent. The feminine version of the word is gaga. It translates to "You stupid fool!"
→ Ay, gago!
"What an idiot!"

→ Napaka-gago mo!
"You are so stupid!"

→ Gago ka ba?
"Are you dumb?"
2 – Lintik!
This is Filipino for "lightning," so in a sense, it's wishing for your enemy to be struck by lightning. It's like saying, "How I hope you die!"
→ Lintik ka! Tamaan ka sana ng kidlat!
"May lightning strike you!"
Sometimes, the longer version is used to describe someone or something you hate so much. In this case, the phrase is Tinamaan ng lintik, which can be interpreted as "d*mned."
→ Huwag mong ipapakita pa iyang tinamaan ng lintik na pagmumukha mo!
"Don't ever dare show that cursed face of yours!"
3 – Putik!
This is a lighter version of the word puta, which is Spanish for "whore." Pinoys often modify certain curse words so as not to sound too vulgar. The word putik is actually Filipino for "mud." As a curse word, it expresses frustration over someone or something ill-favored that you've encountered.
→ Putik na buhay naman ito!
This literally means, "What a rotten life!"
4 – Buwisit!
This is an exclamation for someone who's had a bad day. It's said that the word came from the Fukien phrase "bo ui sit," which means having no food or not having any clothes on. It has since evolved to mean anyone or anything annoying or frustrating.
→ Buwisit na trabaho 'to!
"Curse this job!"

→ Nakaka-buwisit ka talaga!
"You are so annoying!"
5 – Hudas!
Hudas is Filipino for "Judas," the disciple who betrayed his master. Calling someone a Hudas implies that the person is a traitor.
→ Hudas ka!
"You are a traitor!"

→ Hinudas mo ako!
In Filipino culture, the word Hudas has become synonymous with "traitor" or traidor. Hinudas mo ako! literally means, "You Judas-ed me!" Or, in essence, "You betrayed me!"
6 – Leche!
Leche is Spanish for "milk," but over time, it has become synonymous with buwisit.
→ Leche na lugar 'to!
"Curse this place!"
A less vulgar variation is lechugas. The direct translation of the word is "lettuce," but as a curse word, it means the same thing as leche.
7. How Do Pinoys Keep Their Cool?
Filipinos are easy to please. A simple lambing is often enough to appease an angry spouse. A "peace offering" is sufficient in restoring a broken friendship. But how do Pinoys calm themselves when they're angry? While Filipinos are generally friendly, they also oftentimes shy away from confrontation. Instead of dealing with the issue directly, they try to keep their cool by distracting themselves.
Manners and courtesy are both very important to Filipinos. One way to influence the mood of someone who's about to get angry is to remain polite at all times. Don't fight fire with fire, they say.
1- Watching TV
A survey done a couple of years ago revealed that most Pinoys still prefer watching TV over using the internet. And this is not a surprise, considering how sacred the living room is for the Filipino family. For most Pinoys, it's not only a place to bond with family, but an avenue where they drown their frustrations with their favorite noontime shows or prime-time soap operas.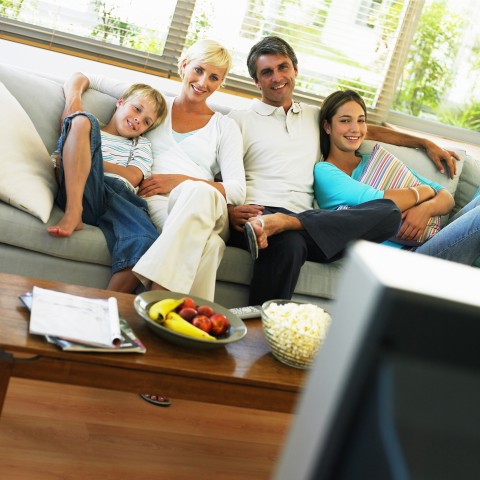 2- Singing and Listening to Music
Most Filipinos possess good musical sense, and that's evidenced by the fact that we have a number of world-renowned singers and musicians. And yes, one of the reasons Pinoys love singing so much is that it helps them channel their anger into something productive.
3- Hanging out with Friends
If there's one way Pinoys relieve stress and frustration, it's by having a good laugh with the barkada ("peer" ). Filipinos value camaraderie a lot, which is why whichever part of the world you go to, you'll always find that there's a Filipino community there somewhere.
4- Eating
To say that Pinoys love eating is an understatement. But yes, Pinoys are certified food-lovers. One reason is that Filipinos are naturally hospitable, which means food is central to our social life. That explains the snacks in-between meals, which we refer to as merienda. And merienda isn't only for during the day. Most of the time, we also have our midnight snack. And you guessed it right. When we're frustrated, one way we rid ourselves of all the feelings of exasperation inside is through food.
5- Playing
Pinoys love to have fun. Kasiyahan, or "joy," really plays a huge role in Filipino culture. And you've probably heard of how resilient Filipinos are. We seem to have this knack for finding a joke regardless of how serious a situation seems. Part of our having fun is playing. Kids will do all they can to skip the afternoon nap and play outside. Even adults find time to play after work hours. For us, playing is one way we can vent our anger.
8. Keep Calm and Learn Filipino
We would never wish for anyone to feel frustrated or angry, but since frustration is a part of life and anger is inevitable, it makes sense to know how to express anger, particularly in a language you're trying to learn.
Fortunately, you can always have FilipinoPod101 as a partner in your language-learning journey. Whether you're learning new words, improving your pronunciation, or trying to take your Filipino grammar to another level, you can rest assured that FilipinoPod101 can provide you with all the resources you need.
This article is just one of the many helpful tools you'll find at the FilipinoPod101 blog page. If you wish to gain access to more similar tools, don't hesitate to sign up today.
Oh, and before we forget, please let us know in the comments section below if there are other Tagalog swear words or tips on how to swear in Filipino you wish to learn. We'd be glad to assist you!